Last week, I gave you a teaser as to what I would send to my clients.And if you didn't catch it… sorry to hear because you missed out on a triple-digit winner.
I had a bullish opinion on Luckin Coffee (LK) — the "Starbucks of China" and a recent IPO. This stock was relentless and bounced off a key support level. Thereafter, LK formed a bull flag setup (more on that later). Not only that, but the company is revolutionizing the way people buy and sell coffee.
LK has taken the leap forward and uses artificial intelligence and big data analytics to enhance consumer experience and maintain quality control.
Not only were the fundamentals good, but the stock structure flashed a green light for me.
Why Luckin Coffee (LK) Was A Breakout Candidate
LK had just 38.61M shares floating. What that means is there is very little supply out there… and we all know what happens when demand rises and the supply remains the same. The stock shoots up.
The real slam dunk for me here was the fact that nearly 50% of those floating shares were short, 48.99% to be exact at the time. That was a bullish indication to me.
Here's what I sent out to you last week:
"So many traders just go out and short stocks thinking they're overvalued. Sure, new IPOs may be overvalued in their eyes, but what about everyone else on the market?
When they pile in and push the short interest to astronomical levels, it actually puts them in a bad position… and they could be caught in a short squeeze.
Basically, since there isn't a whole lot of shares available to trade, and so many traders are short… once a positive catalyst hits, the shorts may scramble and start taking offers to close out their positions.
In turn, this would cause the stock to continue higher… simply due to the fact, in a short squeeze, there's massive demand but very little supply."
Heck, I even sent out the bullish chart setup.
"If you look at the daily chart in LK, it broke above a key resistance level back in November… and now it's forming a bull flag setup."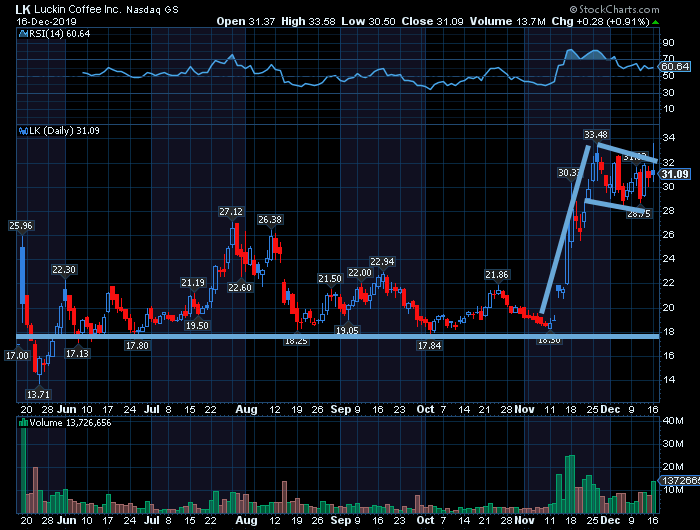 Normally, when you see a stock make a massive move, followed by a period of consolidation (what the stock is in right now)… if it breaks above the upper-end of the consolidation area, it could be set to break out.
With the high short interest and bullish chart pattern, I think it's only a matter of time before LK breaks out. I'll be keeping a close eye on LK, and if I come up with an attack plan – I'll make sure to send it to my clients."
You can read the full post here.
Not too long after I spotted the trade in LK, I sent out the plan to my clients.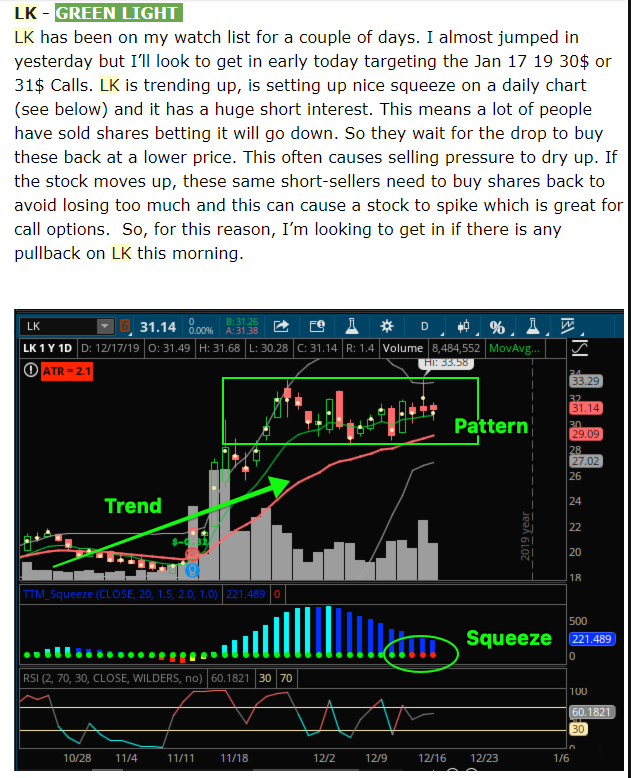 Shortly after, I purchased those call options and provided my trade plan.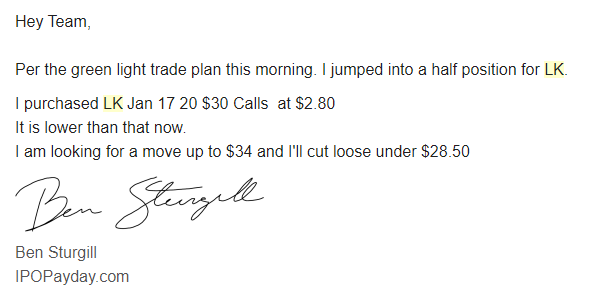 Guess what happened just a few days later?
LK got right to my target and I decided to take some profits off the table.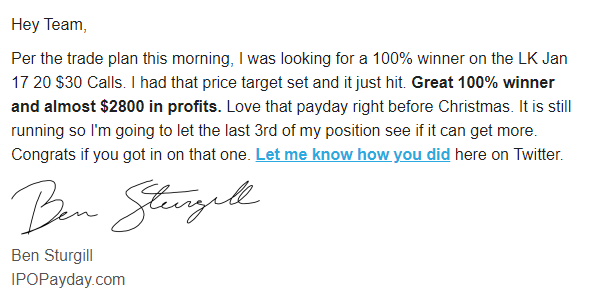 I sold two-thirds of my position and locked in a 100% winner, nearly $2,800 in profits!
I am holding onto the rest to see if I can juice some more profits out of this play, but I'll have a stop in place so I don't turn a winner into a loser.
With 2019 coming to a close next week, I have my eyes set on 2020 because I think there will be multiple breakout opportunities in the IPO market… and I'm confident I can find triple-digit winners, just as I did in LK.
If you want to learn how you can profit from trading some of the most-talked-about stocks on the market, click here to join now.