When you're trying to tap into a sector like marijuana stocks, it helps to learn about the leaders in the space. Well, Canopy Growth Corp. (CGC) has set itself apart from the rest of the cannabis stocks in the space. Canopy Growth is a leader and early mover in the Canadian market and has become a widely-known brand in the marijuana industry. That said, let's take a look into Canopy Growth stock and its business ventures.
Now, prior to being one of the largest marijuana stocks by market capitalization, Canopy Growth stock was trading under $5… that's right… it was a penny stock at one point. However, that meant the stock had room to grow, and that's the beauty about penny stocks.
Here's a look at the weekly chart of CGC stock.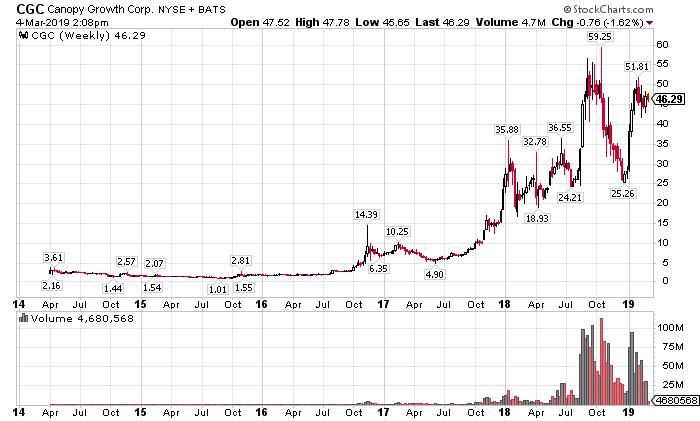 Pretty nice run over just a few years…
Keep in mind, prior to May 24, 2018, Canopy Growth stock was trading on OTC Markets, under the ticker TWMJF.
However, that all changed.
Canopy Growth Stock in Focus
After satisfying rigorous listing requirements, Canopy Growth stock began trading under the ticker "CGC" on the New York Stock Exchange (NYSE) – this brought on many new investors. The reason being: Canopy Growth stock now had to report all pertinent financial information to the public.
That said, CGC stock became the first publicly-traded, federally-regulated marijuana stock in North America.
Now, Canopy Growth stock focuses on delivering value to its shareholders through its innovative market strategy.
Moving on to its strategy.
CGC Stock Snapshot
Currently, CGC has operations in over a dozen countries on 5 continents. Additionally, it has 10 production facilities in Canada – with 10 supply agreements and producing over 70K kilograms of cannabis annually.
Although CGC was considered a penny stock just a few years ago, currently Canopy Growth stock is a large cap with a market capitalization of over $10B. Additionally, the company has been growing its sales and earnings per share (EPS) at a rapid rate. Quarter over quarter (QoQ), CGC has grown its sales by over 275%, while its EPS has grown at an astronomical 4,169.20% – according to Finviz.
Now, there's one interesting fact to note about CGC stock. It has a short float – or short interest – of more than 20%. That said, if the company announces positive news… it wouldn't be farfetched to see Canopy Growth stock rise significantly.
Moving on. Let's take a look at the cannabis market and how Canopy Growth can disrupt it.
Can CGC Stock Disrupt the $500B+ Marijuana Industry?
Unlike all the other marijuana stocks on the market, CGC stock has first-mover advantage. That said, it could tap into multiple target markets such as:
Athletic Drinks ($40B)
Animal Health ($50B)
Anxiety ($18B)
Post-Traumatic Stress Disorder (PTSD) ($10B)
Pain Relief ($90B)
Sleep ($100B)
Health and Wellness ($1T+)
Beverage Alcohol ($1T+)
Now, if you don't already know, Constellation Brands (STZ) invested $4B in Canopy Growth in an attempt to gain exposure to the marijuana space. The reason being: STZ wants to create marijuana-based beverages.
However, Canopy Growth stock is no one-trick pony… it actually has multiple industry-leading brands.
Canopy Growth Stock Brands
Canopy Growth's brands include:
Tweed
Source: Canopy Growth

This is one of the most recognized marijuana brands across the globe. Canopy Growth has been able to build a large following and brand loyalty. Canopy Growth's Tweed brand focuses on high-quality products and customer relationships.

Spectrum Cannabis


Canopy Growth operates this brand as an international medical company. That said, Spectrum Cannabis allows healthcare professions and patients to purchase products in Canada and across the globe.
This brand is primarily focused on simplifying healthcare interactions and patient education.

DNA Genetics

This brand has won awards in every single category in the Cannabis Cup – the world's leading cannabis competition.
This brand is known as a global breeding and legendary growing brand.
DNA Genetics has partnered with Canopy Growth in order to ensure consumers gain knowledge and experience with cannabis.

CraftGrow

Canopy Growth uses this brand in order to create a diverse online market place for medicinal marijuana products. Patients are now able to streamline the process of obtaining medical cannabis.
Canopy Growth Stock Innovations
In addition to these brands, Canopy Growth is innovating the cannabis market through:
Canopy Health Innovations.

This is a biopharmaceutical company that researches and develops clinically-ready, cannabis drug formulations and an innovative dose delivery system.

Canopy Innovation Lab.

This company allows Canopy Growth to drive product research and development (R&D) beyond its limits. That said, this would help CGC stock to drive innovation and its stock price.

Storz & Bickel.

Canopy Growth stock acquired this designer and manufacture of medically-approved vaporizers in 2018. This acquisition is projected to help CGC's vaporizer design operations.

Scientus Pharma.

CGC is an early investor in this company – a vertically-integrated biopharma licensed dealer. This company can wholsesale and buy, as well as process and sell cannabinoid derivatives. Currently, Canopy Growth stock owns approximately 9.8% of Scientus Pharma.
Final Thoughts About Canopy Growth Stock
Canopy Growth stock has a multitude of reasons to grow at a high rate, ranging from its brands to its innovation. However, if you're looking to get into marijuana stocks, make sure you conduct your due diligence.
Moreover, if you're looking to buy or trade Canopy Growth stock, there are ways to diversify your risk. For example, you can look to exchange-traded funds holding CGC stock.
If you want pure exposure to Canopy Growth stock, then practicing proper risk management helps. Since marijuana stocks are fairly new to the market, they can go through large swings. That said, you might want to follow a rules-based approach when trading or buying Canopy Growth stock.
"Never lose more than 2% of your entire account on any trade."
That's just one of Petra Hess' 10 tips that helped her stack $2.4M in the market.
"Never lose more than 2% of your entire account on any trade." 
That's just one of the golden rules that has helped Petra Hess amass millions in trading profits.
Want to find out the rest?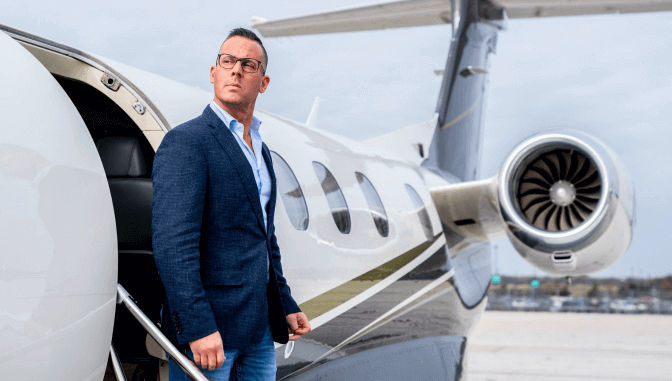 Claim Your Free VOD Binge Bundle Today.
The Basics of Swing Trading, The House Always Wins, How to trade like a PRO and Stock Options Explained with Jeff Bishop. A $5,000 value for free, when you sign up to Jason Bond Picks.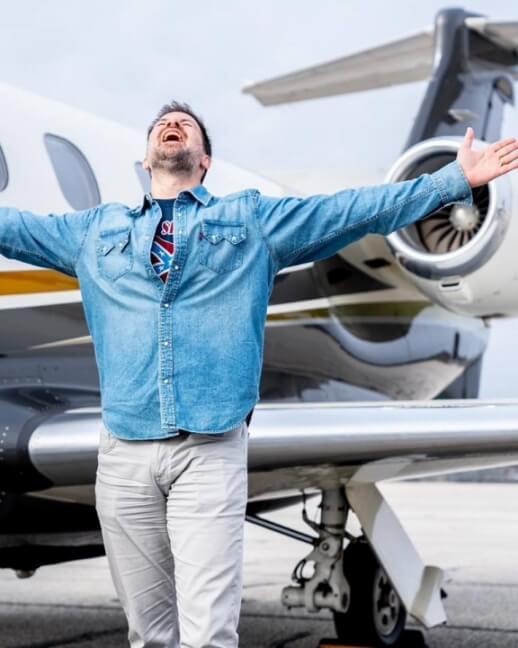 If you give him 30 days… He'll make you a better options trader. Jeff Bishop averaged one +100% winning option trade per week in 2018. And now he wants to teach you.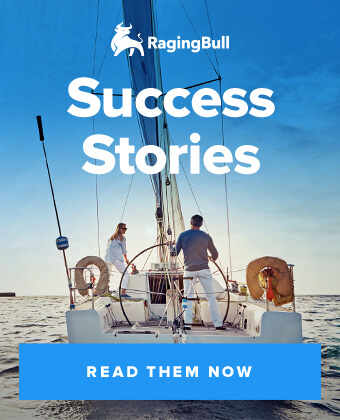 Exclusive System Tracks Wall St. Insiders
"Dollar Ace Simply Exposes Information That Wall Street Wants To Keep Quiet" Said Kyle Dennis
"One member, Wesley M., has already reported 360%+ gains in just a few short days. Don't miss this!"
(Reserve Access Now)
"What Recession?!" Jason Bond nets $55,060 in realized profit in One Day
After going 6 for 6 on profitable trades recently, we caught up with Jason to ask how he did it.
Check out Jason's exclusive interview revealing this tightly guarded strategy. (Watch Now)
RagingBull.com Co-Founder, Jeff Bishop, Launches High Conviction Trade Service
"We listen to our clients and we give them EXACTLY what they want, so we designed a service to deliver 1 trade, 1 time a week, with a 100%+ PROFIT TARGET, directly to your inbox every Monday before the market opens. (Read More)
Be a Better
Stock Trader, Starting Today
Get the expert insights, tips and strategies you need to optimize your trading skills and profiles
START NOW