Electronic Arts (NASD: EA) is one of the most well-known gaming companies in the world. If you've ever heard of the FIFA soccer game, then you know already know a little about of them. Besides, it produces Madden NFL, Need for Speed, Star Wars Battlefront, Plants VS. Zombies and so much more.
Of course, let's not forget its blockbuster game Apex Legends, which had 25 million downloads its first week.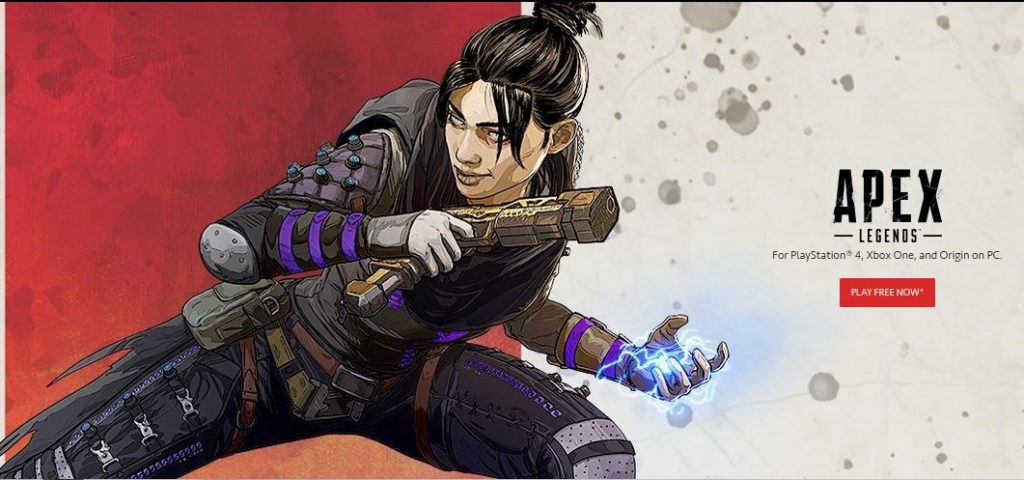 Of course, Wall Street was scrambling to find what the game's impact would be on EA stock.
EA has been making games since 1982 and is one of the first to bring gaming to personal computers. After nearly 40 years in business, EA has grown to become a publisher of games, a franchiser, and a gaming studio owner.
EA Stock – A Turnaround Story
EA's journey hasn't always been smooth. The company fired almost 28% of its workforce during the financial crisis.
In 2012 and 2013 The Consumerist voted EA was the "Worst Company in America."
It "beat" the likes of WalMart and AT&T to clinch the ceremonial Golden Poo trophy.
After the results, Frank Gibeau, the then President of EA Labels, said "we take it seriously, and want to see it change… The point is we are listening, and we are changing."
Despite being going through a rough stretch during the financial crisis, it has since bounced back.
Furthermore, EA has delivered an incredible 248.1% return in the last five years, outperforming the S&P 500, Dow Jones, and the NASDAQ 100.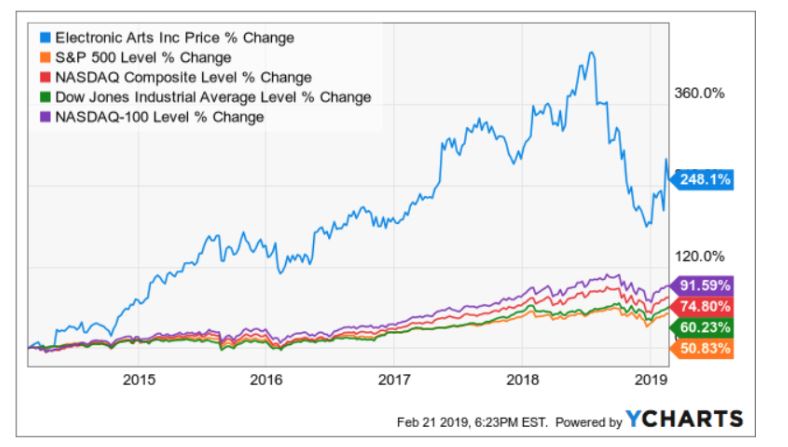 Source: Y Charts
During calendar 2018, FIFA 19 was the highest-selling console game in Europe. Additionally,  FIFA Ultimate Team matches played increased by 15% year-over-year.
Why are these numbers significant?
Because FIFA along with the Madden NFL series is part of the booming eSports market, in 2019, the global eSports market is set to reach $1B, according to Newzoo.
How does EA make its money?
Electronic Arts breaks down its revenue into two major categories: products and services.
Its products are the digital and physical copies of its video and PC games.
The services segment refers to its recurring revenue streams such as subscriptions, in-game transactions, and licensing.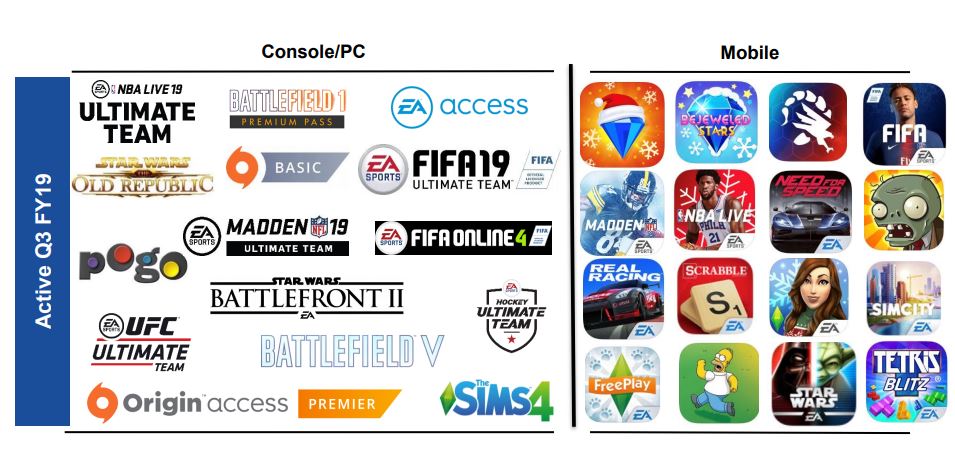 Source: EA
FIFA is the major revenue driver for the company. EA's CFO, Blake Jorgensen, had this to say about the FIFA after releasing its Q3 2019 results –  "FIFA stands out as a robust franchise through a tumultuous year in the video game industry,"
In FY 2018, revenue from digital products accounted for 70.77% ($3.74B) while revenue from Packaged goods accounted for 29.22% ($1.54) of its total revenue ($5.29B).
Of course, all those numbers are relative to expectations. As an investor or trader a question that you should always ask:
What was the street expecting?
You see, a company can post record profits during a quarterly report, and its stock price can still decline. One of these reasons might be because Wall Street was expecting better numbers.
But Wall Street also cares about the future and projections. That said, the second question you should be asking is:
What are the company's expectations for the future?
On an earnings report, it's known as company guidance.
EA Stock – Where Investors See Future Growth
Two of the biggest trends in the gaming industry are eSports and Battle Royale games.
The global eSports economy reached nearly $1B in 2018, according to Newzoo. Furthermore, the global eSports audience is expected to reach 380 million. And according to Newzoo, the eSports industry is expected to reach anywhere $1.4B- $2.4B in 2020.
That said, EA runs eSports leagues for its FIFA Soccer and Madden NFL franchises. If you're considering investing in EA stock, then you'll want to pay close attention to any new developments coming out of eSports
More than 2.3 billion enthusiasts spent an estimated $137B on games in 2018, according to a Global Games Market report. That said, there is nothing hotter than Battle Royale games at the moment.
Battle Royale games took off with Fortnite (Epic Games). The game in 2018, made $2.4B in revenues, according to reports.
That said, EA's Battle Royale game, Apex Legends is enjoying a nice run in 2019.
Apex Legends is a multiplayer, free shooter game that notched more than 25 million registered users in its first week. Shares of EA jumped by more than 10% after it announced that the game drew in 10M players in three days.
It is also building up a cult-like following among people watch live stream games on YouTube, Twitter, and Twitch.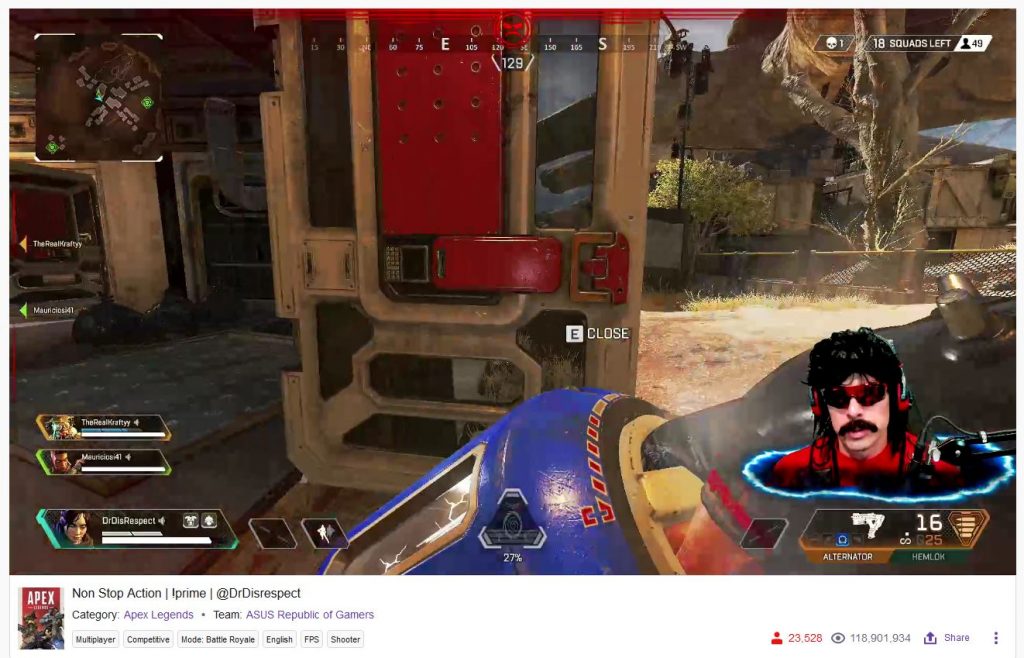 source: twitch
EA is monetizing Apex Legends with in-game transactions. For example, players can pay a fee to change the look and improve their characters. Weapons or skins in EA are selling for up to $20, and sometimes players will need to unlock thousands of Legend Tokens to reach new levels of the game.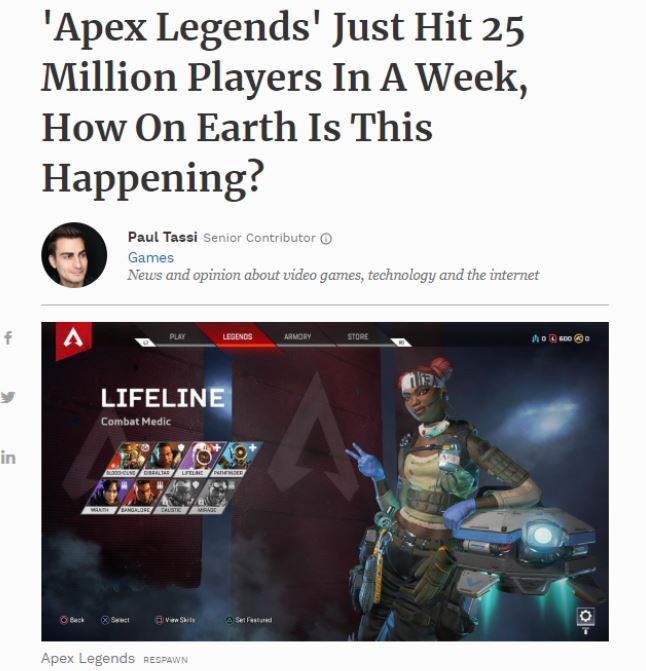 Source: Forbes
Colin Sebastian,  an analyst at Baird, has forecasted that EA could record a potential $500M revenue from Apex Legend by 2020. Bank of America thinks that the revenue from the title could be worth at least $600M by 2020.
Trading EA Stock – What You Should Know
A common questions investors will ask before buying a stock is- does it pay a dividend?
That said, EA doesn't have a history of paying dividends. But that is not uncommon among tech stocks. For example, even giants like Amazon, Facebook, and Google don't pay dividends. That said, you shouldn't dismiss a stock opportunity because the company doesn't pay a dividend.
Now, the gaming industry is very competitive. But EA's management has proven that it can navigate through bull and bear markets.
Factors that can move EA stock
Analyst Recommendations
Industry news
The health of the global economy
Company-specific news
Twitch and YouTube views
EA stock is volatile. On average the stock will move 5-7% after an earnings release.
If you are an options trader, you'll be happy to hear that EA options are available. In fact, they also have weekly options.
There is even an ETF that is focused on the sector and holds EA in its portfolio, the ETFMG Video Game Tech ETF (GAMR).
The Bottom Line
Electronic Arts have seen its ups and downs over the last decade. As with most stocks, it's hard to tell how they'll perform in the long-term.
However, it's easier to identify the trend on a shorter time frame. That's why swing traders have an advantage over traditional buy and hold investing. For example, a typical swing trade might last just one to four days, with the goal of making anywhere between 5 to 20%
And you know what?
The elite swing traders, like Jason Bond, can turn a series of small winners into substantial gains over time. He more than doubled his $250,000 trading account before the end of February.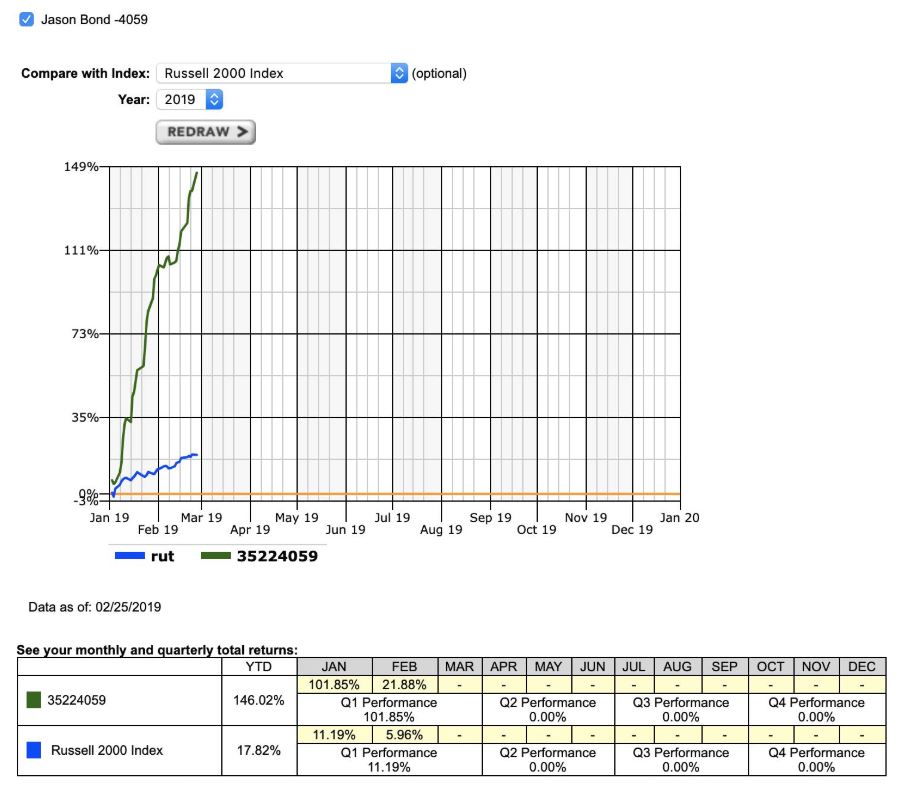 That said, if you give him 90 days, he'll make you a better trader. Click here to see how his top strategies work. But if you're ready for the 90-day challenge, click here.
Exclusive System Tracks Wall St. Insiders
"Dollar Ace Simply Exposes Information That Wall Street Wants To Keep Quiet" Said Kyle Dennis
"One member, Wesley M., has already reported 360%+ gains in just a few short days. Don't miss this!"
(Reserve Access Now)
"What Recession?!" Jason Bond nets $55,060 in realized profit in One Day
After going 6 for 6 on profitable trades recently, we caught up with Jason to ask how he did it.
Check out Jason's exclusive interview revealing this tightly guarded strategy. (Watch Now)
RagingBull.com Co-Founder, Jeff Bishop, Launches High Conviction Trade Service
"We listen to our clients and we give them EXACTLY what they want, so we designed a service to deliver 1 trade, 1 time a week, with a 100%+ PROFIT TARGET, directly to your inbox every Monday before the market opens. (Read More)
Be a Better
Stock Trader, Starting Today
Get the expert insights, tips and strategies you need to optimize your trading skills and profiles
START NOW