How to Invest in ETFs
I f you're interested in making long-term investments that can provide gains and payout over time, consider investing in ETFs. These assets trade much as stocks do, and you can find several advantages that make ETFs an excellent investment for diversifying your portfolio. Key takeaways in this guide:
ETFs are a basket of funds that can help you diversify your investment portfolio and typically include stocks, bonds, commodities, mutual funds, or a combination of all of these.
There are several types of ETFs you can invest in, including stocks ETFs, bonds, market and style ETFs, industry ETFs, commodities, and ETNs, to name a few.
You can easily open a brokerage account to get started investing in ETFs. You can also use the services of a Robo-advisor, who creates and maintains your investment portfolio.
What Are ETF Stocks and How Do They Work?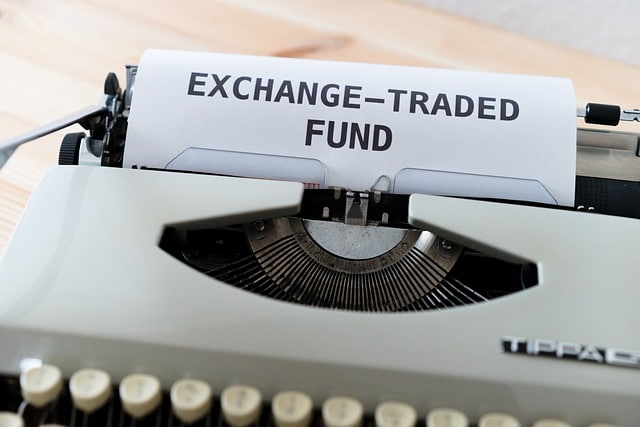 Image via Pixabay by Markus Winkler
Exchange-traded funds (ETFs) are a combination, or basket, of securities. ETFs can typically include stocks, mutual funds, bonds, commodities, or a combination of all of these that you can trade through a brokerage account. You trade ETFs on an exchange as a way to buy and sell assets without having to buy each element of the ETF separately.
You can buy and sell ETFs, much like company stocks on the stock exchange. The fund provider, or owner of the assets, creates a fund for tracking performance and then sells the shares within the fund to investors like you. These investors become shareholders who own a part of the ETF but not the underlying assets of the fund. Many ETF traders who track a stock index receive one-time dividend payments for the stocks that are in the index.
Even though ETFs track an underlying asset's value or index, ETFs trade at market-dependent prices that can differ from the asset. Longer-term returns on ETFs can vary from the price of the underlying asset, especially when you factor in expenses.
Types of ETFs
Trading ETFs requires an understanding of the different types of funds you can invest in.
Bonds: Bonds give you exposure to bonds through the United States Treasury, corporations, international bonds, high-yield bonds, municipal bonds, and more.
Market ETFs: Market ETFs monitor the performance of a specific index, such as the S&P 500.
Commodities: These types of ETFs track commodity prices, like the prices of gold, livestock, or another physical commodity.
Foreign market ETFs: Foreign market ETFs track markets outside of the U.S., such as the Hang Seng index in Hong Kong.
Inverse ETFs: Inverse ETFs are interesting because they tend to create profit from a downward shift in the underlying index or market.
Exchange-traded notes (ETNs): ETNs are debt securities that credit-worthy banks and financial institutions back. ETNs are essentially for gaining access to non-liquid markets and benefit from almost no short-term taxes on capital gains.
Alternative investments ETFs: Alternative investment ETFs are unique in that some of these ETFs allow you to trade volatility and gain exposure to particular investment methods and trading strategies.
Style ETFs: Style ETFs monitor a specific investment style or market focus like small-cap growths or large-cap values.
Actively managed ETFs: Unlike ETFs that track an index, actively managed ETFs typically outperform the index.
Industry ETFs: Industry or sector ETFs give you exposure to a specific industry, like pharmaceuticals, technology, or fuel.
There are also stock ETFs, which encompass different stocks and are designed with long-term growth in mind. Stock ETFs also carry less of a risk than single stocks, but they also carry more risk than some of the other types of ETFs, such as bonds.
How to Invest in ETFs
Essentially, the way you invest in ETFs can be broken down into several easy steps that will get you buying the initial ETF and trading it for the best profitable value.
1. Open a Brokerage Account
The first thing you'll need to do is open a brokerage account. You'll need it to buy and sell ETFs and other securities. You can choose an online brokerage account, and many of these come with little to no minimums for your account, no transaction fees, and no inactivity fees. Opening a brokerage account is fairly simple to do and isn't much different than opening a checking account.
You can also choose to use a Robo-advisor, especially if you'd rather leave the work of investing up to someone else. A Robo-advisor will create and maintain your investment portfolio, which is usually composed of ETFs. Robo-advisors typically charge a low yearly fee, and because they provide specially curated portfolios, you might not be able to invest in certain types of ETFs, such as some of those outlined above.
2. Start Screening ETFs You're Interested in Trading
Once you have an active brokerage account, you can start finding the right ETFs for you. Most stockbrokers provide screening tools to help you filter through the many available ETFs, and you can toggle between certain criteria you're looking for, like geographic area, industry, the type of asset, and the asset's performance. Screening tools are going to be a highly important tool for finding worthwhile ETFs to invest in because there can be more than 2,000 ETFs listed within the U.S., and more on the international and foreign markets. Look for criteria like:
Administrative expenses: Expense ratios can eat into your profit, so when searching according to these criteria, lower is always better. Start with an average of 0.15%, and don't be afraid to go lower than the average, either, as some popular ETFs may have expense ratios lower than 0.15%.
Commissions: Commissions are another useful criterion to screen for. You pay commission fees per each transaction you make, depending on the broker. Typically, though, most online brokers don't charge commission fees, and the ones that do usually offer a selection of ETFs that are commission-free.
Volume: Stock volume shows you how many shares of a stock, commodity, or ETF are traded over a specific time period and is an important factor in how popular a certain fund is.
Holdings: This criterion will tell you what the top holdings in the fund are, which are the companies or corporations that the funds invest.
Performance: Performance can be indicative of how well a certain ETF performs over time and makes a profit. Research the past performance of certain ETFs you're interested in trading to get some insight into how those funds will perform for your portfolio.
Price: Since you can trade ETFs like stocks, it's important to check the current market prices of various ETFs, which can give you an idea of what you can afford.
These are just several of the screening criteria that you can set within a screening tool to research and learn about your different ETF options. Furthermore, using a screening tool to analyze your investment interests can also help you avoid ETFs and other assets that won't prove worthwhile to invest in.
3. Buy and Sell Your ETFs
Buying ETFs is pretty similar to buying a stock. Simply head to the trading section of your online platform, which will lead you to where you can actively make your purchases and sales. When you purchase an ETF, you'll use the ticker symbol, which is the identifier of the ETF you're buying. Select the number of shares you want to buy and the order type, such as a market or limited order. Now it's up to you when you decide to sell the asset.
Your ETF investments can help you diversify your portfolio and serve as the first step in your long-term investments in the markets. You don't necessarily need to check your ETF's performance every day, but you should be able to access all of that information within your online brokerage account.
Advantages of Investing in an ETF
There are several advantages to investing in ETFs.
An important advantage of investing in ETFs is that they help diversify your investment portfolio, a very important move to keep your earnings growing.
Take a look at several more advantages to this investment option:
You can buy and sell ETFs anytime, day or night, while other investment options, like mutual funds, will only settle once the market closes.
ETF investments typically come with lower fees even though you do have brokerage commissions.
ETFs are also more efficient for tax filing purposes, which means you may have more control over when you pay a capital gains tax.
Since ETFs are bought and sold like stocks, you can purchase several types of orders, such as limited, buy-on-margin, and market orders.
As you can see, investing in ETFs can be highly beneficial for your portfolio and future long-term investments. If you're interested in learning more about investing in ETFs, the stock market, or just learning how it all works together, use some in-depth resources and learning tools to help you get a deeper understanding of the market and trading.