Happy Monday Full Scope Trader!
This week, I'll be covering:
Earnings Season's in Full Swing. Are You Ready to Pounce?
GOOGL – From $0.40 to $4.30 – A 975% run in just over 24 hours!
DIS – From $0.65 to $3.55 – A 446% move higher in just over 24 hours!
The Biggest, Most Liquid Stocks are TEED UP
Earnings season is in full swing this week, and I've got my eyes on some VERY special stocks.
Friends, when it comes to MAJOR technical resistance, we've been here before.
Since the beginning of 2022 this market has been steered lower by the widely followed 200-day moving average.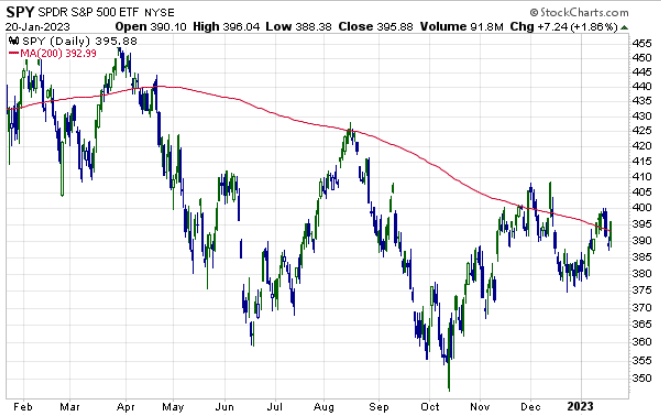 When I tell you the 200-day moving average is important, that's an understatement.
I've been doing this long enough to know that even the most fundamental money managers on the street pay attention to this line and base a lot of their long-term asset allocation decisions on how the market is positioned relative to this line.
I think for 2023's developing rally to gain some escape velocity, the 200-day moving average has to become support.
Such polarity (when resistance becomes support and support becomes resistance), should it occur, will cause the stocks I am eyeing very closely this week to respond very well to this earnings season.
Now, when it comes to trading earnings season, I am like a kid in a candy store.
I mean, just look at the popular stocks that are on deck this week alone: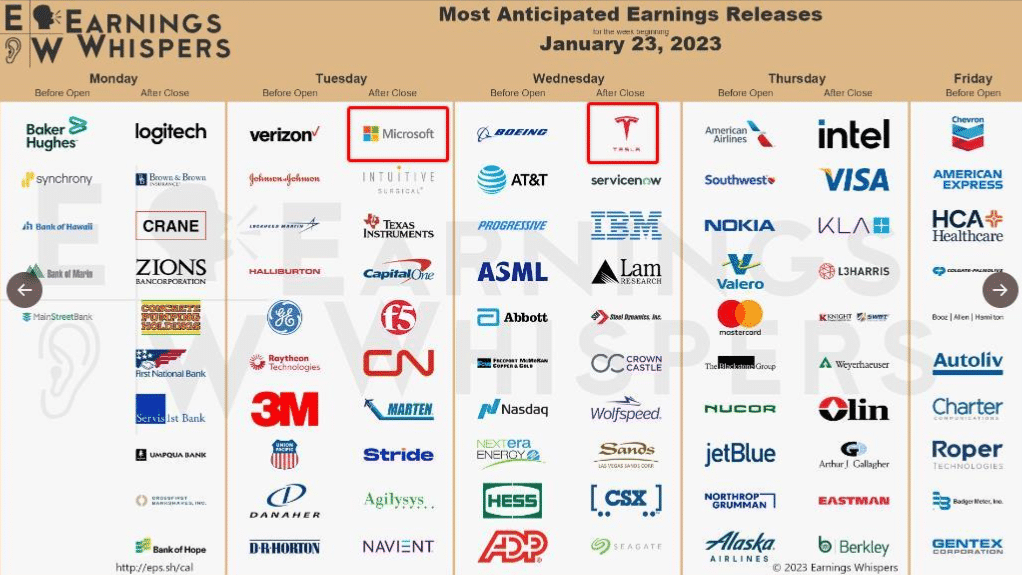 And the timing could not be better for you, because on Tuesday I am introducing my Terminator Trades 2.0 service.
Friends, I am going to tell you more about how you can join me in my LIVE Terminator Trades trading sessions this earnings season later on in this article. 
In the meantime, I just want you to click here or on the image directly below, to listen to the incredible accolades and details one of my VERY satisfied customers recently shared for your benefit: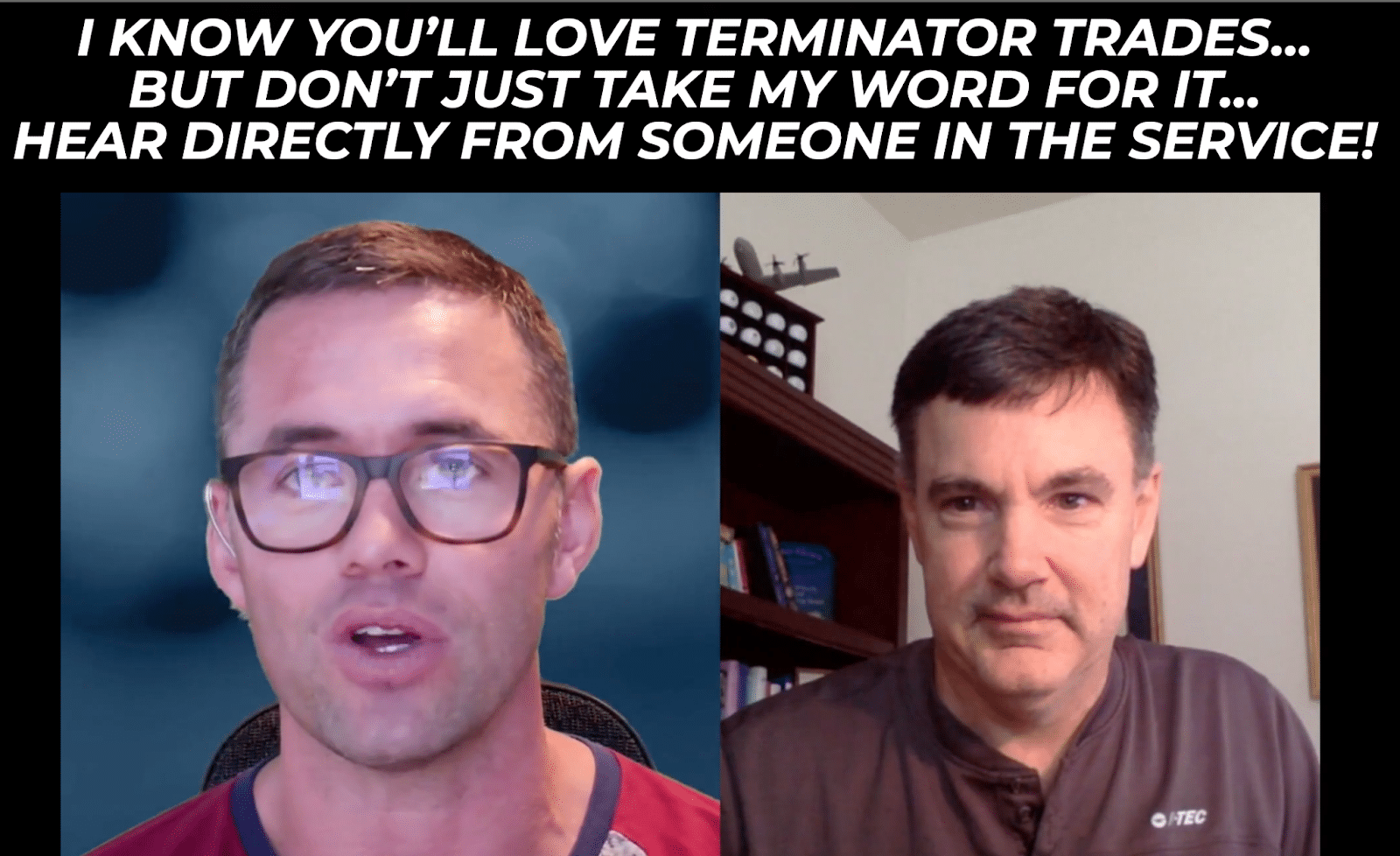 Remember, keep reading to learn more about how you can join my INCREDIBLE next-level Terminator Trades 2.0 service. 
Now, here's some more exciting stuff that's been happening in my Full Scope universe…

Rinse, repeat.
That has been the case with our LottoX 0-DTE (Zero Days to Expiration) sessions of late, and in a good way.
Friends, it was yet another epic week for EXPLOSIVE trade ideas in the LIVE LottoX 0-DTE Trading Room late last week! 
Here is just a SMALL sample of the ideas the Options Master, Ethan Harms and I presented to members during this past Thursday's LottoX 0-DTE session:
GOOGL
Long
Contract: $94 Calls
We said, "This tech name is having a MONSTER of a day, and Ben thinks it could go higher. These are trading around $.40."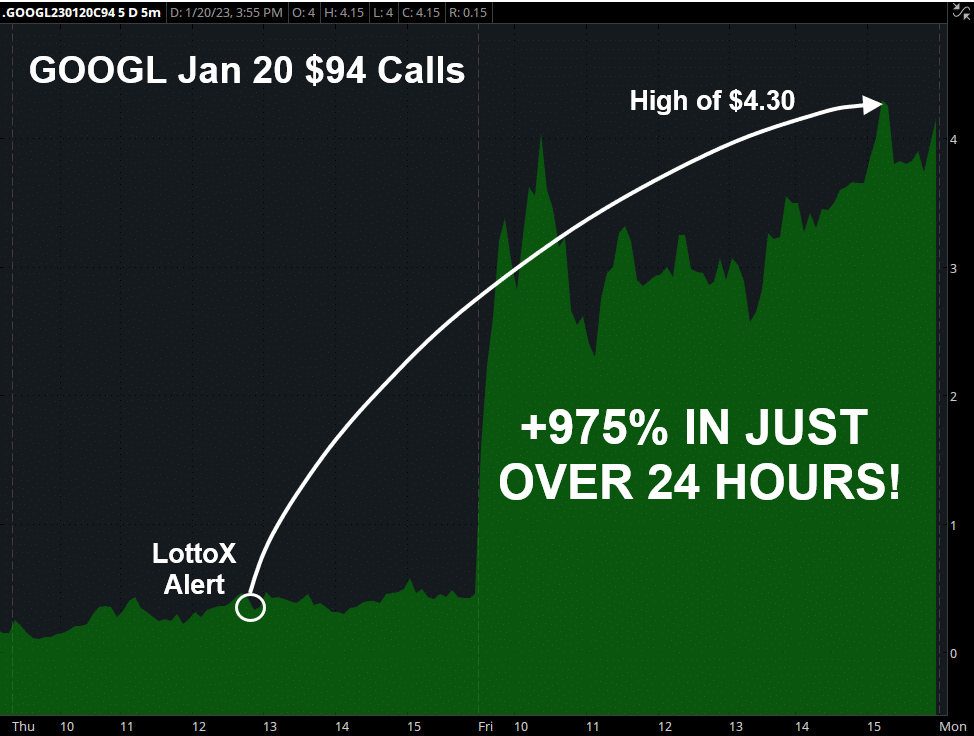 WOW! The contract saw an INCREDIBLE explosion higher, moving as much as +975% IN JUST OVER 24 HOURS!
DIS
Long 
Contract: $100 Calls
We said, "With great volume here, Ethan likes this play to the upside. These are trading around $.65."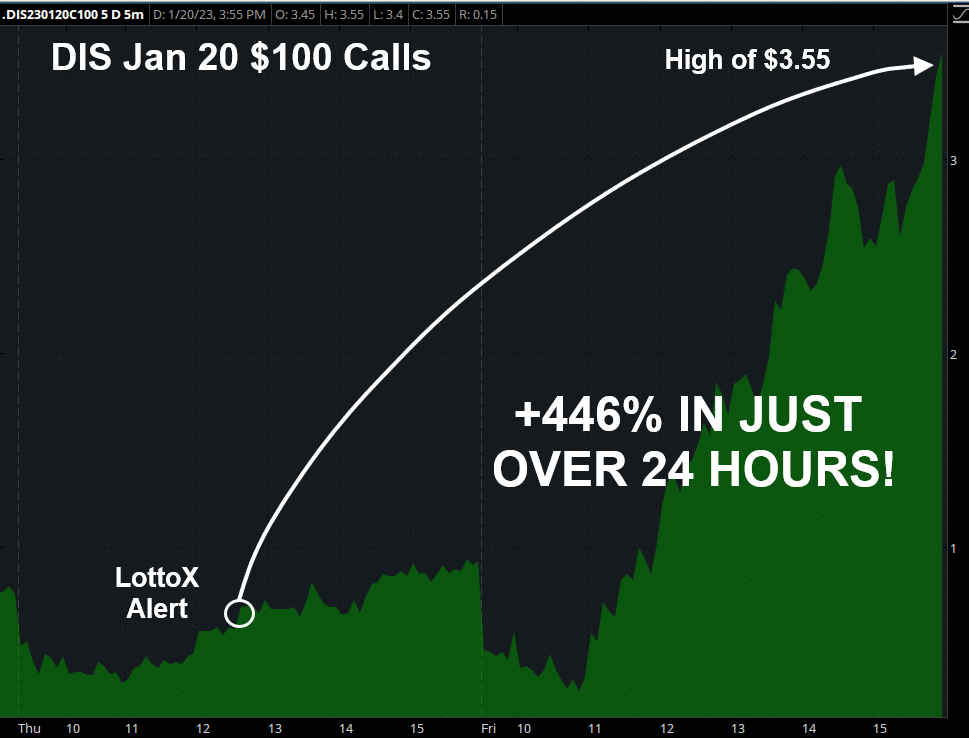 And sure enough, the contract saw a 446% upward run IN JUST OVER 24 HOURS!
This throwback came from Thursday's LottoX Live session. 
Folks, you are not alone out there.
Don't let this opportunity to learn from one of the nicest, most knowledgeable traders (me, Uncle Ben) around pass you by.
Okay, that's enough looking back…because as much as I hope these helped you find some winning trade ideas, I want to talk about what's cooking now in the Fat Cat Kitchen…

I'm Watching Some of the the Biggest, Most Liquid Stocks in Existence This Week
Few retail traders realize the importance of earnings season.
Simply put, the volatility generated during this period is absolutely essential to professional traders that are looking to maximize potential returns.
In other words, the potential to see big moves in stocks, moves that can be harnessed with the right trading strategies, simply is not as great during ordinary, non-earnings season trading periods as it is during earnings season.
An important part of trading during earnings season is to not just focus on stocks whose earnings are due this week, but to pay close attention to stocks that are getting ready to report in the weeks ahead.
That's because many "Smart Money" traders, those with HUGE research departments at their disposal, will establish positions and ride the trend heading into earnings. 
And that, my friends, is why I am paying very close attention to big names like AAPL, NVDA, META, SHOP, SQ, ETSY, BA, ARRY and DIS, which all report earnings in the first half of February.
With this in mind, let me start by showing you why it's so important for the broader market to continue to gain upside traction here, as we discussed at the start of today's article.
You see, as this next chart shows, hugely liquid and popular names like AAPL, META and NVDA are highly correlated to the S&P 500.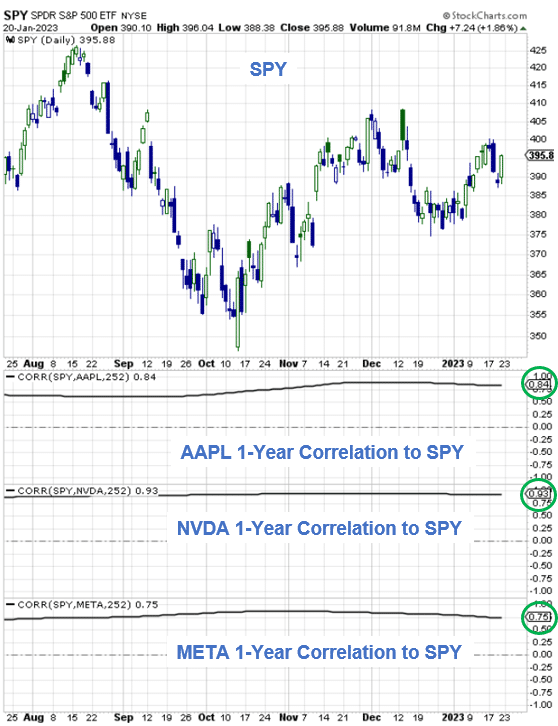 Teachable Moment:
Correlation is measured on a scale of 1.0 to -1.0. A stock with a correlation of 1.0 trades in lockstep with the S&P 500. A stock with a correlation of -1.0 trades completely the opposite of the S&P 500. A stock with a correlation of 0 has no relationship to the S&P 500.
So when we see correlations like 0.84, 0.93 and 0.75 like we do on the chart above, that confirms that these stocks have moved very closely with SPY over the past 12 months. 
While correlation is not causation, we can be confident that continued strength by SPY, should it develop, would be beneficial to any possible bullish trade ideas I am eyeing for the stocks I've listed above.
But that only scratches the surface of the analysis I need to perform before even coming close to making a trading decision. 
Using AAPL as an example, I am also examining whether shares of these stocks do indeed tend to see trends develop heading into earnings. 
Sure enough, as this next chart reveals, the past several earnings reports have seen the stock price develop a trend ahead of the event.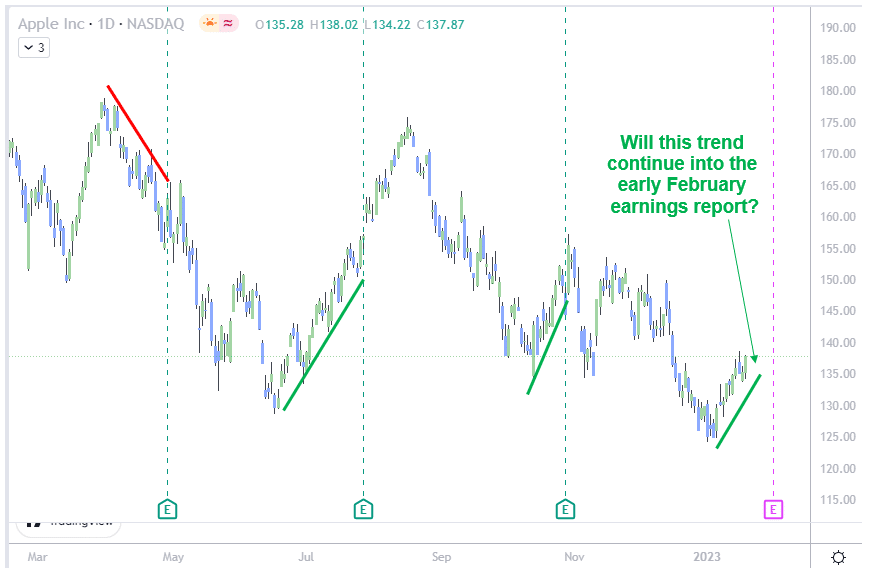 Then, perhaps most importantly, I need to see if the big boys, Wall Street's Fat Cats, the traders with all the expensive research capabilities at their disposal, are actually piling into AAPL. 
Once again, as this image of my CUSTOM Unusual Options scanner reveals, I am seeing good support of this.
Just look at how the money was piling into AAPL Calls late in the day on Friday.
I even have the tools to take it a step further, with my Dark Pool scanner, which finds the BIG, secretive Wall Street accounts that are trying to hide their trades.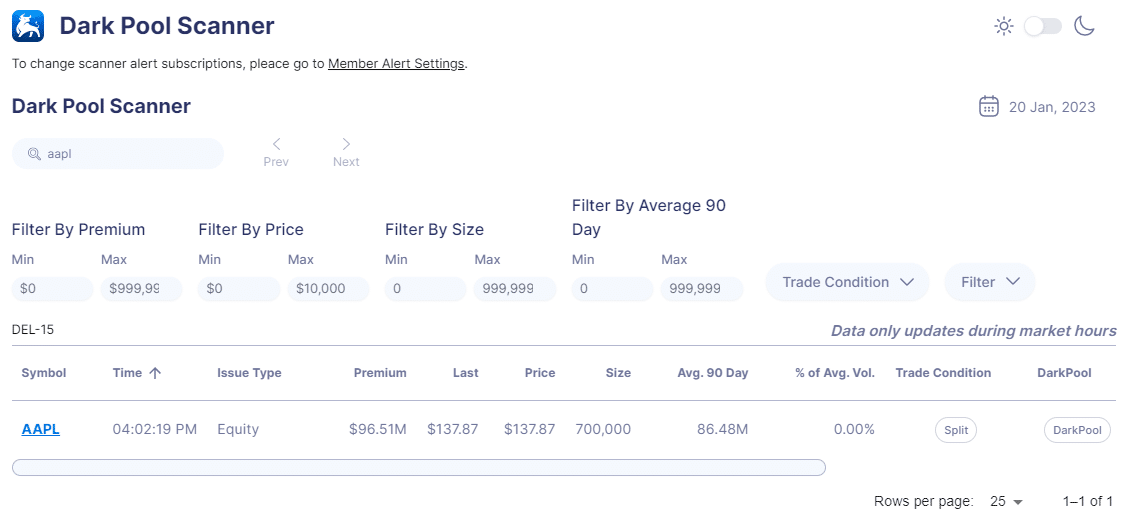 No, your eyes are not playing tricks on you…
That's a $97M trade that someone tried to hide in AAPL on Friday alone. 
After a long period where registration was closed off to new members, one of RagingBull's most popular services, my Terminator Trades service, IS BACK.
Not only is it back, but it is better than ever.
This new 2.0 version takes Smart Money analysis to a whole new level. 
If you have not noticed by now, week in and week out I am showing you monster moves in ideas that I have presented to members in previous sessions. 
Do you think I am able to do that by just using basic technical analysis tools?
Heck no!!!
Smart Money tools like my Unusual Options and Dark Pool scanners are ABSOLUTELY ESSENTIAL to this. 
And right now, for a LIMITED time, RagingBull is authorizing me to allow access for an INCREDIBLE 77% discount. 
We're all about building your trust here at RagingBull, so call and / or email Drew Maddock (443) 218-2831  or email drew@ragingbull.com if you have questions or just want to talk.
Let's have a great rest of the week and until next time!