This week, I'll be covering:
I Can't Believe I Agree With Chuck Schumer
RIOT – From $0.10 to $0.52 – A 420% run in just under 24 hours!
CHPT – From $.31 to $1.05 – A 239% move higher in just over 24 hours?!
Financials Look To Solidify Breakout, AMZN & META Riding the Bull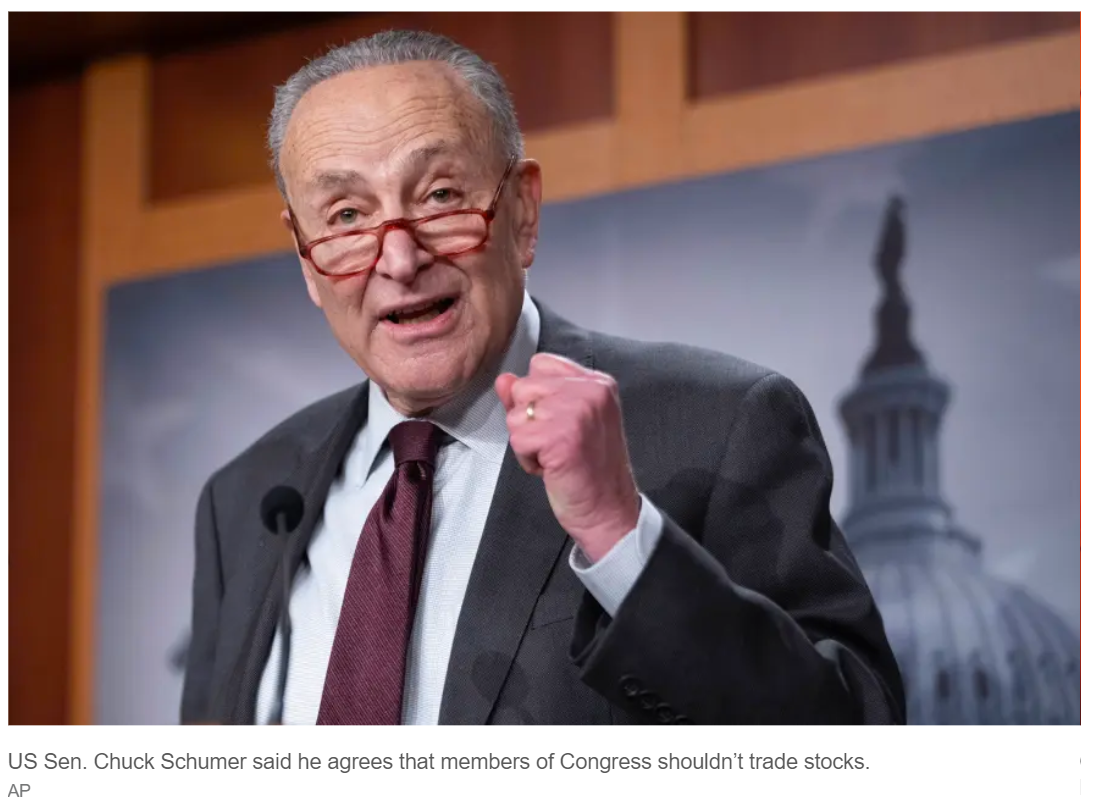 Now, I rarely agree with Chuck Schumer, but I've got to say he has been sounding like my new best friend of late.
Friends, after the LONG, HARD emotional battle I have been fighting to bring awareness to the upper hand that our elected officials have when it comes to investing, it seems that winds may be turning my way.
The comments highlighted in the caption below the picture of long-time Senator Chuck Schumer come from a recent article that focuses on Rep. Abigail Spanberger's heated opposition to Congress' ability to trade stocks.
If you know me, you know that I am a man of faith.
That means it's absolutely CRITICAL that I do right by my members.
That's why I've been sleeping like a baby recently, knowing that I am providing my members with the best tools possible to at least level the playing field in this fight against elected officials that often trade with the knowledge of upcoming legislation and business deals.
Now, I am going to get into some of the technicals behind a recent alert I received from one of these tools a bit later in today's article, but right now I want to show you what happened when one of my "Smart Money" scanners showed shares of C to be in high demand.
Friends, trading on simple technical signals just isn't going to cut in anymore.
Yes, technicals are an ESSENTIAL part of the decision-making process, but in order for you to weed through the many favorable technical setups that exist to find the ones with the best odds of moving big and moving quickly, you absolutely MUST know where the big Wall Street Fat Cats are piling their $$$ into. 
And that's what I was seeing in shares of C before I alerted my members to the action plan I was recommending. 

You might notice that we're talking about the March 17th contract here, which is still a couple of months out.
That's because I'm looking at 2023 as an opportunity to ride more longer-lasting swing trades.  
So far these C calls are grinding higher rather nicely, just like a good, stable swing trade should.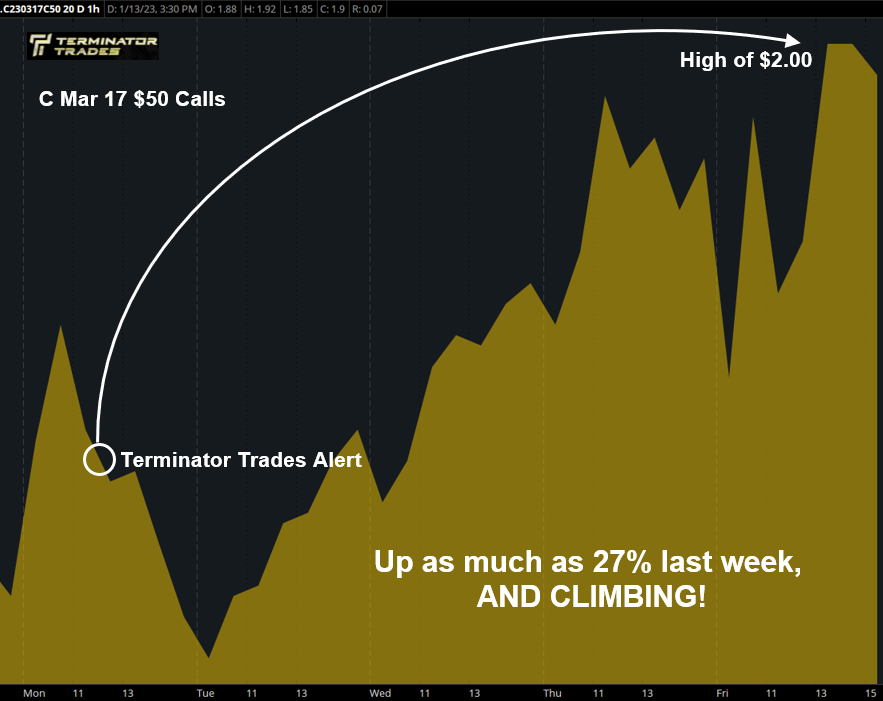 This powerful sequence of events, where I received a Smart Money alert that I felt strongly enough about to put my name on as an actionable trade idea came as part of my Terminator Trades service.
My guess is that the BIG Wall Street traders that my scanners spotted getting into the stock before this rally are not looking to flip the shares for a quick profit.
I can certainly be wrong on that, but at least for now the scanners have done their job and alerted me to a stock where support from Smart Money buyers is helping to drive C shares higher.
Speaking of
Terminator Trades
, make sure you keep paying close attention to RagingBull for a HUGE announcement coming on Wednesday. 
It all happens at NOON (ET), before the HIGHLY ANTICIPATED Tools of the Trade kick-off at 1:30 PM. 
When I tell you that it's been quite a while since I've been as excited as I am about my newest training course called Tools of the Trade, I MEAN IT!
It's designed specifically for novice to intermediate traders, and I am offering it at an incredible discount.
This course is focused on everything that I have found to be critical to success during my long trading career, such as:
Cutting through the noise

Optimizing what really matters

Structuring your trading to

fit your life

Simplifying things to make the experience of trading more enjoyable 
I did not want to limit access to this course, because it's just too darn important.
And, I wanted to make sure that I can answer any and all questions that YOU might have.
So I'm doing it LIVE.
Friends, I've gone the extra mile to make this course 100% INTERACTIVE!
This is my most detailed training program EVER, and for a limited time I am offering access at a 75% discount.
All the details are on this page for you to learn Risk-Free.
I'm so proud of what I have to offer you, so I hope to see you there.

Here's some more exciting stuff that's been happening in my Full Scope universe…

Friends, it was yet another epic week for EXPLOSIVE trade ideas in the LIVE LottoX 0-DTE Trading Room! 
Look, if you're getting tired of missing out on the monster moves we're finding week in and week out, your SPECIAL offer to join in is right here waiting for you. 
Here is just a SMALL sample of the ideas the Options Master, Ethan Harms and I presented to members during this past Thursday's LottoX 0-DTE session:
RIOT
Long
Contract: $6 Calls
We said, "Bitcoin is popping this afternoon, so Ethan loves RIOT to the upside. These are trading around $.10."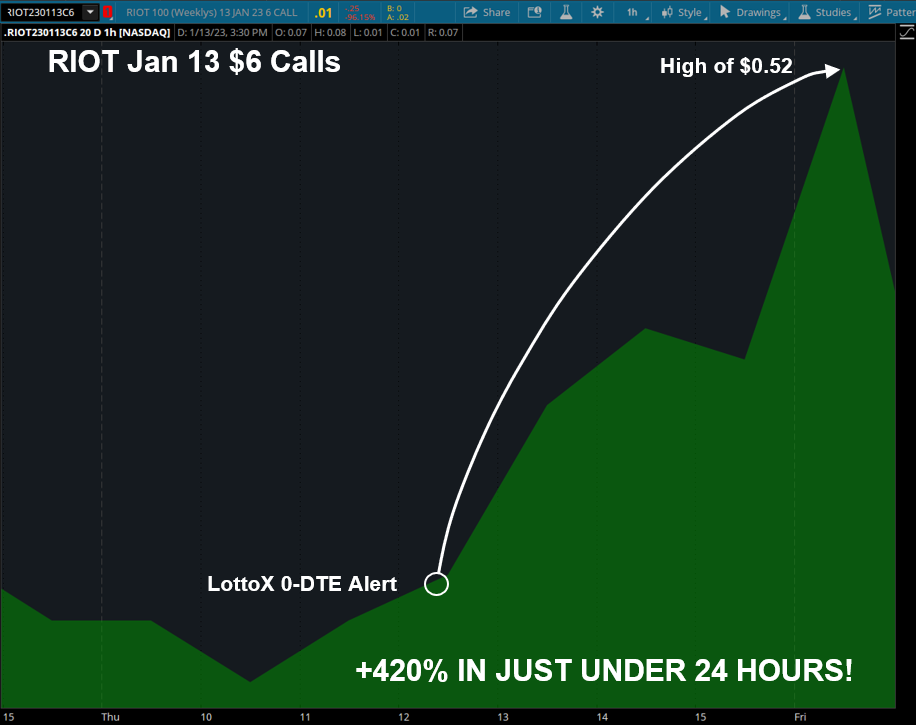 BOOM! The contract saw explosive price movement, jumping as much as +420% IN JUST UNDER 24 HOURS!
CHPT Long
Contract: $11 Calls
We said, "Ben sees 84,000 contracts on CHPT today, and thinks it could go higher into tomorrow. These are trading around $.31."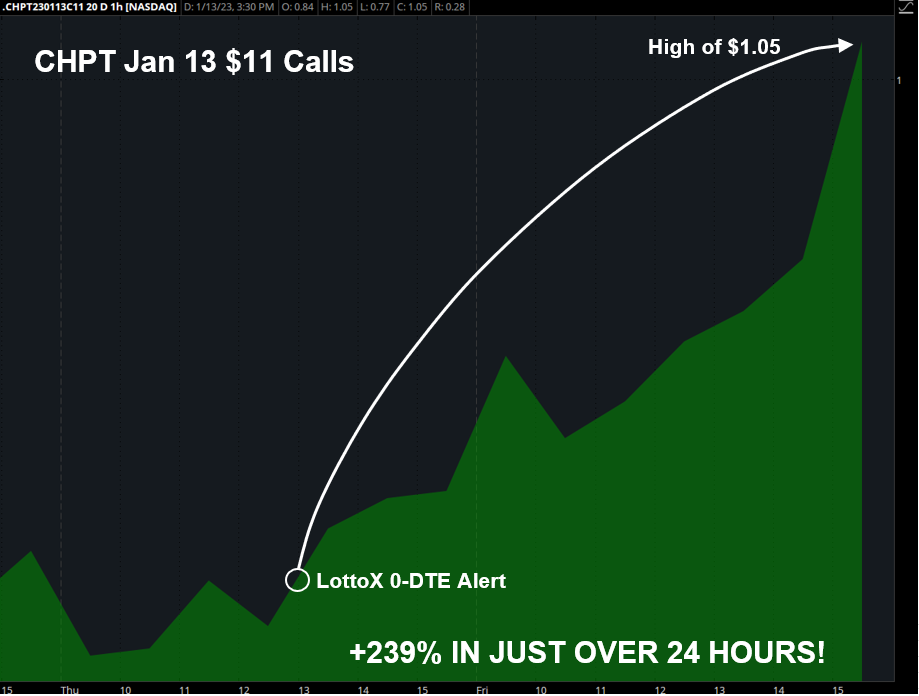 And sure enough, the contract saw a 239% upward run IN JUST OVER 24 HOURS!
This throwback came from Thursday's LottoX Live session. 
Okay, that's enough looking back…because as much as I hope these helped you find some winning trade ideas, I want to talk about what's cooking now in the Fat Cat Kitchen…

Financials Look To Solidify Breakout, AMZN & META Riding The Bull
What's up, what's up?
Remember last Monday's edition of Wall Street Hustle, when I first told you about the breakout in leadership by Financial stocks?
Well, financials spent much of last week retesting the breakout relative to the benchmark S&P 500.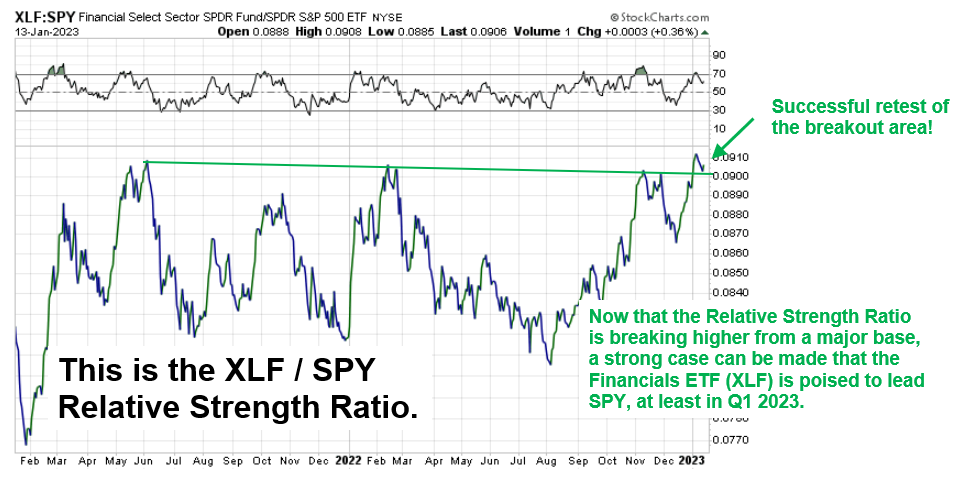 You know what that means, don't you?
That means, if the retest is successful, the Financial sector could be poised for an extended period of leadership.
As proof of the strong demand in this sector, my Dark Pool scanner, which uncovers the BIG trades that Wall Street's Fat Cats are trying to hide, lists XLF among the largest clandestine trades as recently as Friday.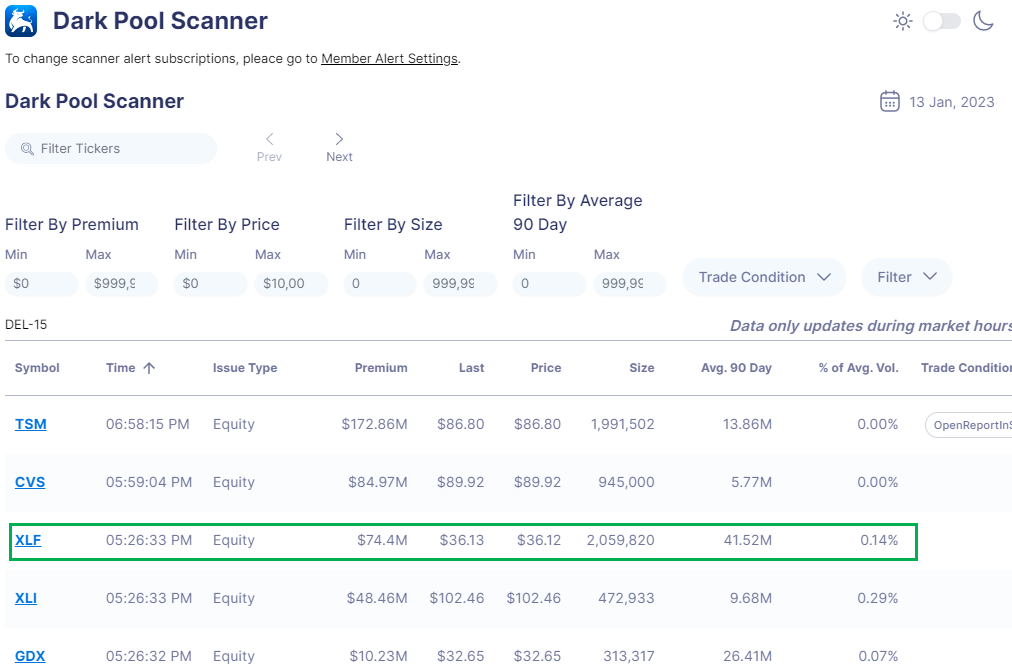 Remember, this is only the start of next-level, top-down analysis that you can only get with a premium service like mine.
So, the next step for me to take is to dig deeper and uncover the individual names that I think have all the ingredients necessary to make for potentially explosive trade ideas that my members will enjoy.
Speaking of next steps, I've already run scans across my Unusual Options and Dark Pool scanners to uncover other individual names where the "Smart Money" seems to be piling into, and the two names I am watching are AMZN and META.
As this next chart shows, AMZN made new lows WITHOUT confirmation from momentum to start 2023, resulting in a slingshot effect higher in price in recent days.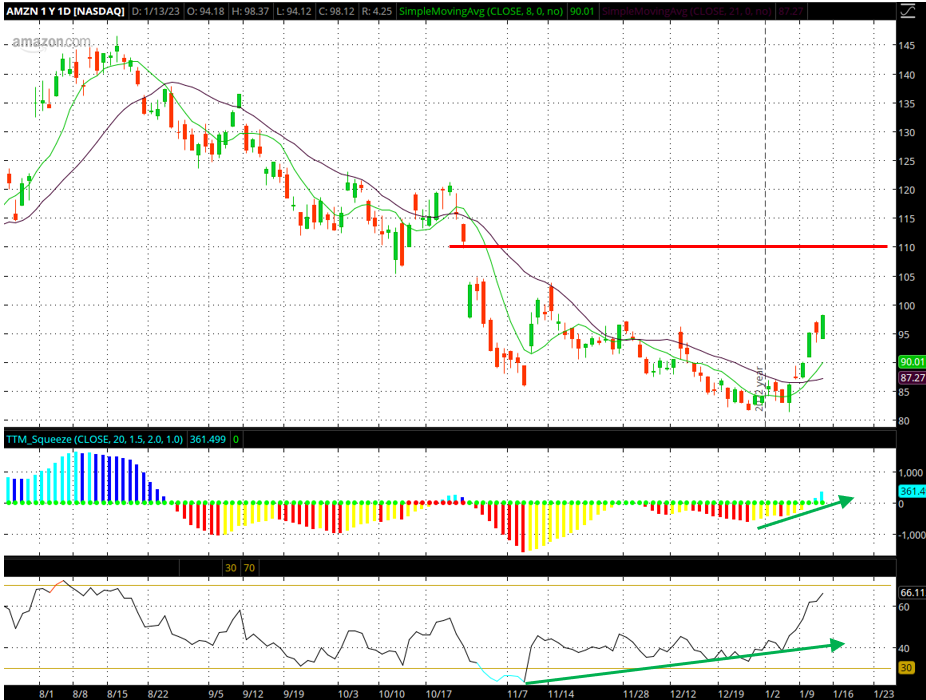 With TTM_Squeeze now confirming the recent rally, I am looking for AMZN to break above $97 and potentially fill the gap up at $110.  
When it comes to META, the story is a little bit different.
With META, I see a stock that reached bullish escape velocity last week when its RSI momentum broke firmly above the 60 level early last week.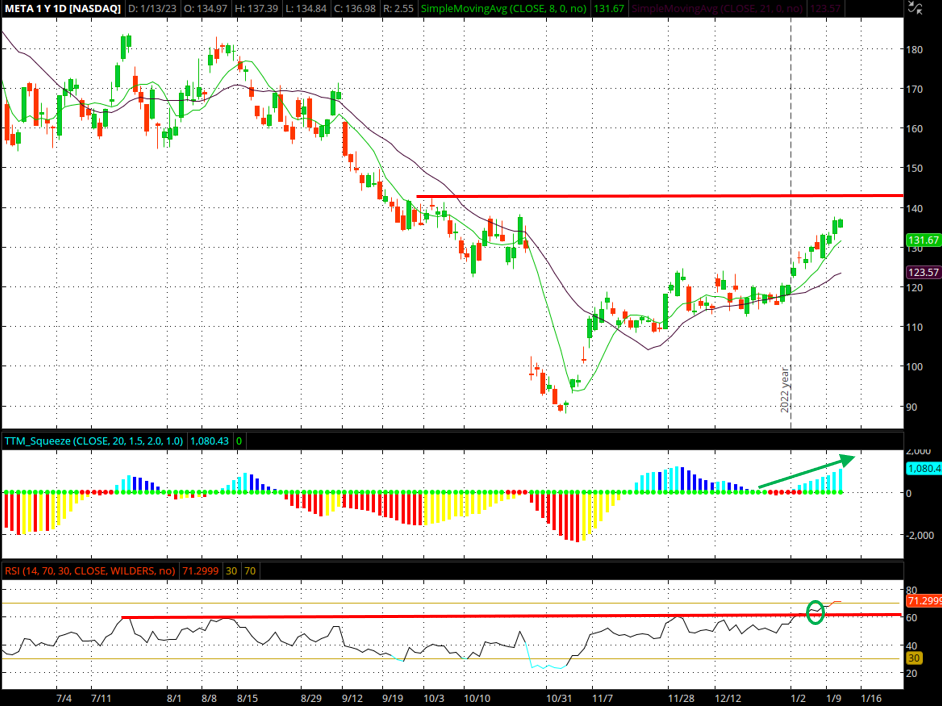 Even though RSI now sits at 71, my many years of experience tell me that this is a situation where, as long as the broader stock market holds up, momentum can continue to carry forward and remain overbought for longer than many expect in META shares.
If META can maintain above $137, I am just looking for a quick run to the $142 area.  
If you like what you've learned here today, remember that WEDNESDAY IS THE DAY you need to be here to gain access to all of these insights at RIDICULOUSLY discounted prices.
It all starts at NOON with our HUGELY ANTICIPATED Terminator Trades relaunch, before the HIGHLY ANTICIPATED Tools of the Trade kick-off at 1:30 PM. 
We're all about building your trust here at RagingBull, so call and / or email Drew Maddock (443) 218-2831  or email drew@ragingbull.com if you have questions or just want to talk.
Let's have a great rest of the week and until next time!