This week, I'll be covering:
Get In Before The Next MEME Run!
HAL – From 0.38 To 1.77, IN LESS THAN 24 HOURS!
AAPL – From 0.60 to 3.60, OVERNIGHT!
Bears Are Going To Have To Try Harder
No matter which industry you're speaking of, trends come and go in this dynamic world of ours.
So when it comes to the stock market, past FOMO winners are CONSTANTLY being replaced by new ones.
Nowhere is this more true than in MEME stocks. 
Remember GME, AMC, and BBBY?
Well, get ready, because RagingBull trading pro Jeff Williams has been seeing favorable conditions come together for a run in a NEW group of MEME stocks.

I'm excited for what Jeff has found because, as you can see from this Bed Bath and Beyond (BBBY) example below, MEME stocks usually build FOMO as their correlation to a rallying stock market grows.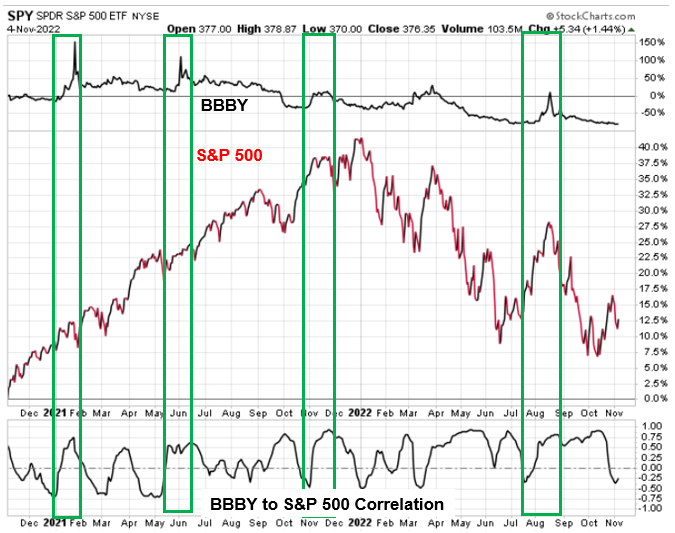 Specifically, you can see on this chart that BBBY's (top panel on chart) biggest rallies over the past couple of years have come as its correlation (bottom panel on chart) has neared 1.0 to a rallying S&P 500 (middle panel).
This time, it's your chance to learn how to find these sleeping apes BEFORE FOMO takes effect. 
This Thursday, November 10th at 1pm ET…
Jeff's delivering a special message on how he plans to make the most of this opportunity…
And why there's never been a better time to take advantage of these trading chimps!
And recently, he's made a shocking breakthrough.
In addition, he'll be sharing a unique trading opportunity…
That may set up for the most exciting short squeeze he's seen since Gamestop.
You'll kick yourself if you miss this event…
So make sure you're on the guest list:

Friends, are you getting tired of missing out on EXPLOSIVE ideas like the ones I am about to show you from Thursday's LIVE LottoX 0-DTE Session?  
Here are just a couple of the ideas the Options Master Ethan Harms and I presented to members during this past Thursday's 0-DTE session:
HAL
Long
Contract: $37 Calls
We said, "Ben sees an hourly squeeze on this energy play, and thinks it could jump higher. These are trading around $.38."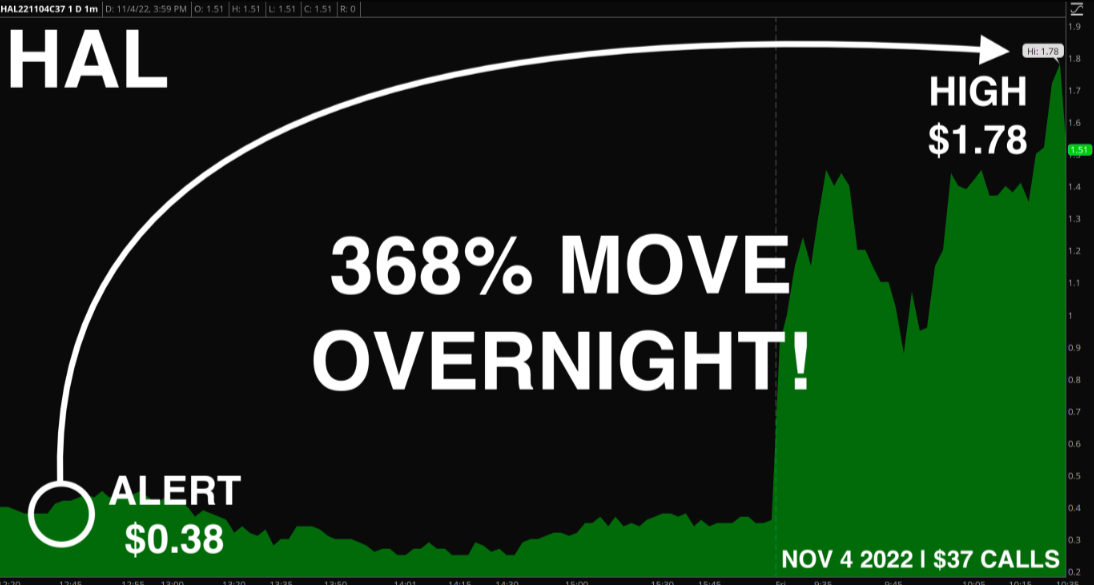 BOOM! The contract saw explosive price movement, jumping as much as +368% OVERNIGHT!
AAPL
Short 
Contract: $138 Puts
We said, "Ben thinks if this name can break below $139.50, it could really drop. These are trading around $.60."
And sure enough, the contract saw a 500% upward run, OVERNIGHT!
This throwback came from Thursday's LottoX Live session. 
Okay, that's enough looking back…because as much as I hope these helped you find some winning trade ideas, I want to talk about what's cooking now in the Fat Cat Kitchen…
Bears Are Going To Have To Do Better Than That!
When you're training to be the best trader you can be, one of the more difficult skills you need to develop is knowing if key events have been fully priced into the market or not.
It just so happens that, right now I am paying close attention to the fact that sellers failed to force the market to challenge the 2022 lows last week after less than great earnings and a hawkish Powell.
With all eyes on CPI numbers this Thursday. 

I'd still be bullish if SPX can hold above 3740. 
In the event of a favorable reaction to CPI, I'll be looking for the S&P 500 to get back to 3950.
On the other hand, a negative response that causes a break below $3700 could open the door down to 3600.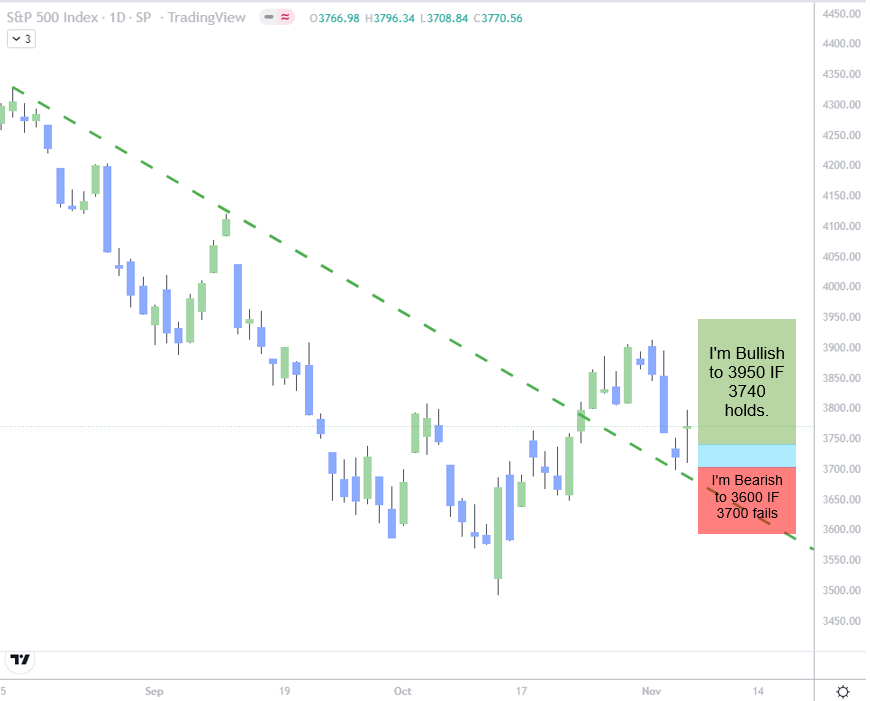 With earnings approaching, I'm also watching NVDA this week. As this chart shows, NVDA maintained trend heading into prior earnings reports, and right now NVDA's current trend is higher against the 129.56 pivot low heading into Nov 16th earnings.
For this week, if NVDA can stay above 141 I like 145 calls for an earnings run. 
Also watching AAPL as its the last of the market generals to not make new news on the year (MSFT,GOOGL, AMZN, NFLX). 
$136-$138 is an important zone this week, so above it I"m watching $142 calls, and below it the $130 Puts are in focus.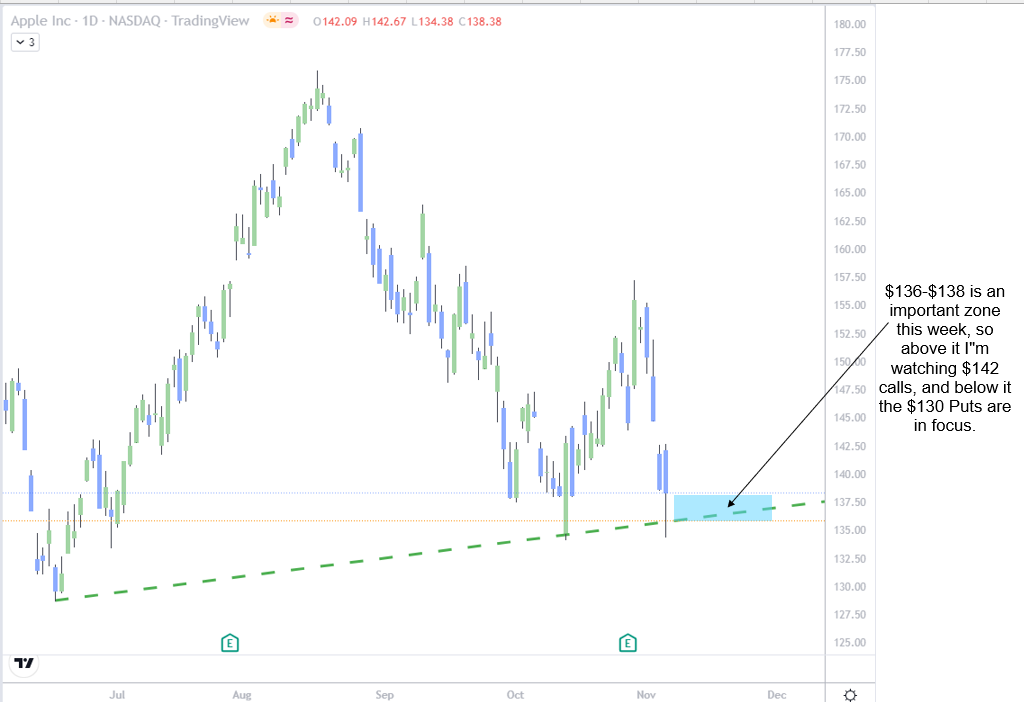 Folks, I know you're anxious for us to reopen registration to my HUGELY POPULAR Terminator Trades service.
That's coming very soon, and it could not be more timely because teaching folks how to use sentiment to determine if key events are priced in is one of the major lessons I focus on. 
Have a question or just want to talk?
CALL DREW:
443-218-2831
Let's have a great rest of the week and until next time!