For traders, this is one of the busiest weeks we're going to see for a while. 
From inflation data to the retail sales report, and between Fed Chair Powell's testimony and the numerous other members of the Fed who have scheduled speaking events, there's so much that needs to be on our radars. 
Speaking of Fed members and elected members of Congress, I just came into some information about these trusted, high-level government officials that is going to make you lose your mind!
What you see below is just a little taste of what I am going to discuss with you today.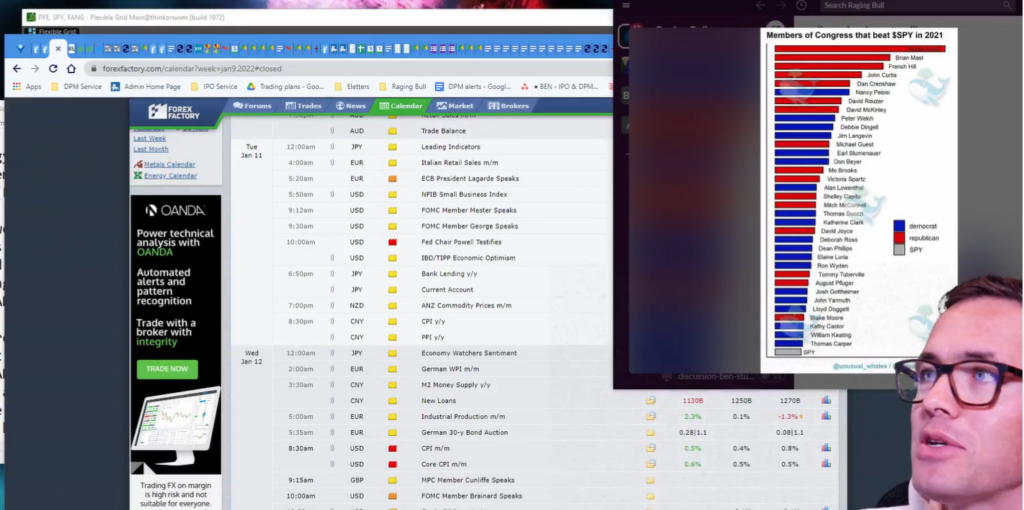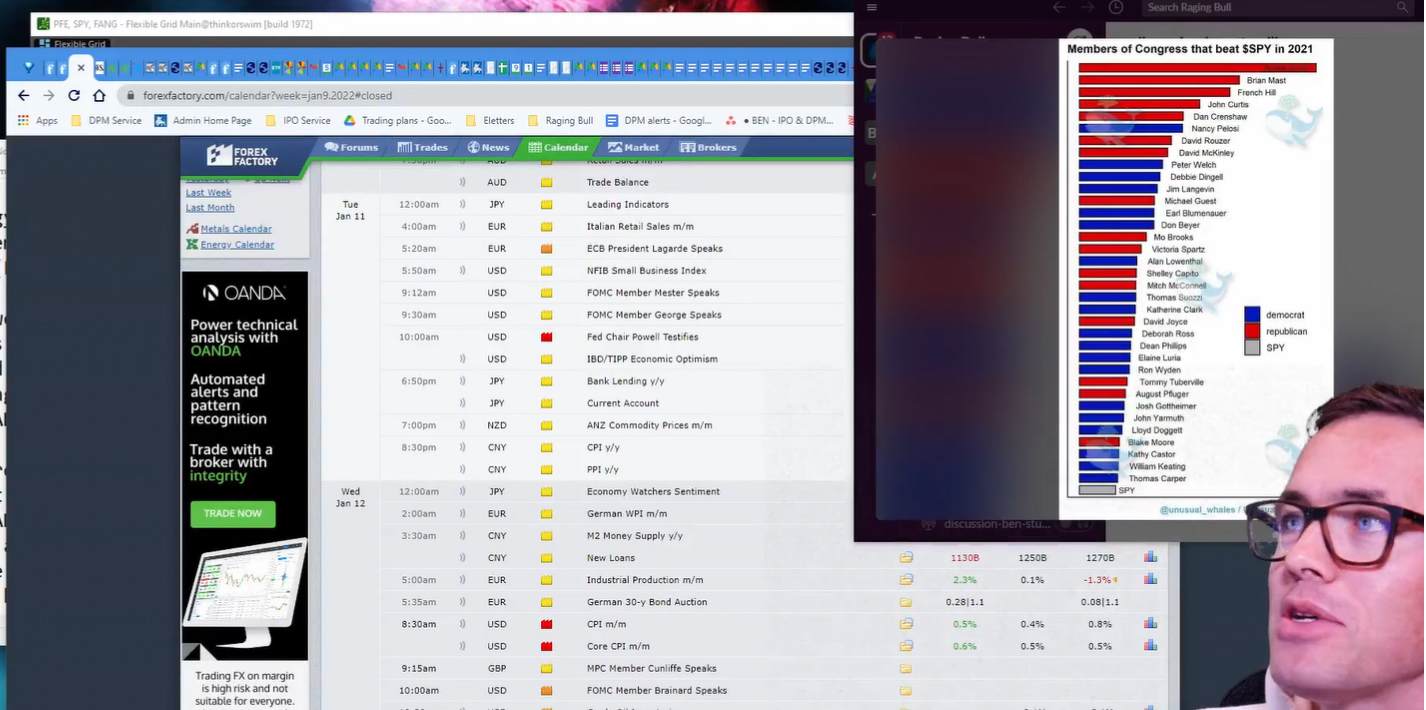 Quite simply, what I am about to show you just isn't fair and, personally, I am fired up about it!
But that's ok. 
I'm a hard worker and I know you are too.
That's why I get up every morning…to bring you all the ideas that I am actively trading myself, so we can both remain competitive in the markets.
Here's an actual snippet from that commentary at the start of this year: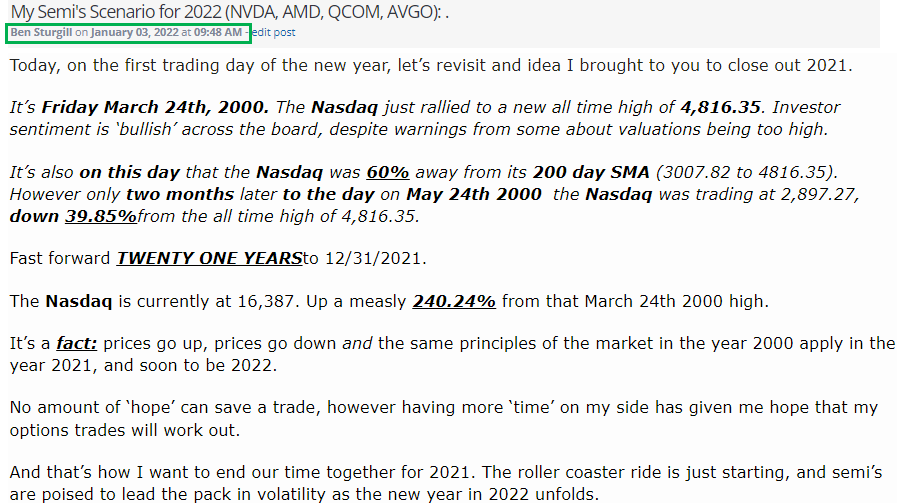 So, let's piggyback on this and discuss my newest trading idea.
So, in case you didn't already hear, Richard Clarida, the vice-chair of the Federal Reserve, announced on Monday that he will resign from the board effective on Friday.
Why?
Because the dude was trading with inside knowledge that the Fed was preparing to step in and rescue the economy in the early stages of the coronavirus pandemic.
I mean, look at the accuracy of some of this guy's trades during the initial phase of the early-2020 crisis: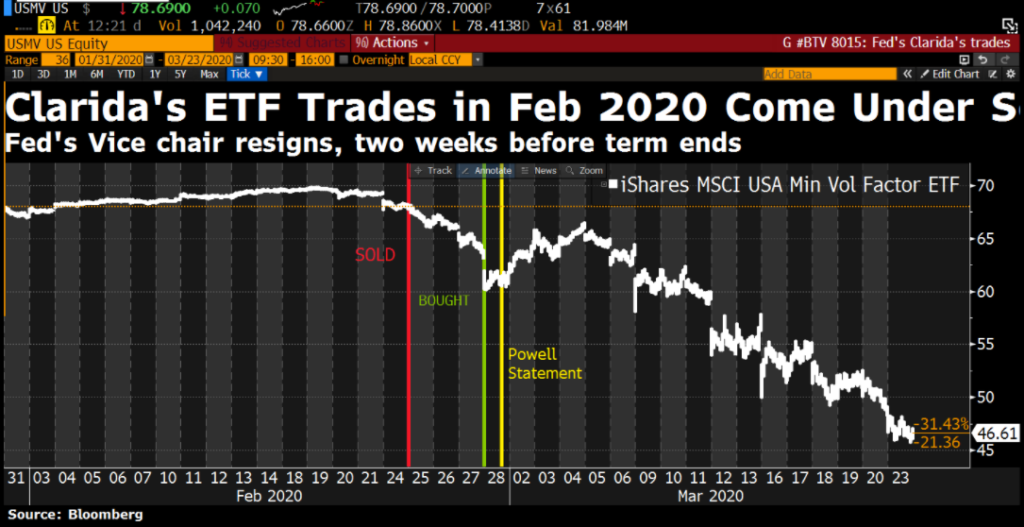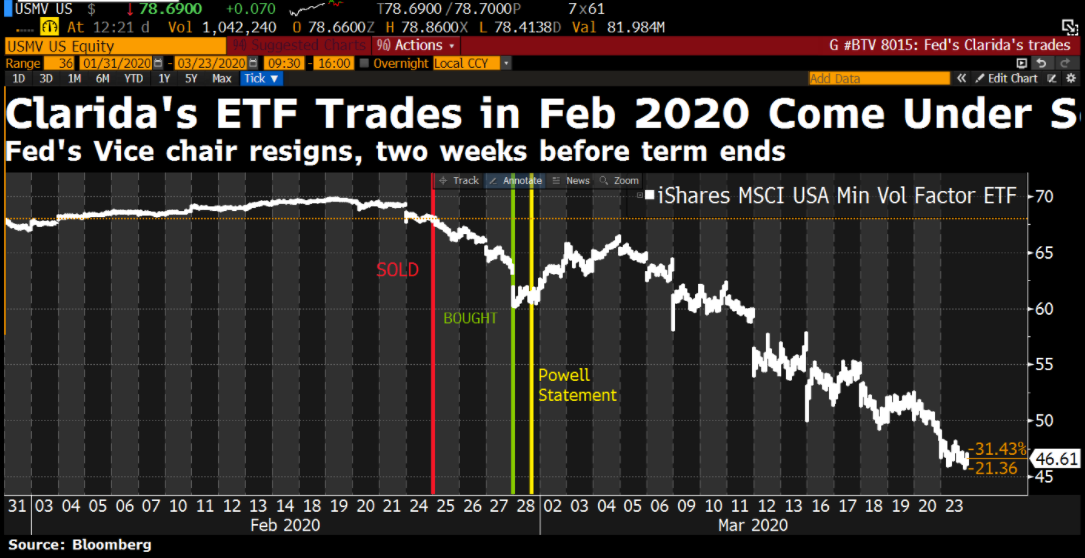 The announcement, which came two weeks before his resignation was to go into effect, came in the form of a letter that Clarida sent to President Joe Biden.
"With my statutory term as governor due to expire on Jan. 31, 2022, I am writing to inform you that it is my intention to resign from the board on Jan. 14, 2022," he wrote to the president.
The letter was released by the Fed on Monday.
Guess what? This guy is the third senior Fed official to step down in the wake of reports about stock trades made just before the markets collapsed.
You know who else is jammed up in this? 
That's right. Chair Jerome Powell, along with Dallas Fed President Robert Kaplan, and Boston Fed President Eric Rosengren.
Yup. They also cashed out on their inside knowledge the central bank planned to boost financial markets during the pandemic.
While both Rosengren and Kaplan resigned after news of the transactions were reported by The Wall Street Journal, Powell, who sold up to $5 million worth of stock options just before the markets tanked in the fall of 2020, was actually nominated by Biden recently to serve a second term.
Oh, and let's not stop there, because that is just the tip of the iceberg.
As this next graph shows, in 2021, Congress beat the SPY.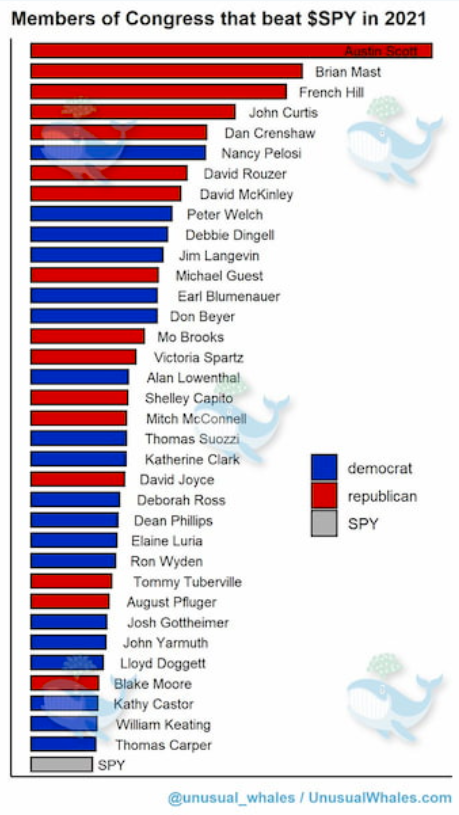 Folks, I'm not going to lie. I'm fired up over this!
I mean, how do these cats, whose salaries we pay and who barely have enough time to handle the country's business that comes across their desk, have the time to do the research necessary to beat the market so significantly?
That, my friends, is straight-up shenanigans!
So what am I going to do about it?
I'm going to keep the ball rolling in 2022 by alerting you to where I am seeing evidence of smart money accumulation, and…and…broad market leadership, and that's in F (Ford) calls.
Friends, in its most simple form, beating the market is all about finding stocks that are outperforming the benchmark S&P 500.
And one way to do that is to use the simplest form of quantitative analysis, which is relative strength ratio analysis.
Not to be mistaken with the relative strength indicator (RSI) that so many traders love to use to gauge momentum, ratio analysis simply measures one security vs. another by creating a ratio.
In the example below, the panel below F's top price chart is a simple ratio that measures F divided by SPY.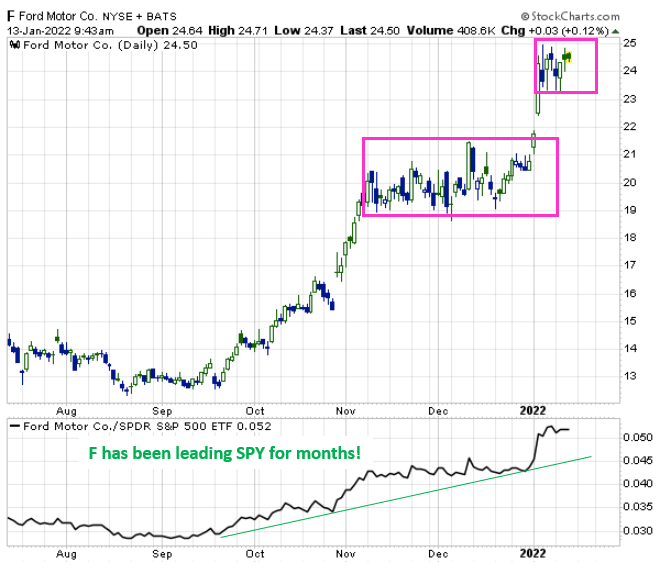 By doing this, we know that when the ratio rises the security in the numerator position (F) is stronger than (outperforming) the security in the denominator position (SPY).
Conversely, we know that when the ratio falls the security in the numerator position (F) is weaker than (underperforming) the security in the denominator position (SPY).
And right now, my friends, it's clear as day which side of this ratio is leading (F).
Now, FEB 4 $27.50 calls in F popped up on one of my scanners recently at $0.40 because of a MASSIVE, MASSIVE amount of calls that were firing in this contract. 
Now, as my partner Ethan pointed out in the live trading session on Wednesday, there's still room to run before F shares reach the next heavy resistance area that lines up with the psychological $30 area.
Given that these calls line up to expire right around the next estimated earnings report on February 3rd, all this leads me to believe there could be continuation here.
Now, we were able to get into this trade at $0.37, which I alerted members to in one of my live sessions, and I'll continue to use these sessions to give updates on the trade.
So good luck out there and let's continue to work hard together to trade this market the fair and legal way if ya know what I'm sayin'.
Let's all have a great day and until next time…