Welcome to Monday, Full Scope Trader!
This week, I'll be covering:
The "Militia" is Your Only Chance
ROKU: 0.14 to 0.30 IN JUST 10 MINUTES
If the VIX Doesn't Hold Support, Lookout! 
People who know me know that I am a man of faith.
One of THE most important tenets of living this way is to always be considerate of others.
And that's why I sleep well at night, because I know I have provided my members with ample warning about the many illegal activities that can harm them in the world of trading.
For years I have been incredibly vocal about the rampant insider trading that occurs in this industry, and as CNBC recently warned you may be at the greatest disadvantage if you're trying to pick up bargains within the crypto space.

Now that MANY beaten down companies in the crypto universe are attracting bargain hunters, retail traders need to be extra aware of illicit activity in these stocks.
That's why I have developed a controversial trading group called the Market Militia.

And this Thursday, 12/1, at 1pm ET — I'm going LIVE to reveal this trading army, and the powerful trading weapons at our disposal…
I'll be teaching you how to be able to compete against a list of Wall Street cheats, ranging from crooked crypto insiders to greedy politicians.
PLUS — I'll be revealing my TOP "Market Militia" trade idea to attendees, LIVE…
The stock I'll be revealing had a TON of "insider" trading activity recently!
I'm gonna share the ticker, and exact options contract that's seeing all this action…
So make sure you save your seat today!
Click here to RSVP for Market Militia!

Friends, the explosive move that my partner Ethan Harms and I found for members in Friday's LIVE LottoX 0-HTE Session is one that I am particularly proud of.
That's because we modified our schedule to bring our members a SPECIAL 0-Hours to Expiration (0-HTE) session on Friday, in order to make up for the 0-Days to Expiration (O-DTE) session that was cancelled due to Thanksgiving.
Just look at what Ethan found.
A 100% move in ROKU $56 Calls IN JUST 10 MINUTES!!!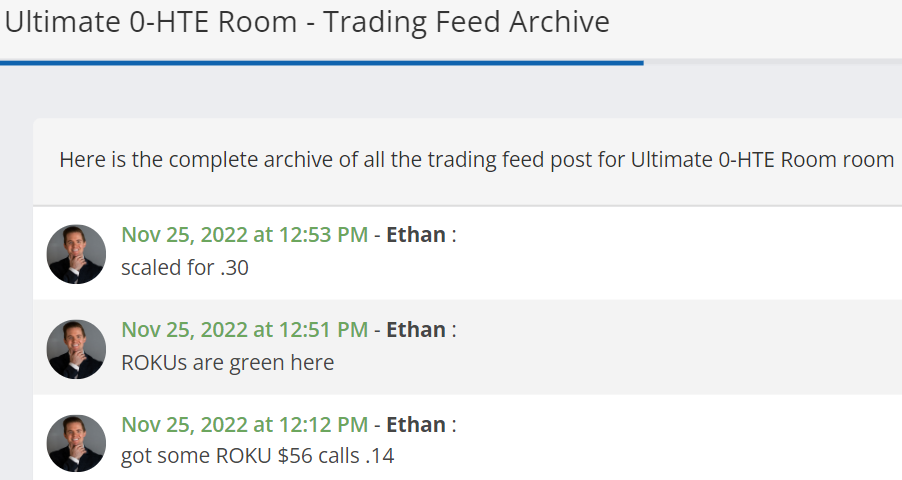 Like the MASTER that he is, Ethan patiently waited until most of the premium had evaporated from the ROKU $56 Calls before timing his entry for an incredible 100% move in the last 10 minutes of Friday's holiday-shortened session.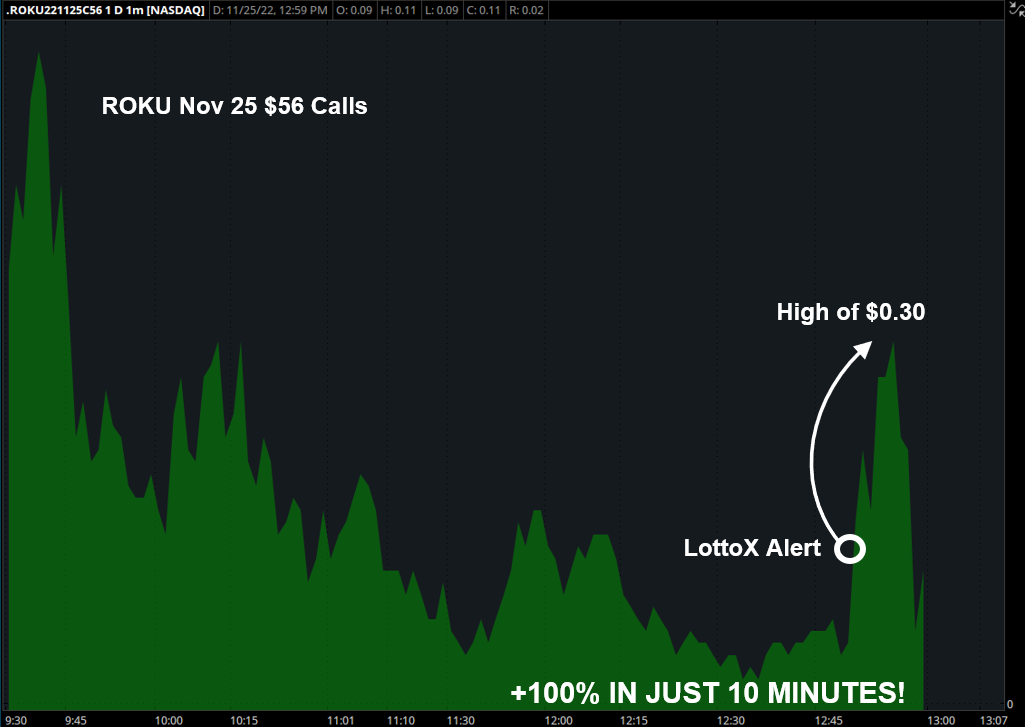 Friends, there is no better example of how a guru's EXPERIENCE and KNOWLEDGE can help you in your journey to becoming a better trader.
This throwback came from Friday's LottoX Live session. 
Okay, that's enough looking back…because as much as I hope these helped you find some winning trade ideas, I want to talk about what's cooking now in the Fat Cat Kitchen…

If the VIX Doesn't Hold Support, Look Out! 
As I alerted you to here, the S&P 500's tendency to trade with a bullish bias during Thanksgiving week came to pass once again last week.
When all was said and done, the S&P 500 gained 1.54% and the VIX fell 11.3%, setting the stage for a LONG awaited and very critical market test.
As the year-end trade really starts to gain attention this week, technical analysts will note that the S&P is rising out of a bullish saucer bottom.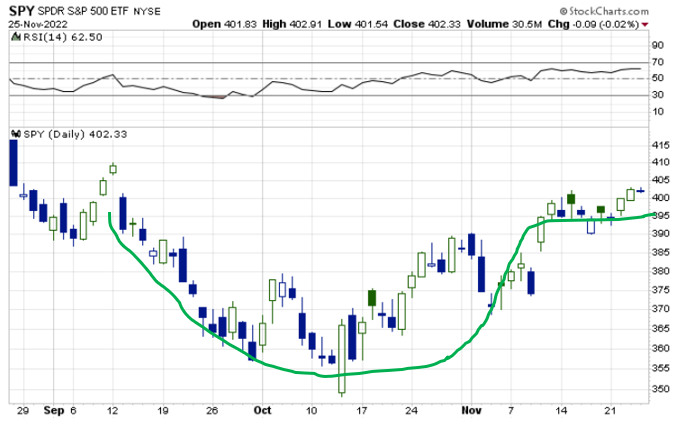 At the same time, though, it is about to encounter downtrend resistance from a trend line that has remained THE dominant force for all of 2022.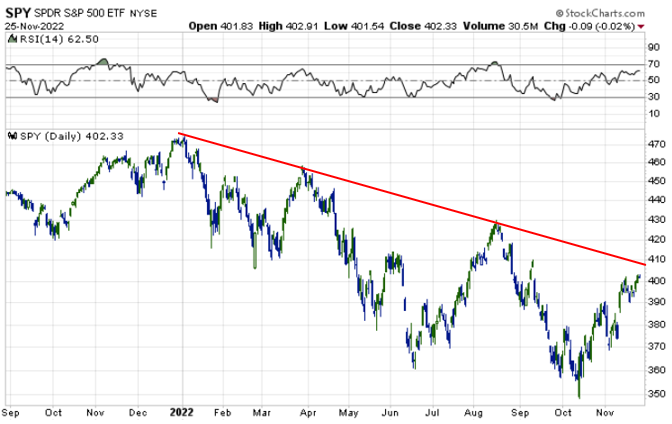 This all comes as the "fear index" (the VIX) has entered a MAJOR support zone.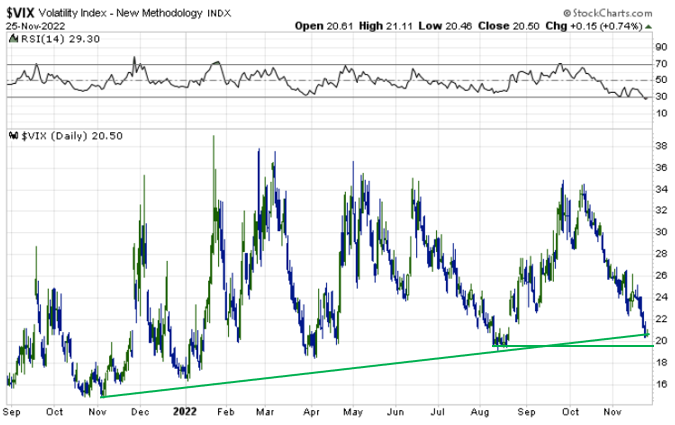 In other words, friends, an EPIC battle is about to be waged between bulls and bears.
Interestingly, the VIX is on pace to register its second straight down month, which hasn't happened all year. 
In fact, the last time the VIX lost ground in consecutive months was all the way back during the February – June '21 window, when it was down five months in a row.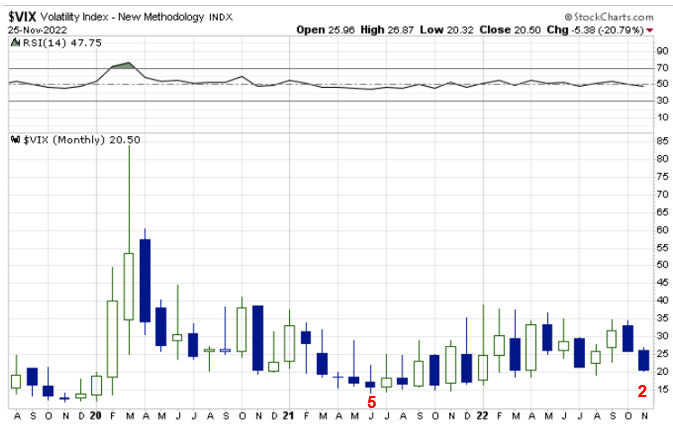 Does this mean that the VIX will have pent-up energy to reverse higher in early December?
Some might see it that way, especially given the significance of the support zone the VIX is now testing.
I can tell you one thing, if this support does not hold, the S&P 500 will be poised to extend its current bear market rally even further.
Needless to say, this is a MUST WATCH relationship this week, and I'll be doing so with the help of the Smart Money scanners that come with my
Terminator Trades
service.
Friends, Terminator Trades has been closed to new members for the past few weeks as we ramp up resources to handle the demand.
Stay tuned, though, because registration for this popular service will be opening again soon.
Have a question or just want to talk?
CALL DREW:
443-218-2831
Let's have a great rest of the week and until next time!