Here's a look at the smart-money movement I've been seeing lately, and what I'm looking to do about it in my trading in the week ahead.
This week, I'll be covering:
DIS

– From 0.40 To 2.41!

RIOT

– From 0.23 To 1.30!

ETSY & CSIQ –

Alternate Correlation Plays During An Uncertain Week
INFLATION! Hot or Not?
IT'S INFLATION WEEK! 
But have no fear…
SUPER BEN STURGILL IS HERE to help guide you through it.
Man, as I am going to show you in just a moment, I have been on fire with my LottoX picks recently. 
Yes, even in the face of some UGLY market conditions.
Before I show you this chart candy, however, I want to prepare you for what's coming this week.
CPI data, or the latest reading on US inflation, is set to be released prior to the market open on Tuesday.

Not only that, but Retail Sales and PPI reports, which are other key data points that could possibly influence Jay Ca-Pow's rate decision at next Wednesday's Fed meeting, are also scheduled for this week.
The consensus view is that Tuesday's CPI report will show an 8% increase in the overall consumer price index from the same month last year.
While such a reading would be down from 8.5% in July, it would still represent a historically elevated reading.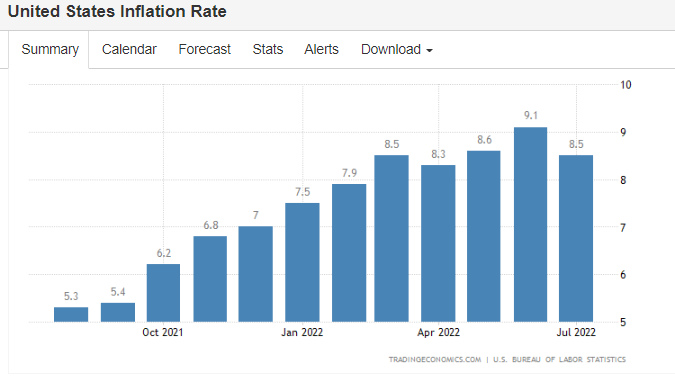 Friends, inflation data have been coming in hotter than expected across many key countries in 2022.
When momentum like this is in place across the globe, it rarely stops on a dime.
So I continue to reiterate that we must keep a close eye on the Fed, since long-end interest rates here in the US are threatening a possible MAJOR breakout.
And as this chart shows, when the 30-Yr bond yield has broken to new highs in recent months, it has coincided with a sharp declines in stocks.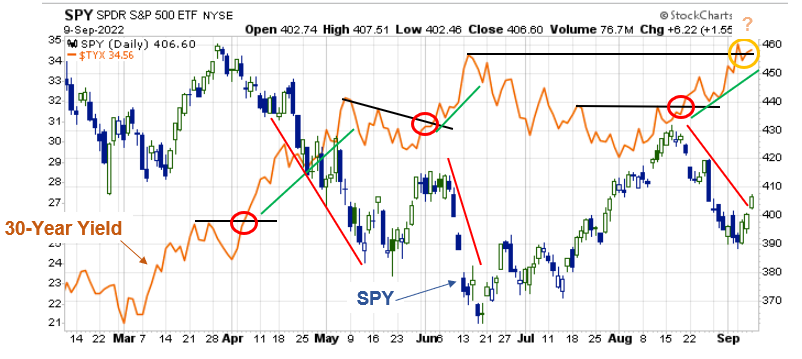 One thing's for sure, I am comforted to know that I have my Smart Money tools to guide me through whatever the market decides to unleash this week!
If you haven't heard already, I introduced an INNOVATIVE new Smart Money product called Terminator Trades recently.
The introduction of this product was so popular, however, that I had to shut down registration so that I can be sure I'm giving all members the attention they deserve during my LIVE sessions. 
But DON'T WORRY!
We are currently ramping up our backend operations so that we can start taking on new members again in a few weeks.
In the meantime, there is still an opportunity for you to get access to my favorite idea generation tools that I use every day to track smart money moves in the market.

Friends, this past week's LottoX 0-DTE session was EPIC!
I mean, there were so many big movers on our ideas list that there's too many to show here today.
Without further adieu, here is just a little taste of what Ethan and I dished up this past week…
Back on 9/08/22 Ethan and I alerted my LottoX Members to:
DIS Long
Contract: $113 Calls
We said: "Disney has a big expo tomorrow, and Ethan likes it to the upside for his honorable mention. These are trading around $.40."
And sure enough, the contract saw explosive price movement, with the contract jumping as much as +503% in just over 24 hours!
Next there was…
RIOT Long
Contract: $7 Calls
We said: "Ethan sees RIOT making big moves today, and likes these calls to the upside. These are trading around $.23."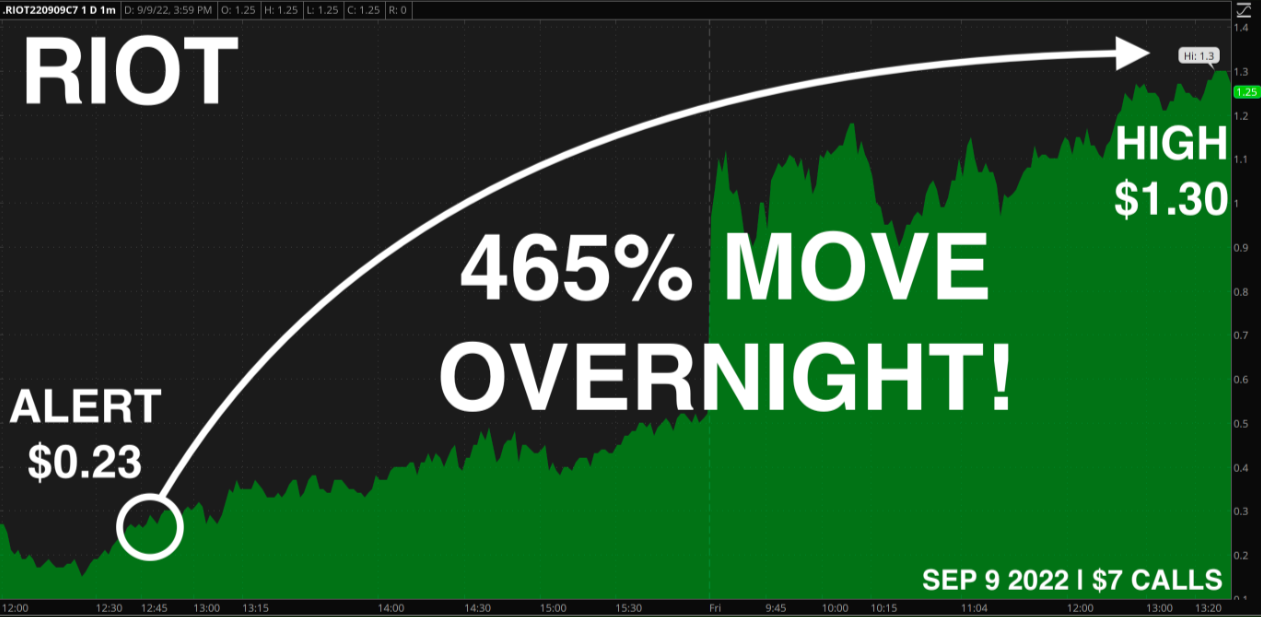 BOOM! The contract exploded as much as 465% in roughly 24 hours!
Now, BOTH of these throwbacks came from Thursday's LottoX Live session.  If you aren't a member yet, consider saving on a year of access today. CLICK HERE TO JOIN LottoX.
Okay, that's enough looking back… Because as much as I hope these helped you find some winning trade ideas, I want to talk about what's cooking now in the Fat Cat Kitchen…

The market is bouncing, HARD, and traders are getting excited and jumping back into long positions.
After many years in this business, however, I know that it's dangerous to blindly start buying just because everyone else seems to be.
After all, as this next chart shows, SPY's 200-day moving average is not only acting as resistance, it is also sloping lower.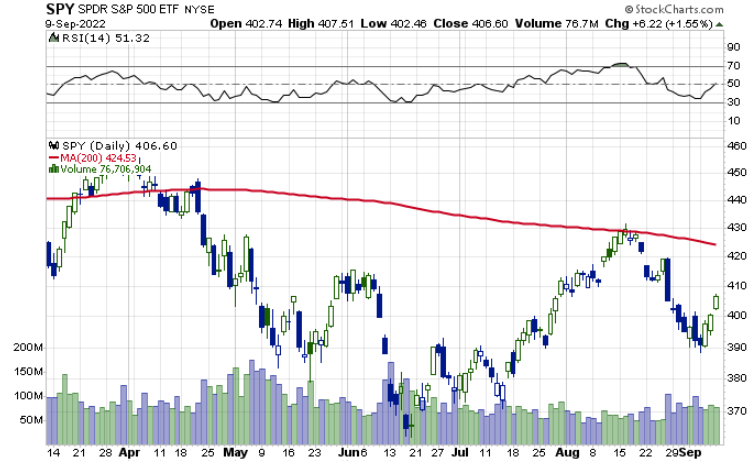 In other words, there is still no evidence to suggest that this is anything more than a bear market bounce. 
So, I want to be smart here.
And to do that I want to pay attention to a mix of stocks…some with strong correlations to the S&P 500 and some with weak correlations.
Teachable moment: 
Correlation is measured on a scale of 1.0 to -1.0. 
If a stock has a correlation of 1.0, it has a perfectly positive correlation to the S&P 500 (i.e., it trades in lock step with the S&P 500).
If a stock has a correlation of -1.0, it has a perfectly negative correlation to the S&P 500 (i.e., it trades completely the opposite of the S&P 500).
If a stock has a correlation of 0.50, it has a weak correlation to the S&P 500.
So my low correlation choice to watch this week is CSIQ.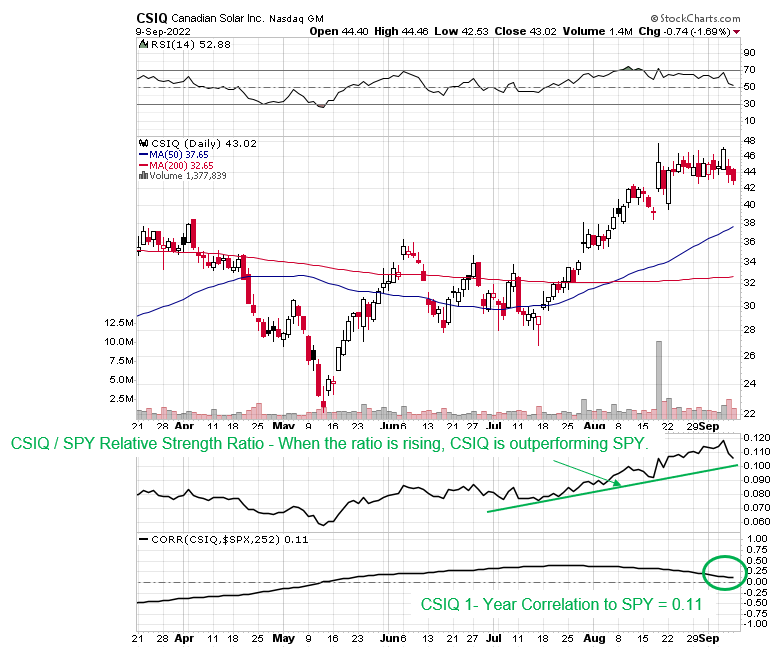 Over the past year, CSIQ has traded with a correlation of 0.11 to the S&P 500.
That's a weak correlation that would help to shield me from any broad market losses, if the market should get spooked by this week's inflation data.
In addition, as the lower relative strength ratio on the chart directly above shows, CSIQ has been leading SPY of late.
For my high correlation stock, I am watching ETSY, which has traded with a strong correlation of 0.82 to the S&P 500 over the past year.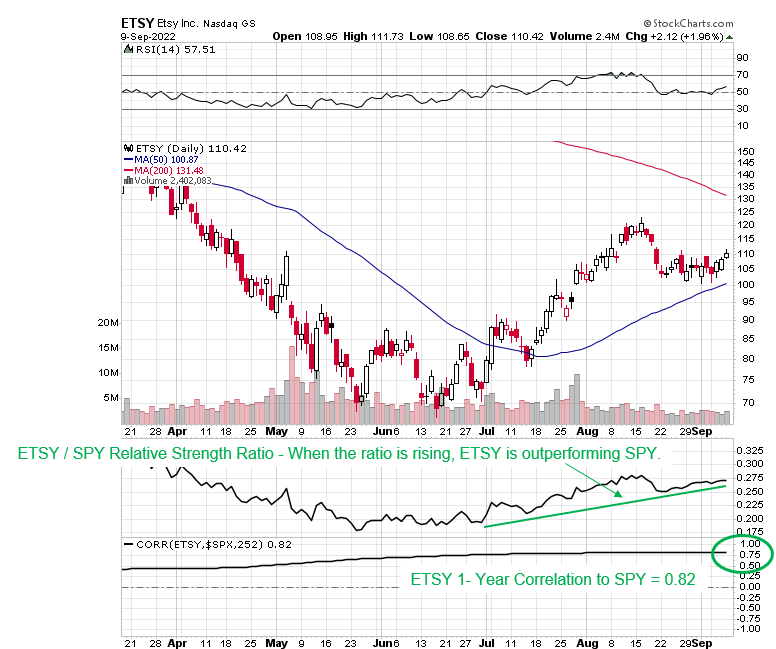 In addition, as the lower relative strength ratio shows, ETSY has been leading SPY of late.
Friends, I am excited about this week, because the market's rebound in the face of potentially game changing economic data will give me a chance to teach my members how to play these two stocks.
That means you don't have to wait for next week's "Hustle" to get actionable ideas delivered to you.
Let's have a great rest of the week and until next time!