This week, I'll be covering:
Will PPI Cause More Inflation Volatility This Week?
AMD – From 0.66 To 5.25, OVERNIGHT!
AAPL – From 0.53 to 5.05, OVERNIGHT!
TSLA, AMZN and AAPL – Good News And Bad News
Last week, I alerted you to the fact that bear market rallies have shown a tendency to be stronger than rallies within bull markets.
I made this a point of emphasis in preparation for last Thursday's CPI report, which is a key inflation report with the potential to cause an explosion in volatility…and boy did it.
When all was said and done on Thursday, the S&P 500 jumped 5.54% in its biggest rally since April 2020, while the Nasdaq Composite surged 7.35%, its best since March 2020. 
October's CPI rose just 0.4% for the month and 7.7% from a year ago, its lowest annual increase since January and a slowdown from the 8.2% annual pace in the prior month.
As I am about to show you in the next section, this was the launchpad for a number of MASSIVE moves in the options of several of the trade ideas my LottoX members witnessed after Thursday's 0-DTE trading session.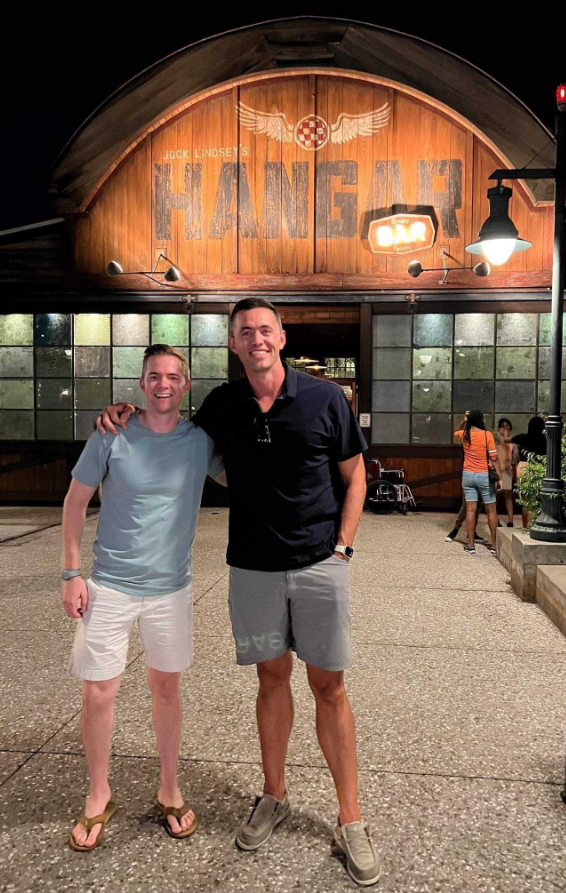 Before we get there, however, you need to understand that the Fed takes MANY other inflation data points into account when determining policy, and the next one on deck this week is Tuesday's PPI report.

Teachable Moment: 
The Producer Price Index (PPI) measures the average change in the prices domestic producers receive for what they produce. In other words, it is a measure of inflation at the wholesale level that is compiled from thousands of indexes measuring producer prices by industry and product category. The PPI is different from the consumer price index (CPI), which measures the changes in the price of goods and services paid by consumers.
This may be the next opportunity to capture RIDICULOUS volatility with the right trade ideas!
This is the kind of environment where Unusual Options Activity THRIVES as an indicator for where the Smart Money is going to be playing.
Be sure to keep reading to find out which options contracts my CUSTOM SCANNERS are telling me to watch this week. 

Just when I thought the moves seen after my LIVE LottoX 0-DTE Sessions in October were astonishing, look at what happened following Thursday's ideas were provided to my members.
Remember, these are just 2 examples:
AMD
Long
Contract: $68 Calls
We said, "Ben thinks this semiconductor play could keep kicking to the upside. These are trading around $.66."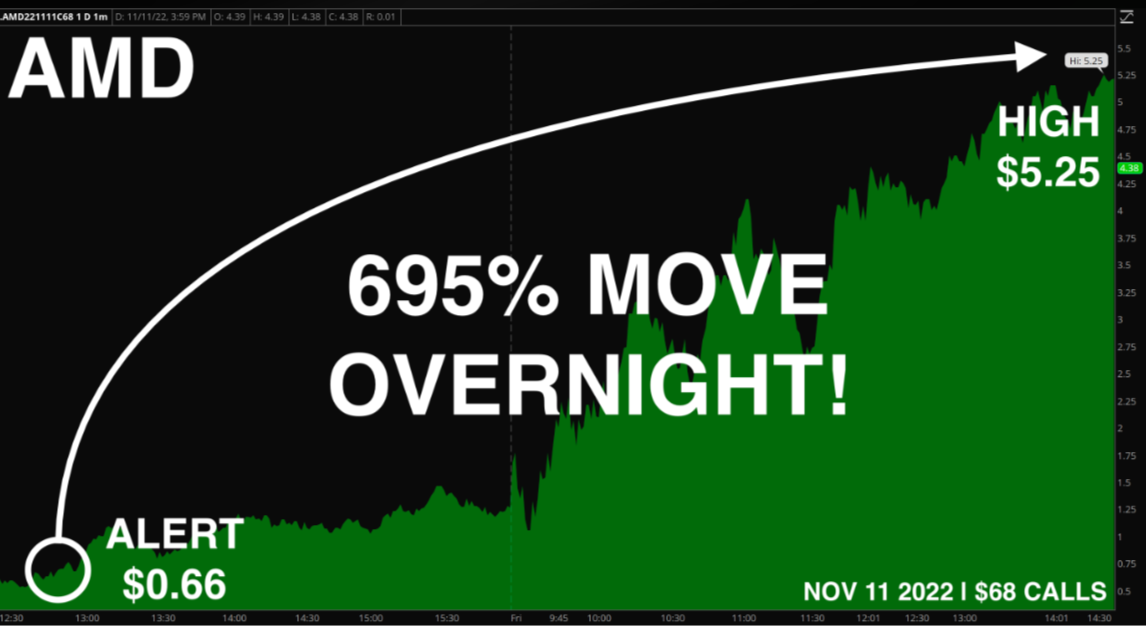 BAM! The contract saw explosive price movement, jumping as much as +695% OVERNIGHT!
AAPL
Long
Contract: $145 Calls
We said, "Ethan thinks this is a strong name after today's bounce, and likes it to the upside. These are trading around $.53."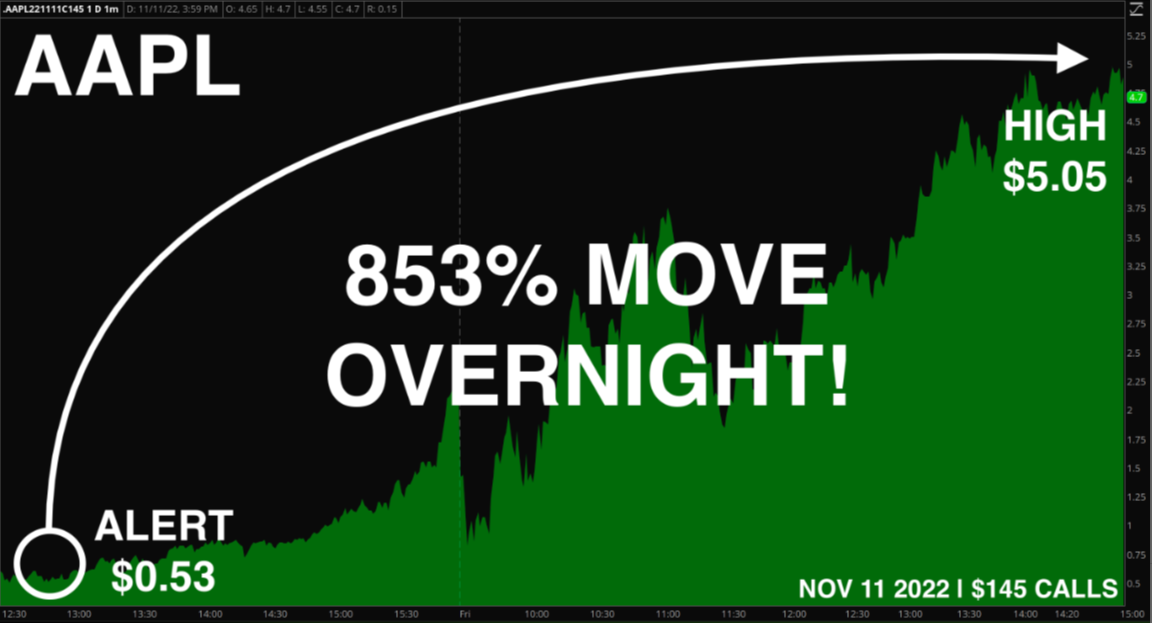 WOWZA! The contract saw a 853% upward run, OVERNIGHT!
This throwback came from Thursday's LottoX Live session. 
Okay, that's enough looking back…because as much as I hope these helped you find some winning trade ideas, I want to talk about what's cooking now in the Fat Cat Kitchen…
You're Going To Need Guidance These Next Few Weeks
Friends, there's no denying that last week's CPI-induced stock market surge put the market on bullish short-term footing.
But what happens next?
Can the bulls turn the longer-term trend bullish from here?
If history is any indication, there's good news and bad news.
The good news is that we are certainly in a seasonal window where tailwinds typically blow for stocks through year end as this 20-year seasonal chart of the S&P 500 shows.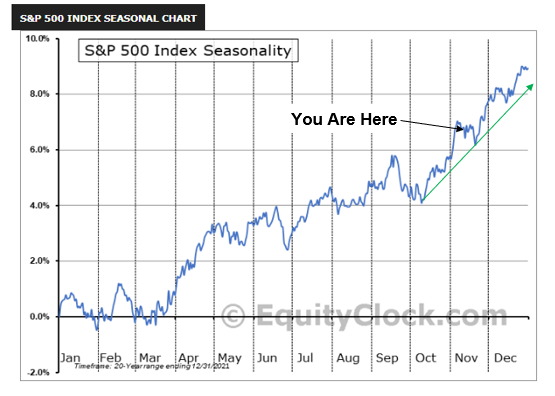 However, the chart above also shows mid November tends to be a turbulent period before those seasonal winds really start to blow in a positive direction again at the end of November…so that's the bad news. 
As I look for the next important market signals, I think 4000 and 3880 are going to be the levels for SPX this week. 
A break above 4000 opens the door to 4100, while a breach of 3880 introduces a possible move to 3780.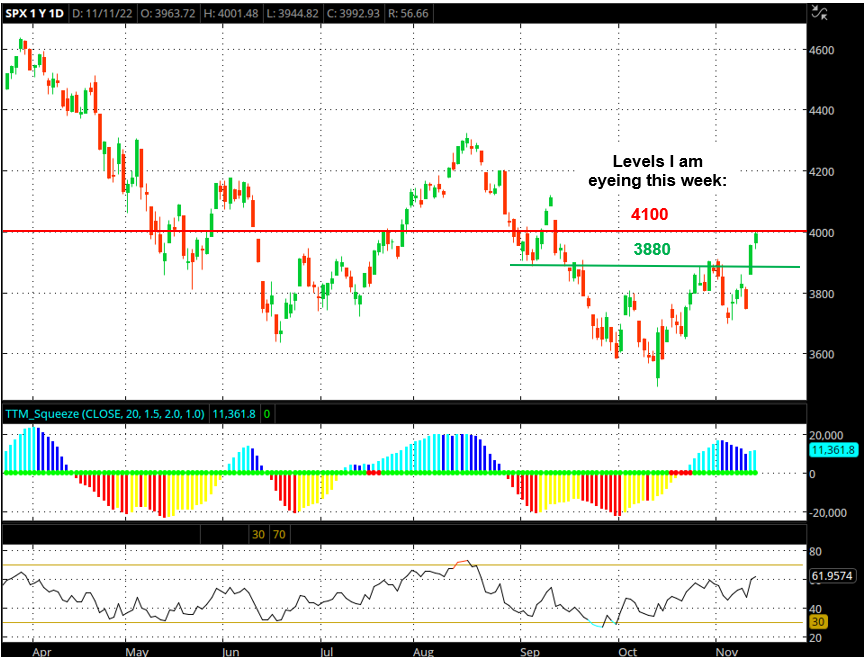 In terms of the options I am watching this week, I like:
TSLA 205 calls for this week above $196.50.

AAPL 155 calls look interesting if the stock can break above150.
I am also watching AMZN after seeing MASSIVE Unusual Options Activity last week for calls this week. 
101 was key resistance Friday so above that I like the 105 calls for this week as they had a lot of activity last week.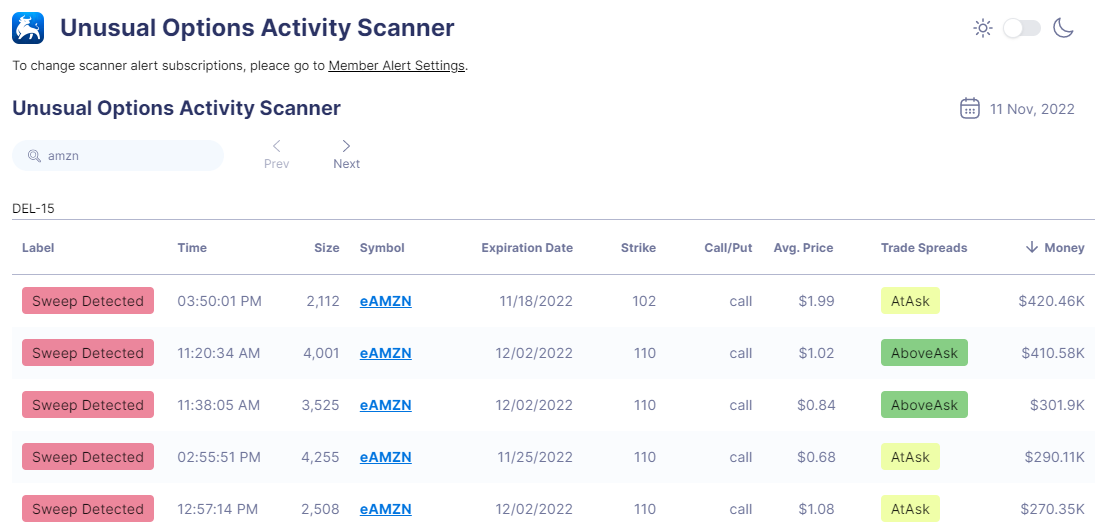 Friends, this is just a small snapshot of the PAGES of Unusual Options Activity that were firing off for AMZN options on my CUSTOM Scanner on Friday.
I'm telling you, this information is going to be INVALUABLE in finding where the smart money is flowing over these next couple of turbulent weeks. 
If you want to ask some questions about how this scanner can help you in your trading, simple CALL DREW: 443-218-2831.
Let's have a great rest of the week and until next time!