This week, I'll be covering:
Pelosi's Mic Drop
META – From $2.50 to $9.12 – A 265% run in just 36 hours!
MRK – From $.23 to $1.47 – A 539% move higher in just under 24 hours?!
Have Bears Capitulated?
You know why I love writing this weekly update specifically for you?
Because you get it..because you're smart…and because no one can pull the wool over your eyes.
So when I tell you that Nancy Pelosi's tenure as long-running House Speaker came to an end last week with her net worth rising exponentially during this period, I know that this news comes as no surprise.

I've been telling you about her and her husband's trading activity for years, and that's another reason you should have been prepared for this news.
And, as a recent study by CMC Venture Group concluded, the bulk of that fortune was acquired with top holdings in the following companies: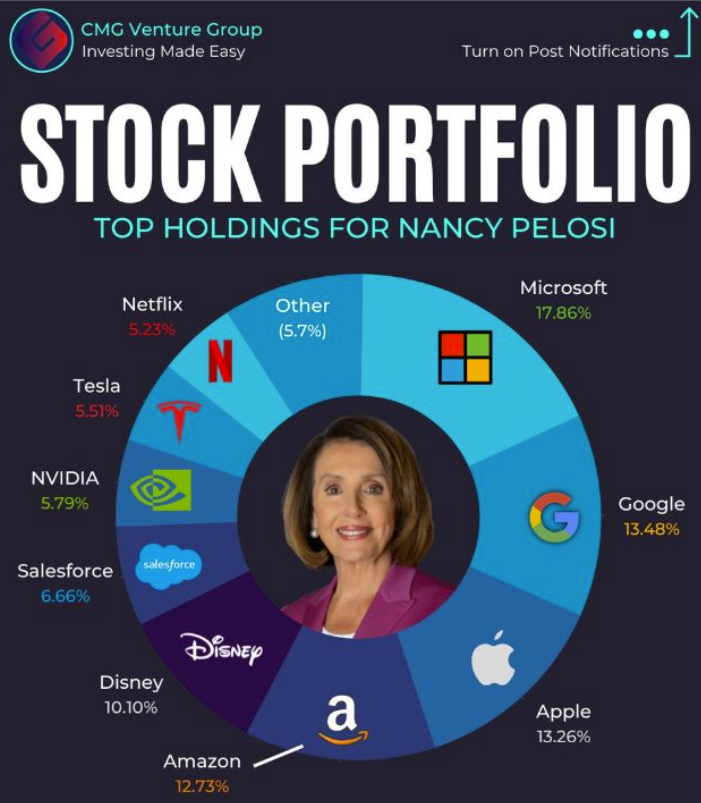 Several years ago, I began to examine massive amounts of data to develop insights into how I could find clues as to where "Smart Money" players like the Pelosis are moving their money.
After using my findings in my own personal trading, I decided to bring what I've learned to retail traders like you, via one of my many RagingBull services called Terminator Trades.  
I am talking about my Unusual Options Activity and Dark Pool insights that help retail traders level the playing field.
Now, you may not be aware, but the former Speaker has been criticized for not moving fast enough on a ban that would prevent members of Congress from trading in stocks while in office.
Pelosi previously opposed such a ban, but later came out publicly in support of it. 
Guess What?
No ban has yet been put in place.
So, what does that mean?
You can expect our elected officials to continue to leave you, the retail investor, at a major disadvantage. 
As a new House Speaker takes over after a LONG reign under Pelosi, there has never been a better time to take advantage of the MASSIVE discounts that RagingBull is now allowing me to offer for access to my "Smart Money" tools that are at the core of my Terminator Trades Service. 
2023 is going to present a lot of difficulty for traders, but amazing opportunities for you if you make the right decisions. 
I want to see you get on the right side of the trade with me! 
We work hard to make sure we have enough resources to meet the demand, and demand has been high, so you have to act fast before prices go up. 
If you have questions or if you just want to talk, Call Drew at 443-218-2831…he'll walk you through everything.
Here's some more exciting stuff that's been happening in my Full Scope universe…

As is always the case, I used several different strategies to find the best possible trading ideas for my members last week.
And as you see from the SMALL sample of results below, I was spreading the love for both my Mobile Closer and LottoX members.
To start, my Mobile Closer service set members up for a WHOPPER of a 1st trade of the year with this alert:

Then this happened…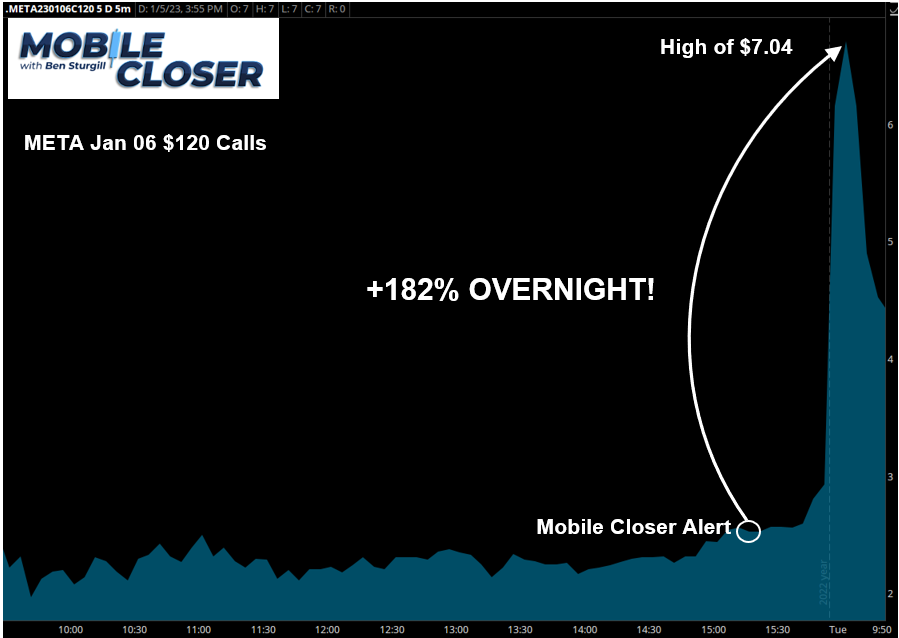 And for those who may have held onto the trade just one day longer, there was potential for an even larger run…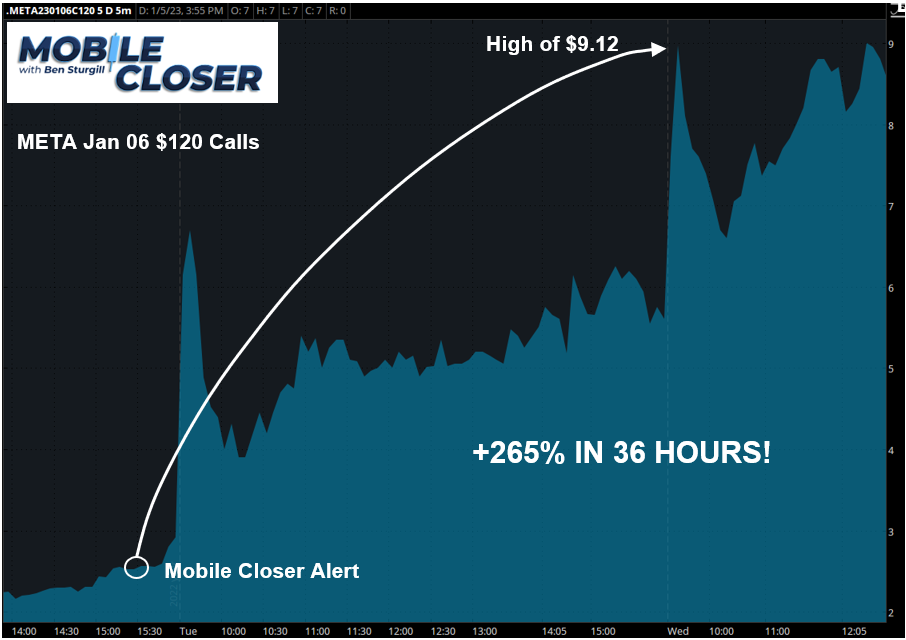 Then, during last Thursday's Live LottoX 0-DTE session, my right hand man and Options Master, Ethan Harms, and I were working hard to find doozies like this one:
MRK Long
Contract: $114 Calls
We said, "Ben sees over 11,000 contracts on these $114 calls today, and thinks MRK could pop higher. These are trading around $.23."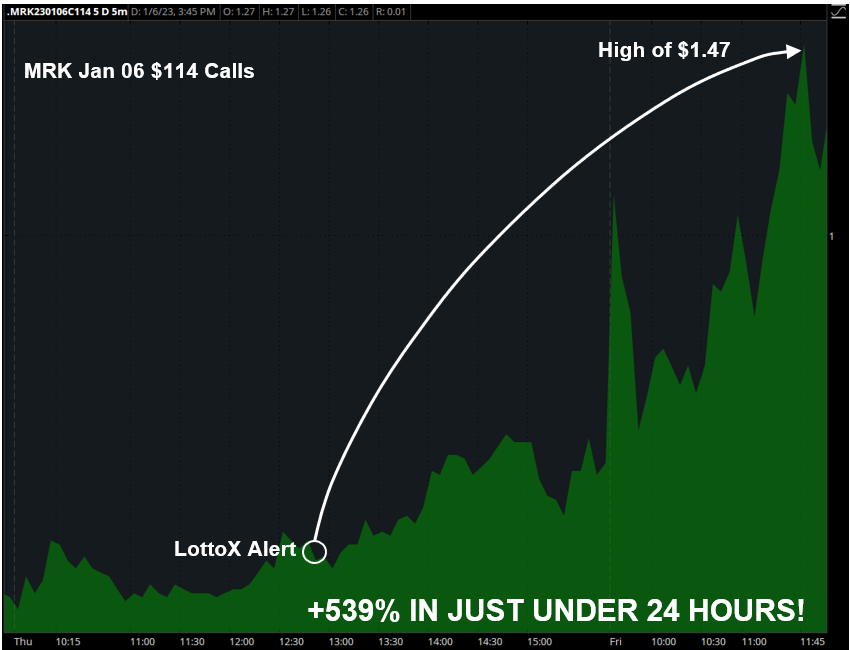 BOOM! These contracts saw a 539% rally IN JUST UNDER 24 HOURS!
Remember, having diversity in your trading styles is an EDGE.
Not only is Zero Days to Expiration (0-DTE) exciting, it gives you the opportunity to add an entirely new weapon to your portfolio. 
A weapon that is not only powerful because of the potentially explosive moves it can produce, but also because it is a form of trading that is becoming increasingly popular on the street.  
THIS WEEK, my friend and RagingBull's CEO, Jeff Bishop, is allowing me to offer you entry into this Thursday's LIVE Lottox 0-DTE trading room at no charge. 
All you need to do is set the time on your calendar by clicking here!

Friends, this open-door opportunity DOES NOT happen often, so don't miss it!
To learn more about AMAZING edge it is going to give traders, you can Call Our Team: 800-585-4488, email them at Support@ragingbull.com or click here to schedule a time that works best for you.
Okay, that's enough looking back…because as much as I hope these helped you find some winning trade ideas, I want to talk about what's cooking now in the Fat Cat Kitchen…

Will Bears Give Up Their Weakening Hold This Week? 
If you haven't learned by now, there are times when the market is simply one giant ball of emotion just waiting for a nudge in either direction. 
Interestingly, I think that may be the case right now.
What I mean by this is that bears came into 2023 after scoring a BIG victory, by successfully keeping Santa from visiting the markets late in 2022.
BUT, they have not been able to generate any follow through so far in 2023.
Look, sometimes all it takes is a stalemate for one side to show the whites of their eyes.
So after the stalemate of the past several days I think it is possible that Friday's rally just might be the first signs that bears are now covering their short positions.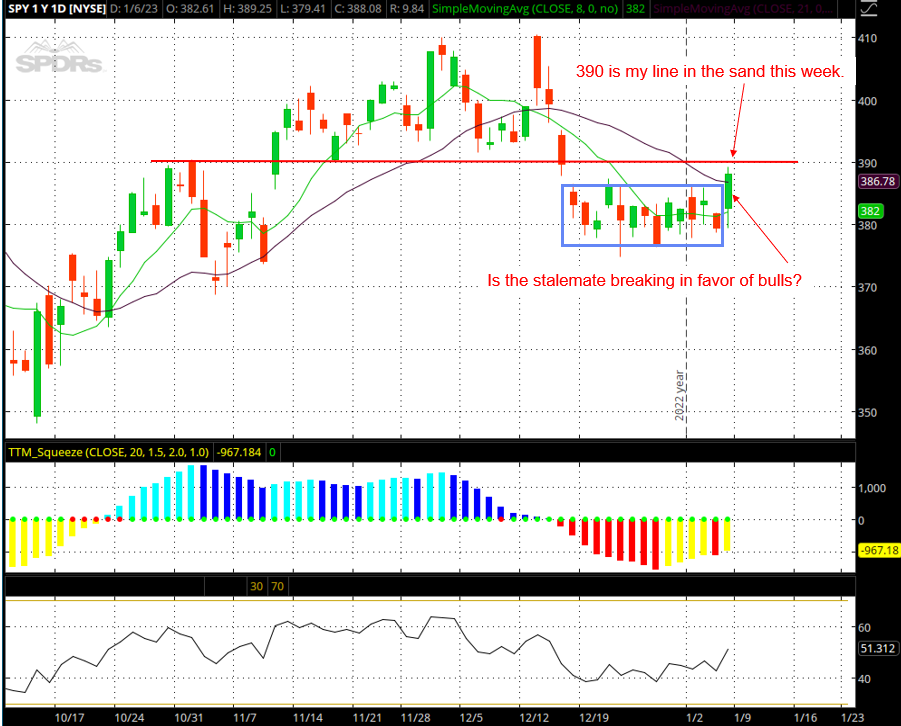 I am looking for SPY to show follow-through strength above 390 to signal that it can then move up to fill the gap at 395, then continue to 400.
IF this transpires, I'll be looking for semiconductors, specifically SMH, to lead the way.
Why?
Because of the strong trend transition I am seeing in the form of leadership by SMH vs. SPY in recent weeks.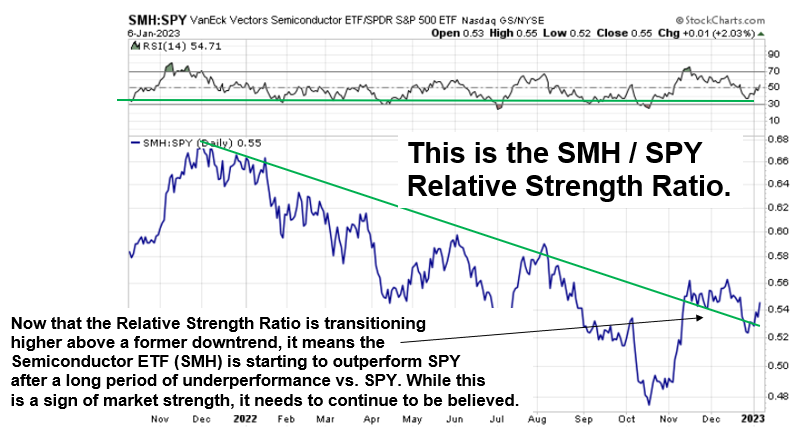 SMH needs to get above 214 to push to 220. 
Given how heavily weighted AAPL is within SPY (it's the largest holding), I also think AAPL needs to stage a bullish turnaround for the market to work higher.
As recently as Friday, I saw MASSIVE amounts of $$$ being hidden in AAPL trades.
Specifically, a WHOPPING $89.5M worth of stock.
How's it possible for me to see Wall Street's largest trading desks attempting to hide trades?
With my Dark Pool Scanner!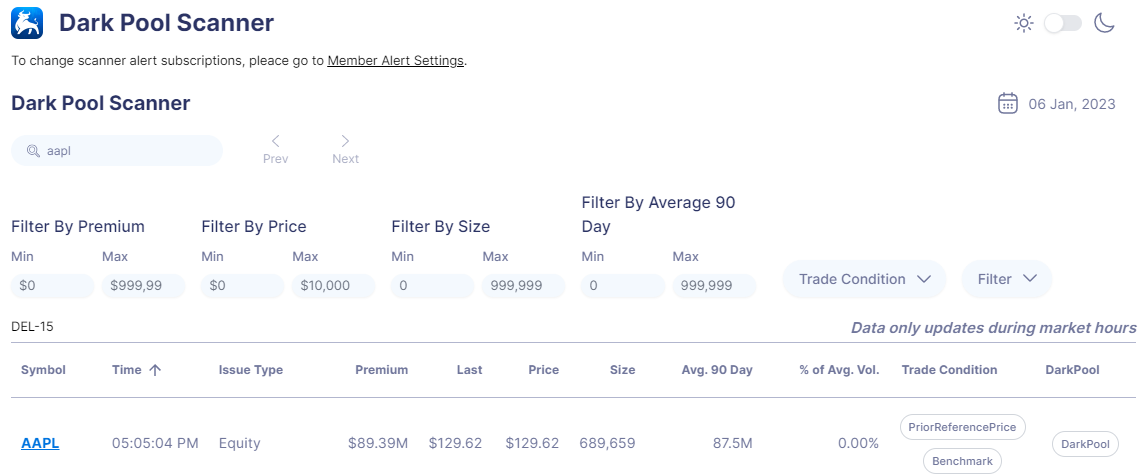 And in terms of unusual options activity?
Well, that was even more eye opening!
There were literally pages and pages of alerts coming across my Unusual Options Activity scanner for AAPL on Friday.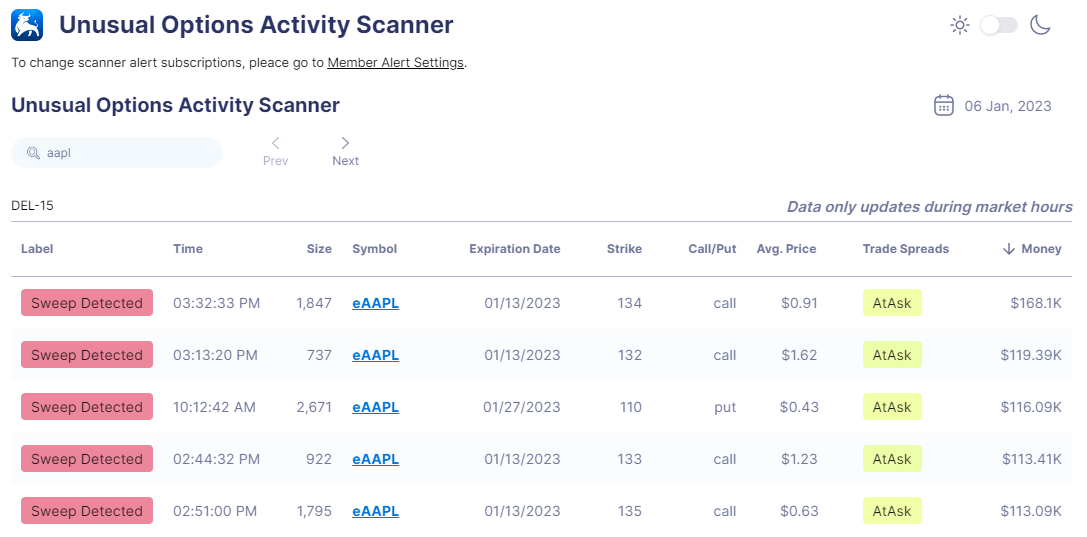 I'm looking for this break of Friday's highs near $130 to help tech and the market run.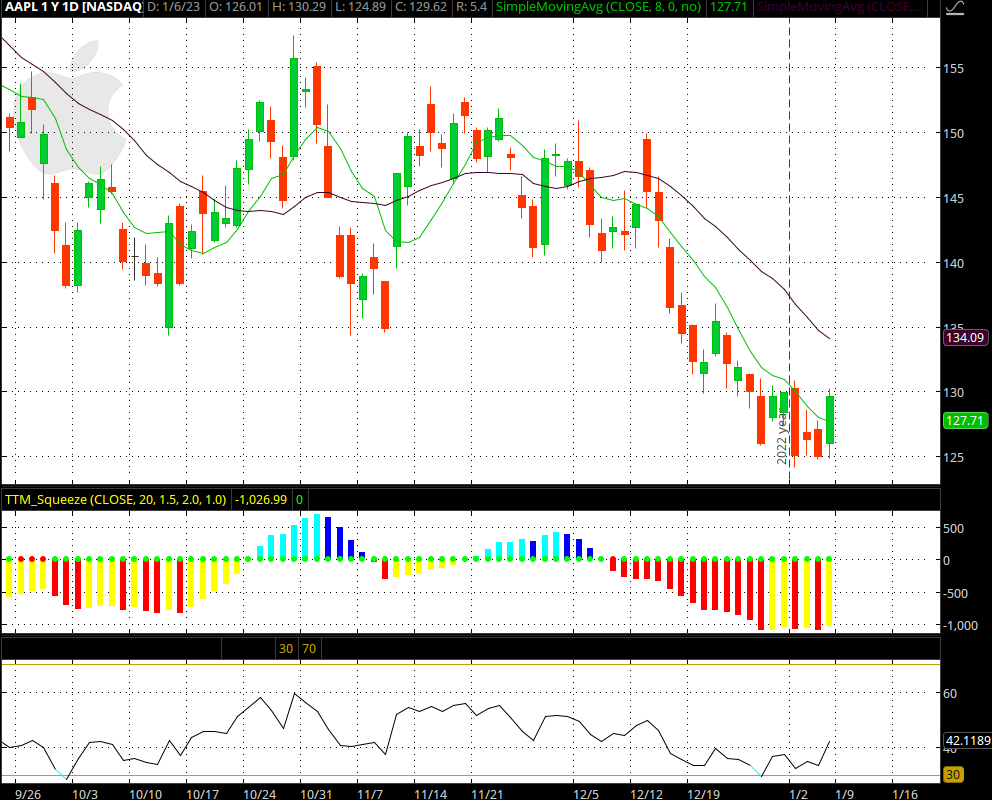 Finally, I don't know if you've seen MADOFF: The Monster of Wall Street on NFLX yet.
If you have not, it's a MUST.
That said, I think NFLX is looking interesting here. 
If NFLX can start to hold above $313, this is actually a name I look for strength from this year.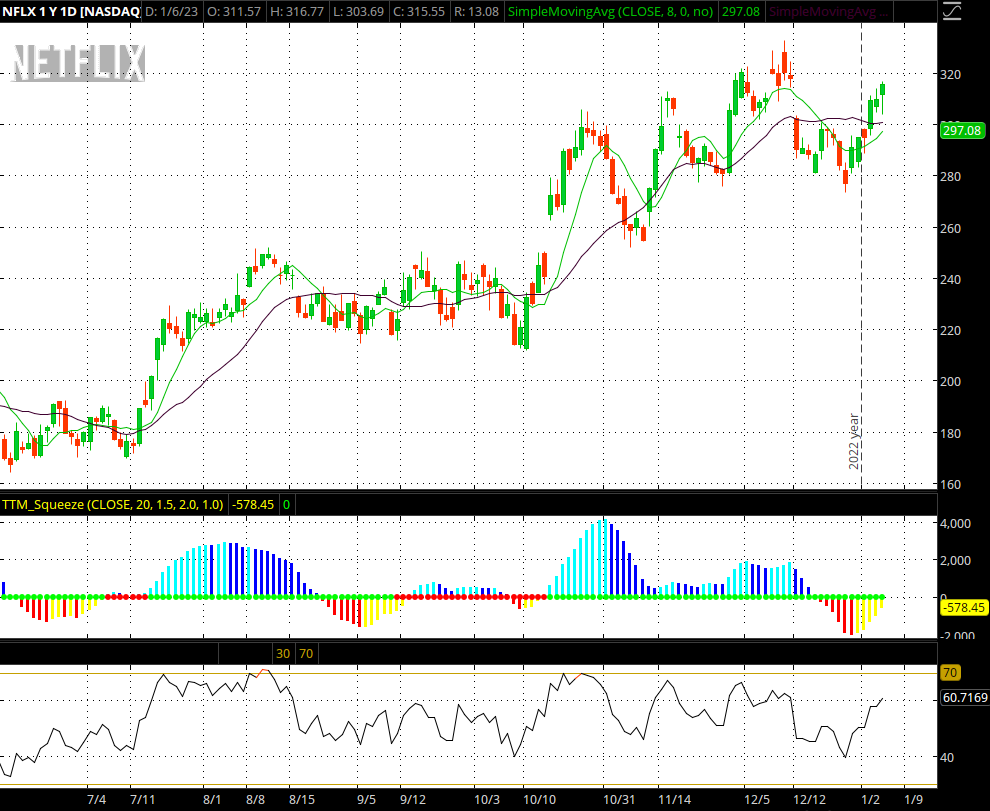 Finally, for the clear reason displayed on this final chart, I think financials are ready to lead here in the near-term.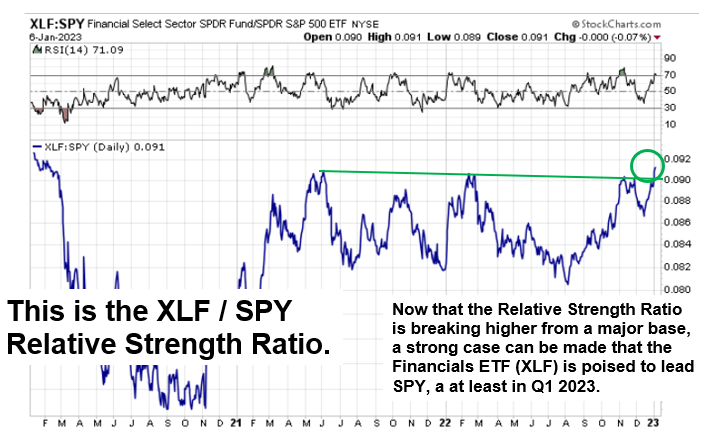 Friends, this is just a small taste of the analysis I'll be looking to build my MULTIPLE trade ideas off of this week.  
Whether you're looking for a strategy like my Mobile Closer that allows you to trade just one hour per day, or a strategy like my Terminator Trades that gives you the tools to find what Wall Street's Fat Cats are trading and copy them, or if you desire the adrenaline rush that can often come from Zero Days to Expiration (0-DTE) trading, I've got it all.
Don't forget, we're granting non members like you full access to this Thursday's LIVE 0-DTE trading session at no risk to you. 
Click the button below to add it to your calendar, before it's too late!

We're all about building your trust here at RagingBull, so call and / or email Drew Maddock (443) 218-2831  or email drew@ragingbull.com if you have questions or just want to talk.
Let's have a great rest of the week and until next time!