This week, I'll be covering:
Santa Hasn't Visited The Market Yet, So Here's My Backup Plan
FDX – From $.80 to $4.04 – Over 405% run in under 24 hours!
TSLA – From $.57 to $1.10 – Over 90% move higher in just 10 minutes?!
FDX: A Bright Spot Right Now 
The market is clearly on Santa's "naughty list" this year.
How else can you explain the last week or so of declines while most people have been expecting an end-of-year rally?
It doesn't bother me, because I don't rely on what the market hopes and dreams about.
I have several other market patterns that I follow which aren't seasonal that I find useful.
As of Friday's close, the market is down in December, at a time when it is usually being supported higher by jolly old Saint Nicholas.
This year is a perfect example of how you must always have a Plan B or even a Plan C when popular seasonal patterns don't work out.
Is Santa mad about all of the insider trading that our elected Washington insiders placed this year?
Or is he redirecting his sleigh away from the equity markets because many believe former FTX CEO Bankman-Fried probably won't even go to trial?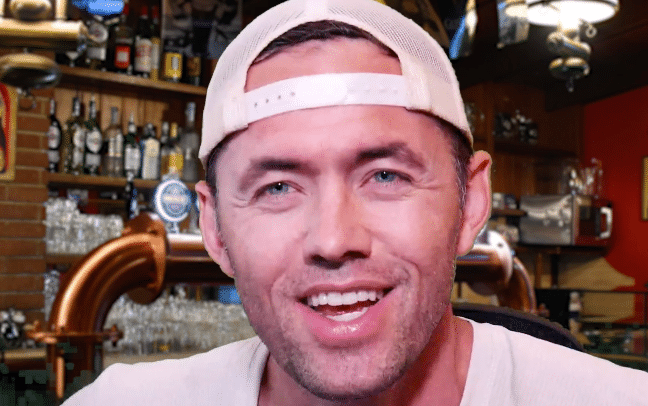 Whatever it is, I know I can sleep at night because of the decisions I've made to deliver my members the right trade ideas at the right time this year. 
Don't get me wrong, there is still about a week left before the second part of the OFFICIAL Santa Claus rally seasonal period comes to an end.
You see, there are two camps when it comes to the timing of the Santa Claus rally. 
One says the rally occurs during

the week leading up to

and ending with Dec. 24th, Christmas Eve.

The second believes the rally occurs in the week

following

Christmas, up to and including the first two trading days of the New Year. 
Well, so far, camp #1 has gotten their butt's kicked.
Friends, right now the market's prevailing trend just isn't in line with historical trends.
As this chart that I grabbed from Stockcharts.com shows, 2022 is trending with 2015 and 2018, which were very turbulent years like 2022 has been.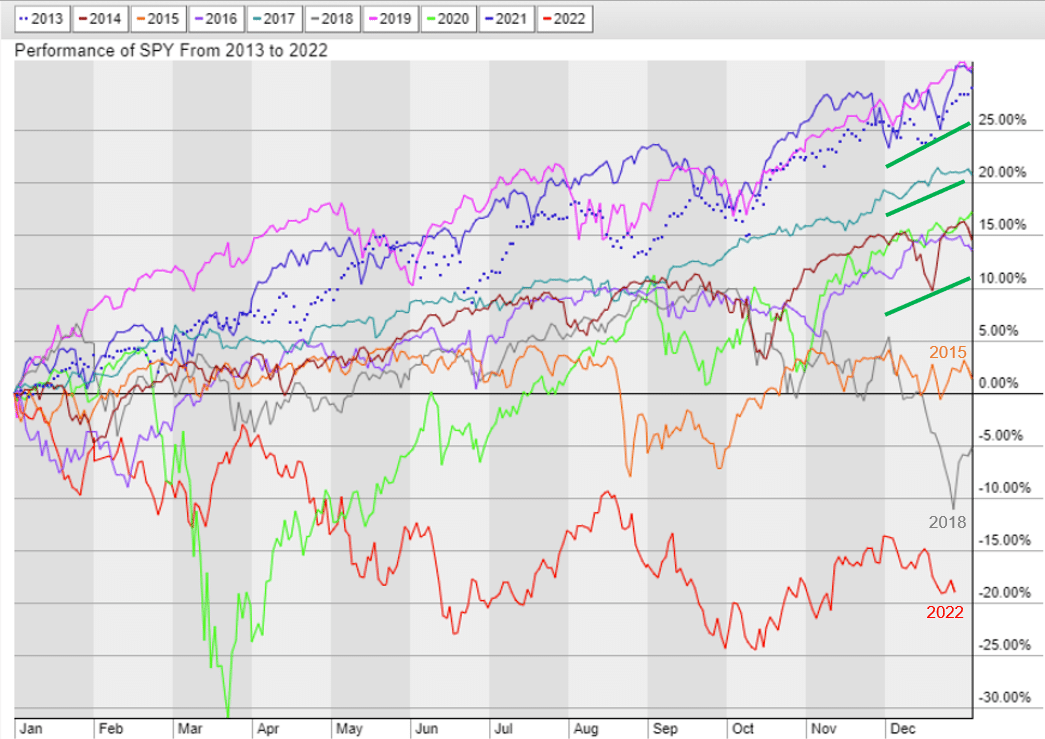 The question now is, can Santa show up late in support of camp 2?
Just yesterday, I was in Key Biscayne talking to a very wealthy investor, and we started to talk about the prospects for a move higher in the markets next year.
This guy has a personal portfolio worth $10's of millions.
He's not a dumb guy at all and has access to some of the best advisors out there (he's also a RagingBull member – of course – and he probably should have been paying attention to more of my ideas this year!) 
Even with all of the advice and high-level insights he has, he told me he has still lost over 30% of his portfolio this year alone.
Just this week, he said that he has thrown in the towel.  He sold everything.  He has zero confidence in a rally anytime soon.
Maybe he is a contrarian sign for us and he is selling at the bottom?  Time will tell…
This is why having well-thought-out plans in trading is critical.
If I were a trader looking for a Plan B when my Plan A didn't work out, I would probably want to be able to fall back on a market tendency that occurs far more frequently than just once per year.
There's simply no "one best way" to get trade ideas day in and day out.  
But, I've been doing this a while, and as I've gained more experience in trading, I've found that Wall Street's biggest traders and institutional trading desks have a tendency to "show their hand."
That's when I jumped to my Dark Pool Scanner, to find where the largest traders try to hide their trades.
Friends, scanners (particularly those scanners that show potential smart-money moves taking place in real time) are proving to be increasingly valuable to finding actionable trade ideas in this turbulent market.  
This is just one of the extremely valuable tools I use to help me make trading decisions and how I teach my members to look beyond market expectations (which are usually wrong!)  
And now, you've got access to my two favorites
Just in time for year-end, my buddy, RagingBull's CEO Jeff Bishop, is giving me the go ahead to offer STUPID discounts of 57% and 50% Terminator Trades plans right now (there are only 2 options currently available, as Terminator MAX is closed and only available to ELITE members).
There has never been a better time to learn directly from me than during this Year-End "blowout" sale. 
You will get complete access to all the scanners and actual trade alerts I make. 
2023 is going to present a lot of difficulty for traders, but amazing opportunities for others. I want to see you get on the right side of the trade with me! 
We work hard to make sure we have enough resources to meet the demand, and demand has been high, so you have to act fast before we close down enrollment on these 2 remaining plans. 
If you have questions or if you just want to talk, Call Drew at 443-218-2831…he'll walk you through everything.
Here's some more exciting stuff that's been happening in my Full Scope universe…

Last week was no picnic for me, as I spent most of it recovering from shoulder surgery. In my place, though, was one of the BEST traders you'll ever meet. 
That's right! My friend and fellow pro-trader Jeff Williams stepped in for me during Thursday's Live LottoX 0-DTE session with Ethan Harms!
Here are just a couple of the ideas the Options Master, Ethan Harms and Jeff Williams presented to members during this past Thursday's session:
FDX Long
Contract: $175 Calls
The actual alert to members read, "Jeff sees FDX holding strong despite the downmarket today, and likes it to the upside. These are trading around $.80."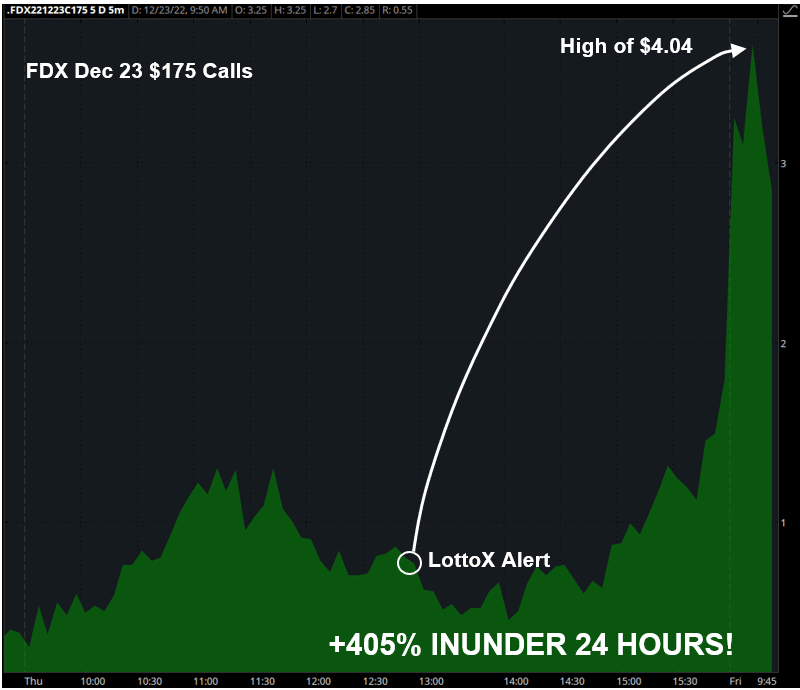 BOOM! The contract saw explosive price movement, jumping as much as +405% IN UNDER 24 HOURS!
TSLA Short
Contract: $115 Puts
The actual alert to members read, "TSLA continues to tank, and Jeff thinks it has room to fall even further. These are trading around $.57."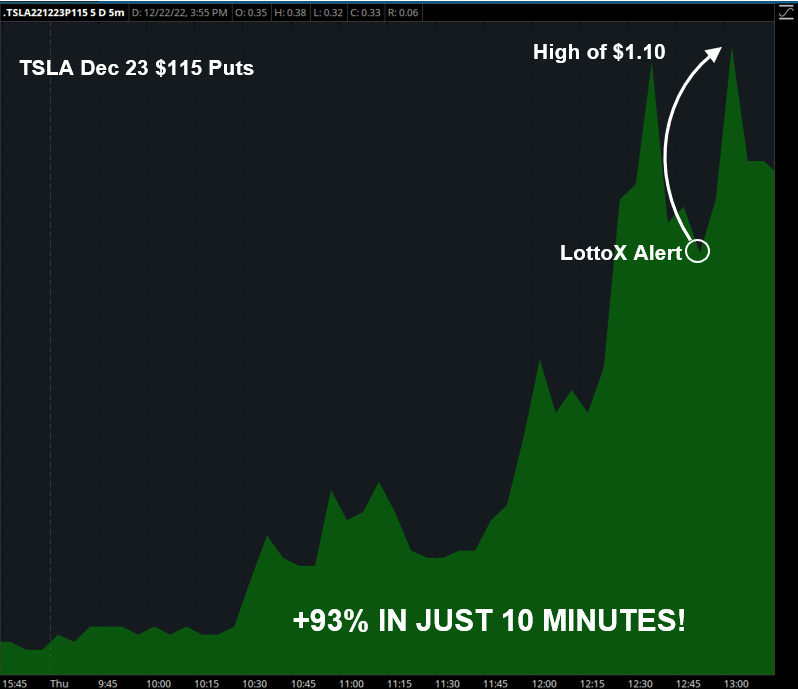 And sure enough, the contract saw a 93% upward run IN JUST 10 MINUTES!
Now, Jeff's style is a bit different from mine, and that's OK, because, as you can see, he offered some ideas that moved VERY QUICKLY. 
Diversity in trading styles is an EDGE.
The knowledge and experience of RagingBull's gurus runs the gamut!
We're talking MANY decades of combined experience in all aspects of trading.
And as RagingBull's CEO, I am now giving the green light for our VIP team to allow "Elite" level access to ALL of our amazing services.
There simply is no better way to prepare yourself for the market turbulence that still lies ahead than by joining our "Elite" program.
And the best part?
It all comes in time for the Holidays!
We're just starting to roll out SPECIAL end-of-year pricing on RagingBull's Elite program.
You will learn about how to trade different market conditions by gaining EXCLUSIVE access to every single product we have to offer, every exclusive chat room and full access to every scanner tool.
Not to mention early access to any NEW products that we roll out next year – and you know we always have a few new tricks up our sleeve coming your way!
Don't miss out on the opportunity to become a true member of the RagingBull family and get insider access to everything we have to offer.
******
To learn more about AMAZING edge it is going to give traders, you can Call Our Team: 800-585-4488, email them at Support@ragingbull.com or click here to schedule a time that works best for you.
******
Prices will go up dramatically in 2023.  
Don't miss the opportunity to secure the best pricing of the year right now.
And by the way…make sure you tell them Ben sent you!
Okay, that's enough looking back…because as much as I hope these helped you find some winning trade ideas, I want to talk about what's cooking now in the Fat Cat Kitchen…

FDX, A Key Retail Gauge Of Consumer Demand, Is A Bright Spot
Friends, you'll come to learn that at different times of the year, there are different groups of stocks you need to pay attention to.
One example occurs in the beginning of the year when many investors will focus their money on the 10 stocks with the highest dividend yields within the Dow Jones Industrial Average using a strategy known as the "Dogs of the Dow."
Right now, when I look at FDX, I see that it has been leading the market for the past several weeks.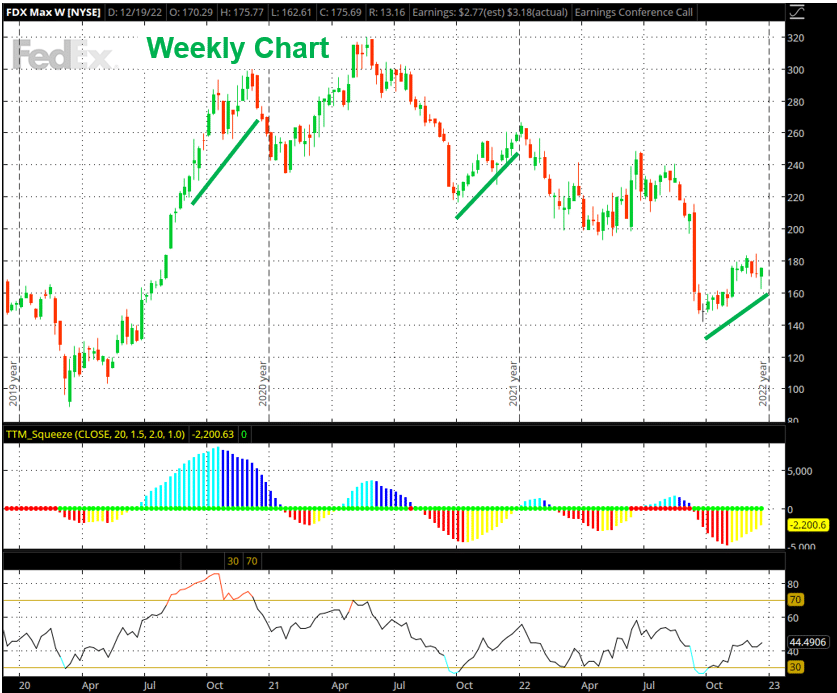 That makes a lot of sense to me, because year-end is the company's busiest time of year.
Because this is one of the many tendencies that I use, I've been following FDX of late.
Not only did my PREMIUM scanners help identify FDX as a top trade idea during this past Thursday's LIVE LottoX session as I showed you earlier, but my Unusual Options Scanner revealed MASSIVE options activity the day before the stock exploded 13% higher at the open this past Wednesday.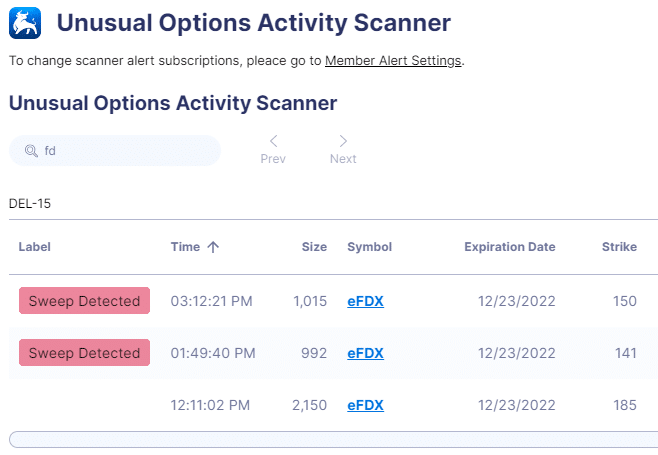 As this next chart shows, the relative strength ratio (NOT RSI) of FDX divided by SPY is rising rather aggressively, indicating tha FDX (in the numerator position) is outperforming.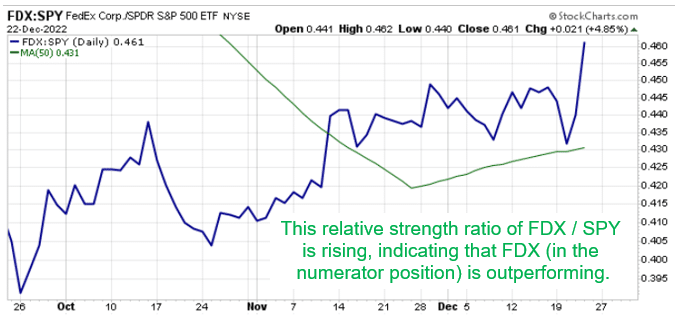 While this is favorable for the market, as it shows this key gauge of retail demand is doing well at a time when it should be, the S&P 500 is walking a VERY thin line.
So this week, I am paying close attention to the 3800 level on SPX.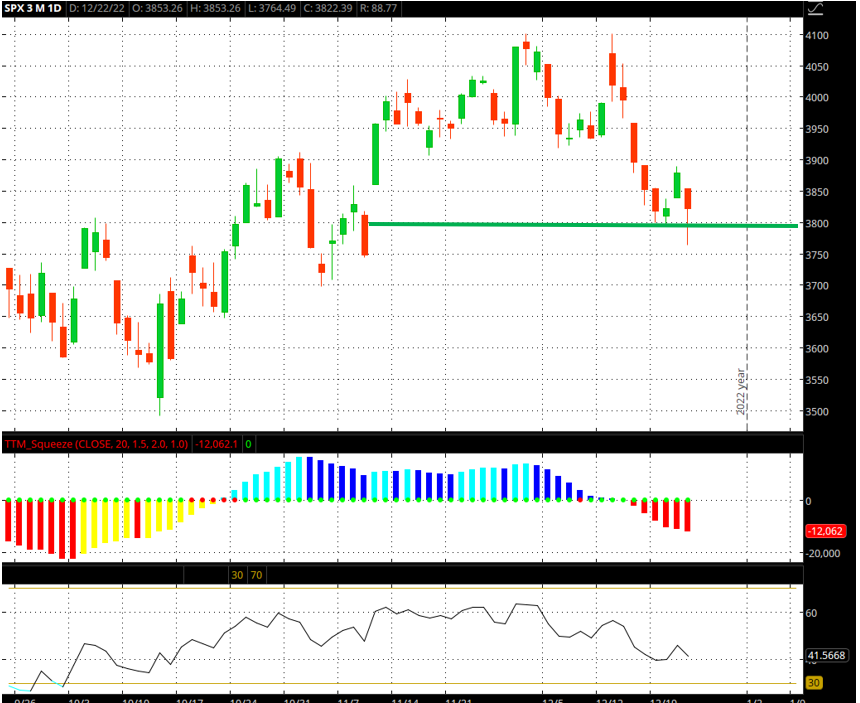 If SPX can't hold this level, I think we go lower still.
Again, don't panic because RagingBull's has every teacher you can possibly ever need to guide you through this turbulence with RagingBull Elite.
We're all about building your trust here at RagingBull, so call and / or email Drew Maddock (443) 218-2831 drew@ragingbull.com if you have questions or just want to talk.