What's happening' everyone?
If you don't know me by now, whenever possible I try to be a happy-go-lucky guy that +looks for the positive during the darkest of conditions. 
That's why, despite the recent market angst, I am seeing a reason to be optimistic about the Fed's war on inflation in 2023.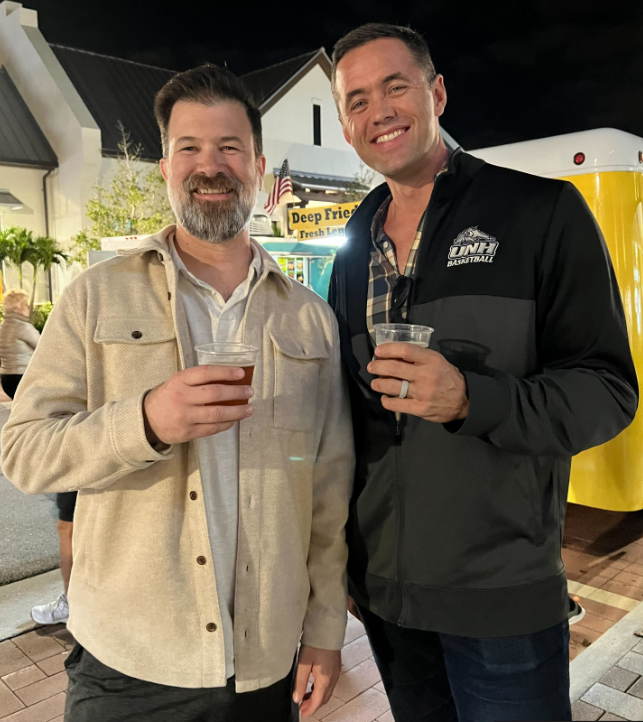 Just like Jim Cramer is now known as one of the best contrarian indicators for the stock market (after all, some genius created the Inverse Cramer ETF in 2022), the FOMC is known for being TERRIBLE at timing its policy decisions. 
Don't get me wrong, this was the case LONG before Jay Ca-Pow became the Fed Chairman.
And that's a good thing, considering that the minutes from the December FOMC meeting that were released this past Wednesday revealed that NOT ONE Fed official expects a rate cut in 2023.
Friends, I've been doing this long enough to know that such a one-sided stance by the Fed so early in the year leaves the door open for a positive surprise on interest rates at some point this year. 
Before I continue, I want you to be the first to know that in the coming weeks I am going to be spending A LOT of time and effort focusing on longer-term swing trades for members of my multiple trading services. 
That's because I believe 2023 is going to offer better opportunities for swing trading across many key sectors.
I want you to know this because it's the potential for these major shifts in the Fed's policy that often act as key drivers behind BIG, SUSTAINABLE swing trades…so make sure you stay tuned for more commentary on this.
In the meantime, one of my top strategies, where I simply trade for one hour at the beginning and one hour at the end of each trading day, just found this overnight BANGER in META Calls!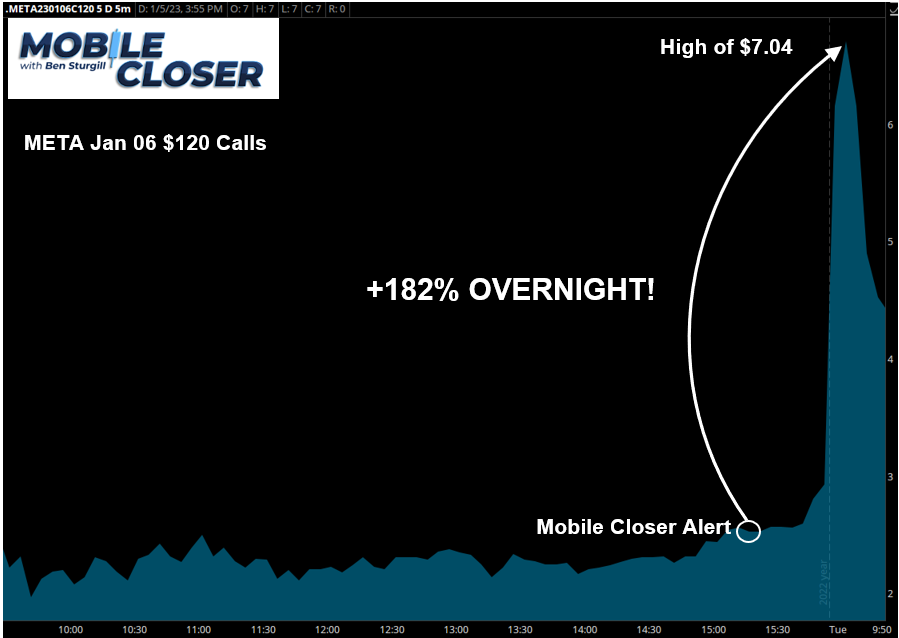 And for those who may have held onto the trade just one day longer, there was potential for an even larger run…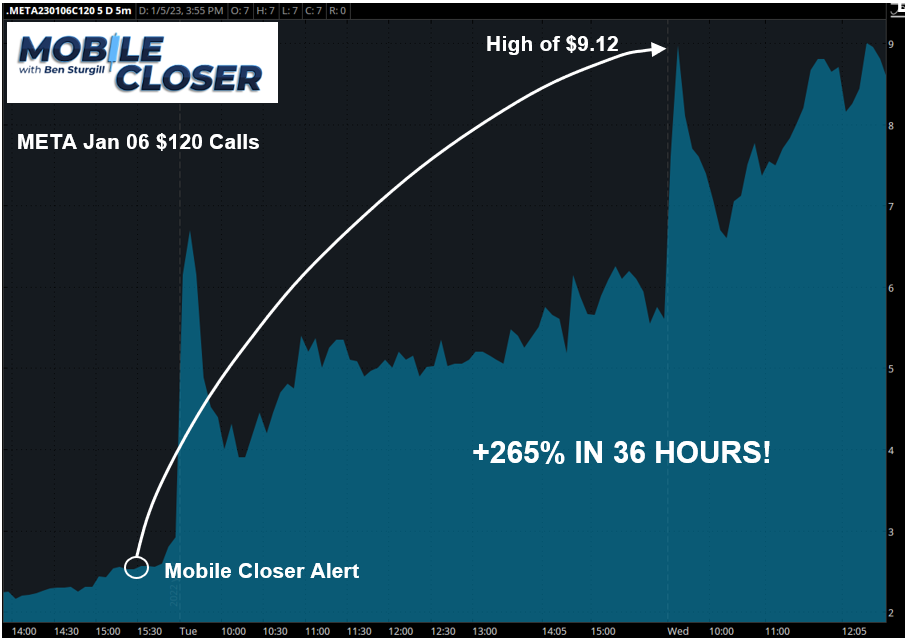 Friends, you may question how it's possible to trade for only one hour at the beginning and end of each day…but I assure you there is a "method to my madness," and here it is.
It's a strategy I learned from my mentors who were some of the best traders that ever played the game. 
All I do is exploit the two times per day when volume and volatility are at their highest, which means the potential for options premiums to expand rapidly is also at its highest level of the day.
As this chart shows, my Mobile Closer service is built on opening trades in the last hour of the day then closing out the trades in the first hour of the next day.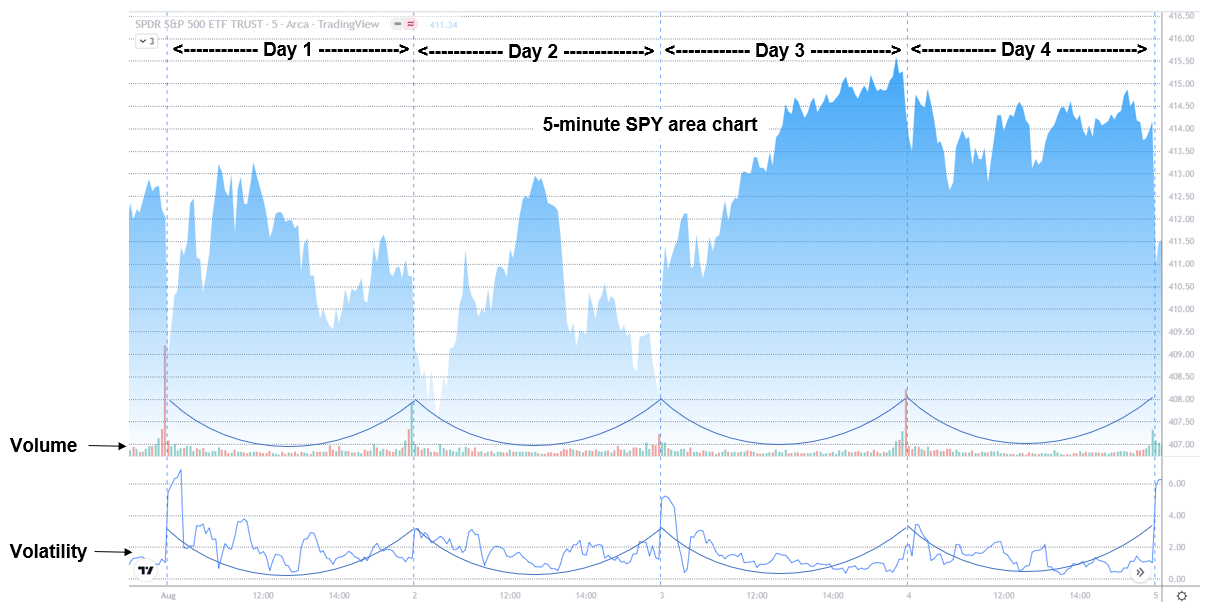 Those dips in volume and volatility you see during the middle of each trading session on the chart above, which is probably the time of day when you're stuck staring at your screen waiting for prices to move, is when I am looking for reduced options premiums to pounce on with my Mobile Closer members after 3 pm.
We're talking about my top real-money trade ideas, both LONG and SHORT, and we're doing it LIVE.
If you use this limited opportunity to try my Mobile Closer service at a RIDICULOUS 70% discount, you too could be learning in REAL-TIME, watching as I go through every step of setting up each trade.
What better way to learn than to watch the entire process LIVE!
Not only that, but the daily training also includes:
Key technical and fundamental analysis 

Critical price levels where supply and demand are found

Complete trading plan for entering and exiting the trades

The EXACT options contract that I am looking to trade
Not available to catch the 3:00 PM session?
Friends, I've got you covered, because the alert system I use is so complete that you'll never miss out.
Not only are the ideas being covered LIVE, you'll also get instant App alerts, as well as alerts posted to your user Dashboard.
In fact, here's the actual alert for the META trade we're discussing today:

Look, there's a lot I am offering here…I know.
But don't worry, because Drew, RagingBull's amazing customer service rep, is available to answer any questions you might have.
Just give Drew a call at 443-218-2831.
Let's all have a great weekend and until next time!