What's goin' on everybody?
Did you know that the average S&P 500 daily point range since the beginning of September is 7.1?
That's not very exciting now, is it?  Ok… 
But I'm about to help you understand how to find the positive in boring market data.
4 months is a long time in the eyes of an active trader who trades on a daily basis.
So as an active trader that holds positions for minutes, hours and even days at a time, I know how to hunt down and prepare for the absolute BEST opportunities to find outsized moves among the ordinary.
And with CPI inflation data coming tomorrow, I have found my source!
I'm going to "nerd out" a bit here, but I think the data I am about to show you is really important for you to understand. 
As this table shows, the 4 most recent CPI reports have produced among the largest 1-day price ranges for SPY of the past 4 months.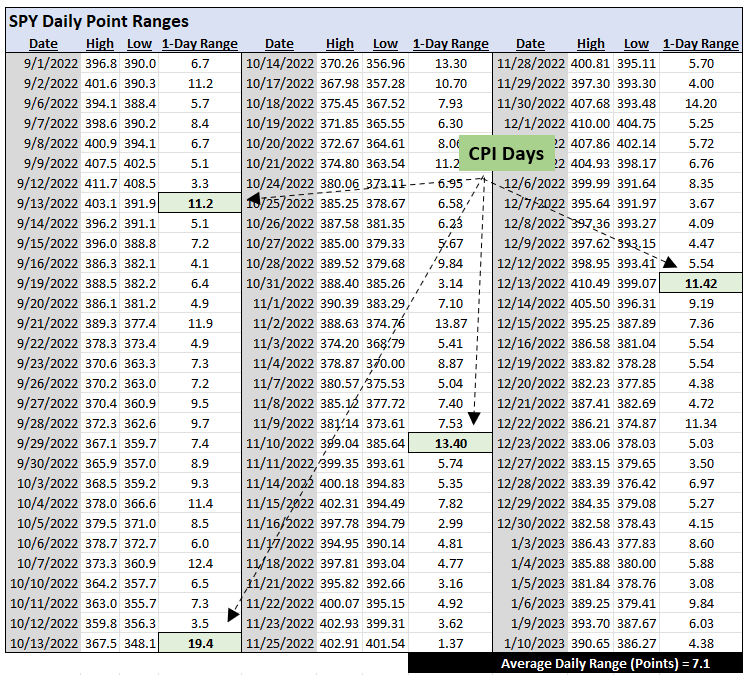 Friends, those are MASSIVE 1-day moves that represent incredible trading opportunities for active traders that know how to trade them, not hide from them.
What's the problem YOU might have in capitalizing on this potential?
You may not be properly prepared to identify the options contracts with the best explosive potential 🚀.
I'm talking about:
👉 Options where the premiums are compressed and at relatively fair value.
👉 Options with Gamma squeeze potential.
👉 Options, in the right stocks, with tight correlations to the broader market.
Think of it this way…
If you knew a lake contained a world record, 20+ pound largemouth bass, would you, on a 100 degree day, with bright sunshine, cast a 2-pound test fishing line into a shallow area of the lake that is in direct sunlight?
And all the fishermen said, "Heck no, you wouldn't!"
Why? Because, first of all, a 2-pound test is no match for a 20+ pound fish AND bass hate the heat and would either be hiding in deep water or in the shade. 
Down here in Florida, we know these things.
Anyway, the point I am trying to make is that days like tomorrow, where the potential for a large number of stocks to move and move big, can make up a good portion of your portfolio's performance, but ONLY if you know how to make the best of it.
What I am about to show you are some examples of how the Options Master Ethan Harms and I make the best of things on an ordinary day.  Imagine what we might be able to find on a day like tomorrow?
Last Thursday at 12:30pm, we alerted members to these UAL options during the LIVE LottoX session…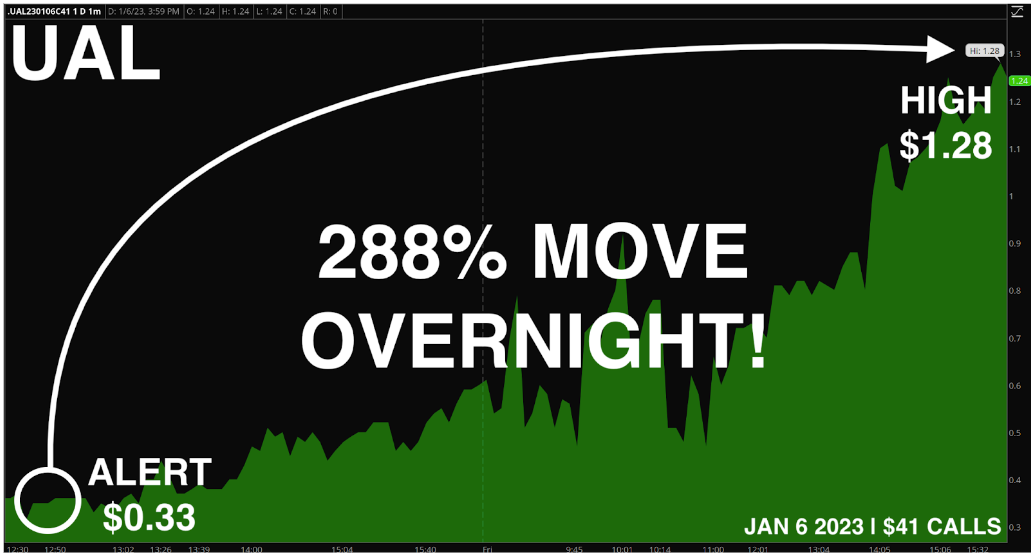 They popped 288% — overnight!
In addition, we found these MRK calls…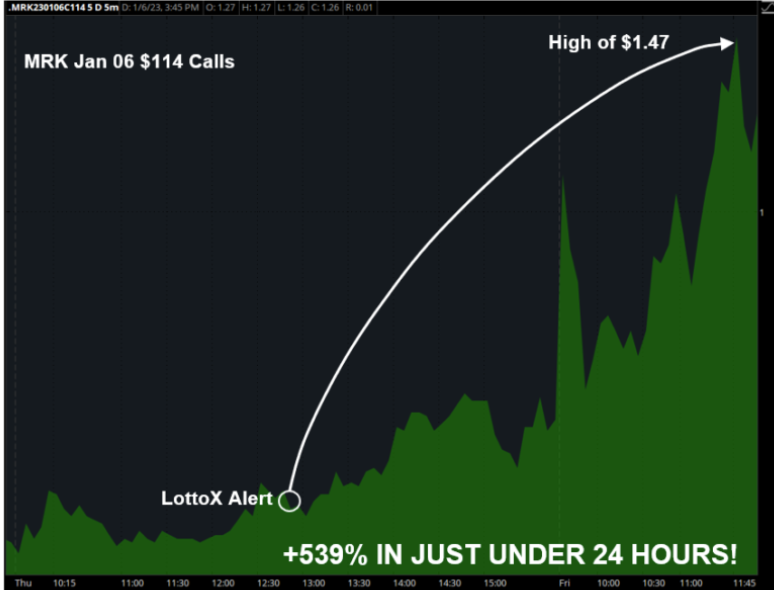 BOOM! This contract saw a 539% rally IN JUST UNDER 24 HOURS!
These are Zero Days to Expiration (0-DTE) trades that have the most explosive potential, simply because they are so short-dated.
Do they always work like this? Absolutely not. No strategy does.
BUT when you know how to weed through the ideas like Ethan and I do, the potential increases.
THIS WEEK, my friend and RagingBull's CEO, Jeff Bishop, is allowing me to offer you entry into this TODAY's LIVE LottoX 0-DTE trading room at no charge. 
2023 is going to present a lot of difficulty for traders, but amazing opportunities for you if you make the right decisions. 
I want to see you get on the right side of the trade with Ethan and myself! 
We work hard to make sure we have enough resources to meet the demand, and demand has been SUPER high, so you have to act fast before prices go up. 
If you have questions or if you just want to talk, call Drew at 443-218-2831. He'll walk you through everything.
Let's have a great rest of the week and until next time!