Now, I know that 2021 was the year of the retail investor, as this group of small traders joined forces to topple large hedge fund players by forcing massive short squeezes in stocks like AMC and GME.
As a former athlete on a mid-major college basketball team, I know firsthand how much fun it was to play and have the opportunity to take down a major basketball program.
But as traders, we must also learn to take advantage of what the big market players are doing in the market. 
These large banks and hedge funds have tremendous research departments, and when multiple institutions are in agreement on an industry they believe is on a high growth trajectory, their massive asset allocation models typically combine to fuel powerful trends that can generate profits for the small traders that know how to ride these trends. 
And that's what I am seeing in one particular industry right now, as it completely breaks away from the struggles that major indices like the S&P 500 and Nasdaq have been having of late.
How am I playing this industry's leadership right now? 
Well, one of my screeners identified a HUGE institutional buying showing up in one stock that has some of the best technical action in this industry.
And since the stock closed near the highs on Friday and is now punching above massive supply (former overhead resistance), I like this trade to continue to climb higher, at least for the short-term long call trade idea I'm about to share with you.
Folks, it's not every day that you look at an industry group and see every member of that group climbing higher at a time when the broader market indices are struggling.
But that's what I am seeing in the Integrated Oil & Gas industry right now, as this first chart reveals.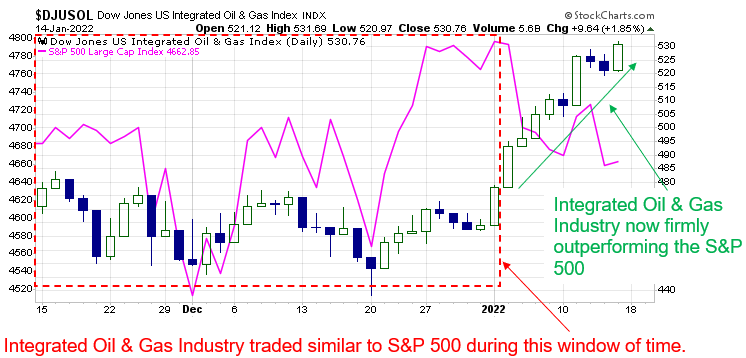 Taken a step further, a review of all the companies within this industry uncovers what we are seeing at the sector level shown above.
For instance, this next series of charts shows that every member of this industry group is either trading at multi-week or multi-month highs, with some even trading at multi-year highs. 
And one of the stocks that are trading at multi-year highs is the one that came across my scanner for having massive purchases in a particular call option on Friday.
Specifically, the CVX (Chevron) 28 Jan 22 135 calls.   
Now, this idea hit one of my scanners at $0.57 early on in the day on Friday and ended the day at $0.65 cents.
Yes, that's an increase of a little more than 10%, but when I put my head together with my partner Ethan, the verdict is that we think these calls can continue to increase in value ahead of the Jan 28th expiration, and here's why.
First of all, when a stock ends the day just below highs of the day like CVX did on Friday, that's usually an indication that the stock wants to keep going.
But from a long-term perspective, what's really going on here is something that is at the core of how long-term trends develop, and that's something called a portfolio's "gross exposure." 
What is gross exposure?
Simply put, a hedge fund's or a large investment bank's gross exposure is a measure that indicates total exposure to a particular sector, industry group, country, or factor.
So, when these large players feel they have developed positions that are too large, thereby putting them at risk for large losses if these positions witness unfriendly market conditions, they reduce this exposure in a process known as "degrossing."
What caused the energy sector to fall out of favor so heavily relative to the rest of the market through much of 2020?
That's right my friends, when massive deflationary pressures combined with President Biden's anti-oil industry policies during the early days of his administration, that combination of fundamental factors caused a massive degrossing of shares across much of the energy sector.  
In the months since the energy sector's worst days of 2020, however, these large institutions have realized that the process of bringing on "green" energy resources to the degree necessary to take the place of fossil fuels is going to take far longer than many "experts" had anticipated.
That coupled with the massive degree to which these large players had essentially taken their degrossing too far has forced them to rush to increase their exposure (i.e., "regross") back into many parts of the energy sector.
Hence the reason we are now witnessing the orchestrated rotation back into the Integrated Oil & Gas industry shown on the charts above. 
When I focus on CVX's long-term picture by using one of my man Ethan's favorite charts, the monthly chart, we can see that the stock is now climbing above all of the overhead supply (resistance) from 2018 and 2019 in the $128 area, which now opens up a resistance-free gap (see green circle on the monthly chart below) up to the $135 area.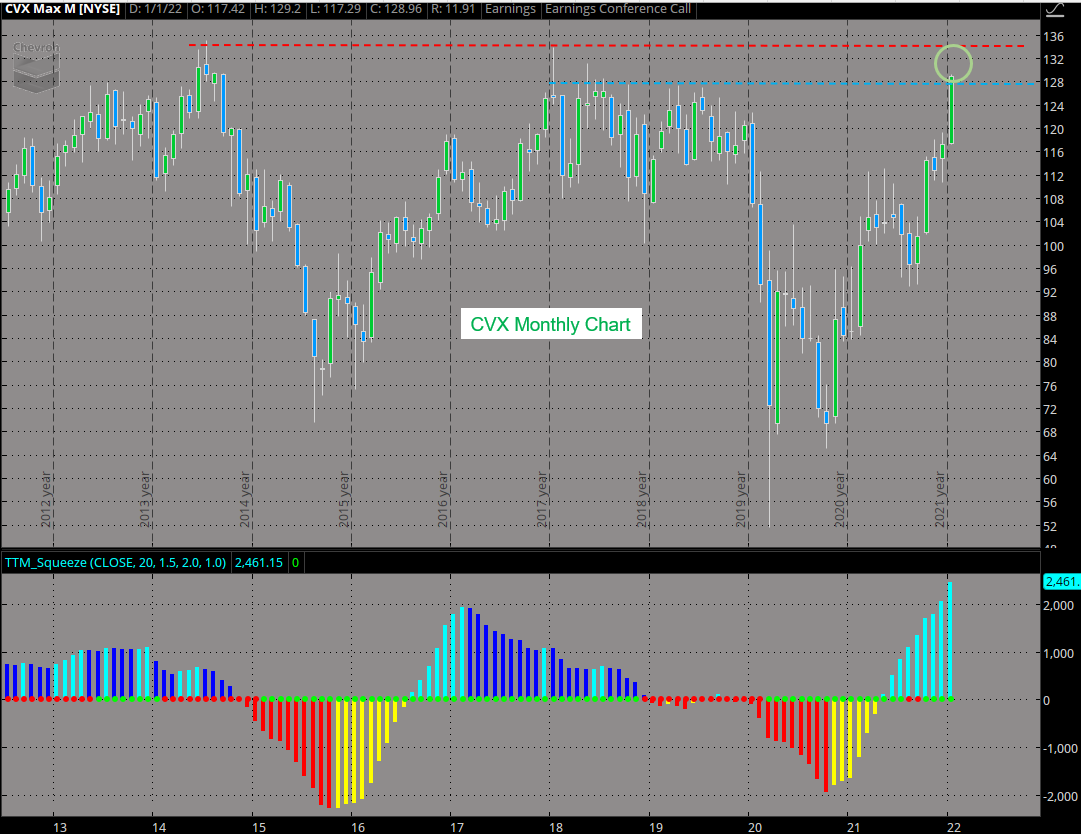 With all that spelled out, ladies and gentlemen, I want to take advantage of the potential for upside follow-through here by catching a ride on this institutional buying by purchasing the 28 Jan 22 135 CVX calls. 
Let's have a great week and until next time…