Happy 2023 Everybody!
Are you ready to master your trade timing skills?
After all, when it comes to options trading, timing is everything!
That's why I suggest that you pay attention to the lesson your good friend Ben Sturgill is going to share with you today.
Before I get to today's lesson, I've been dying to tell you about the awesome mini break I just had with my family over the weekend.
Now that I am starting to feel a little better after shoulder surgery, my oldest son and I played a little basketball.
And I am just tickled to see him getting really good, really fast.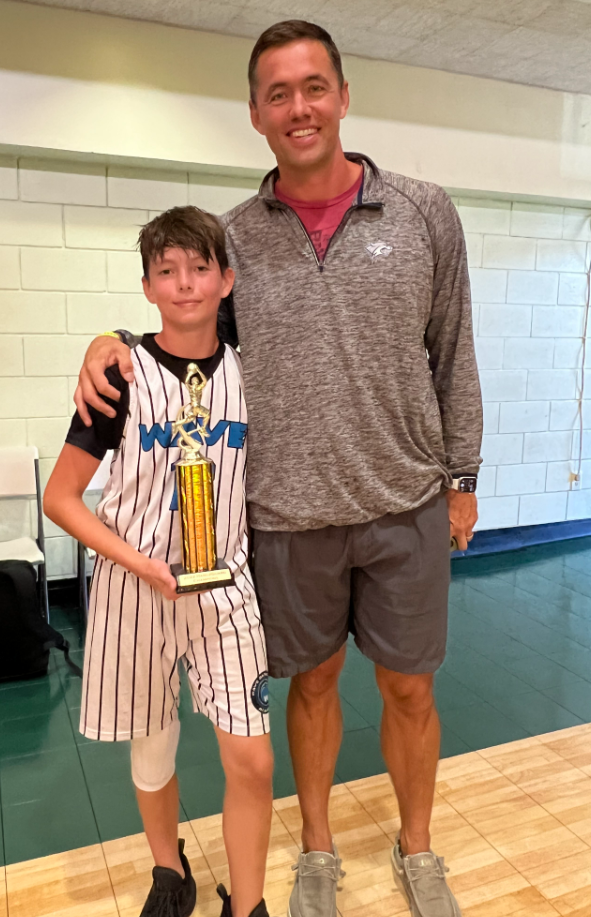 You know what? 
He actually challenged me this time!
Could it be because I am still not back to being 100% after surgery?
Probably…but don't tell him that.
I'm simply thrilled that, after years of teaching him some of the lessons I learned during a long collegiate and professional career (yes, I am a former professional basketball player), things are finally starting to come together.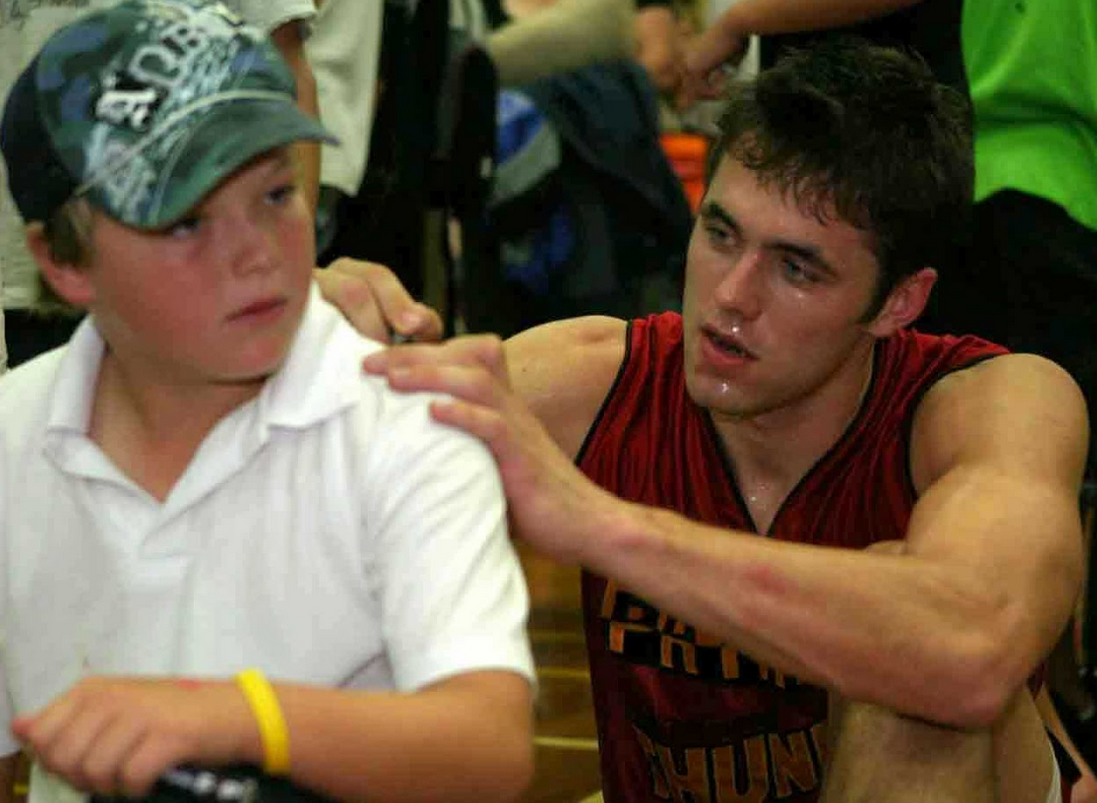 And one of the aspects of the game where my son has improved the most is in his timing.
Not just timing his shots, but also timing his rebounds.
Now, one thing that has been written about in many blogs and books over the years is how traders can learn a lot about their craft from sports.
Both sports and trading are incredibly psychological in nature, and a HUGE part of this has to do with proper timing.
A very simple yet powerful example of how an improperly timed options trade can go very wrong, very fast looks something like this:
Suppose it's the start of the week, and you are anticipating that an economic data release at the end of the week has the potential to send stocks in a certain sector higher.
With that, you decide to buy calls that expire at the end of the week in a top stock within that sector because you see that the stock is consolidating after a rally.
But instead of rallying into the economic data release, the stock continues sideways until it rallies a smaller than anticipated amount after the data are released.
By then, Theta (time decay) the value of your options have withered away to nothing and the smaller than expected rally simply was not enough to make up for the lost value of the Call option.
This, my friends, is bad timing due to a lack of information.
Teachable Moment:
If you are going to trade options, it is important for you to understand a few key concepts.  One of the most important topics is "Theta" which is simply how fast the options will "decay", or lose their value.
An option's price is made up of intrinsic value and time (extrinsic) value. The closer an option gets to its expiration date, the faster that extrinsic value erodes.  That rate of decay is the option's Theta – which is the amount of time value that will be lost in the next day.
The closer the option gets to expiration, the bigger Theta gets.  And, this increase happens at an exponential rate.  Here's an example of how Theta might erode an option's time value.
And, here's what that would look like when plotted on a graph.
Now, while some good technical analysis was performed in the example above, where the trader established a long position in a stock that was consolidating after a rally (also known as a bullish "flag"), the trader did not look for evidence that the "Smart Money" was also buying calls.
Do you honestly think that Wall Street's biggest traders are going to place short-dated options positions based on their gut, and just hope that the underlying stock rallies in time for those Call options to appreciate faster than Theta?
Don't get me wrong, these Wall Street Fat Cats don't always get it right…but when they place large bets that a short-dated option is going to move and move quickly, you can bet the odds of those options moving quickly are relatively high.
Guess what, friends?
We are now staring down the barrel of two potential catalysts this week:
This afternoon's 3 PM ET release of the Minutes from the FOMC's most recent meeting.

Friday's widely anticipated Non Farm Payrolls (jobs) report. 

Not only do I have an Unusual Options scanner that shows me where "Smart Money" traders are piling into large positions on short-dated options trades, but I also have a Dark Pool scanner that shows me where the largest, most massive trades are actively being hidden from retail traders like you.
And on top of that, I've got a tool that brings the most important signals together on a Premium, Dynamic Watchlist so that I know where to focus my attention and NOT waste time.

Not only that, but this all comes with a comprehensive video training series for catalyst-based trading, including smart-money activity and other market-moving events, as part of my HUGELY popular Terminator Trades service. 
This includes:
The Basics of Charts & Technical Analysis

Types of Stops, and When to Use Them

Bulls vs. Bears: Understanding the Psychology of Market Participants

The Mechanics of Setting Up Trade Entry based on Price

Lessons on Dow Theory, Fibonacci 2-Step Pattern, Elliott Wave Theory, and much more!
The SKYNET Dynamic Watchlist shown above details the activity I spotted that got my attention, the trade ideas I'm eyeing (including the target entry and exit), and even the proximity from actually triggering!
Each morning I send my members an email with my latest watchlist and trade plan for the trading day ahead.
When I see a scanner hit that he thinks my members need to know about, I send out an instant App alert to my Terminator Trades Members, sharing all the details.
Just like this alert that I sent out to Terminator members just this morning: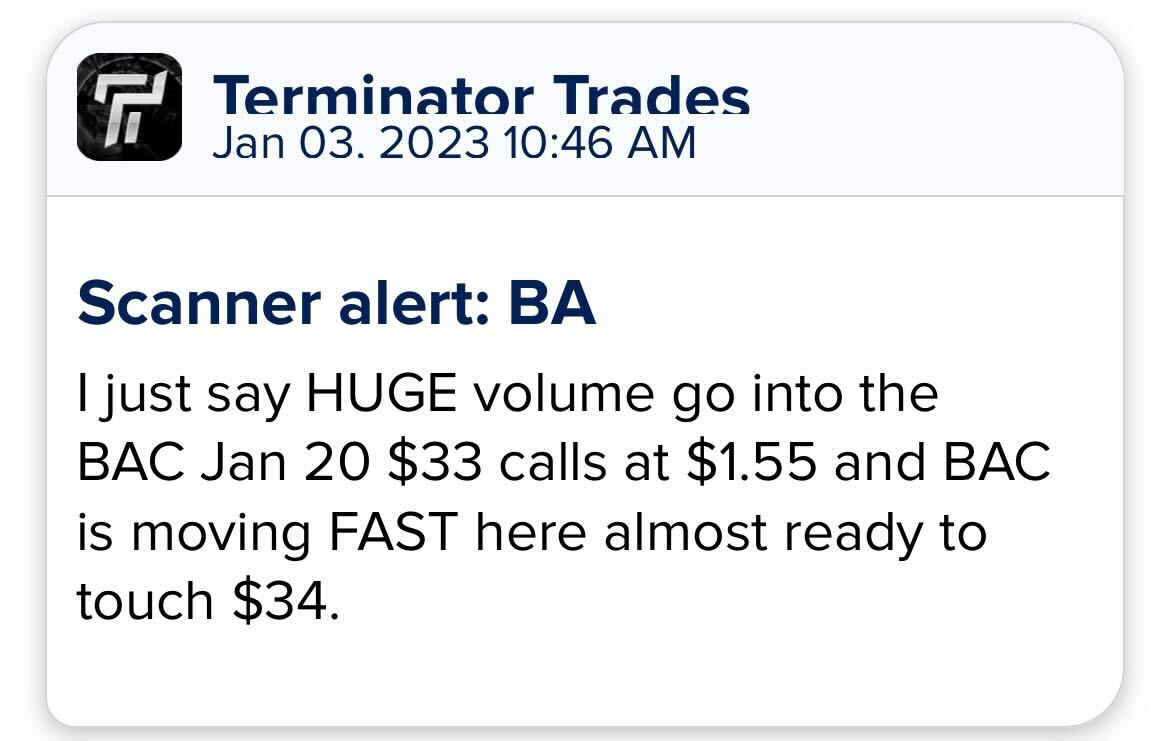 And look at how the stock moved today as well!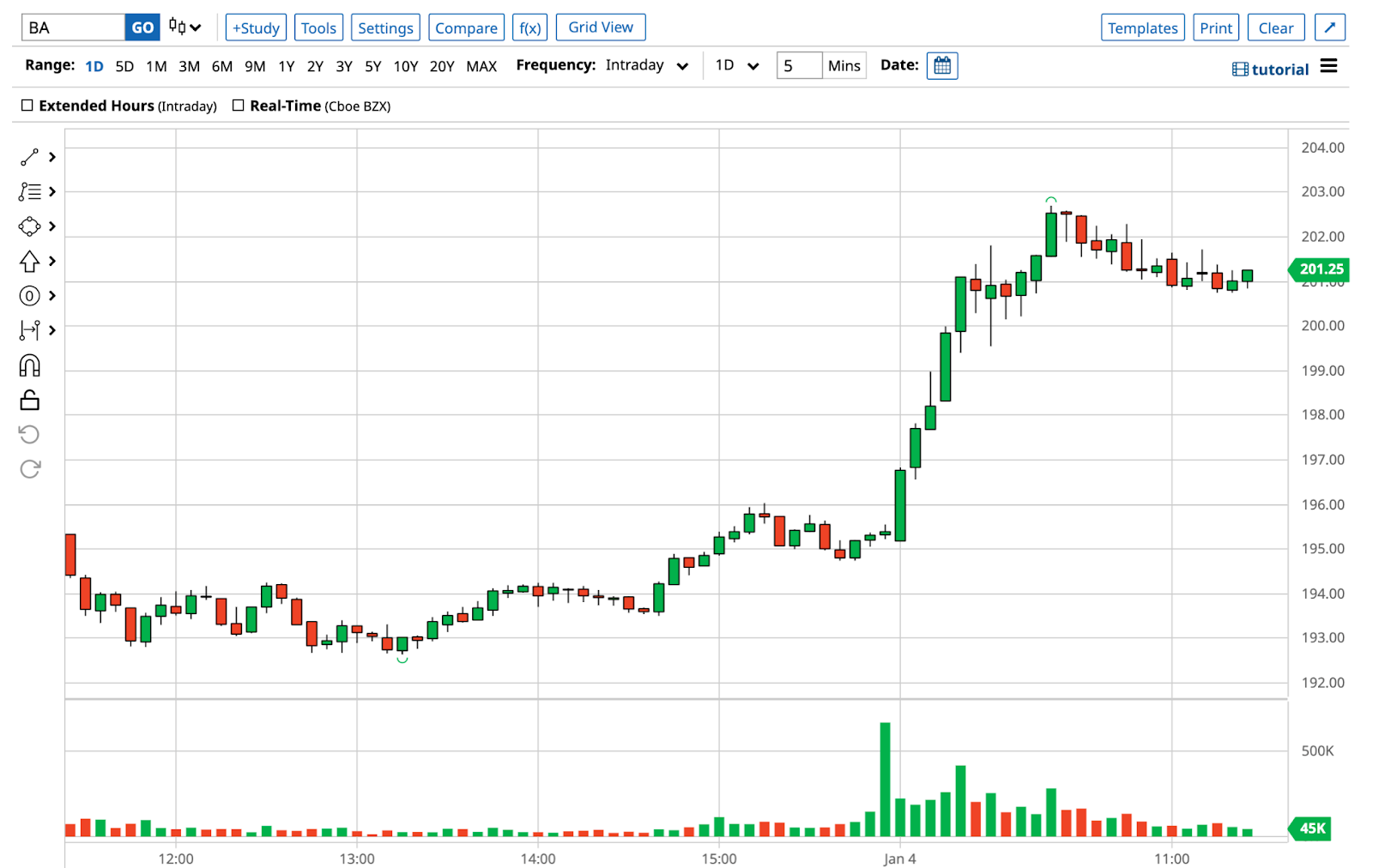 Don't you think getting alerts like this would help you as a trader?…
Right now, you can get access to my Unusual Options scanner & Dark Pool scanner together OR as part of my tremendously popular Terminator Trades service at HUGE discounts.
We're talking unbelievable discounts of 57% and 50% on the only two remaining Terminator Trades plans available. 
(Sorry… but Terminator MAX enrollment is closed and only available to Elite members!) 
To learn more, help is also available by email (Support@RagingBull.com). Don't let price stop you from achieving your goals in 2023,  we are here for you!
We're here to help you have the best year ever – let's do it together!
Let's have a great rest of the week and until next time!