ADVERTORIAL
---
How A UCLA Student Earned 18,912% Since 2013 With Only The Dates In A Government Calendar

A "license to print money"
That's what investors are calling one little known government calendar. The dates are published months or even years in advance. When they hit, we have historically seen explosive stock moves just like clockwork. With only the dates in the calendar, and a weird 3-step strategy – you could have earned a 161% profit on AcelRx Pharmaceuticals starting July 3rd of this year.
You might also have raked in a 37% return in 30 days on Antares Pharma shortly after that. There's literally HUNDREDS of these events each year that you can capitalize on.
Since 2013 – former UCLA college student Kyle Dennis has produced investment returns of over 18,912%. In his first year of trading he earned $36,901 in profit. By year four, he was looking at an annual profit of $1,130,566. All told, he parlayed $15,000 into a $2,855,475 fortune… and it's still growing!
I know it is hard to believe. That is why we had our accountants audit his initial results, and they were just as shocked as we were when they verified the claims.
We'll show you all the proof and even his personal tax records in the live event later today. He did it all with just the dates in this secret government calendar. And, the most important dates are still to come. Some in as little as 9 days from now.
If you knew the significance of those days – you could place trades tomorrow morning that might pay $2,500, $5,000 or even $10,000 in virtually no time at all.
So – how does this all work? In two simple words: Biotech Stocks.
And, no – Kyle isn't some scientific genius. He's not trying to pick the next Merck or Pfizer. With his unique 3-Step Strategy – he's only in each stock for a few days. You'll find it hard to believe, but this isn't a "high-risk" strategy either where Kyle is "betting the farm" on a trade to work out.
He has built his fortune by "playing it safe" and selling into these predictable events, not waiting for the outcome of them. It's truly genius when you see it in action. Now Kyle is sharing the secrets behind his strategy in a free online training event.
If you're lucky enough to attend – you'll get a complete walkthrough of his strategy that's taken him from broke college student to multi-millionaire.
The Basics of Trading Biotech Stocks
The Secret to Kyle's 18,912% Return
10 Reasons Why Biotech Can Be Lucrative
Powerful 'Catalyst' Profit Strategies
How to Find Upcoming Biotech Catalysts
Step-by-Step Methods to WIN Your Valuation
And so much more!
Just imagine how your life might change if you could pull $900-1,300 out of the market in a matter of days… all with unique "profit dates" published far in advance.
Check out what some of Kyle's students are tweeting about it: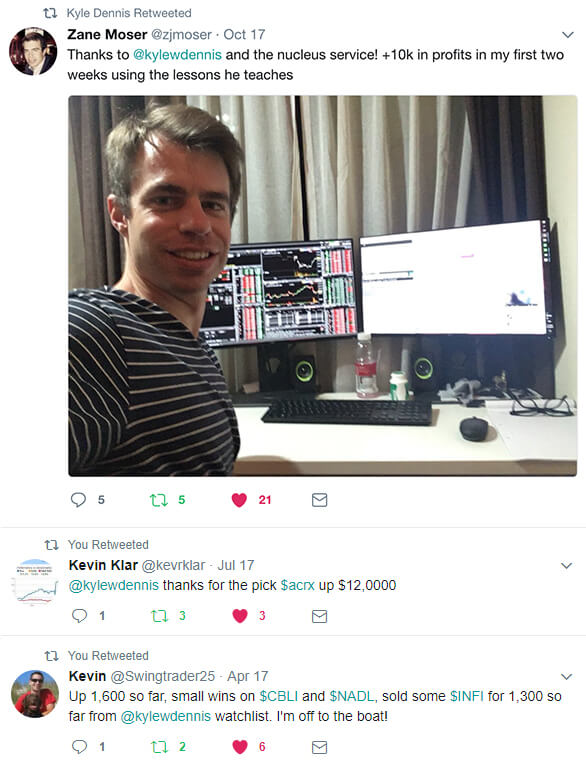 YOU could be his next success story!
Your first step?
Register for the event: