Dear Insider,
It's been a monster week for 100%- plus winners for Weekly Money Multiplier, Millionaire Roadmap and Option Rocket clients.
The companies and ETFs we traded are completely unrelated… an online furniture store, a massive medical company, a small-cap ETF, an electric car maker and even a brick-and-mortar discount retailer. Some of the trades were to the long side and others to the short side.
What all these trades do have in common is how we played them: Using options. If you're not using options, I guarantee you're leaving money on the table.
Check out some trades that we've closed or are still running higher:
Ticker
Date

Return

Service

TSLA

May 3

364%

Millionaire Roadmap

SPY

May 3

100%

Weekly Money Multiplier

WW

May 3

150%

Option Rocket

ULTA

May 2

134%

Millionaire Roadmap

W

May 2

103%

Weekly Money Multiplier

IWM

May 2

203%

Weekly Money Multiplier

FIVE

May 2

100%

Weekly Money Multiplier

ROKU

May 2

200%

Weekly Money Multiplier

JNJ

May 1

100%

Weekly Money Multiplier

*

Partial or full profit has been taken on some of these trades and others are still open.

And that's just trades from the past three days. Check out what Kyle Dennis pulled off in Option Rocket last week: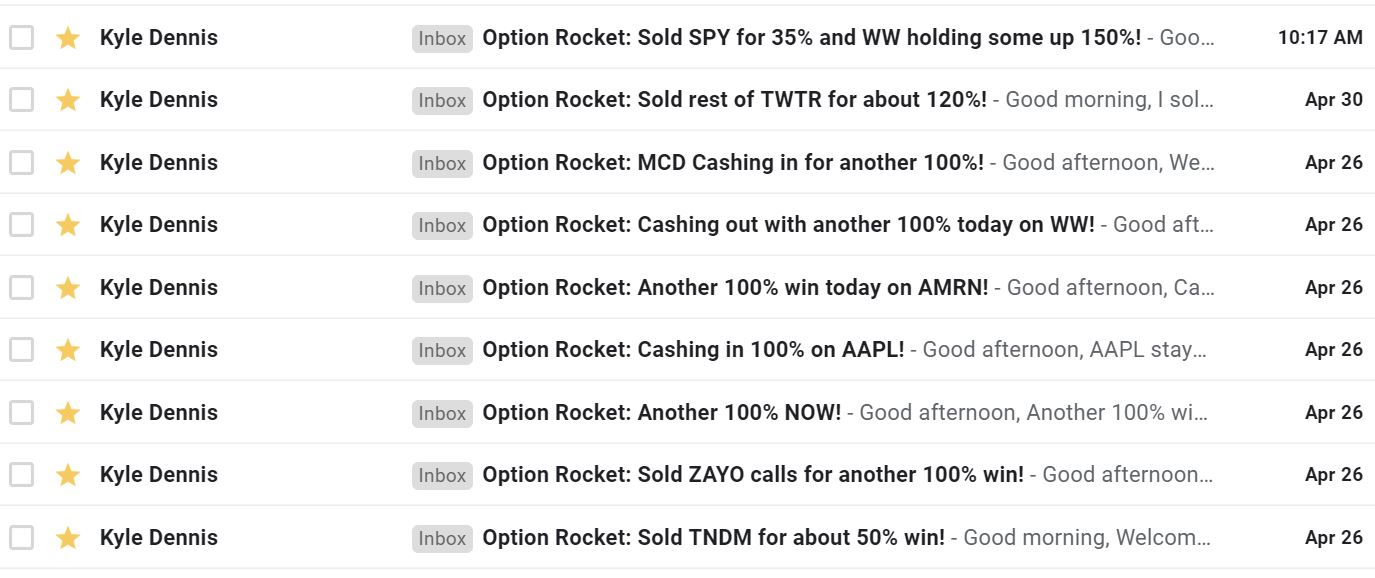 If this isn't enough to convince you that you need to learn how to trade options, I don't know what will be. If you're ready to make the jump, you can't go wrong with any of these services.
But if you want to learn from Kyle Dennis through Option Rocket, you can go wrong by not joining now. The price of admission is going to go up in a few hours. Plus, he's releasing his Mortal Lock trade as I write this. If that trade doesn't make you more than the cost of the service, you will receive another year of Kyle's service FREE. Join here.
Today's Top Trade: Nathan Bear Edition

Here's another trade that Nathan Bear spotted while live-streaming his thinkorswim account in the Millionaire Roadmap room.
On Tuesday, I gave you a WWE trade from Nathan. Did you take advantage? He just took profit on half of his position at 50% and is holding the other half for a 100% move:

Today's trade is very similar to the WWE trade setup. The trade combines Nathan's TPS setup and my (Jeff Bishop) Money Pattern. It also has a high short interest and is bullish in multiple time frames — the hourly and 30-minute chart.
Here is the hourly crossover: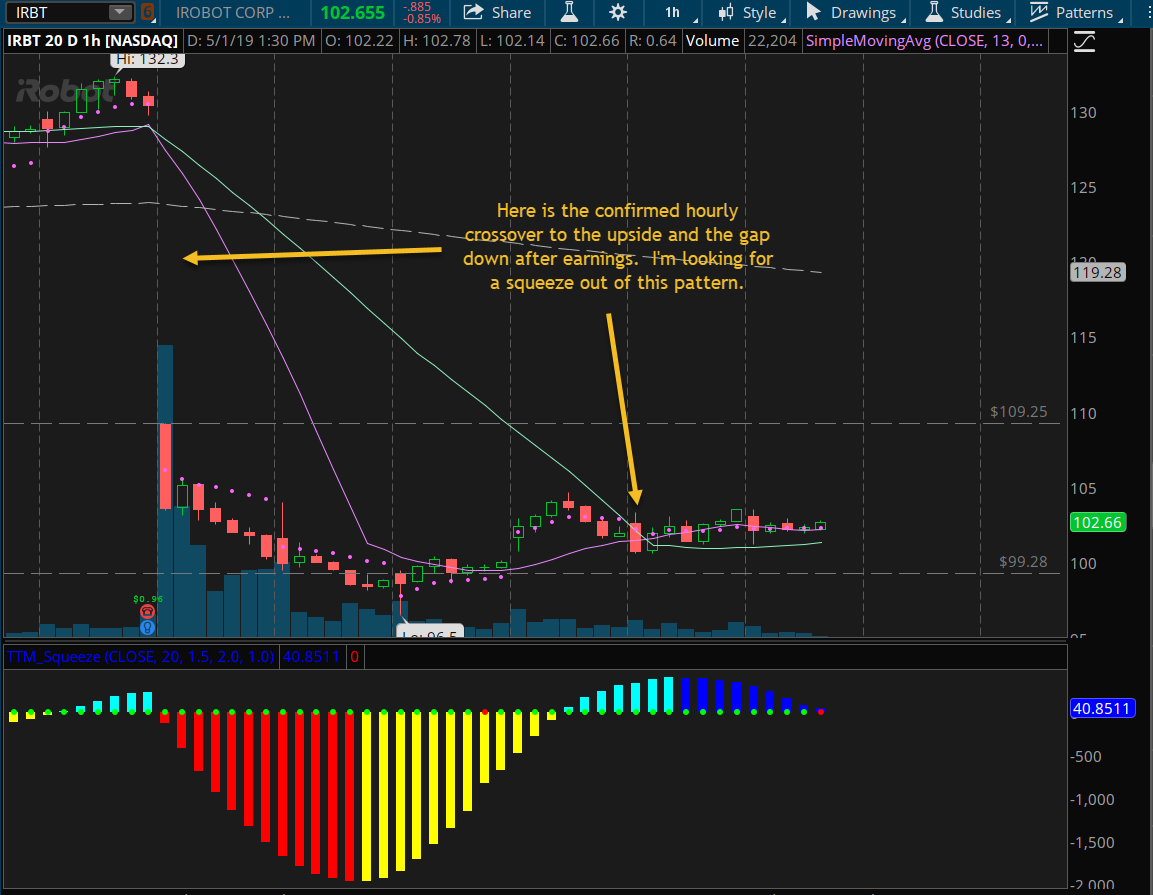 But the chart Nathan really likes is the 30-minute. Here's what he had to say:
"It has a great little pattern here and a very nice squeeze.  I'm looking for a move over the recent high of $104.66 and a move into around $106.  Since this is just a 30 min chart, I bought the options that expire next week. So this will be a shorter time frame trade here, rather than the typical daily or larger time frames.  I've been stalking this one looking for a nice setup and I think we have that now. Here is the 30 minute chart:"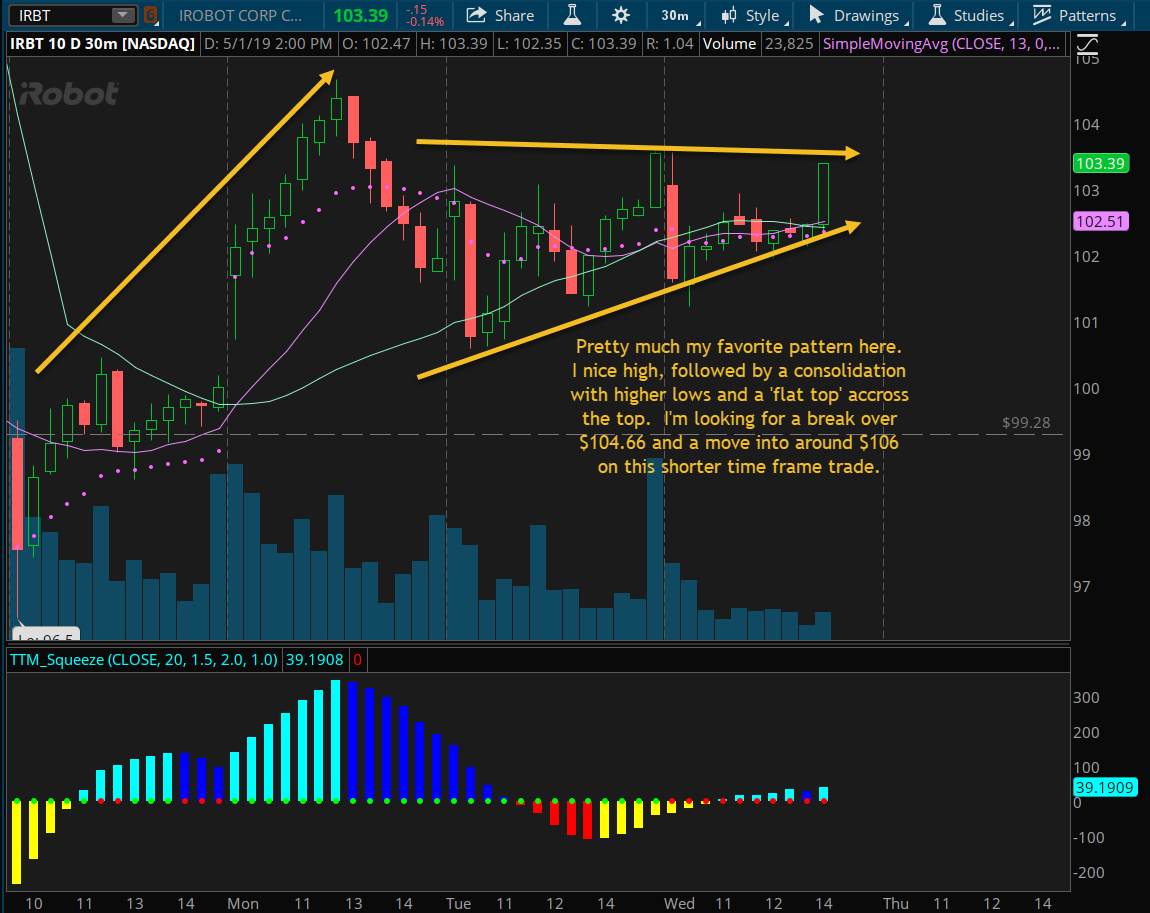 He is playing the trade with IRBT 100 (Weeklys) 5/10/19 105 CALL @ 1.95
If want access to live coaching from Nathan, you can join Millionaire Roadmap here. Like I mentioned above, Nathan streams his thinkorswim account live during market hours. He's often on the mic teaching folks exactly how he finds the trades that made him a millionaire. And of course, you'll also get access to Jason Bond's live training and trade alerts in the room.
Education Corner: H&S Lesson With Davis Martin
As many of you know, Davis Martin's specialty is trading SPY (an ETF that tracks the S&P 500) options in the morning. He sends out his Trade of the Day — a daily, high-probability SPY options trade alert — 30 minutes before the market open.
But once the market opens, he's on the mic managing his trade in The Traders Council room. Here's a recent video lesson on how he does just that.
In it, he reviews how he uses head-and-shoulder (H&S) patterns on red days and the inverse pattern on green days. Plus, he'll review critical SPY levels to keep an eye on.
You can watch his lesson here.
Related Articles: