I (Jeff Bishop) just got back from ringing the closing bell at NASDAQ with Jason Bond and Jeff Williams.
As a trader, it was incredible to be in a place where so much financial history has been made. It was also a blast to hang out with some of the best traders on earth that I get to call friends.
On a personal level, it was a humbling reminder of how far I've come. My life could have turned out very differently. Before becoming a trader, before I ever built my first $1 million business, I had my fair share of setbacks.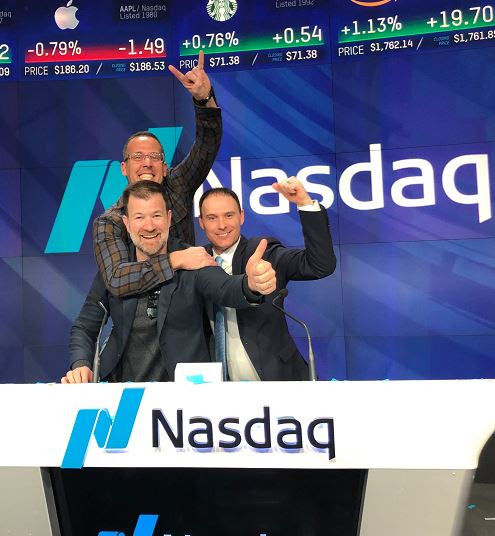 In fact, I've had five failed businesses in everything from lawn care to car sales and even a bagel shop. And though I 'm not particularly proud of this, I've even been fired over a dozen times.
I remember when I hit rock bottom like it was yesterday. I had just been fired from a $30k a year job as an "analyst" a week before Christmas. My son was only a few months old. That day, when I was carrying my belongings out in a cardboard box to catch a train home, was a low point in my life.
I don't regret any of it. I wouldn't be where I am today if not for those challenges. It also makes days like today that much sweeter.
I truly believe that as long as you work hard and invest in yourself, good things will happen. We are all striving to be more successful and make more money, just don't forget what it's all for.
By the way, I am posting trading ideas on our RagingBull twitter account. Be sure to follow us https://twitter.com/RagingBull or @RagingBull  to see my charts and also ideas from other traders during the week.
What's Happening Now
I want to congratulate Kyle Dennis and his students on their killer trading.
For the month, Kyle is up over $60k.
And just today, he made $9,600. Check out the email he sent his students:
He's more proof that hard work pays off.
Before becoming one of Jason Bond's millionaire students, Kyle made around $35,000/year working in a real estate office with $80,000 in student loan debt.
But he invested in himself — learning everything he could from Jason — and worked tirelessly researching companies and their catalysts. Kyle attributes his success to his research and finding where big pops are about to happen. That's his edge.
And he's still working hard on his millionaire-making research. In fact, he just published his latest on a technology he's calling The Biggest Opportunity of the Decade.
If you haven't yet, I recommend you check it out. Kyle says you'll have a chance at the types of returns tech companies like Apple, Netflix, Facebook and Amazon delivered to early investors.
It's easy to see why he thinks that — the new technology is set to power 75 billion devices in the coming years and is estimated to be worth $12 trillion.
The tech hasn't been released yet, so you can still get in on the ground floor on an investment with the potential to quadruple your money. Access Kyle's research here.
Over in the Millionaire Roadmap room, Nathan Bear continues to consistently make money using his TPS (Trend /Pattern/Squeeze) strategy.
If you're not familiar with Nathan, he joined Roadmap after losing $40K on his own. He's since going onto turn $37K into $1.7M in just a few years and is up $200k in 2019.
Now, Nathan streams his TD Ameritrade thinkorswim live during market hours in the chat room. He's often on the mic teaching folks exactly how he finds the trades that made him a millionaire.
Here's a screenshot of his portfolio from Monday:
The most impressive part about the portfolio is not the large-dollar profits, but the returns… 39% on Amazon… 294% on NFLX… 79% on AZO… 35% on ROKU. All of these trades were taken in the past couple of days. And in the case of NFLX, he generated that 294% in one day!
If you're ready to invest in your trading, and get exclusive access to Nathan Bear and Jason Bond, you can join here.
On Deck
The #1 Breakout Technology of the Next Decade 
You're not going to believe the second chance you have in your hands right now…
All the heavyweight tech companies are on the $12 trillion dollar race of their lives to beat their competitors to the #1 technology of the next decade.
This technology has not been released yet, which gives you a one-in-a-lifetime opportunity to get in on the ground floor.
Here are the cold hard mathematical facts of how you could quadruple your money.
Related Articles: