The bounce I told Weekly Multiplier Members to expect is here.
Stocks don't drop day after day on a sustained basis without a few bounces along the way. That doesn't mean I think this is the beginning of a new uptrend. I've been bearish since we broke below the Death Line and will remain so until we start closing above hourly moving averages.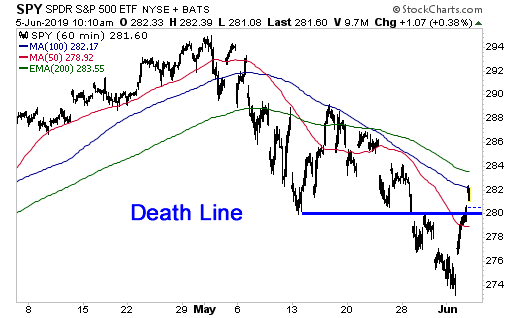 During pullbacks and bear markets, it is easy to think that incredible rally days for the market like yesterday point to an "all-clear" sign that it is time to get back in again.
This is really not the case. It is called a "bull trap". You want to believe the worst is over and buy into the next move up but that short-lived rally soon gives back all the gains.
I'm still looking for opportunities, of course. On the long and short side. You don't want to bet all your chips on the market going one way right now.
I'll continue to hedge my position — short weak stocks that bounce higher and go long individual stocks on dips that are still growing at a fast pace. I'm also keeping an eye on gold miners and volatility, more traditional hedges. Anything I buy I'll likely hold for a short amount of time. So members, make sure you keep an eye on my live portfolio.
And lately, I also find myself reading and following Davis Martin's Trade of the Day more.
Davis' specialty is trading SPY. He wakes up at 3 a.m. every day the market is open to analyze foreign exchanges and U.S. futures. Based on what he sees, he alerts his members and RagingBull gurus on what he expects the market to do in the morning and how to take advantage. I read his alerts first thing in the morning.
The trades are short-term — he never hold overnight — which is perfect for this market environment. It also means you don't have to be in front of the computer all day. It's just one trade a day that's normally closed well before noon.
Monday, for example, he recommended SPY June 7 276 Calls. He expected a small bounce in the morning based on an exponential moving average crossover and markets being oversold.
He was spot-on. And I took his exact trade and made $6,000 in  30 minutes.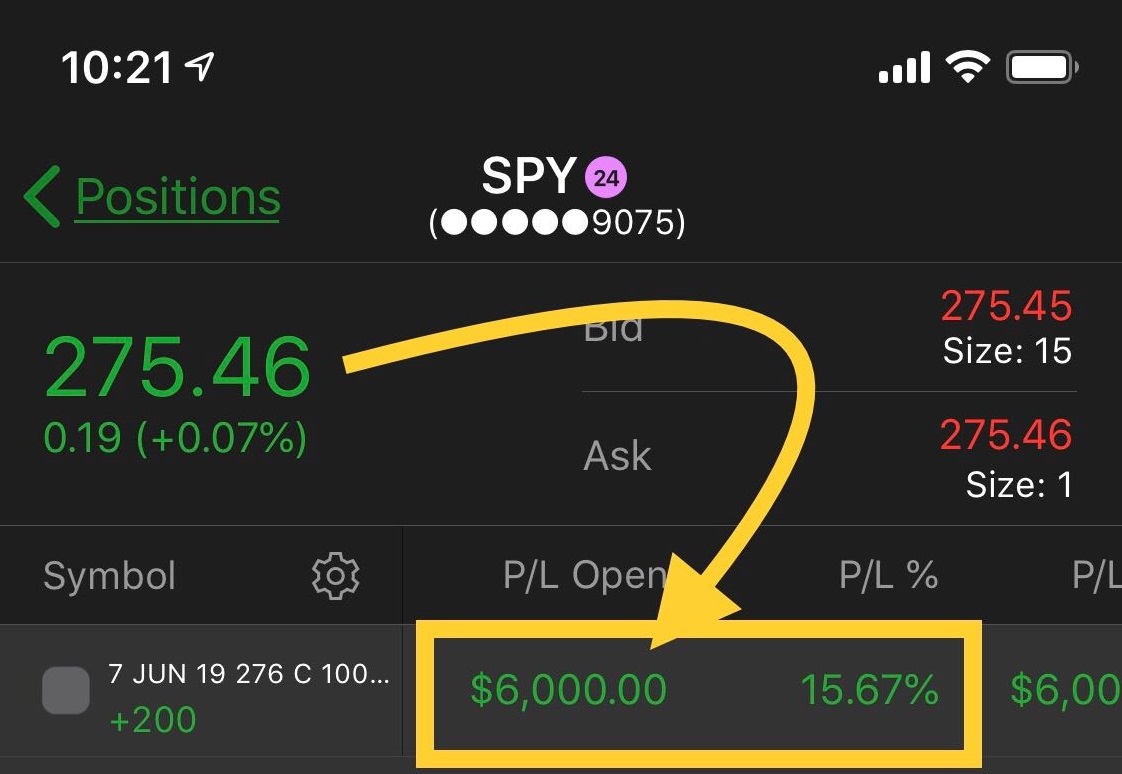 Yesterday was more of the same. Check out this exit alert he sent to his Trade of the Day members before 11 a.m.: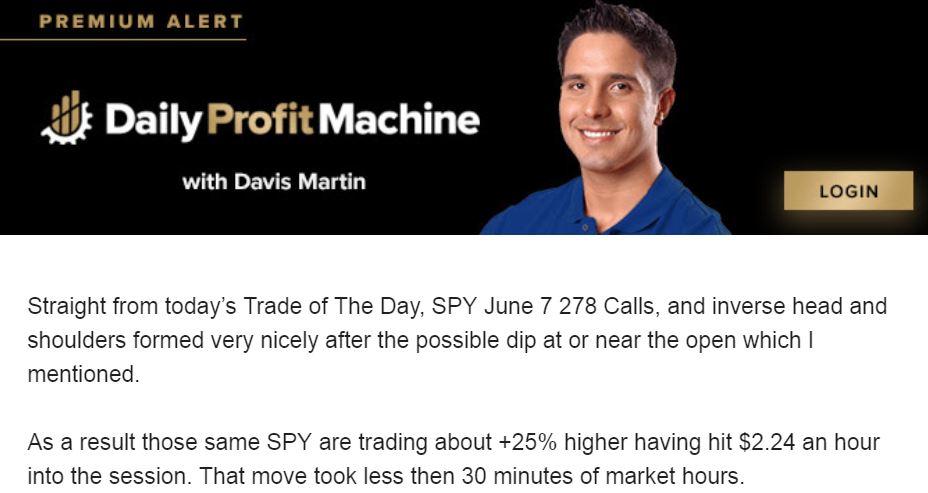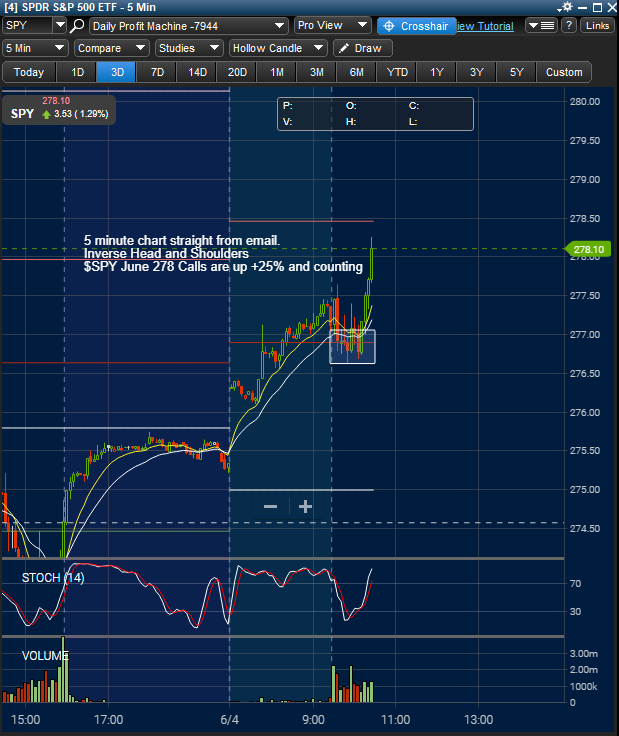 That's a 25% win — at least — a few hours after the market opened. I don't know about you, but I could get used to these daily deposits in my account.
Davis has been doing this for a long, long time. And he gets it right way more often than he gets it wrong. His strategy doesn't care if markets are ripping higher or collapsing — he creates his trading plan the morning he sends his alerts and doesn't hold overnight. It's an incredibly nimble and powerful strategy.
That's why I needed to chat with him in person. I wanted to pick his brain and deliver as much of his insight to YOU. I'll be airing the interview with Davis this Thursday. Seriously, you don't want to miss this so make sure to register for it now.
Today's Trade: Nathan Bear Edition
Nathan will be the first person to admit that it's been a terrible market for swing trading. Like me, he's been decreasing his position sizes, taking profits sooner and cutting losers faster. He's also being way pickier with his trades — only the very best risk/reward setups are making it into his real-money account.
He makes all his moves live in the Millionaire Roadmap room. You get to see exactly how he finds his trades… how he chooses exits and target profits… and even how he scales into trades. Watching him trade a few months live is like getting a PhD. in trading.
Aside from giving you an education, the Roadmap room can also make you a lot of money. Here's a screen shot of an alert Nathan sent TODAY: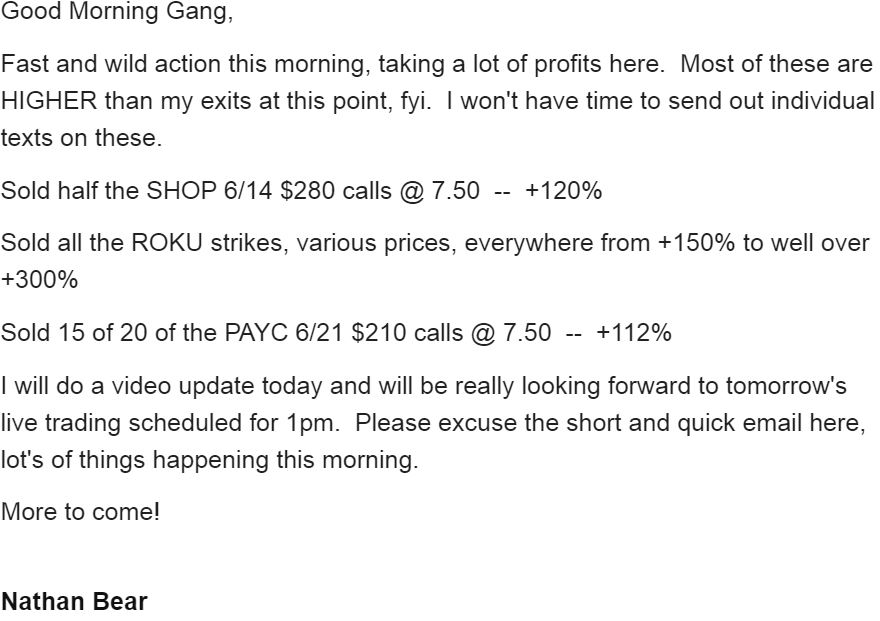 Imagine waking up and closing a 112%… 120% and even 300%-plus winners?
Today's trade is a TPS setup, which stands for Trend, Pattern and Squeeze. Many of the winners from above use this exact same setup.
As you can see below, WIX is in an uptrend, squeeze and in a consolidation patter below recent highs. Momentum is also shifting to the upside — the latest bar in the squeeze indicator (bottom of the chart) has switched from red to yellow.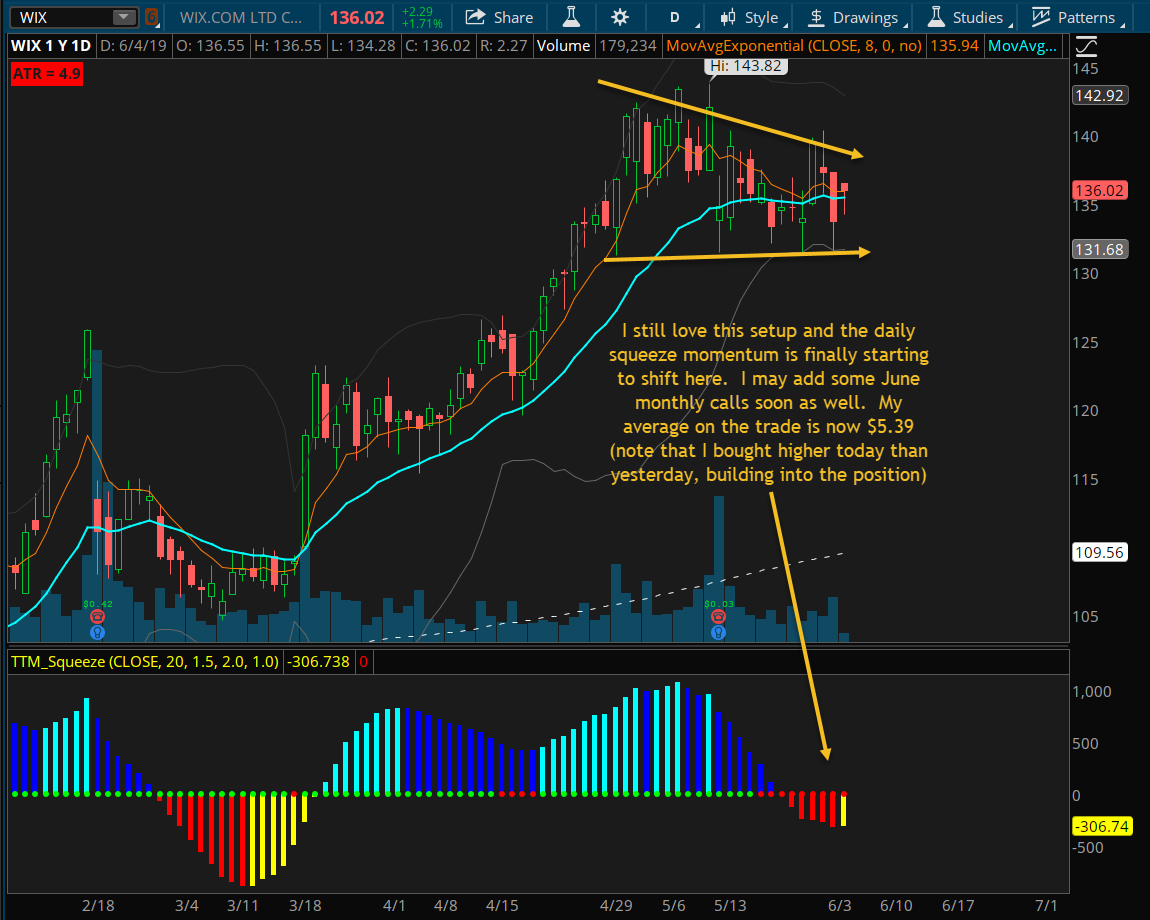 Nathan's initial entry was around the 21 EMA (blue line). He added to his position when shares fell to the lower Bollinger Band yesterday and again today. Overall, his average price on the JUL 19 $140 Calls is $5.39.
Nathan's target is new highs or a move into the $140s. He'll exit the trade if the daily squeeze fires short or if prices close below the lower Bollinger Band.
Hope you're able to turn this info into $. But of course, the best way to learn how to manage trades is to watch Nathan do it live. If want access to live coaching from Nathan, you can join Millionaire Roadmap here.
He streams his thinkorswim account live during market hours. He's often on the mic teaching folks exactly how he finds the trades that made him a millionaire. And of course, you'll also get access to Jason Bond's live training and trade alerts in the room.
Jeff Bishop & Jason Bond

Related Articles: