If you managed to survive last week's "market apocalypse", that's great to hear… and if you're still struggling to find a clear market direction… that's okay.
It's been hard to make money for a lot of traders, but this isn't the time to try to figure out what happened… this is the time to look forward to the signals that can tell us exactly where the market could go.
If you've been listening to the talking heads… it's been especially difficult.
You see, they overreacted… as we saw headlines reporting what happened after the fact – the inverted yield curve (I've been talking about this for a while now), a weak economy, the Trade War's impact on the economy… you name it…
… all they did was instill fear in traders and cause panic selling. It was still a tough week to trade, but I came out of it more or less unscathed… and I did that all by looking to my chart setups.
What the talking heads haven't even mentioned is where the market could go… or what traders are actually watching.
In today's Insider, I want to take a step back and look at where the market could head next…
… and I'm going to be looking at the big picture… because knowing where the key levels are on the longer-term view can allow you to avoid getting sliced up by the day-to-day volatility, causing your portfolio to bleed, especially if you trade large-caps like I do (I actually trade large-cap options).
Not only that, it allows you to plan accordingly and place trades with defined risk.
But before we jump in, I want to remind you to register for Kyle Dennis' exclusive LIVE event this Thursday. This will be a one-night-only event and Kyle will be showing RagingBull members exactly how to spot massive stock moves before they happen…
… a strategy that can not only work in this market environment but also bull and bear markets.
Kyle rarely opens up his trading room to non-members, but he thinks this is critical information that every RagingBull member needs to have — especially with how the market has been acting lately.
Sign up here and check out the video for more details.
Where The Market Could Fall To Next
Last week, I told you about the Death Line, SPY $282. 
That continues to be my "line in the sand" in the short-term, and it's not too hard to see why.
If you notice, that line has been a magnet over the last few weeks. Every time the market has tried to bounce… it got stuffed at a resistance level and pulled right back into the Death Line.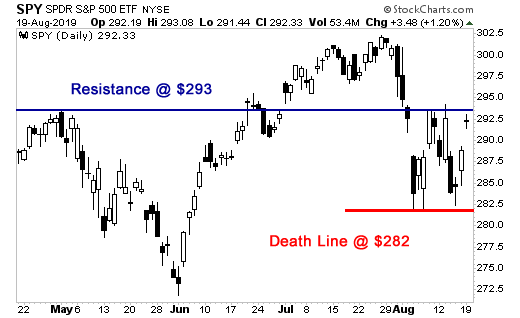 As you can see above, we rallied hard off the "Death Line" on Friday, and the move continued into Monday.
We're just around 3.5% away from the Death Line and we're nearing a make-or-break level right around $293 – a resistance level.
That shows how quickly things can turn around right now — to the upside and downside.
So why are these two levels so important?
Well, they will give us a clear direction if SPY trades above $293… or if it pulls back and actually breaks below the Death Line.
If SPY actually breaks above $293… and stays above… that would be a bullish signal because that means the bears – the short sellers – are "gone" and there isn't really anyone betting against the market there.
However, what could happen is a "fake out break out"… where SPY just breaks slightly above $293 and reverses as short-sellers bet against SPY and attempt to take it back down to that oh-so-important Death Line.
But here's the problem with the $282.00-$282.50 level…
… if you're a "buy the dipper" and want to buy at that key level… it's a really dangerous game.
Why?
Well, we've seen SPY test that Death Line ($282 – $282.50) twice already… and the next time, there is a high chance that we break below.
You're probably wondering, Jeff, what happens if we actually break below the Death Line?
For that, we have to look at the weekly chart to get a long-term view of some key levels. I've marked a few areas where traders are looking for support levels to "buy the dip".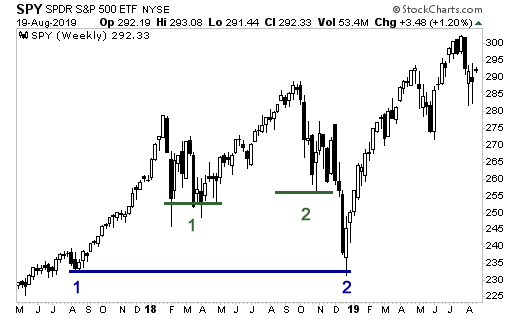 The $250-$255 area (in green) would be the first area of support, followed by the December lows (blue).
However, like the Death Line, we've already tested them twice.
Unless we smack into those areas with some sort of panic selling, I doubt they will hold for long.
Sure, they might give us some melt-your-face-off rallies — which we could play on the long side. But in all likelihood, the market will want to swing below those levels before it's all said and done.
We're not there yet, of course. Right now, we're closer to breaking through resistance at $293 than we are to retesting the Death Line at $282.
But I think this exercise is important. It's good to have a big-picture view of the market, even if you're only holding positions a few days or weeks. As you saw above, a lot of the potential "support" levels most traders will look to are anything but.
It's good to know that ahead of time… before we're trading at those levels.
Related Articles: