There's more than one way to make money in a stock

Dear Insider, Jason Bond here.
How many times were you arguing with a friend about some nonsensical topic… until someone gives up and say, "There's more than one way to skin a cat"?
I can tell you it happens in trading ALL the time.
Traders will argue with each other tooth and nail about fundamentals, chart patterns, indications, and what have you. But at the end of the day, it all boils down to, "Are you going to place a bullish bet or bearish bet?"
A lot of the time, we come to the same conclusion no matter what we're trading.
For example, I might look at a chart pattern and catalyst, then buy shares… but another trader might look at a different indicator and also be bullish on the stock.
So why do I bring this up?
Well, little did I know… Kyle Dennis and I were trading the same stock — ZAGG Inc. (ZAGG), you've probably heard of the company before. They make screen protectors and cases for your phone.
Now, I was actually trading the stock… while Kyle was trading the options.
You might be wondering, Were you guys on the same side of the trade?
Yes, we were both bullish on the name… but the way we came to that conclusion was completely different.
Dollar Ace Strategy Reels in 70% Winner
Before I talk about my trade setup, I want to walk you through Kyle's setup first.
If you don't know by now, Kyle Dennis has been using a proprietary options scanner that sniffs out the massive bets that Wall Street's mammoths are placing day in, and day out.
It's something known as "unusual options activity".
Basically, when his Dollar Ace scanner pops up on his screen… it signals to him someone must know something we don't — a potential catalyst that could move the stock. After he gets the alert, he'll also look to the chart to improve his chances of success.
With the ZAGG setup, he noticed call buyers sweep up the options expiring in November.
However, Kyle didn't blindly follow that order.
Why?
To him, it was a bit risky.
You see, unlike stock, options have an expiration date… and those ZAGG calls were expiring in less than a month — not a lot of time there.
Instead, he purchased the Dec. 20 $7 calls for 50 cents apiece.
I won't bore you with the details about the "time value of options". Buying longer-dated (ones with a longer time to expiration) gives you more room to work with.
If you missed out on the Dollar Ace live event the other day… you can hear Kyle walk through the ZAGG trade as he placed it, in REAL TIME… and exactly how he's able to pull in massive returns on options under a buck.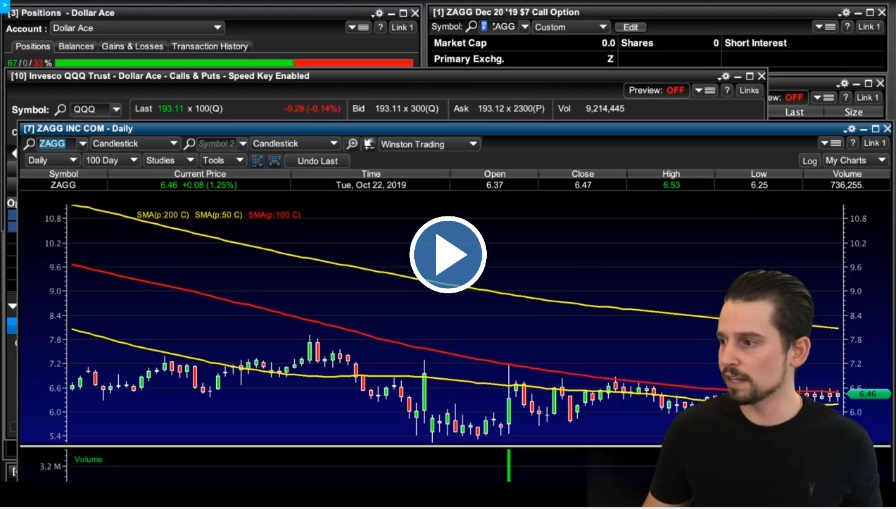 Now, Kyle also looked at the chart setup in ZAGG… and found something I actually overlooked when I bought shares (more on that later).
There was actually a bull flag pattern in ZAGG.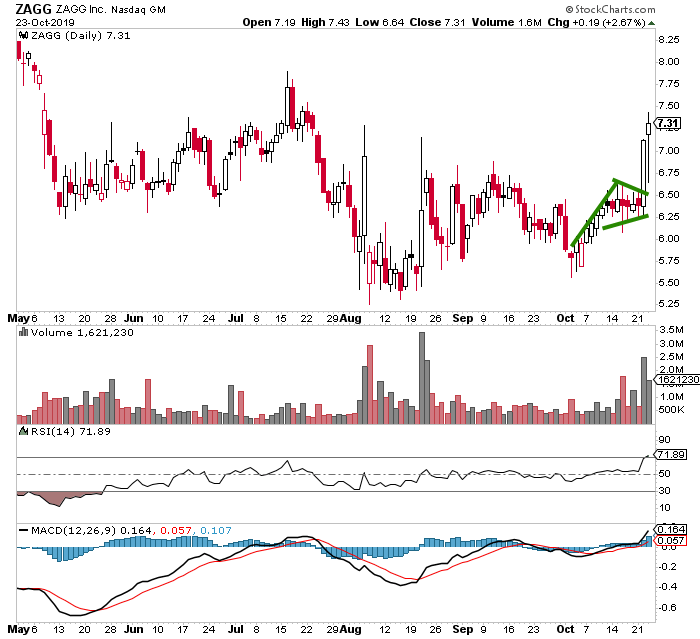 ZAGG broke out of that level and Kyle locked in a whopping 70% winner overnight!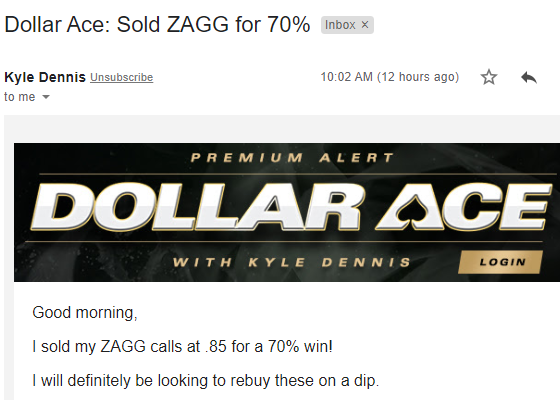 Kyle is keeping the ZAGG options on his radar… and he's going to look to rebuy those calls if the stock pulls back.
On the other hand, there's my trade setup… a little different from Kyle's options trade in ZAGG.
Catalyst Play on ZAGG

ZAGG was one stock on my radar after the company had a bullish catalyst and hired Bank of America to explore "strategic alternatives" a few months ago. I suspected that news could lead to something positive.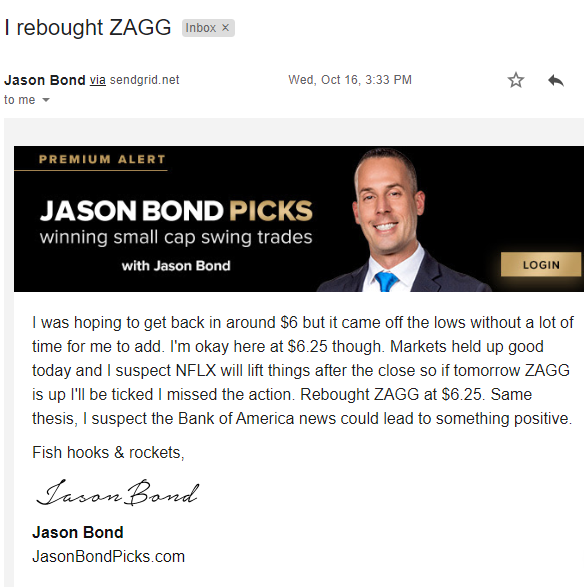 Two days later, I actually added an addition 5,000 shares at $6.40 and my average price was $6.30.
My profit target was $1 to $2 higher from where I purchased shares.
Why those levels?
Well, if you look in the chart below you'll notice a blue horizontal line. That's a breakout area. Typically, that's a good spot to look to take some profits. However, it really depends on the price action, so it's always a good idea to have multiple price targets.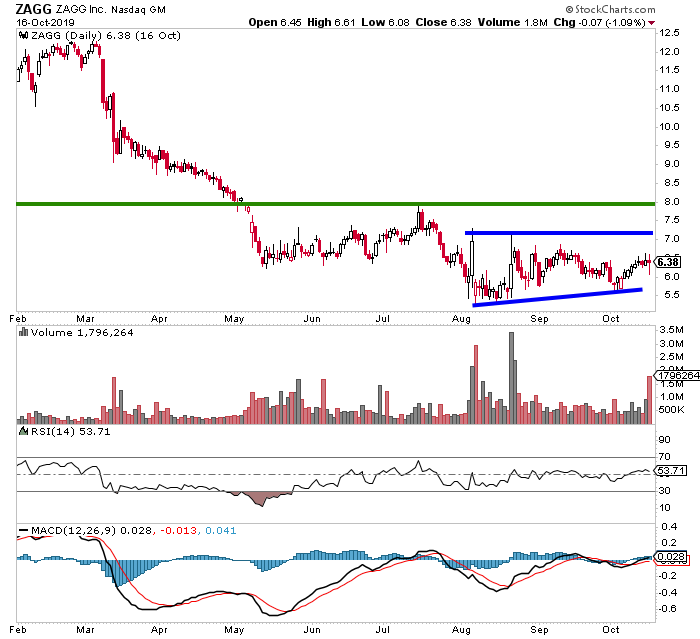 Just a few days after I placed the trade…
ZAGG went right around my profit target!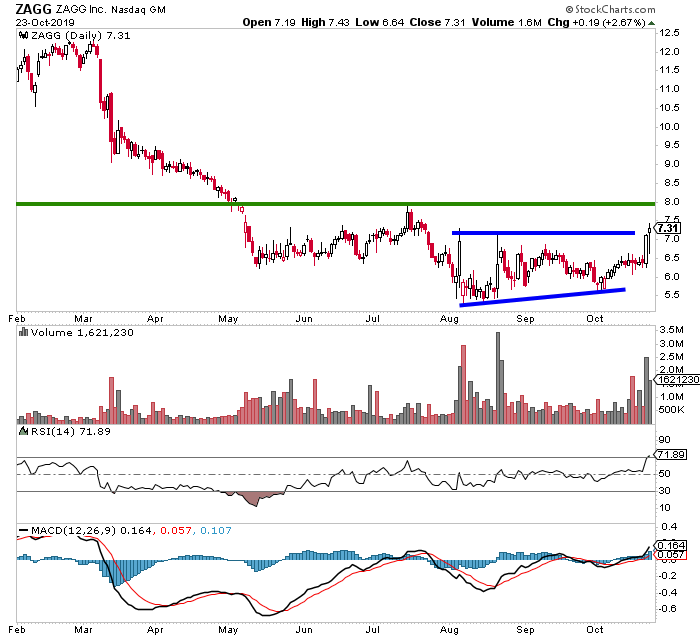 I was locking in more than $22,000 on just a few day hold.


Talk about two really different trade setups, but both of us came out on top.
That's the beauty of trading, we can use different tools and still come to the same conclusion… and rake in profits from the same stock or options on the stock.