I told Weekly Money Multiplier members yesterday that the market would pick a direction this week. And it didn't take long, it picked lower.
After fighting to stay above the $283 level for the past few days, and even rallying to $284 yesterday morning, the market gave it all back to sit just above $280 at the close yesterday.
As I mentioned last week, SPY $280 is the Death Line. It's a major recent low and a psychologically important level. And today, we gapped below that level.
One thing I have learned over the years is that things tend to go down a lot quicker than they go up. I don't know when the next major road-bump is coming, but I think it's soon now that the Death Line has been breached.
And it's not just the technicals that look bearish. There's a mounting case of evidence that global growth is slowing and it's spilling over into the U.S.
People are piling into bonds at record rates. You are going to hear more and more about the "inverted yield curve" in the media, so get ready for that.
All it means is that rates are higher for short-term borrowing than long-term. It's usually the other way around — a 15-year mortgage usually has a lower interest rate than a 30-year.
The big deal with "inverted" yields is not so much that they're rare, but that it almost always signals the start of a recession.
And aside  from SPY, there's three other charts that make me nervous: IYT, XLP and TLT.
TLT is one that I trade often as you know (I just closed out a 200% winner on it 2 weeks ago in fact). TLT tracks bond prices and lately they have been shooting through the roof.
Part of the reason why is that the market thinks rates are headed lower (and therefore bond prices will move higher), but this is a ridiculous move in the last month. The market is clearly worried about something BIGGER than a rate cut:
Next, take a look at XLP.  This is the consumer staples index. Think Coke, Wal-Mart, Procter & Gamble, Colgate, etc. You know, boring companies whose products we all use. This is what we call a "defensive" play. People buy these companies when things are shaky because they are so "safe". We can see that in the chart recently, but look at how it traded in the last week or so when the markets started to soften: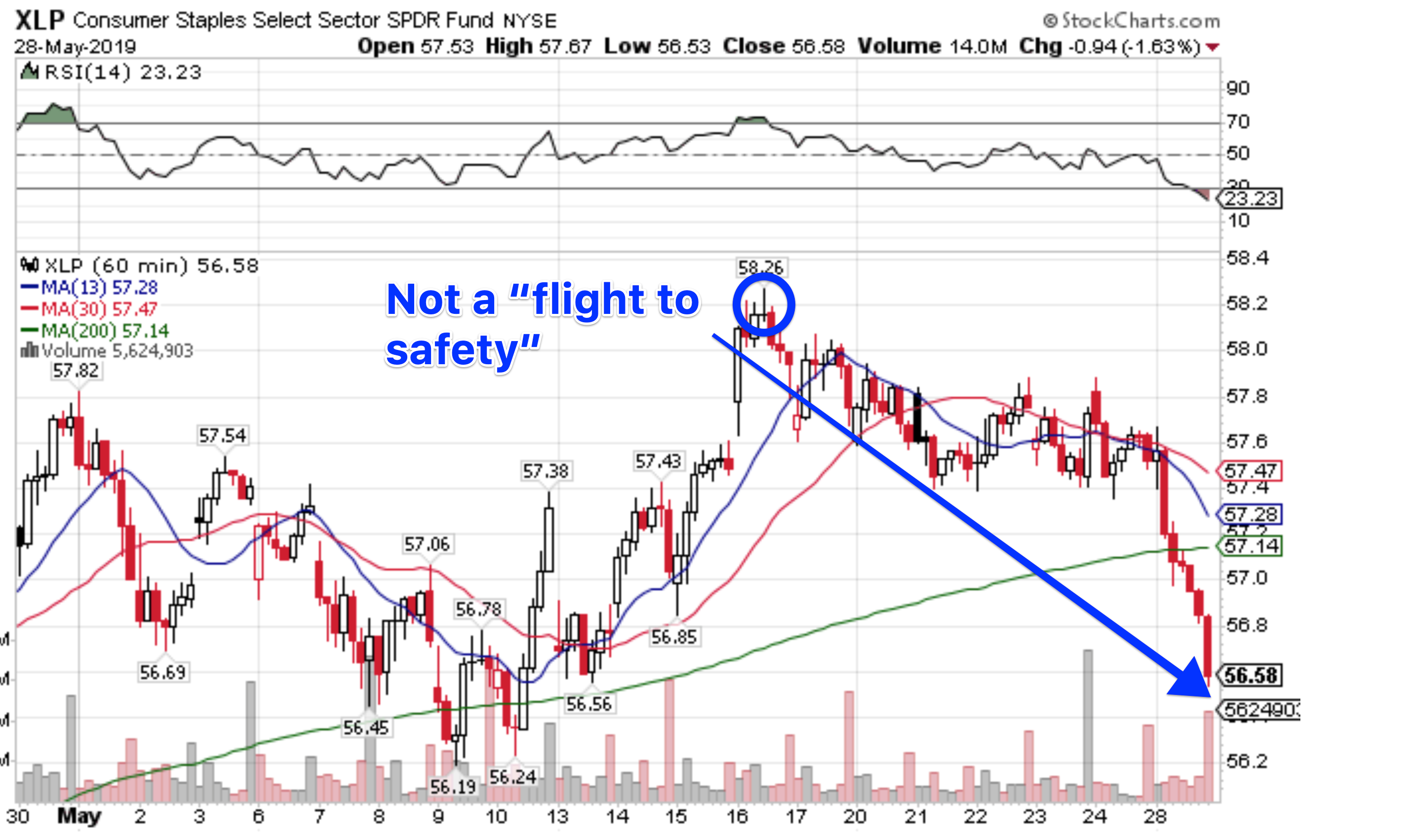 Finally, look at IYT. This is the transportation index. This is generally a canary in the coal mine for the general economy. If the economy and companies are doing well and shipping goods, the companies in this index tend to move higher. When we see a sustained drop in this index, you should be worried about overall GDP growth. How can an economy grow if no one is shipping products?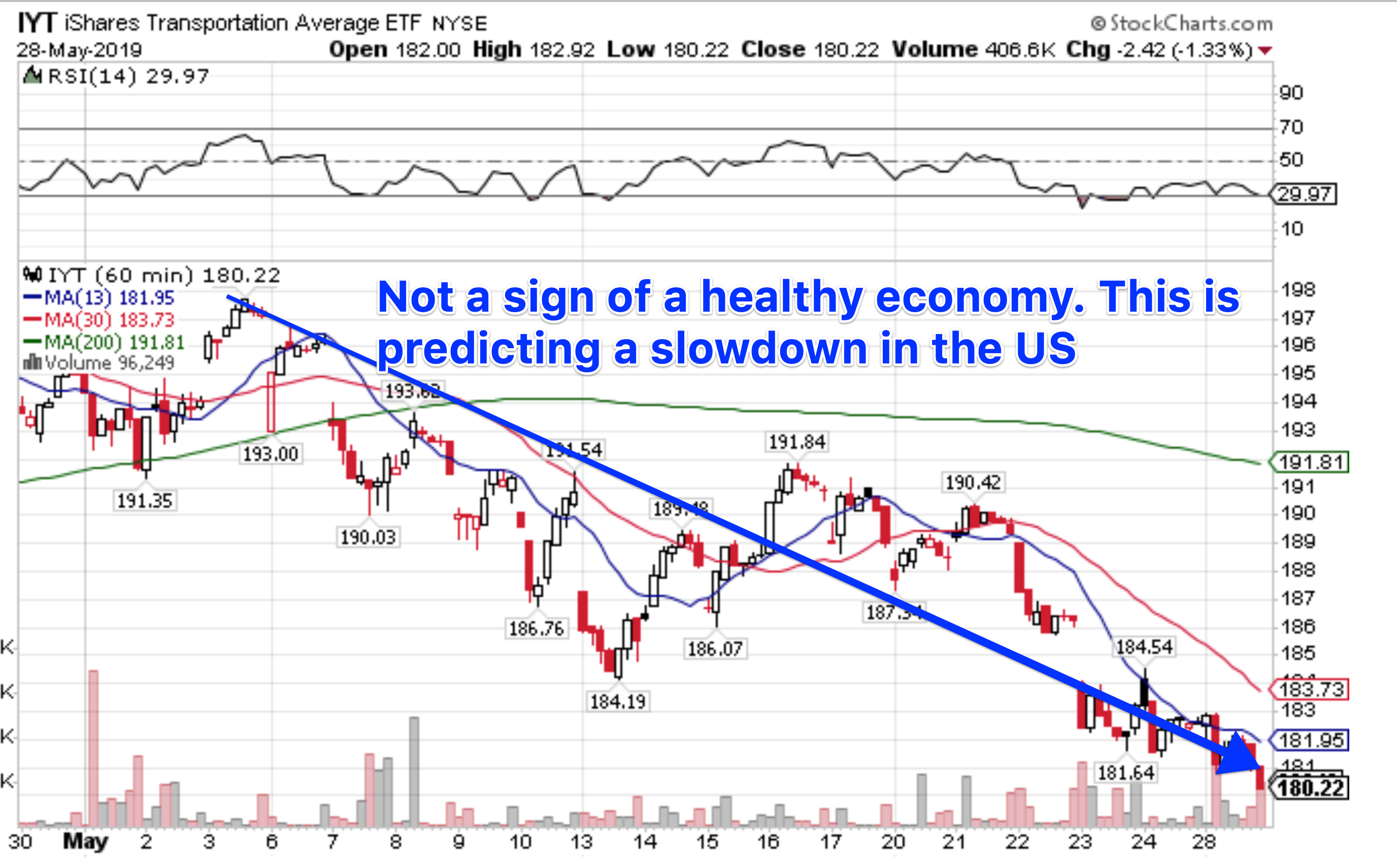 All this to say that I think the market has finally picked a new direction for a while and it is lower. I will be looking to short companies and indices using puts until the direction changes. For example, some puts I bought on QQQ already paid off overnight: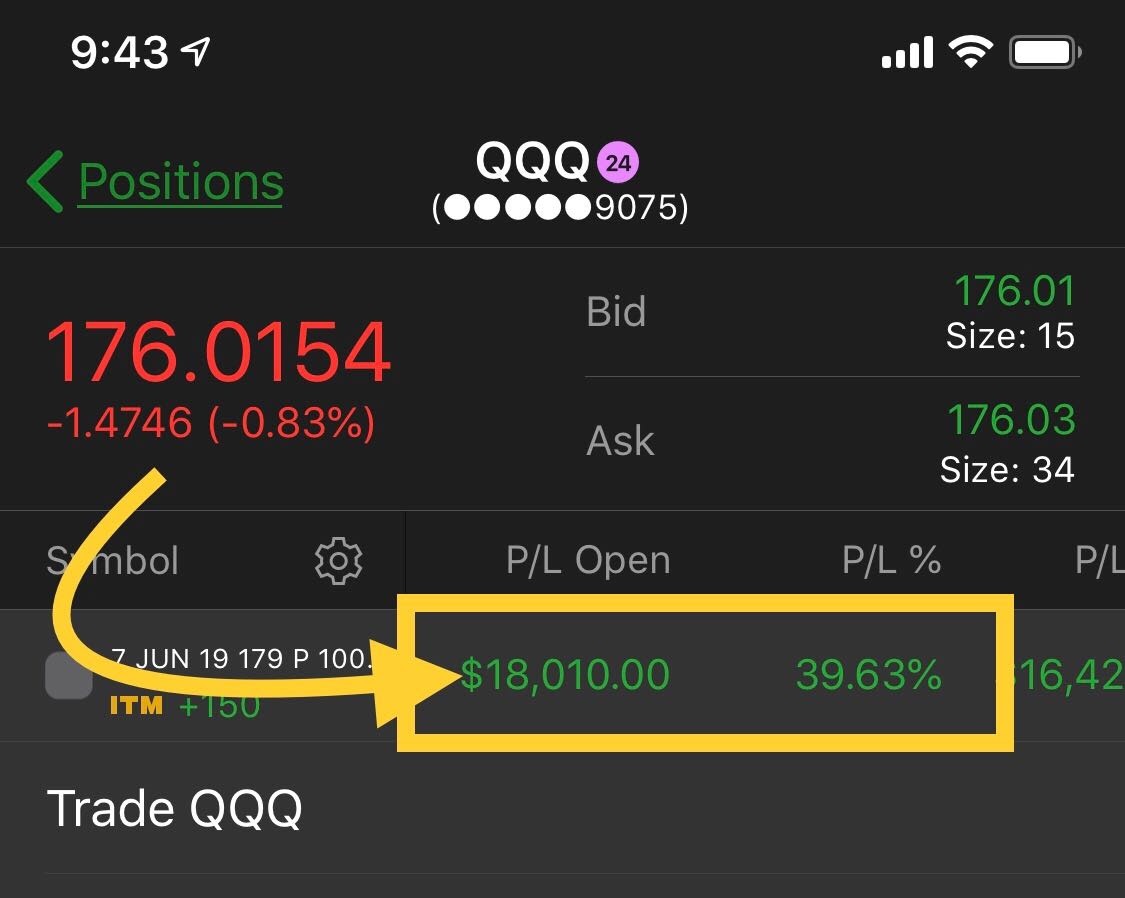 If you're new to trading or don't know how to cash-in on crashing stocks, there's no shame in sitting this market out. Be honest with yourself. If you're fearful right now, you probably have no business trading this market. That's often when traders get CRUSHED.
Members, be on the lookout for new alerts and changes in my live portfolio. If you want my help navigating this market, you can join me here. I'll send you regular updates on what I'm seeing the market, what trades I'm making and you'll have access to my live, real-money portfolio.
Otherwise, be careful out there. Keep a fast trading mindset: Small profits, smaller losses than normally allowed and smaller position sizes.  Keep that risk profile tight!
Trade of the Day: The Perfect Risk Reward
Nathan Bear isn't a "huge fan of the markets here." There's no doubt it's a tricky market for swing trading, but he found a setup in the Millionaire Roadmap room that offers the perfect risk vs. reward for this market. Like I said, you want to play it tight in this market, and this trade exemplifies that.
The trade is in Colgate-Palmolive (CL) — it's a low-volatility name trading near its lower Bollinger Band. A close below $69.80 — only a few cents off where it's trading now — would get Nathan out of the trade. It's a VERY tight stop.
This is also a classic TPS setup — CL is in an uptrend. It has a great pattern. And is in a daily squeeze: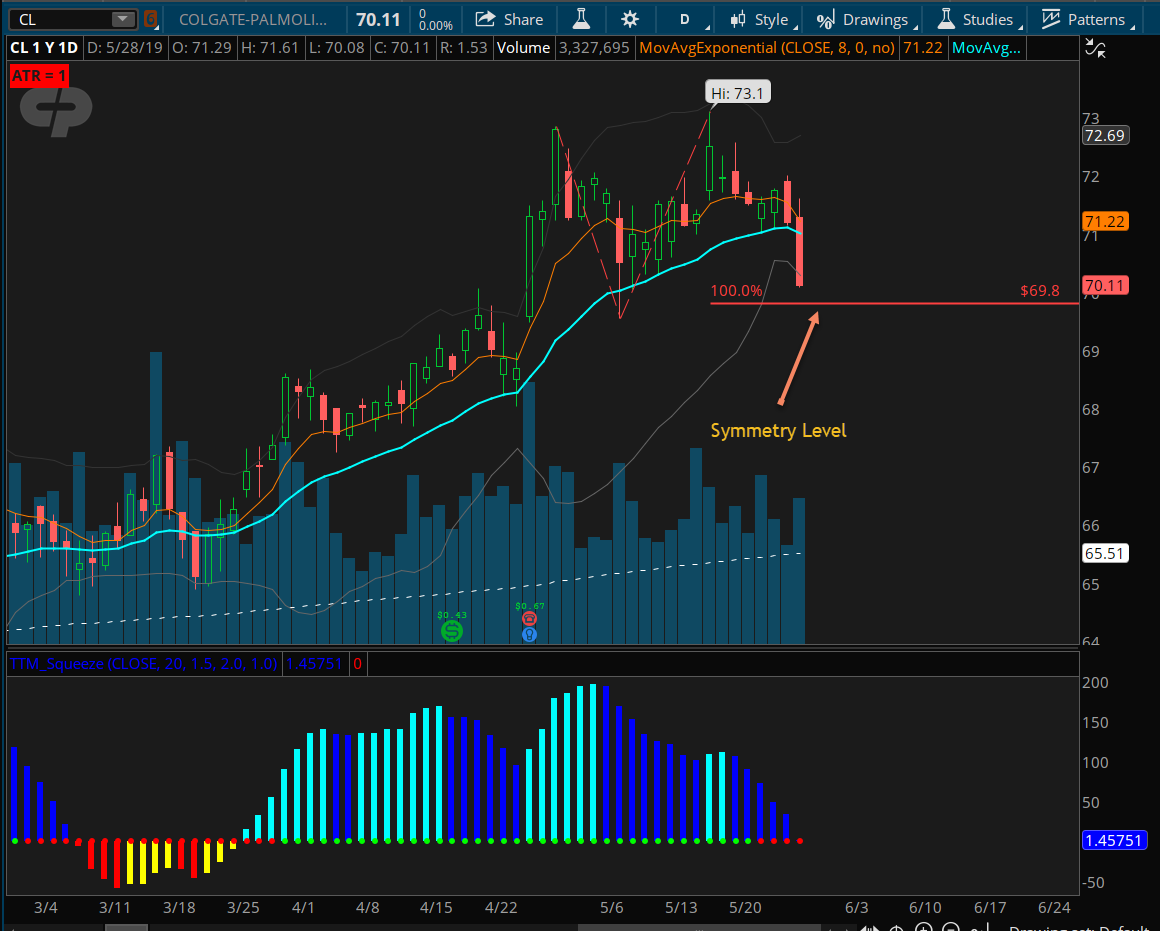 Here's Nathan's trade plan:
*Trade: CL 100 21 JUN 19 70 CALL
*Target: The 127.2% extension around $73.70
*Stop: A close below $69.80.  Again, this is a tight stop, but in this market, I'm looking for really excellent risk/reward setups, and I think this setup qualifies.
Nathan is looking for more trades in the Millionaire Roadmap room as I type this. If want access to live coaching and trades from Nathan, you can join Millionaire Roadmap here.
Nathan streams his thinkorswim account live during market hours and is often on the mic teaching folks exactly how he finds the trades that made him a millionaire. And of course, you'll also get access to Jason Bond's live training and trade alerts in the room.
Kyle Dennis' FDA Watchlist Sneak peek
Every week, Kyle puts together his famous FDA Insider Weekly Watch List. It's thorough… this week he found 12 names with big upcoming catalysts, strong charts and fundamentals that give him a solid risk/reward setup.
These are the kind of setups that made Kyle a millionaire in the first place. Best of all, small companies that trade mostly based on catalyst don't tend to track the market as much, so they're ideal for this environment .
Here's a sneak peek at some swing trades (1-4 week holds) Kyle is keeping an eye on:
Marker Therapeutics (MRKR)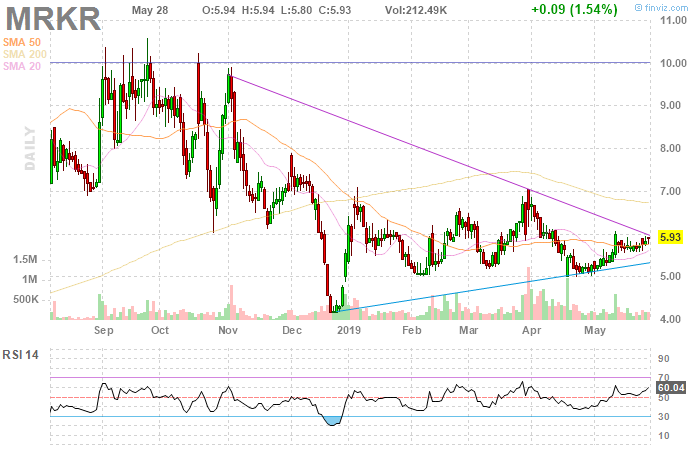 Catalyst Dates: Phase 1/2 data for pancreatic cancer due likely in July
Buy Zone: $5.50 to $6.00
Profit Zone: $7.00 or higher
Stop Zone: $5.10 or below
BioPharmX (BPMX)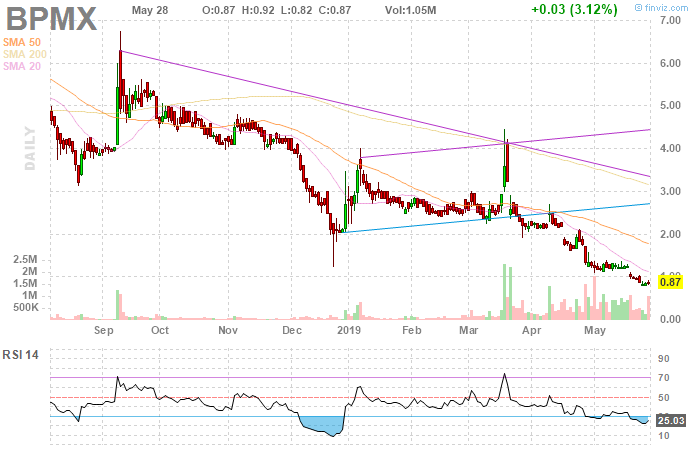 Catalyst Dates: Phase 2b rosacea data due in July
Buy Zone: $.85 to $1.00
Profit Zone: $1.25 or higher
Stop Zone: $.75 or below
22nd Century Group (XXII)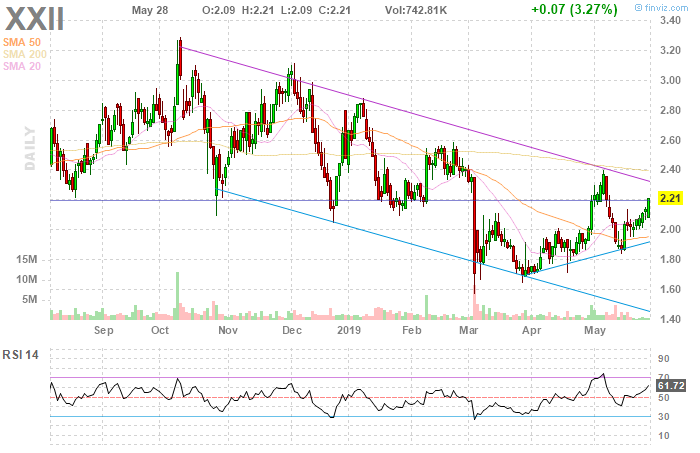 Catalyst Dates: FDA Brand A Approval in June
Buy Zone: $2.00 to $2.10
Profit Zone: $2.50 or higher
Stop Zone: $1.90 or below
Kyle doesn't buy every stock in his watchlist. He'll likely add a few of the 12 he sent his members over the coming days when the timing is right. And just because a catalyst event is in July, it doesn't mean he'll hold through the event. He often takes profit well before that — buy the rumor, sell the news type trades.
If you want to be alerted when Kyle makes his next move, you can join him here.
Davis Martin: The Death Line Was Breached, Here's What's Next
Davis Martin and I spoke on Thursday about the significance of the Death Line. He agreed that it was a critical support level, so it's no surprise that he took quick action through his Trade of the Day to cash-in on SPY's breakdown.
Here's what he sent members BEFORE the market opened:

"SPY is trading below 280 as I'm typing in the premarket which is a critical level I've been touching on quite a bit lately! As of right now, it is substantial overhead resistance.
With that said, right below our current trading range is the SPY's 200 day simple moving average line in the low 277s. Currently trading near the premarket low of day, I'd like to see SPY pop at or near the open which isn't uncommon and form a head and shoulders chart pattern on a 5 minute chart and look to buy to open put options . "
So if you're a Daily Profit Machine member, you probably made money this morning.

     kevin mck: Bought SPY puts at 9:51 +$4,600. I'm taking the rest of the day off
     fred rod: out puts in at 2.36 out at 5.75 +143
     andrew cor: took my +70%!
This is exactly what Davis does every day the market is open. His specialty IS trading SPY options in the morning, whether the market is moving up or down.
With that in mind, I asked him to put together a video that reviews the critical SPY levels he's watching now. You can watch it here.
Related Articles: