You need an edge to succeed as a trader. A repeatable, statistical advantage that lets you pull cash out of the market consistently.
My (Jason Bond) edge isn't a secret. I trade penny stocks and the same chart patterns over and over again.
In fact, when I traded outside my edge, I was humbled. I lost a good chunk of money in December trading Apple calls. I was an expensive reminder that trading calls on large-cap stocks is not where MY advantage is.
Since then, I've hunkered down and have been trading the same patterns that made me a millionaire in the first place. I made $194,045 in January, almost doubling my account.
And this week it's been more of the same. I'm up $19,615 in 3 days!

Every trader will have a different edge. But the end result should be the same, making money consistently.
What's Happening Now
Nathan Bear — my student who live streams his trades in the Millionaire Roadmap room — has a completely different style. He often trades options on larger companies using his TPS setup.
When he's live streaming you often see him pass on dozens of trades and say something like "I don't have an edge on that trade" or "there's no setup here" or "I love the pattern, but I wish it had a squeeze!" That's being a disciplined trader. He knows what his edge is, and if he doesn't have it on a trade, he quickly moves on.
Here's what a trading edge looks like: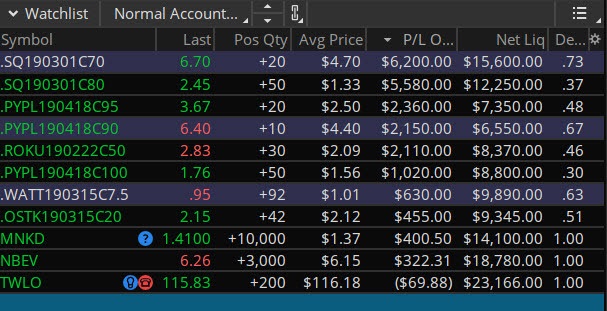 That's a screenshot I took of his portfolio yesterday. AMAZING!
Nathan's trading advantage means he's able to consistently make money. Is every trade a winner? Of course not. But Nathan knows he'll come out ahead over time because he's playing higher-probability trade setups.
His TPS system, which produced most of the trades above, is an incredibly easy way for YOU to get an edge. And Nathan spends most of the day on the mic showing folks exactly how he trades. I strongly recommend you join me and Nathan in the Millionaire Roadmap room tomorrow if you want to see him in action, live.
Over in the The Traders Council, Jeff is dominating his $2k challenge.
His goal is to turn a $2,000 account into a small fortune in 2019.
Six weeks in Jeff is well on his way. His account is up 85% to $3,700. What would your account look like if it grew 85% every six weeks?
This isn't Jeff's first small account challenge, either. The last three challenges ended with the accounts growing by 200%, 220% and 600%!
The $2k challenge is one of my favorite things we do at Raging Bull because it's so ambitious. And Jeff makes it simple to follow along. He send his alerts at the same time every day with specific instructions so you don't have to be in front of the computer all day. He even shows folks how to avoid the Pattern Day Trader rule.
And with Traders Council, you also get access to Davis Martin's Trade of the Day and his live trading stream.
As we've mentioned before, his daily trade is usually an options play on SPY (an ETF that tracks the S&P 500). But aside from revealing his top trade, Davis also covers critical support and resistance levels, news events you should watch out for and anything else he thinks you should know.
Today's Trade of the Day, for example, could have made you 116%! That's a one-and-done trade.
Davis' students, Peter, went from losing $11k in 2018 to up almost $30,000 trading SPY with Davis just in January!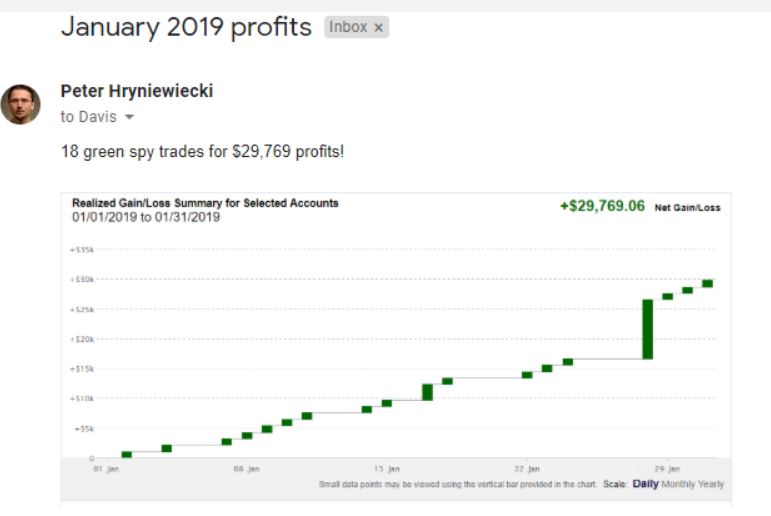 It's a great group inside the Traders Council room, with Jeff and Davis mentoring daily. You can join Traders Council here.
On Deck
This is your FINAL chance to get in on the Fortune Forecaster sale!
You get Sniper Report FREE when you buy FDA Insider.
If you've ever wanted to trade alongside Kyle, who is famous for turning small accounts into multi-million dollar fortunes, this is a no-brainer deal.
Related Articles: