Dear Insider,
Are you ready for this week? It should be an exciting one…
First off, we have 155 S&P 500 companies reporting — the most of any week. 
Things are looking pretty good this earnings season so far, especially for companies that make most of their revenue in the U.S. Companies with a lot of overseas exposure have struggled and issued soft outlooks, but that was expected. 
We'll see if that trend continues with multinationals like Apple, Berkshire Hathaway, Exxon and Mastercard all set to report this week. 
Another thing to watch out for is U.S. and Chinese trade talks. Representatives from the two countries are meeting for two days in Shanghai. We've seen the market react strongly to easing or escalating tensions in the trade war.
But overall, I expect the market to be relatively calm until the Fed's rate announcement on Wednesday. It's a big weight looming over the market right now. If we get the expected 0.25% cut, I think the markets' knee-jerk reaction will be to drop. 
With my outlook that rates will disappoint, I'm looking for stocks to short during the lead-up to the announcement that are likely to take the biggest hit and be ready to swoop in and buy stocks I like in the aftermath.  
I'm also keeping an eye on volatility, as measured by the VIX, closely. It's been falling for weeks and is basically asleep right now: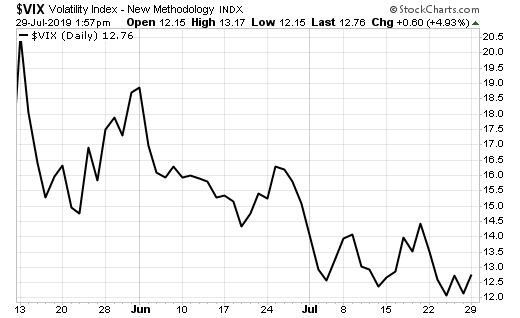 But I expect that to change thanks to the big earnings week, trade talks and the Fed meeting this week. I see a big potential opportunity here, and will probably make a volatility trade this week. Either way, more volatility means more opportunities for options traders to make money.
I will be setting up trades and letting Weekly Money Multiplier members know what moves I am making. If you're not a member and would like to get access to my live trading accounts and alerts, you can join here.

Interviewing RagingBull's Most Wanted
 I'm interviewing Jason Bond and Kyle Dennis THIS Thursday at 8:30 PM ET.
They're not releasing a lot of details yet, but just know that it's going to be HUGE. In fact, I think your trading will change completely starting on Thursday.
That's what happens when you put two of RagingBull's most popular and profitable traders in one room. And I won't be the only one asking them questions.
If you register now and show up on Thursday, you can ask both Jason and Kyle any questions you have. This is one event you don't want to miss… it's not often that you get me, Kyle and Jason in one place.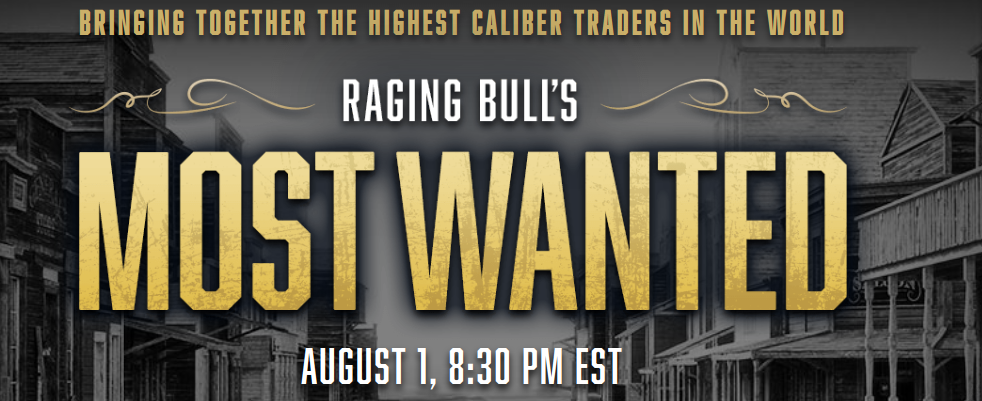 Today's Top Trade: Nathan Bear Edition
Like Kyle Dennis, Nathan Bear was awarded a Porsche when he made his first million trading. And since then, he's only become a more disciplined and consistent trader.
Now Nathan spends most of his time in the Millionaire Roadmap room training future millionaires and executing trades live. That's where some of the best trades RagingBull produces happen.
Nathan consistently leads members to triple-digit and even the occasional 1,000%-plus winner. In June, for example, Nathan Bear hit fourteen 100%-plus winners, including TWO 1,000% home runs, in ONE WEEK.
So far this year he's made $588,000 in profits in his own account. But I'd argue that the valuable thing Nathan does is teach members exactly how to trade like a pro.
With that in mind, I'm going to share with you a trade that meets Nathan's TPS criteria, which stands for Trend, Pattern and Squeeze. This is the pattern he normally teaches and uses himself. 
He's buying UBNT Sep. 20 $140 Calls for a run higher into earnings. Here's a look at the chart so you can see what he loved about the pattern: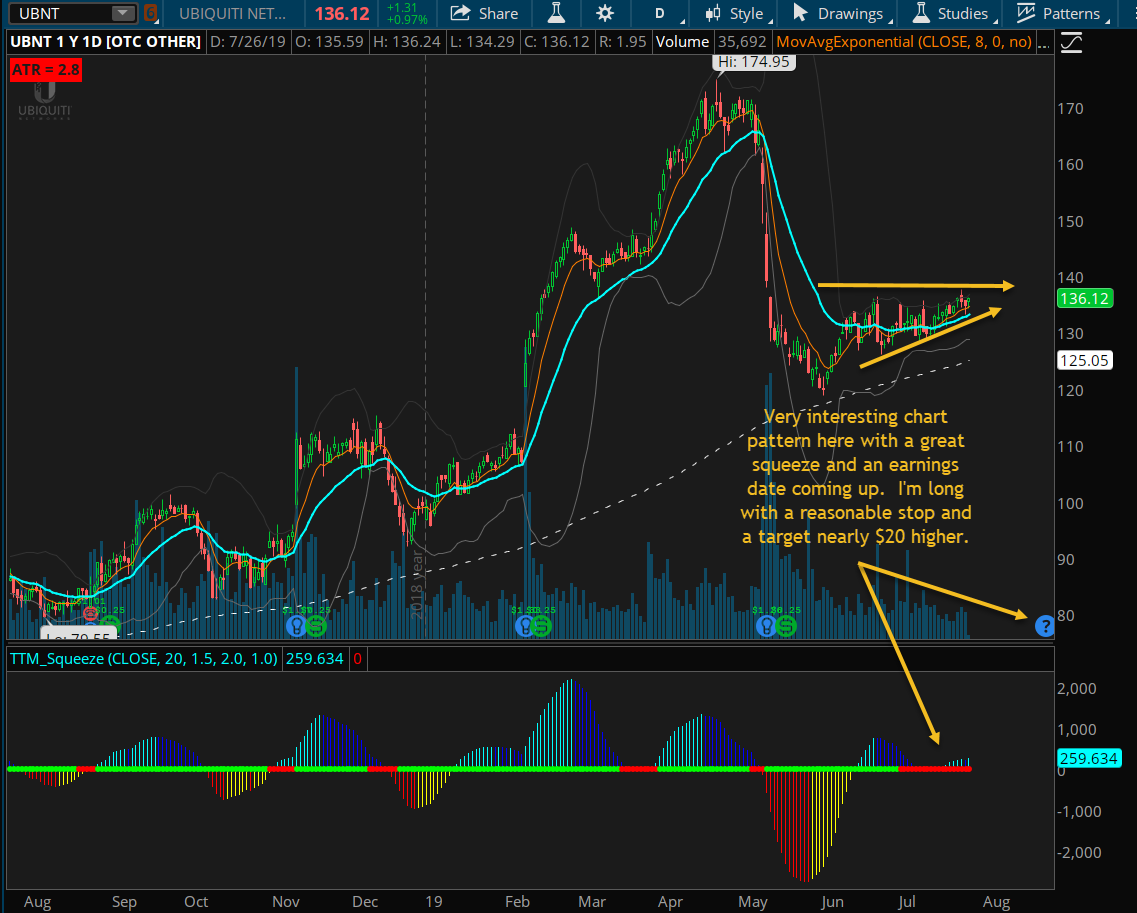 As you can see, UBNT has been in an uptrend since June and is now consolidating near the top of its recent trading range. 
Below the price chart, there's an indicator called the TTM Squeeze. Right now, prices are in a "squeeze," which is indicated by the red dots. All that means is that UBNT is trading in a tight range… like a coiled spring ready to explode. 
Once the dots turn green, it means that the squeeze has "fired off." Based on the pattern, and his years of experience trading it, Nathan expects the squeeze to fire off to the long side and for prices to make a quick move higher before earnings.
His target on this trade is a move to $153.51 and his stop is a close below the 21-day EMA at around $133. 
If you're comfortable with options and managing your own trades, then I hope you're able to take advantage of this trade idea.
That's it for now, but hope to see you on Thursday!
Jeff Bishop & Jason Bond

Related Articles: