Dear Insider,
Big tech earnings season kicked off last night with Facebook (FB) posting strong earnings and revenue growth of 28% year-over-year. Shares jumped 2% initially, but are now down 2.8% as I type this. That's a huge swing for a $570 billion company.
We have more big tech earnings announcements coming — AMZN and GOOGL tonight and AAPL next Tuesday — plus the Fed's interest rate announcement next week. In other words, expect more volatility.
I'm impressed that this market continues to power higher despite an economy so weak that the Fed is very likely to lower interest rates to prop it up. I may not like being long here, but I'll continue to follow price action and make $ from this move UP.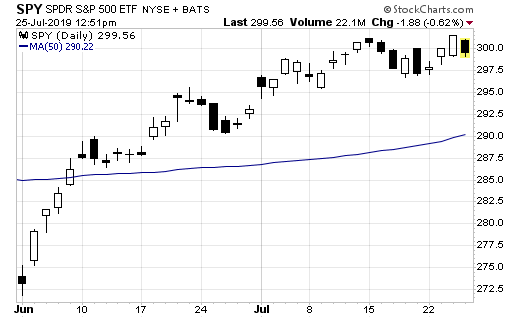 And right now, the market looks ready to make an attempt at new highs, despite the dip we're seeing today. And if you're a Weekly Money Multiplier member, you have access to my live portfolio and know it's positioned to take advantage. And if we see a pullback, I'll be ready to go long my favorite stocks and ride them higher.
My philosophy right now is cut losers quickly and hold winners longer than normal. Why? Because moves higher have been gradual, NOT big jumps that force me to take profits quickly. Plus, there's no technical reason to sell winners, yet. On the short side, however, I want to take quick shots and cash out profits fast.
But if we do get the added volatility I expect, buying options straight-up won't be the best possible strategy. In fact, that's why I'm interviewed Dave Lukas.
His strategy is designed to take advantage of volatility.
Dave's style of trading only takes about 10 minutes a week on Sundays to execute, the positions don't require much babysitting andmakes money about nine times out of ten.
If you're a penny stock trader, options buyer or even just a buy-and-hold investor, this is a strategy you want in your arsenal . It should allow you to passively collect income on the side with little upkeep — the trades usually play out over months, not days.
It's like having a side business that only requires 10 minutes a week to run that is consistently profitable. Isn't that the dream?
It's perfect for people who can't or don't want to be in front of a screen trading all day or a great way to diversify your trading strategies.
That's why I've brought Dave on-board — to teach you this strategy. I'm positive everyone who watches his training, regardless of experience level or account size, will benefit.
Speaking Of Consistent…
I've never seen Jason this excited.
It's been two weeks since he made his Weekly Windfallsstrategy available to YOU. Since then, he's gone 12 for 12 and generated about $19,000 in profit!
He promised you a high win-rate and a lot of trades, and holy smokes is he delivering.

He's cashed out profits on DIS, AAPL, ROKU, COST, APRN and just this morning on NFLX: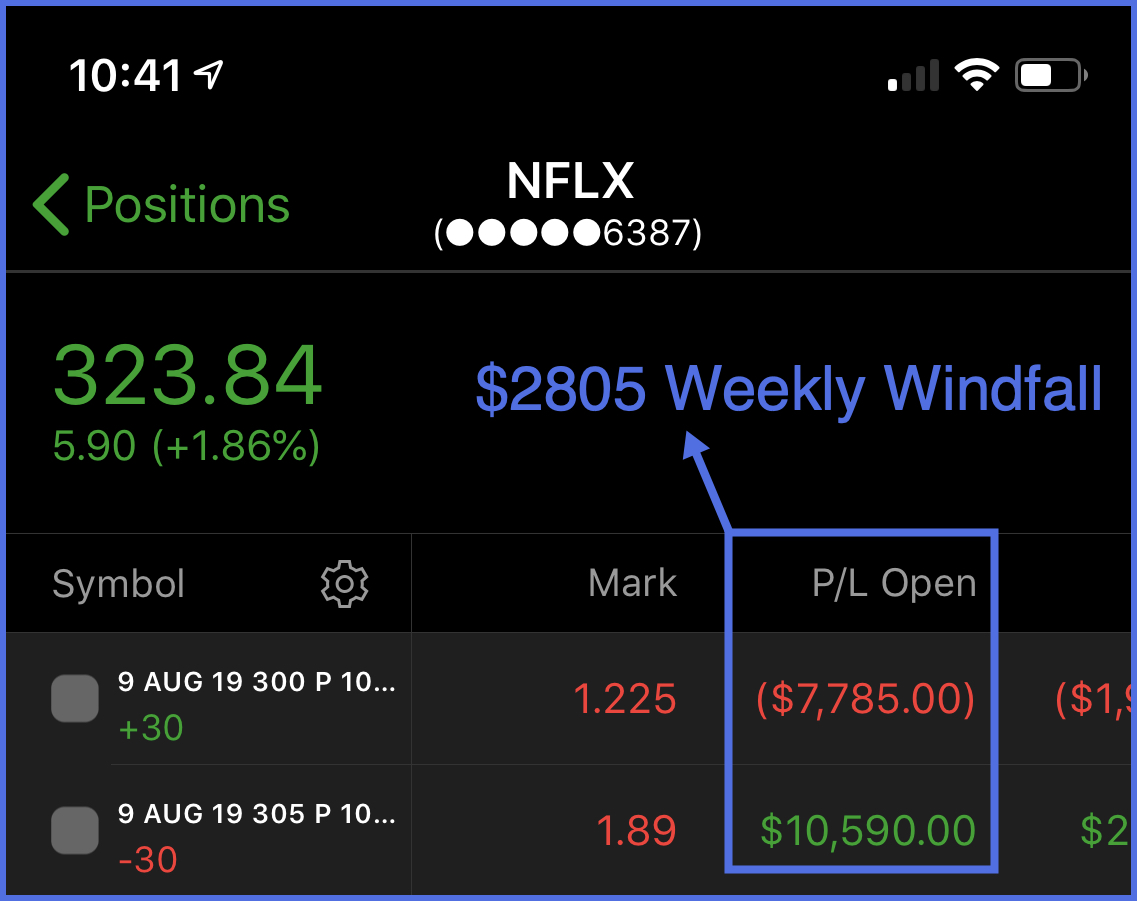 It's not just Jason that's excited, Weekly Windfalls members that have been along for the ride can't get enough:

kevin: JB – 10 for 10 on WW for $17,290 in profits! Lovin this service.
vinnie: Roku filled. 53% profit ROR. Thanks JB. Congrats to all.
jeff: Out ROKU $950 on 50 contracts
kirk: closed NFLX vertical for + 1960…..thanks JB !!!

One of the benefits of the Weekly Windfalls strategy is that you can make money if prices move in your direction…. If prices trade sideways and even if they move slightly against you. It's like having a cheat code for trading that makes it way easier to win when compared to directional trades, especially if volatility picks up.
It's too late to become a Founding Member, but it's not too late to get Jason's next Weekly Windfalls trade. Like I said, he's sending more winning trades than ever, so I wouldn't be surprised if you can cash in your first Windfall this week.
— Jeff Bishop & Jason Bond