Dear Insider,
Before we get into today's issue, take 10 seconds to register for "RagingBull's Most Wanted" event TODAY at 8:30 p.m. EST. The page could be taken down at any moment (I'm surprised it hasn't been). 
I (Jeff Bishop) am interviewing two of RagingBull's most popular and profitable traders — Jason Bond and Kyle Dennis. They've been working on a project together that they're finally ready to announce. I'll be asking them questions to get you all the details. 
If you register now and show up tonight, you too can ask Jason and Kyle any questions you have. And make sure you stay until the end, there's going to be a big surprise. Plus, how often do you get me, Jason and Kyle in one place?
Did you register? Great, let's get started…
I want to quickly follow up on yesterday's FOMC announcement. Things played out exactly like I said they would on Tuesday. 
The Fed cut rates to 2%-2.25%, or 25 basis points, which was widely expected. What most traders didn't see coming, and I warned you about, was the market's reaction.
Markets sold-off sharply following the announcement. Some traders expected a bigger cut or maybe a signal from the Fed that more cuts were on the way. That didn't happen, and they were clearly disappointed: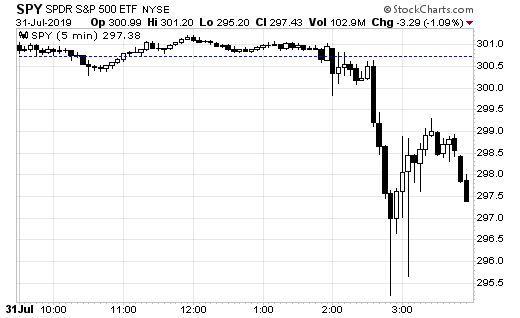 The other chart I told you to keep an eye on was VIX. Volatility had been basically non-existent lately, but I said that should change with the FOMC announcement. And immediately after the announcement… BOOM: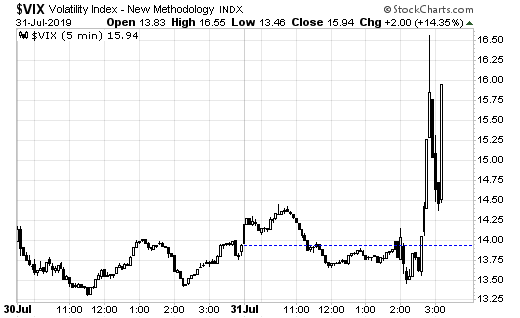 VIX jumped about 20% in a matter of minutes. I played the move with UVXY Calls — a bullish bet on short-term volatility — and cash them in for a 40% gain. Not bad considering I held them less than three days.
Now that the dip I had been waiting for is here, I'm ready to make moves. Specifically, I want to BUY some of my favorite stocks like AMZN, ROKU, SHOP and FIVE.
Of course, I'm not just going to enter trades in all these names as soon as the market opens. I'm going to wait until I have the right setup with a solid risk/reward. 
Weekly Money Multiplier members — keep an eye out for alerts and changes to my live portfolio. I see plenty of opportunities developing right now.  
And if you're not a member and could use a hand navigating this market, you can always join me here.
The Best Way To Play The FOMC? Live With Nathan Bear.
Let me tell you a secret: Some of the best trading ideas RagingBull produces are never sent via email, text or posted online. They happen live in the Millionaire Roadmap room, often when Nathan Bear is at the helm.
Yesterday was no different. Like me, Nathan expected a selloff after the FOMC announcement. It was a classic "buy the rumor (rate cut rumor), sell the news (actual rate cut)" setup. 
Then the $TICK indicator confirmed a move lower was imminent. $TICK compares the number of rising stocks vs. the number falling in the NYSE, and it was signaling that broader market was about to get bearish. 
So Nathan bought puts on SPY and NFLX to take advantage of a move lower. And MINUTES later he cashed in 332% and 284% on the SPY and NFLX puts.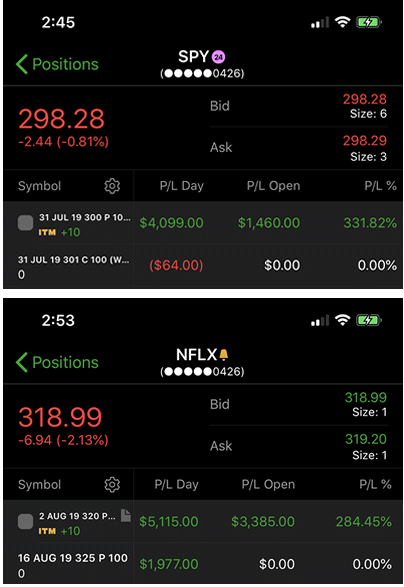 And he wasn't the only one. Nathan was streaming his screen when he explained the logic behind the trades and executed them. So naturally, others followed along…

robert: 240% percent nflx
tom: 115% on SPY PUTs!
attila: 133 % on SPY puts Thanks Nate
mark: 87% on SPY puts
bryan: 120% on SPY puts, thanks nate!
john: up 100% on SPY calls in 8 mins
neil: Crushed it on NFLX Puts!!

That's incredible, but I'd argue that the best part is what the folks learned that day. Nathan is as good of a teacher as he is an options trader. And that's the real goal of Millionaire Roadmap — to get everyone to Nathan's, Jason Bond's or Kyle Dennis' level.
So as much as I love seeing members make money, it's these comments that make me proud to be RagingBull's CEO:

mark: that was awesome. I'm going to write it up in my trading journal. Great lesson.
brandy: That was an awesome insight into a real day trading experience!
margo: Fantastic! What a learning experience!
tim: the power of options…and education!
michael: Nate u r incredible thanks, always great watching you trade.
brent: edge + patience = success
justin: Man….I started the year with $34k and I just made $33k in July. Up over 200% on the year. I can't thank you enough Nate for all the time you spend with us and how often you repeat things for us
That's what it's really about. That's the power of being able to look over the shoulder of a professional trader and having the support from a community of like-minded traders.
So if your goal is to be consistently profitable and take your trading to the next level, I strongly suggest you join me at the "Most Wanted" event tonight. I promise, it'll be worth your time.
Jeff Bishop & Jason Bond

Related Articles: