It looked like we were in the clear last week…
Markets were relatively calm up until Thursday as all eyes were on the Fed speech in Jackson Hole heading into Friday.
If a big move was coming on Friday, most investors would have bet on Jerome Powell's speech being the reason.
After all, he was in a tricky position, having to balance traditional Fed policies with the demands of a President that wants interest rates cut significantly.  
There have been a few cases in the past where the Fed cut rates with the market and economy still looking relatively strong. So there is a precedent. And then, there is also the President.
Because in the end, Powell's speech was brushed off by the market…

What made headlines and really moved the market on Friday was a series of tweets from President Trump that helped intensify the market sell-off.
And while it may seem like Presidential tweets are unpredictable. Or that no one could have known they were coming.
I'm going to show you that the exact opposite is true.
Someone knew something… and with a special scanner, you could have known the market was likely headed lower and leveraged that information into a 323% gain.
Deeper Dive Into Friday's (Shady) Market Activity
Let's look at Friday's price action from two angles.
First, remember that the Death Line sits at SPY $282. A break below that level and I expect we're headed lower.
Here's a daily chart of SPY, so you can see the big picture: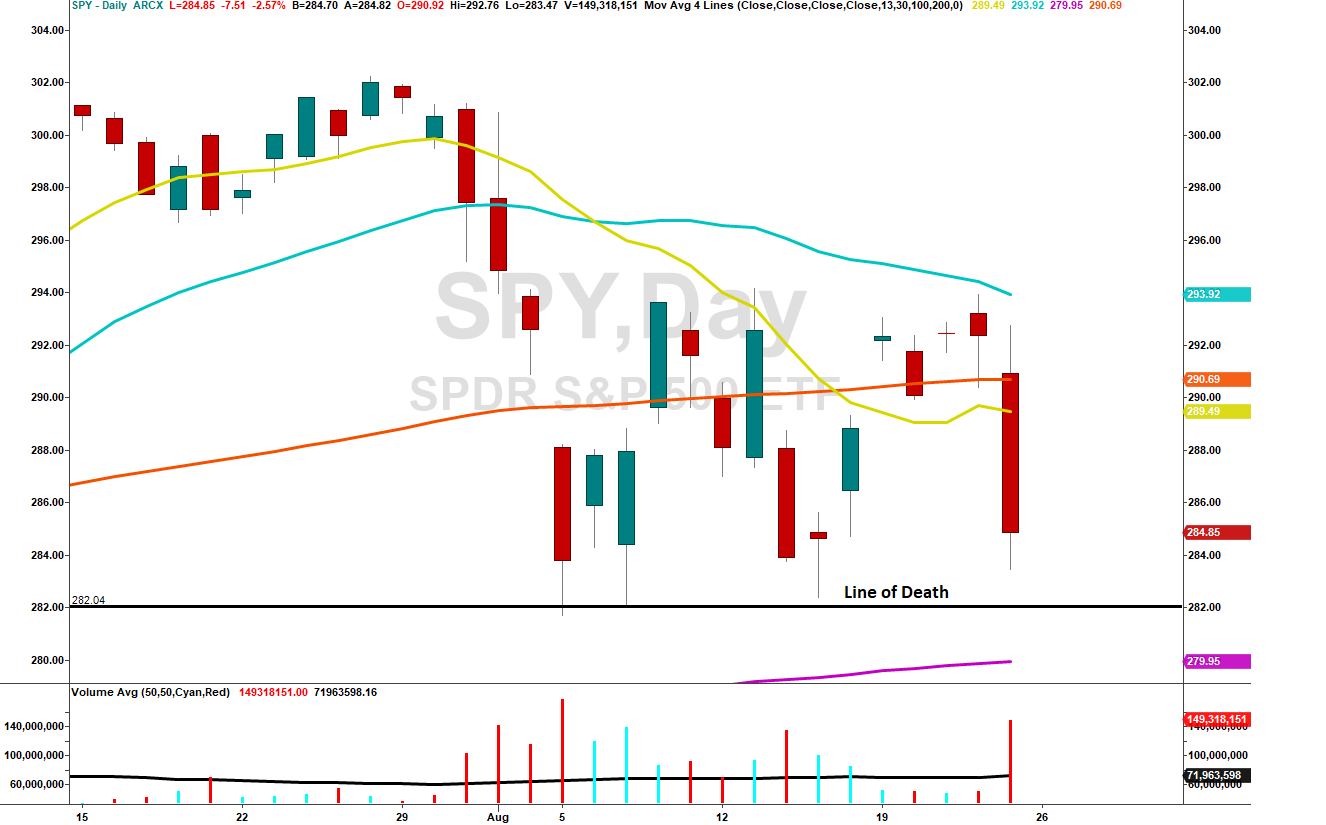 But to really see Friday's move, I want to zoom-in to the intraday, 5-minute chart. Everything you see in the chart below happened on Friday!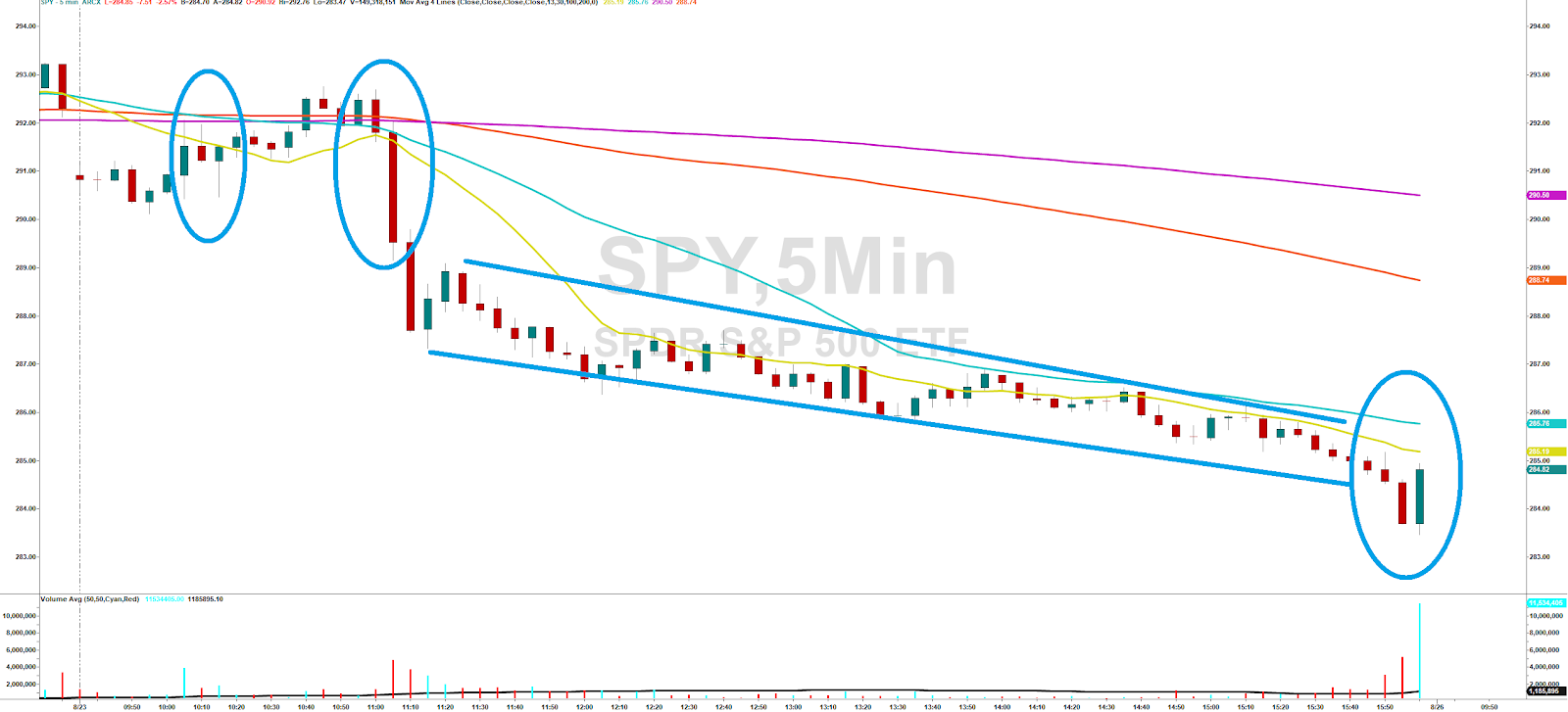 I've highlighted three areas. The first shows when Jerome Powell spoke – not much of a reaction there.
So what caused the selloff in the second circled area?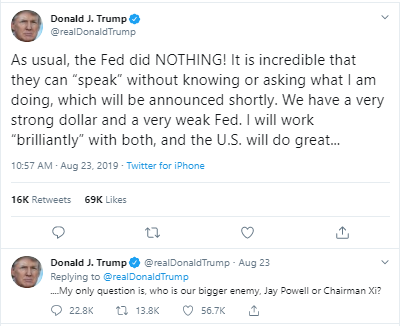 Right after the president tweeted around 11 a.m., markets started to tank.
You don't need to be an expert chart reader to see that what's driving the market is the trade war. The uncertainty of the business trade climate means more than the Fed right now.
And although it was a close call, markets were able to stay above the Death Line thanks to millions of buyers stepping in near the close (third circle on the chart). And now, as I type this, we're just a few percentage points above that critical SPY $282 level.
But there's something else that happened on Friday. And 99.9% of media outlets either missed it or chose to ignore it…
What Everyone Else Missed Could Have Made You 323%
Most headlines on Friday were about the trade war, Powell and the market's freefall.
But that's not what Kyle Dennis was focused on…
You see, a scanner he developed that pinpoints unusual market activity started to go OFF.  
It detected that someone had bought 3,526 SPY August 26th 2019 $287 puts for $0.98.
That means that someone "bet" $345,548 that the market would fall significantly.
Not only that, they were betting on it happening by Monday, August 26 — just one trading day later.
That's a bold trade… even for me.
Think about it for a second – they put $345,548 on the line… on the market crashing… that day basically.
Of course, you know what happened next in the market… the tweets crashed the market.
And the puts that were bought for $0.98 skyrocketed to a high of $4.18 the same day!
That's a 323% gain and for that insider, well OVER $1 MILLION in profits.
That's the power of Kyle's scanner. It uncovers unusual bets from insiders and institutional investors. And more often than not, when a large bet that looks questionable at best is placed, they tend to work.
And of course, if you spot the unusual options activity in time, you can go along for the ride as well.
There was nothing illegal or unethical about placing that exact same SPY trade yourself.
And the scanner doesn't just work with SPY. It can find unusual activity in any stock that trades options.
So every day, there are a few big profit opportunities — to the long and short side.
On Friday it was SPY puts… but today it could be calls on some little-known biotech stock.
The opportunities to profit are endless, no matter what the market is doing.
You can learn more about Kyle's scanner and how to implement it into your own trading here.
Related Articles: