Dear Insider,
The Dow plummeted over 600 points yesterday as tensions continue to rise in the China/US trade wars. This continues to be a headline-driven market, so get ready for a rocky ride.
On top of the negotiations, inflation and recession fears are starting to pop up. These fears seem to have some legs, and the market is taking it seriously.
Still, as long as the market doesn't break below some key level, and earnings from large-cap tech stocks continue to grow, I'll continue to view this pullback as an opportunity. I spoke about my market views and some of my top trading ideas on the TD Ameritrade Network yesterday, which you can watch here.
But if the back and forth moves in the market are making you nauseous, here's some advice:
If you're having a hard time stomaching the volatility then it is a good time to sit things out. You don't have to be actively trading the market at all times. No one is putting a gun to your head and forcing you to trade (at least I hope not!) and you can choose to be patient and wait until you see the setups you want.

Be sure to "hedge your bets" when options trading. Own puts on the stocks you think are going to underperform the market and buy calls on those that should outperform. Don't be all-in on the long side or the short side of things.
This has been paying off for me big time:

If I was only betting on the market going higher, I would be in a world of hurt only owning FIVE and PINS as you can see they are both losers.
But by "hedging my bets" I made a lot of money on the other trades. Much more than I lost on the 2 losers so far.
Trade more cautiously! Be patient and more selective of the trades you take. And this is also a good time to reduce position sizes. If the market is twice as volatile, you should have half the position size that you normally would have.
Don't be a hero out there and try time this market perfectly. There is too much risk right now and some very wild moves. I will continue to actively day trade when I see a good trade setup, but other than that, I will be very selective with swing trades.
As always, if you're a Weekly Money Multiplier member keep an eye out for my alerts and changes to my live portfolio. If you're not a member and could use some guidance during these rocky times, you can join me here.
On Deck: Live Training Tonight!
This is your final chance to register for Jeff Williams' SUPERNOVA live training.
One of the biggest problems traders have is growing small accounts. But it doesn't have to be as hard as you think, and no one is better at it than Jeff.
Register now to learn how Jeff grows small accounts by 600%-plus.
The live event starts tonight at 8 p.m. ET.
Today's Top Trade: Nathan Bear Edition
Here's a trade that Nathan Bear sent to Weekly Money Multiplier members that he found while trading live in the Millionaire Roadmap room.
The trade combines Nathan's "TPS setup" and my SMA crossover technique. Plus, he also uses different time frames and Fibonacci levels to find a perfect entry point.
Nathan, take it away…
"I've been stalking YETI for a buy and I think I have a pretty solid setup lining up here.  First off, the daily chart is sitting not only a Fibonacci symmetry level, but also a retracement into the 61.8% level: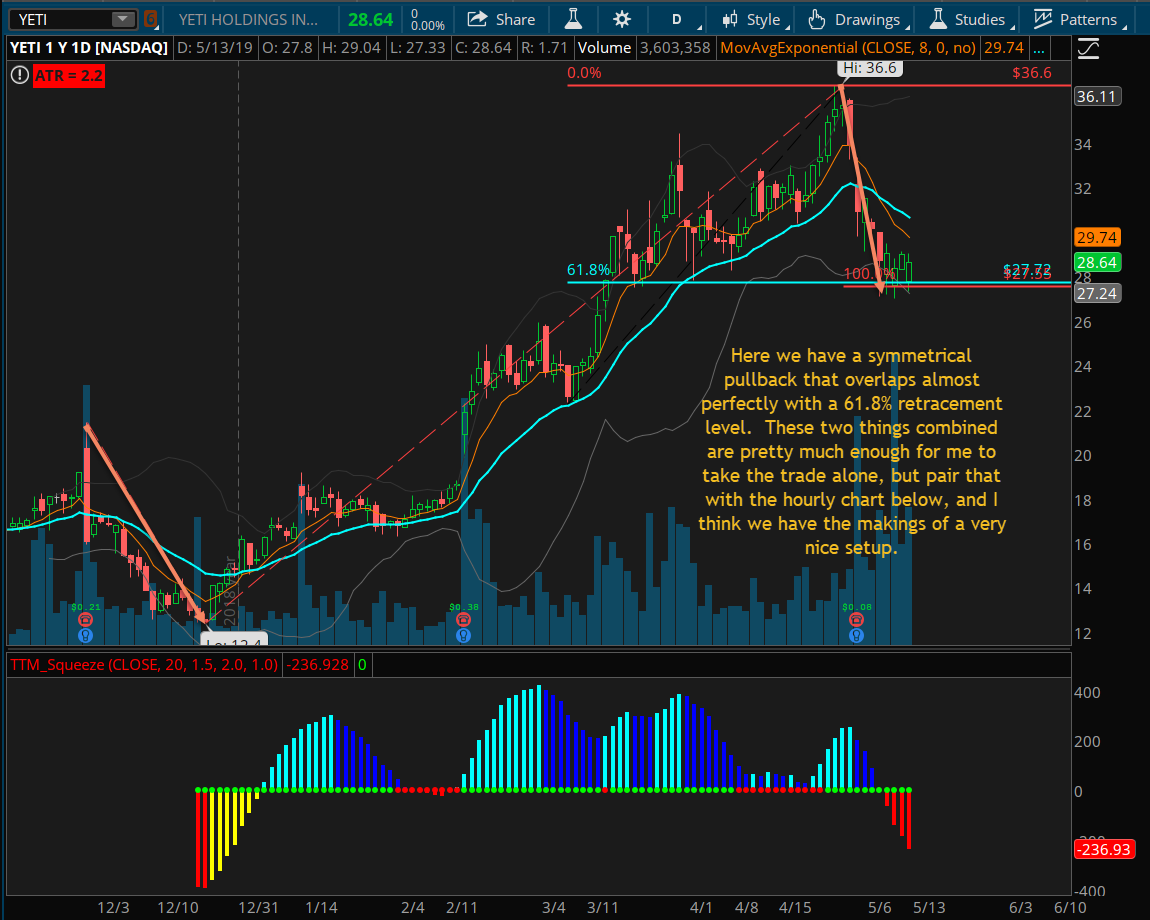 Now we can zoom in and see that as YETI has come into this Fib zone, it's consolidating and now we're getting a Jeff Bishop style 13/30sma upside crossover.  In addition, we have several squeezes building up that could provide us with some energy if this level holds and then the crossover follows through.
Here is the hourly chart showing the crossover: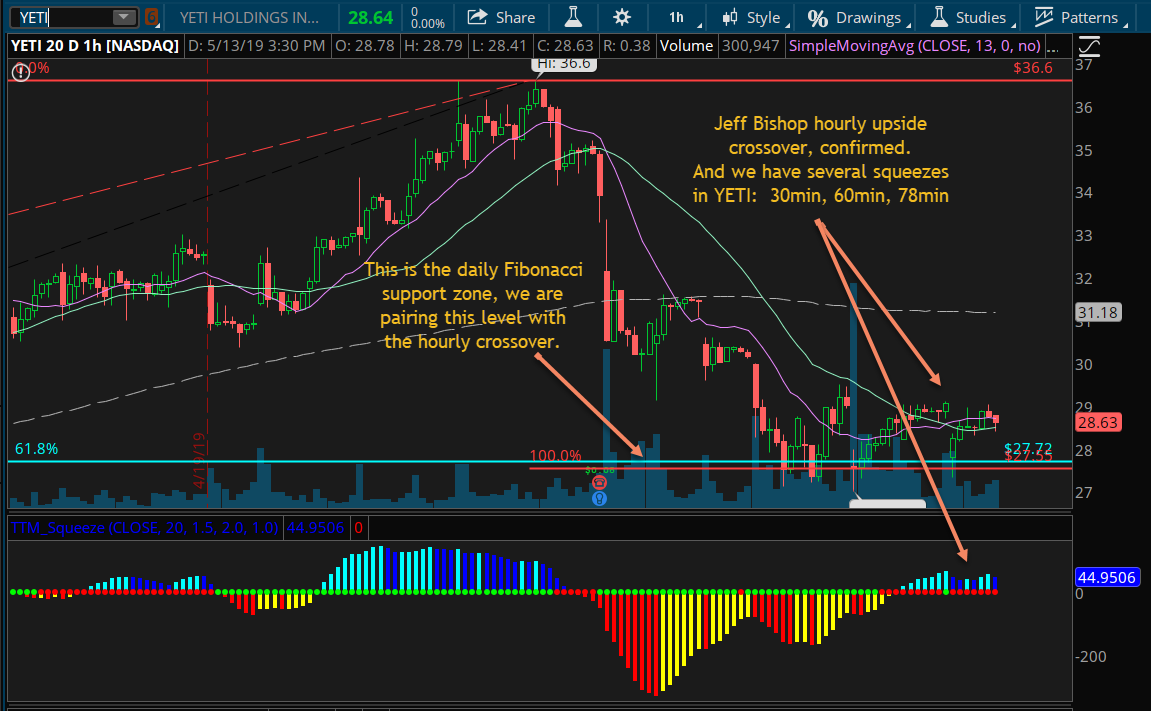 Overall the market is certainly weak and very tough to swing trade in right now.  Another reason I like YETI here is that we are buying a strong stock on a pullback with a great setup.  We can define our risk with a close under our Fib zone and then we'll look for upside targets if the crossover carries the name higher.
I'm using the YETI 21/JUN/19 30 CALL @2.20 to play this setup"
Nathan is looking for more trades in the Millionaire Roadmap room as I type this. If want access to live coaching and trades from Nathan, you can join Millionaire Roadmap here.
Nathan streams his thinkorswim account live during market hours and is often on the mic teaching folks exactly how he finds the trades that made him a millionaire. And of course, you'll also get access to my live training and trade alerts in the room.
Jeff Williams' Small-Cap Watchlist
Like I said, Jeff is famous in the RagingBull community for turning tiny accounts into small fortunes. He's grown real-money accounts by 220%, 270% and 600% all while avoiding the pattern day trader rule.
And today at 8 p.m. ET he will be showing you exactly how he does it. Make sure you register now if you want to be a part of it.
Until then, here's a sneak peak of the stocks Jeff is keeping an eye on today.
HMPQ is a small penny stock trading at around $.013 off big volume yesterday. The next chart highs to watch are $.016 and $.0165. It has support at the 200-day SMA support at $.011.
DF broke the 20-day SMA yesterday which it had failed to do in the past few months. Next up are chart highs of $2.38 and $2.45. With RSI coming out of oversold it makes this a nice potential short-term swing set up.
GDX, yes you saw this right, the gold mining ETF. Why GDX from a penny stock trader? Well, if gold makes a run, something it didn't do in the fall during the market pull back, I'll be looking at small cap gold stocks such as EGO, AGI, GFI, GORO, GSS etc. So I'm watching to see if GDX breaks over $21 which I feel could give us a short term push toward the 50-day SMA at $22 area and then the April high of $22.93.
You can learn more about Jeff's proven, 10-minutes-a-day strategy that's designed to generate big gains from small accounts TONIGHT at 8 p.m. ET.
Davis Martin's Market Outlook
Davis Martin, head trader at Daily Profit Machine, is known as "America's #1 Pre-market Trader" for a reason.  He does what no one else does: Calls the market before it opens via his Trade of The Day alert.
Yesterday's alert was "Buy to open SPY 5/17 282 Puts." By 1 p.m., that option was up 90%-plus! His Trade of the Day is designed to take advantage of bullish and bearish market moves, so while most traders were in the red yesterday as the market tanked, his members were making a killing:
"Out SPY Puts $3438 cheddar!" ~ Jake B.
"$2400 on Puts, not too shabby" ~ Mike W.
"Up to $7773 now!" ~ Dan K.
This week, Davis says SPY $280 will serve as strong support. Despite Monday's big sell-off,  SPY held that level with conviction. In fact, it bounce off that level and SPY shot up $2 higher.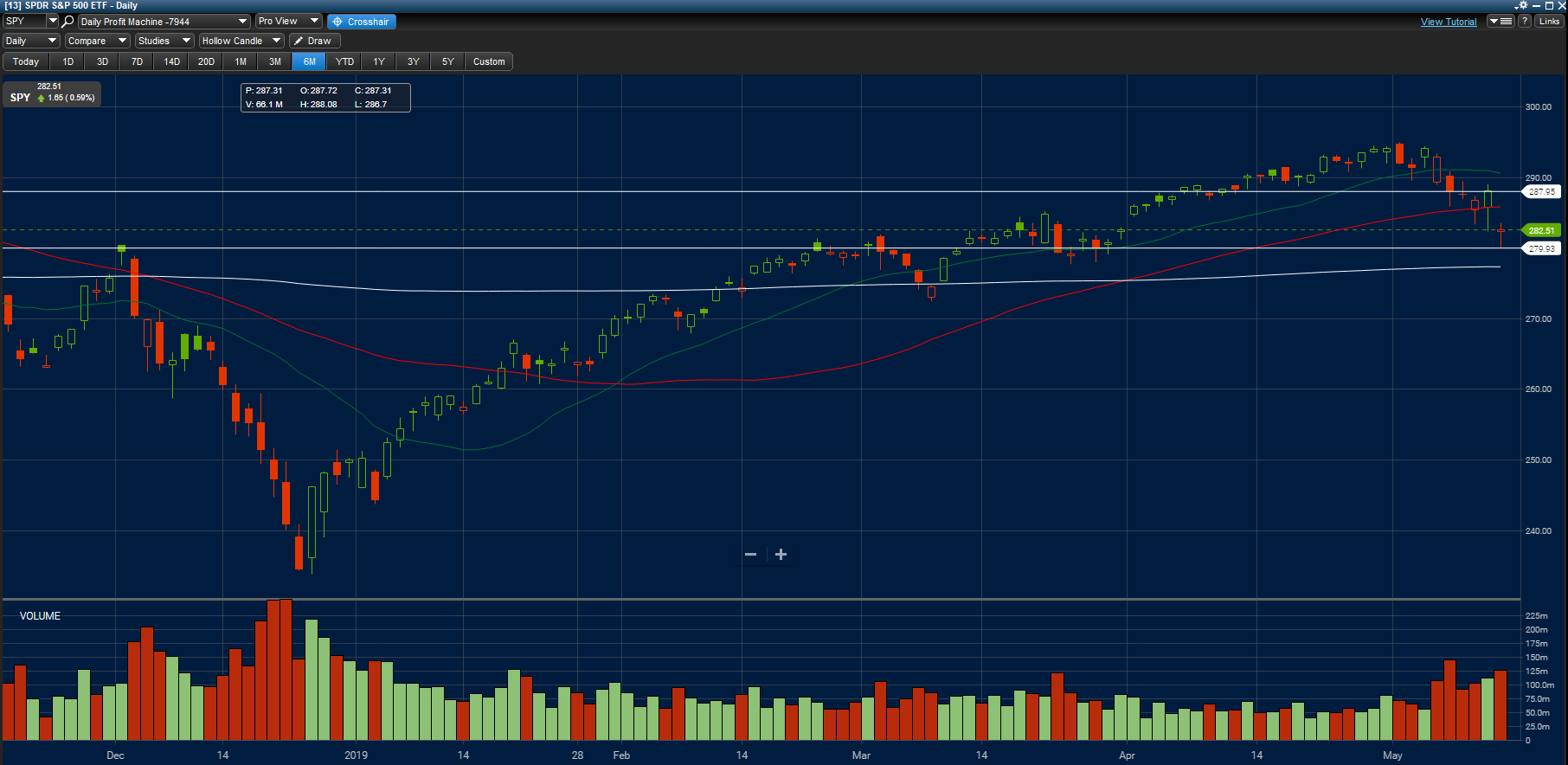 Davis has mentioned SPY $280 as strong resistance earlier this year. Old resistance becomes new support, and $280 clearly proved itself to be support on Monday.
In the short term, the 50-day SMA line (in red) is fairly easy to identify resistance, just below $286. Above the 50-day SMA line and SPY could retest a very recent resistance level just shy of $288.
If you're interested in receiving Davis' Trade of the Day — a daily, high-probability SPY options trade alert sent 30 minutes before the market opens, go here. His goal is to deliver double- or even triple digit gains soon after the market opens.
Related Articles: