Dear insider, Jeff Bishop here.
Have you ever met someone who was so controlling they needed to operate under their rules and micro-manage every detail?
You go to dinner with these types and they are always interjecting in the conversation or trying to speak over you.
Annoying to say the least.
While in trading, we can't control if a stock is going to rise or fall, we can control what we trade and how much is at risk.
And that's as close as total control as you'll get.
Jeff Williams is one trader I know of who has been in total control.
No joke.
Jeff takes on these small account challenges… and this time he's outdone himself — turning $3,000 into $27,260 in a little over 4 months!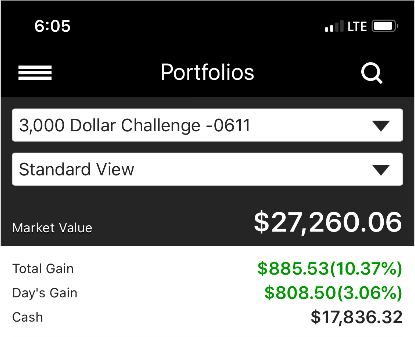 How?
Well, he sticks to his strategy and follows a rules-based approach. Basically, everyday… he filters for penny stocks poised to gap up — he's been known to find some of Wall Street's largest gainers ahead of time.
His latest SuperNova Boost alert is in ALPP (he bought shares at $0.0424) and he's looking for a possible 20% continuation.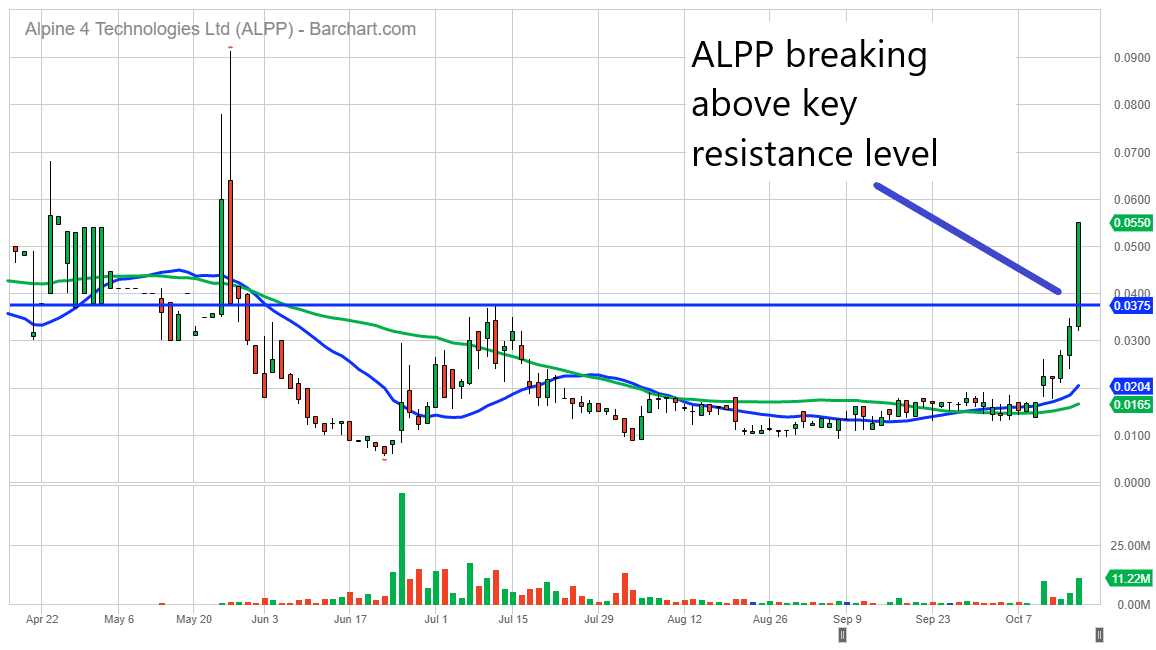 Jeff's pattern is so simple to understand once you know how to find it. His execution is so precise, that he was almost instantly in-the-money on this trade.
Jeff is able to handle the volatile penny stock market by sticking to his best setups and writing out detailed trade plans that include:
His thesis (usually a technical pattern)

Entry price

Stop-loss area

Target price

It's really that easy…
And while Jeff is demonstrating his mastery of penny stocks… Kyle Dennis is flexing on these biotech stocks…
The 7-million dollar trader — Kyle Dennis has been profiting in this choppy environment by sticking to his bread-and-butter setups… which have proven to be some of the best-performing stocks out there right now.
Just take a look at some of the top-performing biotech stocks yesterday…


I don't know a whole lot of sectors where there are multiple stocks moving 20%+ in a day… and I don't know a lot of traders who know how to trade stocks that volatile… minus Kyle.
Yesterday, Kyle actually traded Ocugen Inc. (OCGN) — the third top-performing biotech stock… and reeled in a $12K monster in just an hour!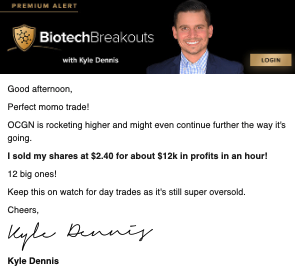 Kyle has been finding success trading biotech stocks — using his 3-step process. One stock that he just got into yesterday is LPCN. Kyle likes it because it's got a momentum bull pattern.
What can we learn from Jeff and Kyle?
Well, there is one key takeaway from these two traders — they use a simple-to-follow system with clear-cut guidelines.
If you've been having trouble and can't seem to find a clear direction with all the news headlines… I get it.
But the quickest way for you to trade like a boss is to make rules and then follow them.
Start holding yourself accountable and you'll be surprised at how much progress you can make with your trading, as well as, other areas in life.
Related Articles: