Investors' best friend Jerome Powell was a good boy yesterday.
He perfectly executed their favorite trick — signaling that the economy is weaker-than-expected yet making the market rally. 
Investors cheered when he assured them that an interest rate drop was basically a lock at this point. Good boy, Jerome!
It's easy to see why this such a hard trick. The S&P 500 rallied to record highs on news that the economy was deteriorating. 
Does that make sense? Na. I do wonder if he'll have any new tricks when the economy falls into a recession. 
A full-blown recession might not feel likely right now thanks to the year stocks have had, but I wouldn't dismiss the possibility.
One of the most reliable "recession indicators" is currently waving a red flag.
The yield of 10-year treasuries is now below the 3-month T-bill, which is known as an inverted yield. The last seven recessions were preceded by an inverted yield and it took 5 to 16 months for the downturn to start from when the signal triggered.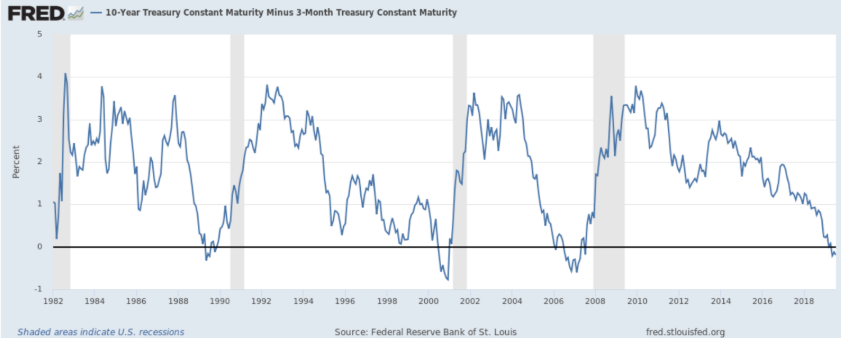 The indicator isn't perfect. It's had one false signal… in 1966. And I'm sure Powell will try to prevent the inevitable for as long as possible. 
As a trader, I'll continue to follow the trend — even if it doesn't feel right. I'll take profits quickly and pick my spots to short stocks. When this party stops, I'll be ready.
This is also the perfect time to incorporate "outside the box" strategies. 
Jason Bond's new Weekly Windfalls system, for example, is a lower-risk way to generate consistent gains. So far, he's a perfect 19-for-19 with $41,000 in gains… in less than two weeks.
The strategy also lets YOU decide how much you want to make and how much you want to risk, BEFORE you enter the trade. In other words, you're completely in control with this strategy. 
You can watch my interview with Jason TODAY at 8:30 p.m ET — if you register RIGHT NOW. He's going to reveal all the details of his easy-to-learn and lucrative strategy. 
It's perfect for today's dicey market environment. Trust me, you need it in your trading arsenal.
Jeff Bishop & Jason Bond

Related Articles: