It's probably the craziest thing I've seen a trader do.
Nathan Bear has hit fourteen 100%-plus winners in the last week (and counting). Among those winners were TWO 1,000%-plus home runs.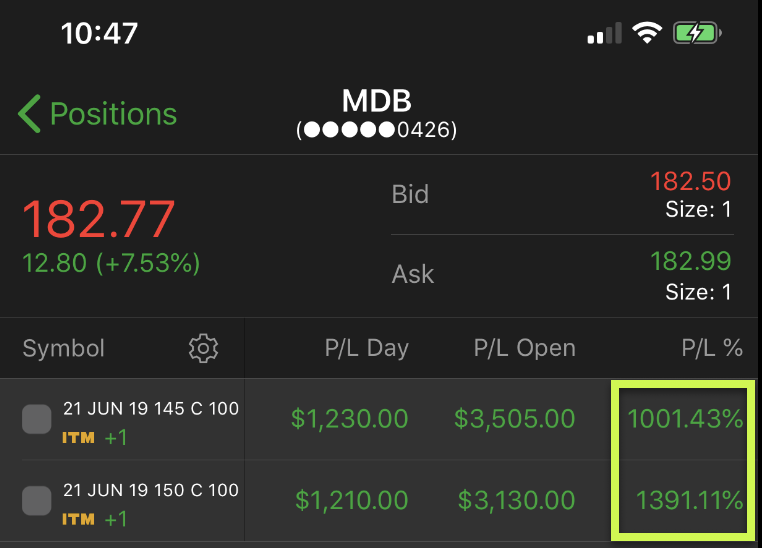 That's about two more than 99.9% of traders will ever hit in their life, and Nathan banked them in a week. Incredible!
So congratulations to Nathan and all the Weekly Money Multiplier and Millionaire Roadmap members that hit these huge, life-changing wins. Whether you've been following his live portfolio in Multiplier, or trading live with him in Roadmap, I hope you learned a thing or two from him this week. That's worth way more than any winner he alerts.
I wish I had taken a few of those trades myself, but honestly, I can't complain either. I rode the market higher with just two positions.
One of them is BABA calls, which I took partial profit on yesterday at 250%. The remainder was up 400% this morning.  This is one of my biggest trades for the year — I'm up about $100,000 on the position. My other trade is a longer-term trade. I'm up over 10% on it. Not a bad start!
With profits like these I haven't felt the need to make many trades. I've been able to capitalize on the extreme move higher in a relatively low-risk way. Which is perfect, because there's still plenty of reasons to be pessimistic about the economy.
A bounce of some sort was expected. As strong as the move up has been over the past couple of days, the move down starting in early May was just as strong.
On the way down, price pierced the lower Bollinger Band twice. And now we're up against the upper band.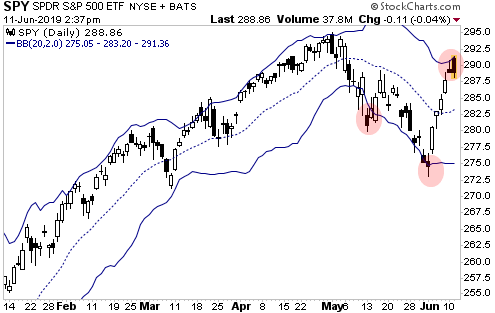 The bands can help you see when price has made an extreme move. They are set two standard deviations from a SMA (in this case, the 20-day SMA). Simply put, price doesn't often trade outside of the bands, and when it does, it often snaps back to the middle line.
Now that price is back at the upper line, don't be surprised if prices correct a bit. For now, I plan to stay in position to buy the stocks I'm scouting on dips. This also isn't a great spot to get greedy, remember to sell your winners into strength!
You can access Nathan and my alerts and live, real-money portfolios here at the lowest price we've ever offered.
Did You Miss This?
By now you've probably seen my interview with Davis Martin. He revealed his secret to a 100% win-rate by picking the right direction and option to play SPY via his Trade of the Day.
Tony M: I made money the first day and week I traded and continue to make steady gains. Davis completely changed the way I traded. The lesson plus the boldest guarantee you've seens I have learned, and continue to learn, are very valuable.
Time is running out to get his daily SPY trade alert sent to your inbox before the market opens every day at very special price. Start collecting Daily Deposits tomorrow.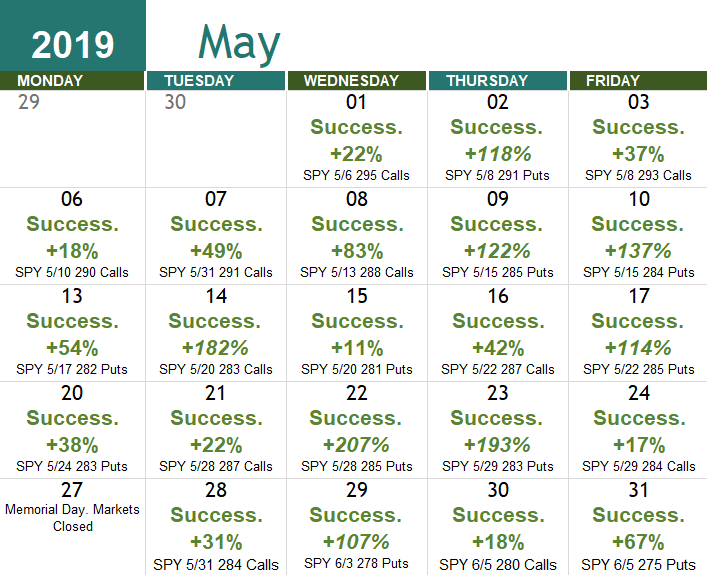 Trade of Day: Nathan Bear Edition

Given the week Nathan has had, I want to bring you another trade from the man himself. But first, here's a quick update on the WIX trade from last week.
As you may remember, WIX was in an uptrend, squeeze and in a consolidation pattern below recent highs (a classic TPS setup). Momentum was also shifting to the positive side. Here's an alert Nathan sent members yesterday:

"WIX this morning is hitting our first target and I'm taking half of my remaining position off the table here for 124%.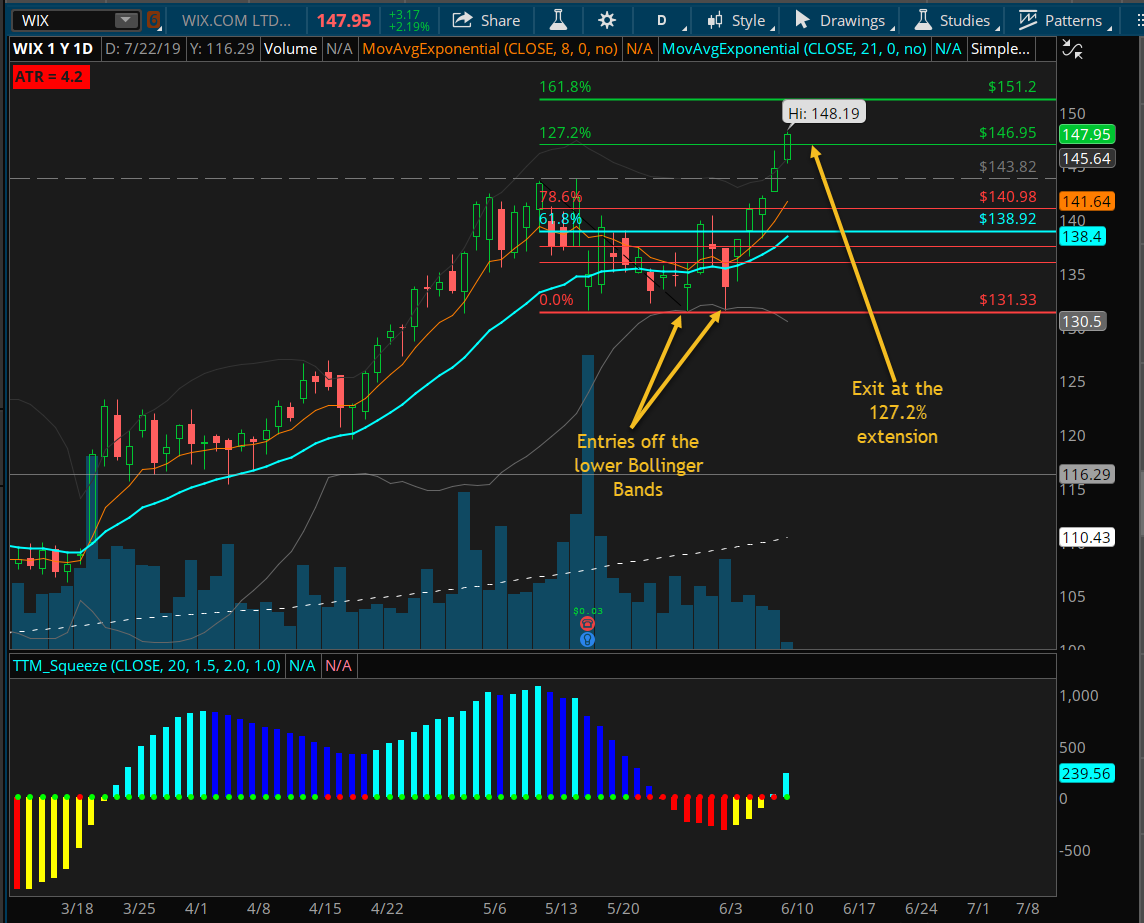 Textbook setup and the updated chart is above.  Let's go find another one!"
This is one of the fourteen triple-digit winners Nathan has delivered to his members. I hope you took advantage of this trade!
Like any trade Nathan puts his money into, he loves today's trade setup. It's also extremely similar to the setup that led to triple-digit gains in WIX. The trade meets all of Nathan's TPS criteria and focuses on limiting risk first and foremost.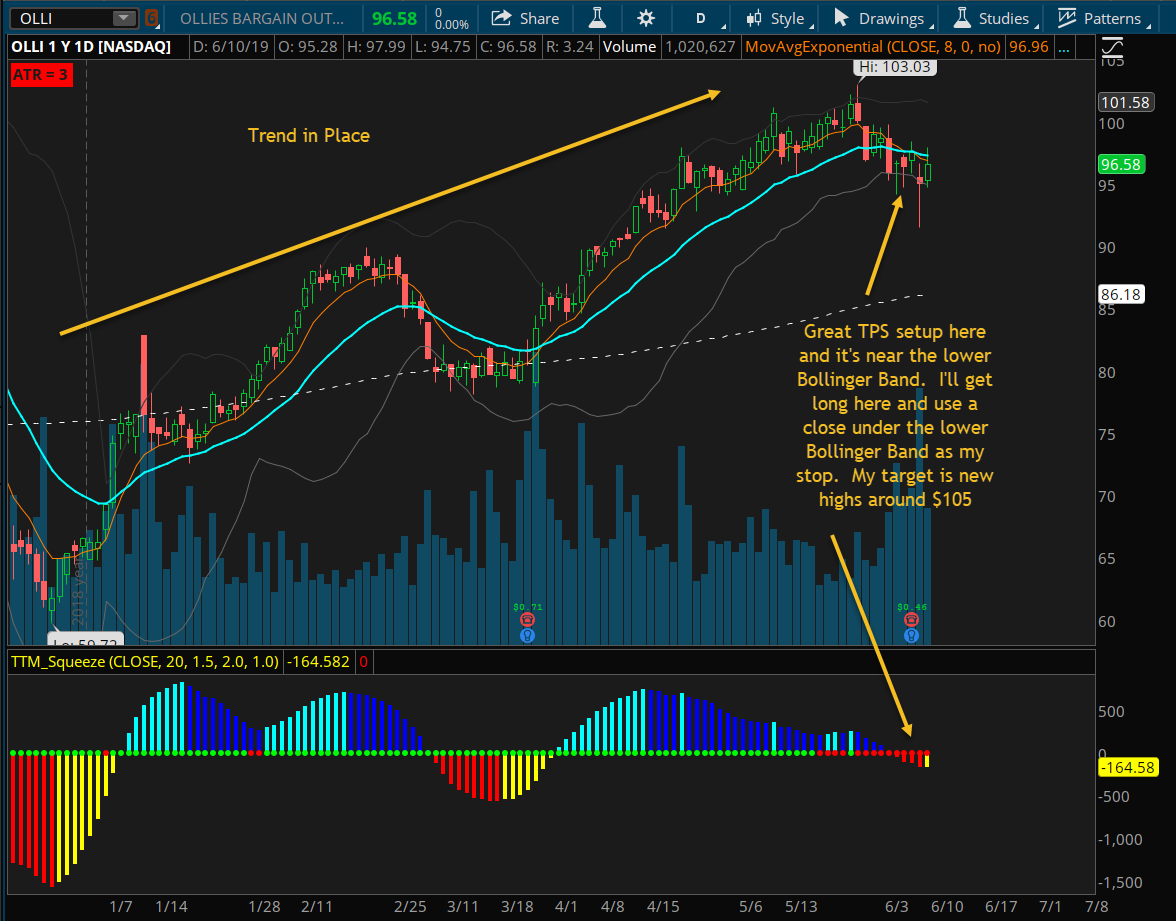 Nathan is using the OLLI 19 JUL 19 $95 calls to trade this setup. He'd exit if price closes below the lower Bollinger Band. His is target is $106.
Hope this trade also delivers you big $. But if you want to learn how to find these trades on your own, watch how Nathan manages his trades, then I recommend you join Millionaire Roadmap. You'll get live coaching from Nathan and access to ALL his trades.
You'll also get access to Jason Bond's live training and trade alerts in the room. Upgrade your account here.
Jeff Bishop & Jason Bond


Related Articles: