Dear Insider,
Just want to quickly remind you that I'm hosting an interview with one of RagingBull's most profitable traders this Thursday at 8:30 p.m. EST (but you must register now to attend).
His name is Dave Lukas, and while he's relatively new to RagingBull, Dave has quickly gained a cult-like following. And I get why.
His win-rate is second to none. Dave's trades make money nearly nine times out of ten.
On top of that, the strategy only takes 10 minutes on Sundays to set up, and it's basically on autopilot from there. 
That's because his trades play out over months. It's perfect for people who can't or don't want to be in front of a screen trading all day. It's also a relatively conservative strategy with a high win rate, so you shouldn't see massive swings in your account.   
Dave spent a decade perfecting this strategy. He's a family man and busy entrepreneur — he needed to develop a strategy that didn't require much time to execute and manage. 
I'm guessing there's a lot of folks reading this that would not only prefer, but benefit from his style of trading. That's why I've brought Dave on-board. I'm confident that what he'll teach you tomorrow will make you a better trader. It doesn't matter if you're a new trader or expert, or if you have a small account or massive one — this strategy can benefit you.
And I won't be the only one asking Dave questions. If you sign up now and show up tomorrow, you're welcome to ask questions as well. Dave will stick around to answer them all. 
I'm really excited about this and can't wait to see you there tomorrow!
Jeff Williams' Small-Cap Watchlist
This weekend I told you about one of the craziest — and most impressive — things we do at RagingBull: Jeff Williams' Small Account Challenge.
The goal is straightforward enough, grow a small account into a small fortune trading penny stocks. He succeeded three times in 2018, even turning $5k into $35k in only six months. 
And right now, Jeff IS ON FIRE. His new goal is to turn a $3k account into $100k. As of last week, he had grown the account to over $9k. And as of this week, his account was up to nearly $12k — a 300% return in total!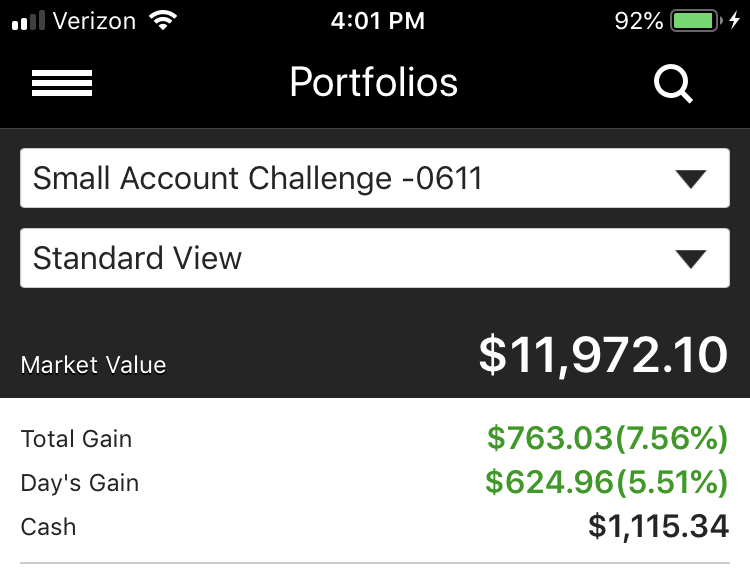 Very, very few people would even attempt something like this, much less succeed at it. But Jeff is able to do it routinely. That's his specialty, growing small accounts quickly.
With that in mind, I asked Jeff to send me his watchlist. These are the stocks he's keeping an eye on today. 
"CODX: After two big moves followed by retracing to support levels, this stock is back on the move. I'd target mental resistance of $1.50 and $1.75 for a move higher. My stop would be just above the recent bounce in the $1.10 area. 
AETI: After a strong start to July, we saw a pullback last week followed by a run to start this week. Now we have a gap to potentially fill in the $1.34 to $1.40 area. My stop loss would be just above the recent low of $0.85 per share. 
MGI: I like the price action in this name, especially the rebound off the $2.00 dollar base recently. My target would be near $2.50, which could also be a breakout spot for a possible run at the $2.60-$2.75 area."
To learn exactly how Jeff is able to spot these kinds of trades, and get access to every trade Jeff makes, watch this training where he shares his 5 steps to growing a small account. 
Education Corner: Davis Martin Edition
Davis' specialty is trading SPY (an ETF that tracks the S&P 500) options in the morning. He sends out his Trade of the Day 30 minutes before the market open. It's a daily, high-probability SPY options trade alert.
He starts his days early to analyze pre-market data before issuing his daily trade, which are designed to take advantage of bullish or bearish market moves. His goal: To deliver double- or even triple-digit gains every day. 
One of his favorite patterns is the inverse head and shoulders, which is a bearish-to-bullish reversal pattern. As the name implies, it is an inverted version of the head and shoulders where a trough (left shoulder) is followed by a deeper trough (the head) and then another trough (right shoulder) at a similar level to the initial one.
Davis' goal is to "buy to open" call options during the basing phase. He calls this "buying the dip," as it allows him to get in at a lower price. Then, he looks to "sell to close" if and when SPY pops.
That's exactly what he told Trade of the Day members to look for yesterday morning. 
"What I'd love to see is a dip to a support level, followed by basing, followed by a pop. Basing is where I'd want to buy to open call options, and upon the pop, should it take place, is where I'd want to sell to close call options."
And the pattern played out perfectly: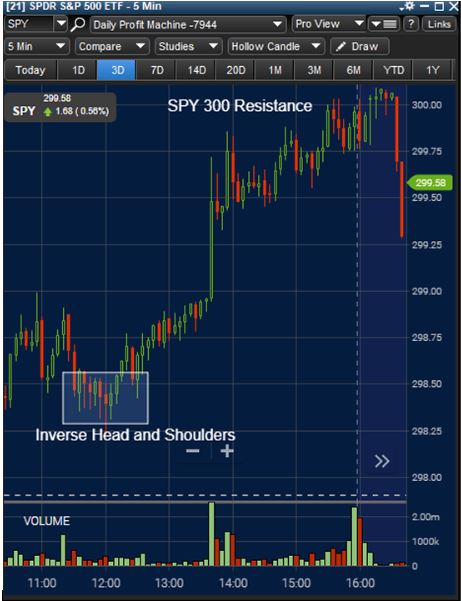 He used SPY July 29 300 Calls to play the move. And depending on when you took profit, you could have doubled your money on that trade alone. 
If you want to learn more about Davis' strategy, watch this interview. I recently sat down with him to discuss his favorite indicators and patterns, how he picks options and a whole lot more. 
Jeff Bishop & Jason Bond

Related Articles: