The market kicked off 4th of July celebrations early by making new highs. 
The Dow, S&P 500 and Nasdaq all hit record levels. There's no arguing with the chart — the bulls are back in command.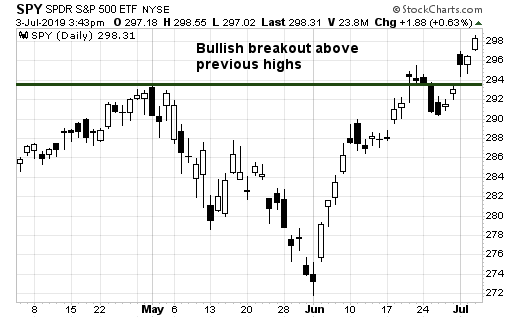 But stocks aren't the only game in town… or the only assets moving higher.
Both gold and bonds are screaming higher while waving a warning sign. In fact, both have outperformed the S&P 500 over the past three months.  Stocks (black), gold (yellow) and bonds (blue) can't continue to go up together forever. The only question is which will break down first: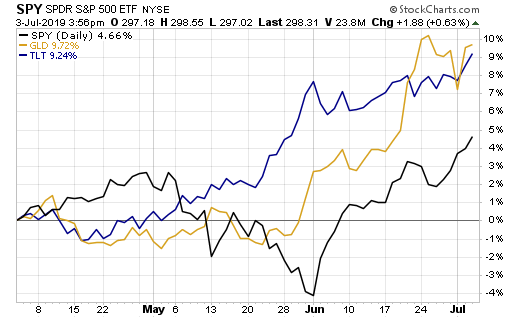 Investors may be cheering on bonds' lower rates, but they are neglecting the fact that those rates are a function of a weakening economy.
It's still early in reporting season, but earnings are not looking strong and several companies have already revised estimates lower for the year. In fact, the S&P 500 is setting up for an earnings recession in Q2 this year.
I'll be honest, there's nothing I love about the U.S. economy right now. The best you can say is that it's not "as bad" as the rest of the world. I guess that's enough to send stocks to all-time highs…  
My gut says we are walking towards a ledge, yet the party keeps going on. I'm a trader, so I'll continue to play price action. This isn't my favorite way to trade, but I guarantee you that I won't be left holding the bag. 
I am quick to get out of losing trades right now, and I won't be shy about taking profits. By the time this party stops, I'll already be betting on the other side of things.
If you want to trade alongside me, I recommend you join my flagship service Total Alpha in the next 6 hours. I harness over 20 years of tips, tricks and strategies into each trade I make. Everything I know about the market, options… what's made me a multi-millionaire, I'll deliver it to you on a daily basis.
You'll have access to my insight and my actual trading account. I stream it in real-time so you can see exactly what I'm doing. You'll see the orders I've made and the ones I'm about to make.
And if you join in the next few hours, you'll also get my new Bullseye Trade of the Week service and Options War Room completely FREE. 
This offer comes down at midnight. I hope you'll join me.
Let's get wealthier together,
Jeff Bishop & Jason Bond

Join our community:
Related Articles: