What a week!
If you've been trading with Jason Bond for a while, you know he likes to load up on small-cap companies on Friday. The reason is simple – smaller companies tend to announce good news to start the week, since they have three days to put together a deal (compared to one during a typical weekday).
One of the companies he alerted readers to on Friday was Veritone, Inc. (VERI).
VERI is an emerging artificial intelligence (AI) company, one of the hottest growth sectors in the market. But more important, the stock was trading near strong support and had been a rumored merger and acquisition (M&A) target.
In other words, it was a perfect lower-risk, higher-reward trade setup going into the weekend.
And BOOM! By the time markets opened on Monday, VERI was up about 50%.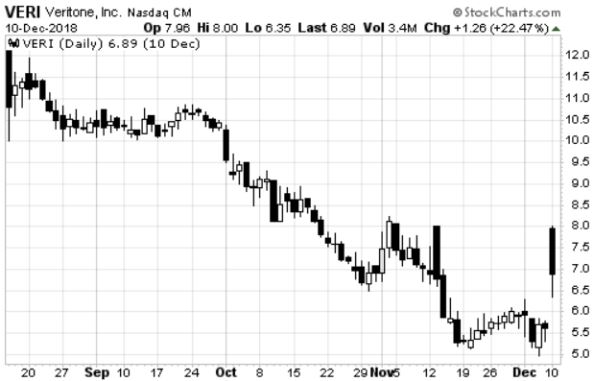 What happened? Apis Capital Management announced interest in acquiring VERI at $10.26 per share, a huge premium to where shares were trading on Friday.
Here's what Jason sent his members: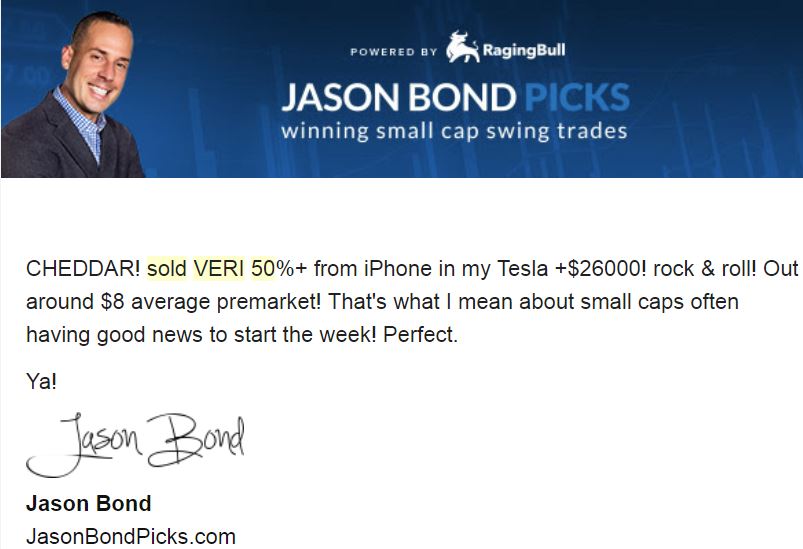 Incredible.
Some investors hold stocks for years and never see a 50% return. But by keeping it simple and focusing on patterns, value and catalysts, Jason regularly hits it out of the park.
And Jason wasn't done for the day.
Once he got home, he jumped into the Millionaire Roadmap chat room and explained why AAPL calls were as close to a guaranteed win as you'll see in this market. His thesis was simple: "Mute all Wall Street noise and buy calls on AAPL because it's oversold and when AAPL is oversold on the daily chart, historically, the fish hook always works."
A few hours later, those calls were up over 100%! Another $10,000 in profits for the day.
Needless to say, his students were psyched:

"Thanks JB, sold AAPL calls +$2500. Done for the day so I don't give it back." ~ Terry M.

"Paid myself on AAPL calls +57% on the trade, added 3.6% to my account today. Thanks for the oversold fish hook input on AAPL JB." ~ Scott M.

"JB…thanks again…up +$1400 on the AAPL calls." ~ Philip G.
When it was all said and done, Jason was up $44,000 on the day.
Jason knows trading stocks can be overwhelming when starting out. He was once there, too. That's why he now put so much effort into teaching others to do it.
If you're ready to get started trading with Jason, follow this link.
From the Community
Hell of a first trade, david rew. Keep it up!
On Deck

If you haven't already, make sure you sign up for Kyle Dennis' biggest trading event of the year.
In it, he'll show you step-by-step how he transformed his trading and how you can do the same.
It'll be worth your time. He's made $5.3 million using the same technique he'll show you THIS Thursday.
You need to sign up to be a part of it. There's only a few seats left, so sign up now if you want to be guaranteed a spot.
Jason Bond's Watchlist
Here's a sneak peak at the stocks Jason is keeping an eye on this week. These are not buy recommendations. Instead, these stocks are setting up for a great trade. To be alerted if/when Jason makes a trade, click here.
| | | |
| --- | --- | --- |
| Company | Ticker | Current Price |
| Real Goods Solar, Inc. | RGSE | $0.57 |
| Ability Inc. | ABIL | $2.30 |
| MYOS RENS Technology Inc. | MYOS | $1.62 |
Real Goods Solar, Inc. (RGSE) — This is a continuation chart pattern play. I wouldn't be shocked to see shares make a move to $1 soon. Shares have settled above $0.50 so that's the price level I'm watching.
Ability Inc. (ABIL) — A huge pop to $8 recently was met with heavy selling. Shares drifted to $2.40s before making a tradeable bottom. I'm watching support at around $2.50 and a target near $3.
MYOS RENS Technology Inc. (MYOS) — Shares jumped on good news on Tuesday and tested $2 before pulling back due to profit taking. I'm keeping an eye on it as long as it stays above $1.50s for a move back toward $2.
For up-to-date alerts on all of Jason's trades, sign up for Jason Bond Picks here.
Related Articles: