The market has RALLIED HARD so far in June.

The main reason? Optimism that The Fed might cut rates this year. And although they left rates unchanged today, the central bank left the door open to future cuts.
I'm skeptical about how much longer this run can last, but I'm taking full advantage of it in the meantime.
My WYNN calls from 12 days ago, for example, are up over 100%. They hit my initial target yesterday so I locked in half of my position for a big win.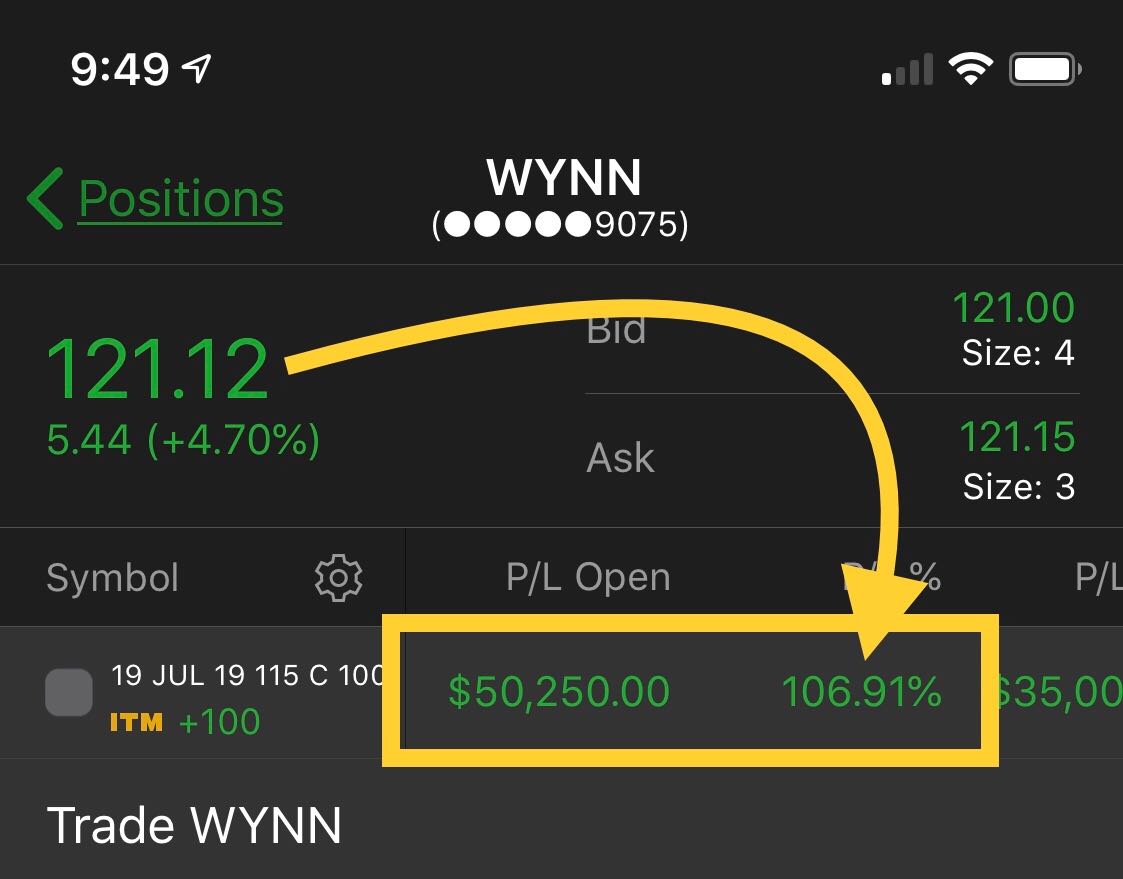 And while I've welcomed the big move higher from a trading standpoint, I think the price action has gotten ahead of itself. My guess is that rates bounce a little higher from here but still end the year under 2.0%.
To be clear: I want to be a seller into mania like this, not a buyer. If the Fed does cut rates eventually, I think it will be an attempt to prop up a weak economy. That might lead to a small market bounce, but it will inevitably head lower.
Having a well thought out game plan is a key to successful trading. Being able to throw away that plan and pivot when needed is more important.
Weekly Money Multiplier members: Keep an eye out for new alerts and changes to my live portfolio. I expect to build some short positions soon.

If you're not a member and want to access to all my trades and portfolio, join me here.
Updated Key SPY Levels and How Davis Trades FOMC Announcements
Davis is on one of the most impressive trading streaks I've ever seen.
His Trade of the Day has been correct for 40 days in a row. And yesterday, traders had a chance to book a 106% profit in the first 30 minutes the market was open!
And thanks to yesterday's SPY price action, trading should get even easier and more straightforward for Davis.
For weeks, Davis has been pointing to $290 as thick overhead resistance on SPY. And yesterday SPY finally busted through that level in the premarket.  SPY then proceeded to crack four other resistance levels that Davis had detailed in his Trade of the Day alert, which he sent to traders 30 minutes prior to the opening bell each day.  
On yesterday's trade, Davis went to his go-to pattern when markets are green premarket: The inverse head and shoulders. He primarily applies that pattern using a 5-minute chart. He looks for a possible pullback at or near the open, followed by basing and then a run-up. The run-up is where he looks to capitalize on the momentum by buying call options.
The inverse head and shoulders played out perfectly today — a dip near the open, basing and a pop up: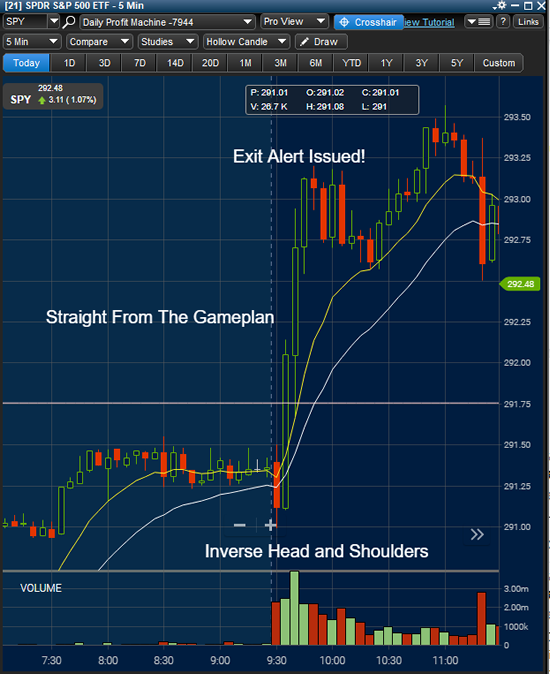 With the market open less than half an hour and SPY up around 1.2%, he alerted traders they could cash out. And thanks to leverage from options, they could have booked a profit of up to 106% yesterday.
Today most traders were focused on the Federal Reserve and the FOMC's announcement to leave rates unchanged. While they were making the announcement, Davis' followers were already up 30% on the SPY June 24 293 Calls he recommended that morning.
To get Davis' next Trade of the Day delivered to your inbox by 9 a.m. ET tomorrow, sign up here. Besides not missing another trade, you'll get in for a discounted rate of $999 before the annual price jumps to at least $1,599.
Going into tomorrow, Davis wants to see SPY hold the $293 level for a chance to retest all-time highs. And a close below $293 could lead to SPY retreating to the $290 area, which is a level he and Daily Profit Machine have been watching for months.
Kyle Dennis' FDA Watchlist Sneak Peek
Every week, Kyle puts together his millionaire-making FDA Insider Weekly Watch List. It's thorough… this week he found nine names with big upcoming catalysts, strong charts and fundamentals that give him a solid risk/reward setup. He also already has five other stocks he's looking to add to his watchlist next week.
These are the kind of setups that made Kyle a millionaire in the first place. And over the last four years he's AVERAGED over $1M in trading profits. Crazy.
Best of all, small companies that trade mostly based on catalyst don't tend to track the market as much. It makes sense for them to be part of any trading portfolio.
Here's a sneak peek at some swing trades (1-4 week holds) Kyle is keeping an eye on:
Capricor Therapeutics (CAPR)
Catalyst Dates: Phase 2 DMD data due early 3Q
Buy Zone: $3.20 to $3.60
Profit Zone: $4.20 or higher
Stop Zone: $3.00 or below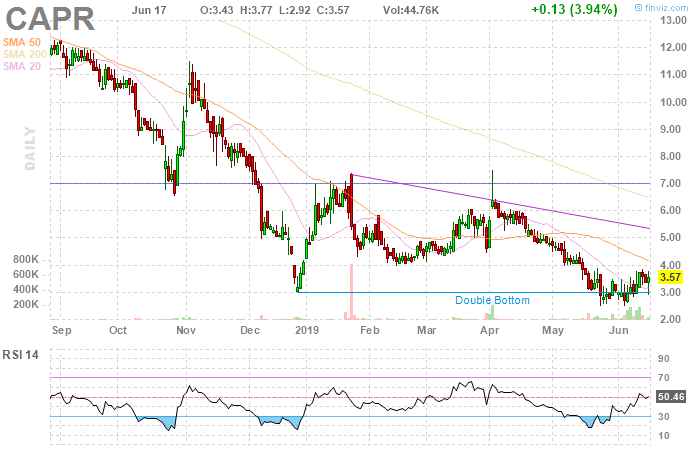 Intec Pharma (NTEC)
Catalyst Dates: Phase 3 advanced Parkinson's disease data due July/August
Buy Zone: $4.50 to $5.00
Profit Zone: $5.50 or higher
Stop Zone: $4.30 or below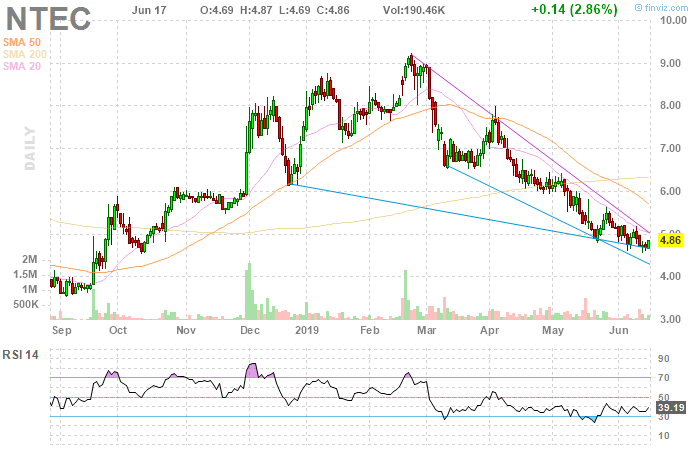 Marker Therapeutics (MRKR)
Catalyst Dates: Phase 1/2 data for pancreatic cancer due on July 20th
Buy Zone: $6.00 to $6.40
Profit Zone: $7.00 or higher
Stop Zone: $5.50 or below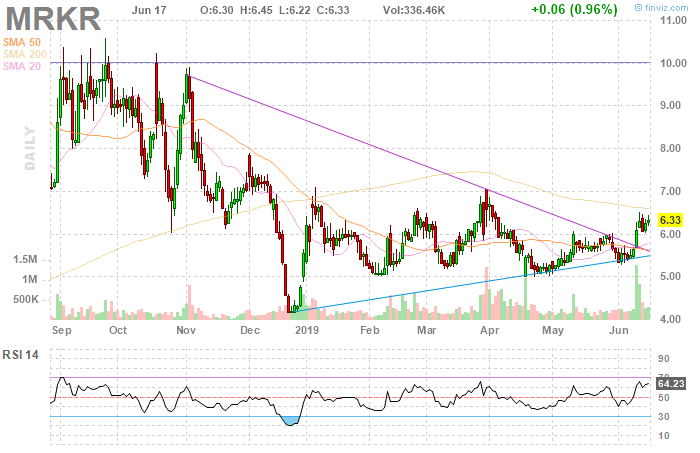 Kyle doesn't buy every stock in his watchlist. He'll likely add a few of the 12 he sent his members over the coming days when the timing is right.
And just because a catalyst event is in August, it doesn't mean he'll hold through the event. He often takes profit well before that — buy the rumor, sell the news type trades.
If you want to be alerted when Kyle makes his next move, you can join him here at a MASSIVE 80% discount. On top of that, you'll get his long-term swing ideas, the Sniper Report, for FREE.
Related Articles: