It's been a roller-coaster week in the markets.
Small-cap stocks, as measured by the Russell 2000, have officially entered a bear market. It's been a brutal few months as you can see below.
Even intraday, it's been a difficult market to trade, with unpredictable swings that can trigger stop orders, make seasoned traders sweat and newer traders panic.
In times like these, it's wise to take a step back to see the full picture. When you do, you'll see that stocks have pretty much gone straight up for the last decade. So what we're seeing right now is normal — it's healthy for stocks to pullback and take a breather.
But even if the swings are normal, that doesn't make it any easier to trade. So what's a trader to do?
Jeff Bishop, multi-millionaire trader and founder of RagingBull.com, recommends new traders stay on the sidelines for the next couple of weeks. There's no shame in using this market as a learning experience… perhaps even paper trade it. That way you'll be ready to take advantage when volatility returns in the next pullback or even bear market.
Jeff's goal with Raging Bull is to teach traders how to make money. Sometimes that means preserving capital, so that you have plenty of dry powder to use when market conditions are more favorable. Here's some advice Jeff gave members of his Weekly Money Multiplier service:
"Don't feel the need to overtrade. That is the worst thing you can do since it will lead you to making bad decisions and losing more money than you should.
I would rather see you make ONE profitable trade this month you were patient on than making a DOZEN losing trades sprinkled with a few winners here and there.
Patience will pay off. Stick with the program."
That's great advice — no matter how long you've been trading.
That doesn't mean there aren't opportunities in this market. Jeff says the market could fall an additional 10%-20% in the coming month. So here's his game plan:
1) Short (or buy puts on) the stocks with the highest earnings multiples. Expensive stocks are likely to suffer the most if the market keeps falling.
2) Be patient and look for opportunities to buy the best stocks at great prices. Now is the time to put a shopping list of stocks you want to buy on sale.
3) Take advantage of volatility by selling options and collecting premiums with spreads.
Plenty of money-making opportunities are setting up right now. Until then, be patient, don't over trade and protect your hard-earned money
P.S. Jeff recently published a list of stocks he's targeting to buy and short. If you want to be alerted to the moves he's making in his own portfolio, and see all of his positions in real-time, I recommend you check out his Weekly Money Multiplier service. His trading insights and regular market outlook updates are worth the price of admission. Getting to trade alongside a world-class trader make the services invaluable. Seriously, it's that good. Learn more here.
Jason Bond's Watchlist
Here's a sneak peak at the stocks Jason is keeping an eye on this week. These are not buy recommendations. Instead, these stocks are setting up for a great trade. To be alerted if/when Jason makes a trade, click here.
| | | |
| --- | --- | --- |
| Company | Ticker | Recent Price |
| Lee Enterprises, Inc. | LEE | $2.00 |
| Plug Power Inc. | PLUG | $1.01 |
| Second Sight Medical Products, Inc | EYES | $0.74 |
The penny-stock scan Jason teaches his students produced 18 pages of oversold penny stocks this week and ONLY 1 page of continuation patterns. That means just about ever stock in the market fell with the broader market.
Below are the best oversold patterns which have the most potential to jump higher when the market rebounds.
LEE is in play for a bounce if it breaks above $1.90. This is a pretty good penny stock that doesn't get oversold often and could bounce from these levels. Relative to other penny stocks, this is one is more stable.
PLUG is creating one of my favorite patterns to trade — the fish hook base. I'm looking for a bounce from $1.19 into the $1.30's. This is a whipsaw trade idea out of oversold conditions — so this would be a quick in / out trade.
EYES is oversold but continues to fall, so I'll continue to monitor it for a tradeable bottom. EYES has a history of spikes and some pretty big bounces out of oversold conditions, so it could make for a nice win if it climbs above $1 soon.
For up-to-date alerts on all of Jason's trades, sign up for Jason Bond Picks here.
On Deck

This is a final reminder for folks that are still interested in Black Optics.
There's a holiday bundle going on right now that includes Kyle Dennis' Nucleus, Option Rocket, FDA Insider and Sniper Report for one low fee. And when you join him, you're going to get an incredible, lifetime offer you won't believe.
He opened up a few spots for a limited time, so take action now if you want in.
From the Community
For the past couple of days, Davis Martin and Jeff Williams, along with Trader's Council (TC) members in the chat room have been making serious money in this difficult market. And they've been doing it by playing the same pattern over and over again.
As you probably know, SPY is an ETF that tracks the price of the S&P 500. When you purchase puts, you're betting that the underlying security is going to fall.
So what Davis Martin & Company in the Trader's Council have been doing is buying puts on SPY when it rallies intraday and hits resistance. It's a calculated and leveraged bet that the S&P 500 will continue its pattern of rallying early in the day only to breakdown once it hits resistance.
See for yourself: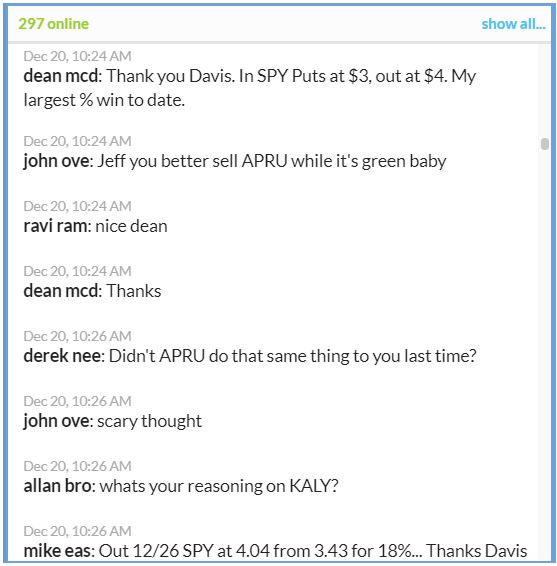 Many of these trades are planned for in advance during the Trader's Council "Coffee Club," which starts at about 8 a.m. In that room, Davis, Jeff and TC members look over the major indices, identify stocks with potential trade setups and give their view of the market.
So when market conditions change and this pattern no longer works, they'll be prepared.
That being said, congrats to "dean mcd" and welcome to Trader's Council.
Related Articles: