Dear Insider,
Yesterday was my buddy Jeff Williams' birthday. A lot of you know him well and will chat with him in The Traders Council room on Monday morning — so wish him a happy birthday!
And if you don't currently have access to him, do yourself a favor and sign up for Jeff's 5 steps to growing a small account live event. It's this Tuesday at 8 p.m. ET, and he's going to show you how to grow a small account by 200%, 220% and even 600%, which he's done before.
As I mentioned on Friday, this week he closed a 69% and 80% winner for his members. So make sure you keep reading, he's sent me his small-cap watchlist for Monday, which I've published below.
Davis Martin's Market Watch
You'd think Jeff Williams would be the most popular co-founder of The Traders Council after the killer week he had, but that honor might have to go to Davis Martin.
Within the RagingBull community, he is best known for his Trade of the Day — a daily, high-probability SPY (an ETF that tracks the S&P 500) options trade alert sent 30 minutes before the market open. And this week, Davis went five for five, aka 100%, with his daily SPY trade.
robert bar: WHOOO HOOO TY DAVIS !!!! for being a great teacher!!! out SPY 287 calls $1,821, +62%
michael rog: SPY !!!!!! +$700 in 36 minutes
michael kit: 288 Calls +$920
peter mar: in .76 out .96 SPY calls
peyton jon: Well alrighty then – Out my 288C with +29% profit
With every single one of his trades being a winner, Davis was able to increase his entire account by 30% in one week. But that's nothing compared to one of Davis' members:

Davis says he's watching the SPY $290 and $288 price levels going into Monday.
The $288 level was a resistance level that SPY broke and closed above on Friday. That level should serve as support now, since old resistance turns into support. A break below $288 would be bearish, and could lead to a pullback to $285.

The next key resistance level to keep an eye on is 290. Above that, barring any bearish news, 2018's all time highs aren't out of the question.

Here's a chart of SPY from Davis with key levels noted: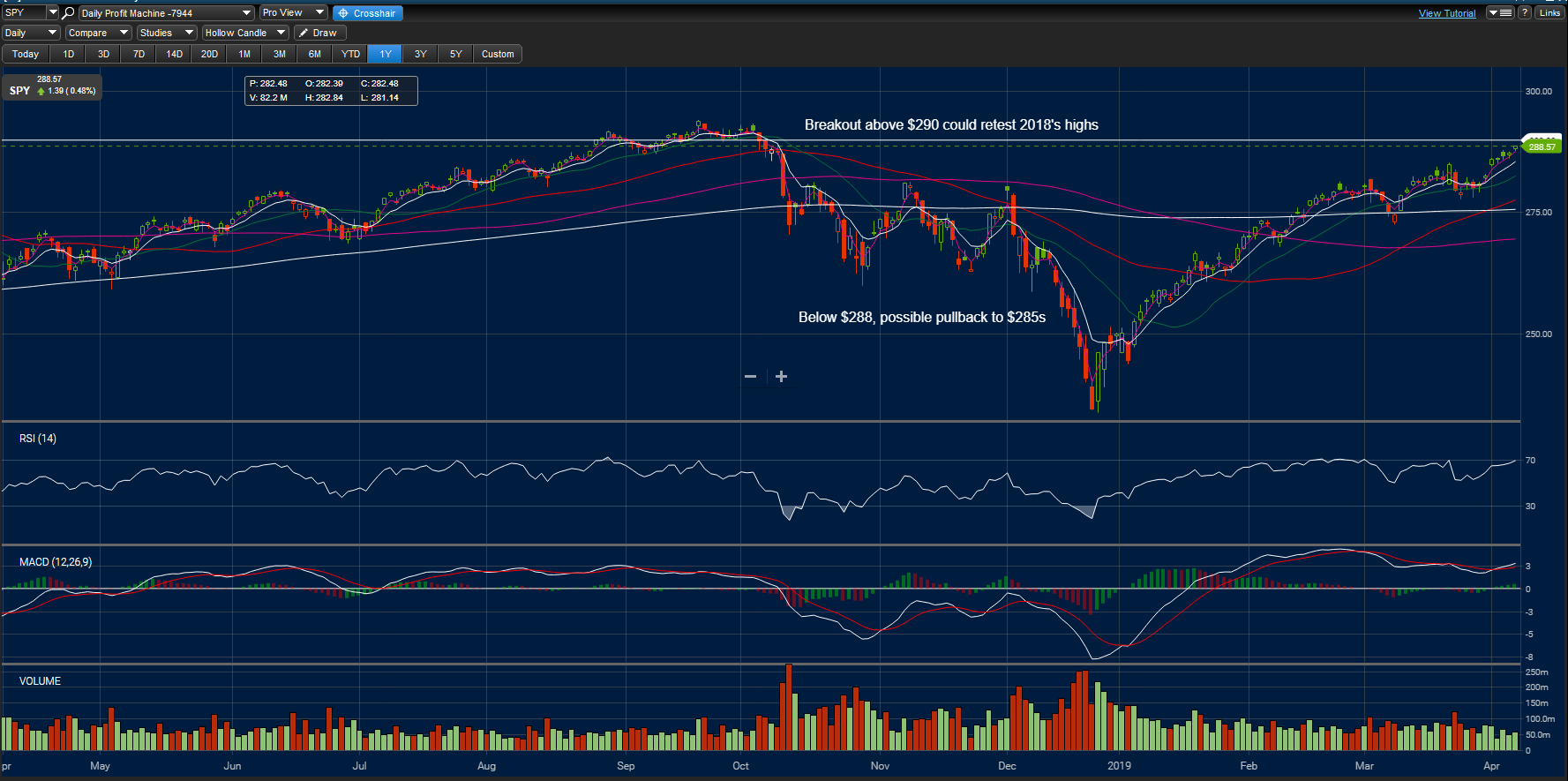 Davis will continue to analyze these levels on a daily basis before releasing his signature SPY Trade of The Day on Monday. You can learn more about Davis' techniques by getting his free Path to Profits ebook here. He'll show you how to identify support and resistance… create an easy-to-execute trade plan and how you too can profit on a daily basis.
If you prefer more personalized, live training and trading — plus access to everything Davis and Jeff publish — check out The Traders Council here.
Trade of the Week
This week Nathan Bear announced that for the rest of the year he's going to focus on growing a smaller, $35k portfolio, instead of his larger personal account.
The reason is that many members have accounts in the $20k to $40k range and are stuck. Nathan knows the feeling all too well. He says he spent around two years trying to break out of this range, and it was a very frustrating period for him.  
The goal here is to lead by example and show members that a smaller account can be turned in $100k… or even $1 million.
With that in mind, here's a trade Nathan found on Friday while live trading in the Millionaire Roadmap room. The trade is still in play… and it's a perfect example of his TPS (Trend, Pattern and Squeeze) setup.
Aside from it being a TPS setup, he also likes that the stock isn't as volatile and it has a great risk/reward setup — about $1 of downside risk and about $7 of upside potential.
Here's why he chose the 17 MAY 19 $140 calls at $5.20 options:
"I've gone out into the May expiration for two reasons.  First, it's a daily chart, so I need to give myself more time than the April contract allows.
Second, MSI has earnings coming out in early May, and these options will capture the earnings date, thus giving our calls a rise in IV (implied volatility)."  
Below is the MSI chart with Nathan's notes.  His first target is $147.38, and his stop is a close under $139.50(ish).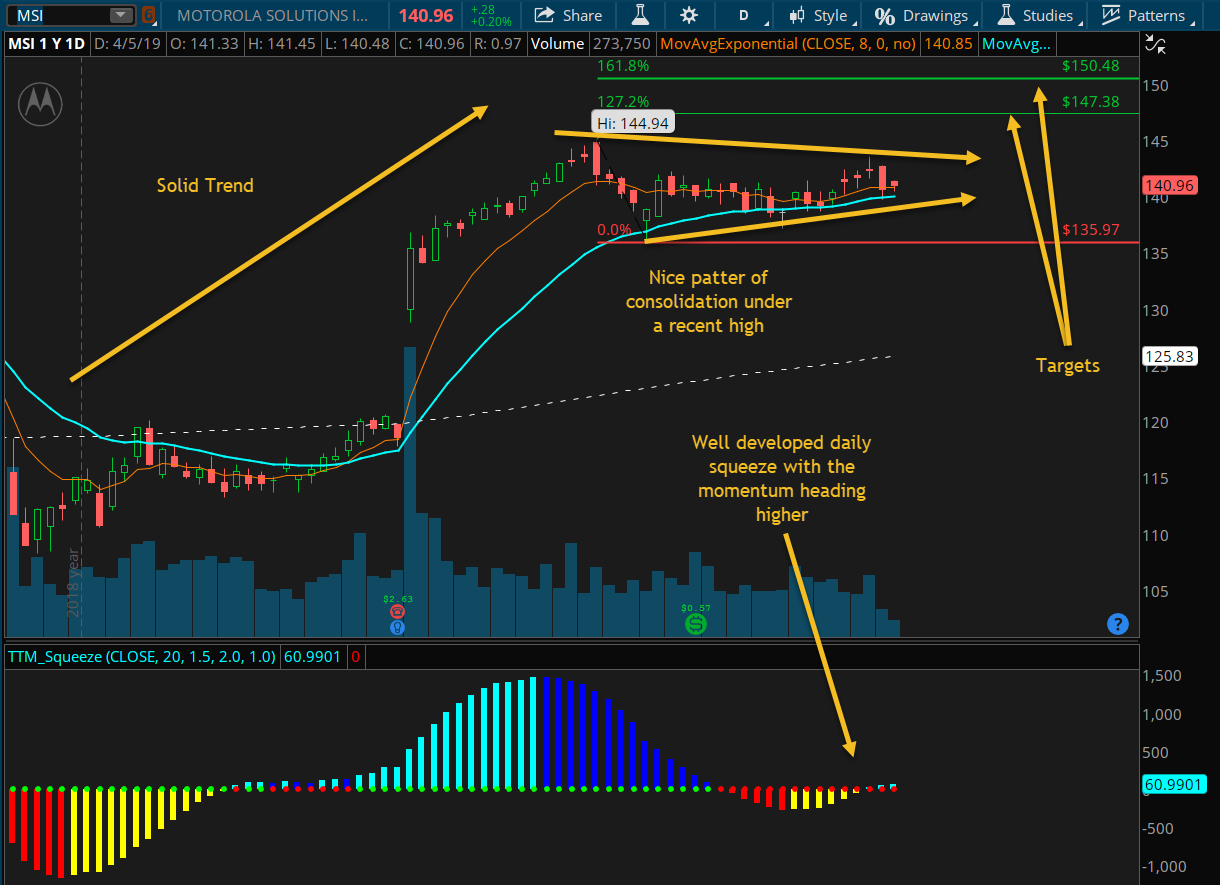 Like I said, this trade is still in play. Like any trade, there's no guarantee it will be a winner. But given Nathan's win-rate, and the fact that he's already made $250,000 in profits so far in 2019, I like his odds.
If want access to live coaching from Nathan, I recommend you check out Millionaire Roadmap. Nathan streams his TD Ameritrade thinkorswim account live during market hours. He's often on the mic teaching folks exactly how he finds the trades that made him a millionaire. And of course, you'll also get access to Jason Bond's live training and trade alerts in the room.
Jeff Williams' Small-Cap Watchlist
Jeff is famous in the RagingBull community for his "$2k challenge." The goal? To turn a tiny, $2k account into a small fortune trading penny stocks. He does it with real money, too, something no one on Wall St. would even dare to try.
He runs his scans and picks the stocks he's buying live, an ideal way to learn from Jeff. He then sends a detailed alert to his members with the stocks he's adding to his account. He does this at the same time every day before the closing bell and holds the stocks overnight. It's a very easy, and historically lucrative, program to follow.
On Tuesday, he's going to reveal his 5 steps to growing a small account in a live event. Make sure to register now to be a part of it.
Without further ado, here's a sneak peak of the stocks Jeff is keeping an eye on going into Monday.
AVEO is coming off a share offering which I think will be complete early this coming week. If so, I'm watching for this trade to close its gap upward of $1.20 and possibly head toward recent highs of $1.35 to $1.50. My stop would be around Friday's low of $0.95.
JAGX is coming off a symmetrical triangle pattern which has higher lows and lower highs. We are nearing its apex which could give us some short term movement. My short-term target is $0.38 to $0.40. This setup has nice double-digit potential.
CYTX broke out to a two week high on Friday with strong volume. The next chart high is near $0.50 cents per share, which is a bit aggressive, but I like that potential. I'd target a possible move toward $0.40 for a nice 25%-30% potential and a stop-loss at $0.25.
You can learn more about Jeff's proven, 10-minutes-a-day strategy that's designed to generate big gains from small accounts this Tuesday.
Related Articles: