I'm what some might call a contrarian trader. A person who generally takes the opposite side of "conventional wisdom."
When the talking heads are screaming about recession and stock market turmoil  — like we've been seeing all week — I want to pivot— and actually look for stocks to BUY.
If 90% of traders fail… how can you make money if you follow the herd?
However, sometimes warning signs start to pile up so high that it forces you to stop and examine the data… especially right now… as I'm sifting through data and charts.  
Plenty of money will be made on both sides (long and short)…  and I'll tell you exactly how I plan to trade it and the stocks I'm targeting.
But first, here's where we are now: 


Red Flags For Days…


From a technical standpoint, there are a few charts I'm always watching, like Treasury bonds (TLT), gold (GLD), emerging markets (EEM) and the U.S. dollar index (UUP).
These are all important indicators and they're pointing to a bearish market environment. But what's really caught my attention is the S&P 500 ETF (SPY).
Specifically, how close SPY is getting to breaching The Death Line. I think the market is in big trouble if stocks fall below this level.
Even though the market is set to gap up this morning… it's right below a key resistance level at $288 (where the market opened when it had a massive gap down just two days ago).
It wouldn't be surprising to the market stay below that level as there can still be some selling pressure… potentially pushing it back down to The Death Line.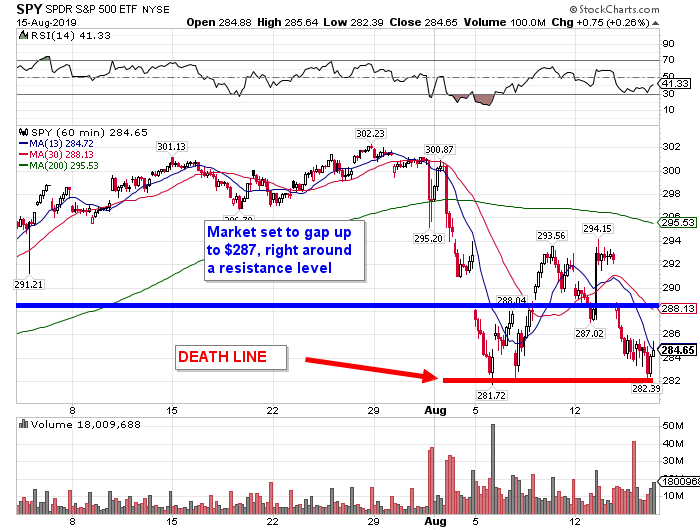 The Death Line is at SPY $282. It became a critical support level after SPY bounced off it twice earlier this month. If we break that important psychological level, watch out below.
One thing I have learned over the years — and you've probably noticed recently — is that things tend to go down a lot quicker than they go up.
The markets are teetering on edge now, as any comment from Trump or Chinese President Xi could send the market lower… so be ready for a quick move lower if we fall below The Death Line.
And it's not just the technicals that look bearish. Here are a few things I'm keeping an eye on:
Inverted yield curve that keeps getting worse (which usually precedes a recession)

Extreme volatility: Multiple days where the market whipped around 400, 500, 600, even 700 points

U.S. Bonds near record-low yields

China appears to be standing firm in the trade war.

Central banks around the world already have rates near or below zero

General political turmoil around the globe

Did I mention overleveraged banks getting pummeled?

Gold bought itself a one-way ticket to the stratosphere
But here's the good news: Whether we bounce off The Death Line or breach it, there's plenty of opportunities to make money…
What I'm Watching and How I'm Trading
With the volatility we're seeing, it pays to play both sides of the market.
Aside from giving you twice as many opportunities to make money, it also provides a hedge if there's a big, market-wide move up or down.
On the long side, I'm excited to get into stocks I really like but were at levels I was not comfortable with. Many of those stocks have come back to earth with this pullback, and I'll be ready to pounce on them once I have the right setup.
Here are a few stocks on my watchlist right now:
Five Below, Inc. (FIVE)

Amazon (AMZN)

 

PayPal Holdings (PYPL)

Wynn Resorts (WYNN)
I said it before… and I'll say it again.. stocks take the elevator down and the stairs up. So if stocks do crash from here, I'll be ready to take advantage.
I specifically think we can make some massive gains from stocks with huge valuations and little-to-no earnings of markets keep falling.
Here are a few I'm targeting to cash-in on:
Zoom Video (ZM)

Pinterest (PINS)

Beyond Meat (BYND)

CrowdStrike (CRWD)
Just remember, in this market, it's best to stay nimble. Keep these two things in mind when trading an extremely volatile market with so many red flags…
"Hedge your bets" when options trading. Own puts on the stocks you think are going to underperform the market and buy calls on those that should outperform. 

Don't be all-in on the long side or the short side of things

.




Trade more cautiously! Be patient and more selective of the trades you take. And this is also a 

good time to reduce position sizes

.

If the market is twice as volatile, you should have half the position size that you normally would have.
And don't forget, we're here to help you navigate the market whether stocks crash or go on to make new all-time highs.
Follow us on socials:
Related Articles: