Dear insider, Jason Bond here.
The market has decided it's going to stick to its old ways — reacting to rumors, tweets, and news headlines.
Whether it's the trade war, geopolitics, or the economy—traders are uneasy and its reflected in the price action.
In fact, there are rumblings of traders losing it from all the market noise buzzing around. However, as traders, it's our choice on how we react to news and market moves.
We also control how many shares (or options) we trade… as well as… the amount of money we want to risk.
Where am I finding some of the best risk-to-reward setups in the market?
Believe it or not… it's in small-cap stocks.
I'm currently long OSTK, as I bought shares yesterday based on my trusty fish hook pattern.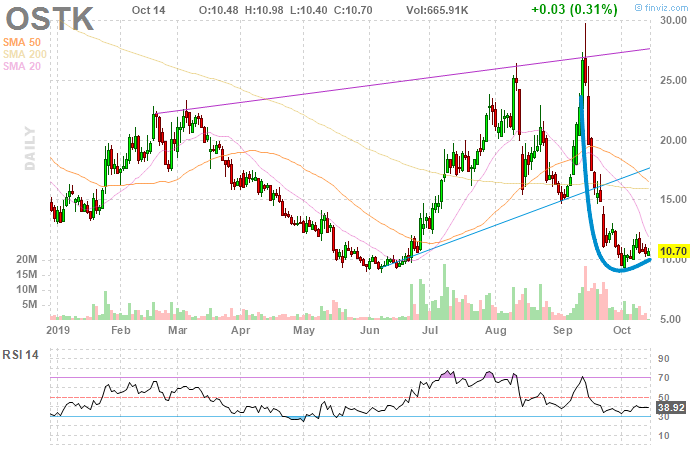 My plan for this specific trade is to play it for a move to $12 since there is strong support around the $10 area, I felt that the risk-reward made sense.
The reason I took that trade was due to the fact it's my bread-and-butter setup, and I've made money on it before… last week in fact.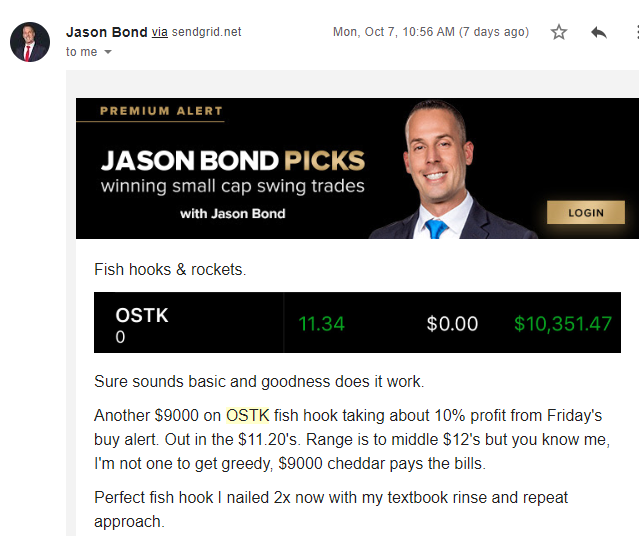 You see, we choose what moves we can make and play to our own strengths. That's how I've been able to pull out some juicy winners in this environment — by sticking to my best strategies and knowing exactly when to use them.
If you're struggling to find trade setups, I hear you… but more importantly, I'm here to help.
That said, I wanted to provide you with another free trade from RagingBull CEO Jeff Bishop. Every Monday morning, he sends out his highest-conviction trade setup — his Bullseye Trade — and more times than not, he pulls out a monster winner.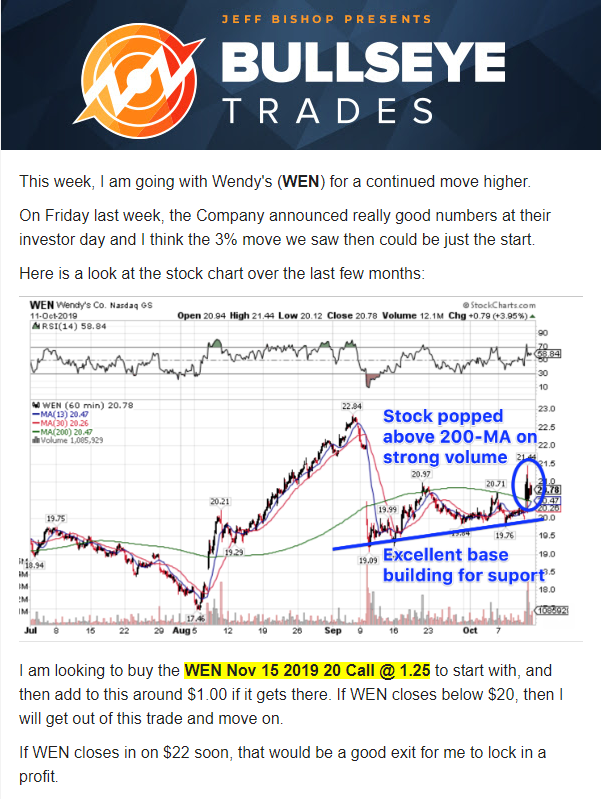 (Jeff Bishop sends out his highest conviction trade idea every Monday… if you missed this one and want to receive his Bullseye Trade every week, join now)

However, that's just giving you a fish… that'll feed you for a few days maybe.
What we're really about is literally providing you with the necessary tools to put you in control… so you can find your own money-makers.
Tomorrow at 12 PM EST, you have the chance to watch Jeff Bishop LIVE in action… as he reveals his best options strategies, and who knows… maybe he'll walk you through some live trades.
Not only that, but Jeff will provide us with his thoughts on the State of the Market in 2019… the massive market-moving events and potential shifts in trends that can directly affect our trading at the end of 2019… and into 2020.
With the upcoming election… the ongoing Trade War… slowing growth concerns… you name it, we're getting hit with a barrage of market-moving headlines.
You're going to want to hear what Jeff has to say so that you can properly prepare yourself and remain in total control of your trading well into 2020.
If you haven't done so already, you can reserve your seat for the first-ever Total Alpha Live Workshop for just $7.
But you'll want to hurry, Jeff is keeping this event small… and spots are filling up quickly, and if you want to secure your seat — RSVP here immediately.
Related Articles: