Dear Insider, Jeff Bishop here.
It appears investors have lost their love for IPOs. In the last 17 days, the Renaissance ETF IPO dropped off by 3% compared to the SPY which has been flat over the same time period.
Tough questions are now being answered: how much debt does the company have? What is its revenues? And how much cash does it have to operate?
Talk about tough love…
Millennial favorites, UBER and LYFT didn't just lose money… they burned cash in stacks.
Get this… the operating income for UBER dropped from -$1 billion to -$5.5 billion in the last two quarters. (By the way, if you want the real scoop on IPOs and how to profit off them then check this out.)
Staring into the face of a recession, investors are hunkering down and scrambling to find safety.
Take a look at the returns by sector over the last three months:
The S&P 500 continues to be held up by IT, consumer staples, real estate, and utilities. Investors flee to these sectors for safety. These companies tend to have stable dividends, consistent sales, and higher resistance to downturns.
Here's what I see in the coming months for the markets.
Treasuries will pull back along with Real Estate

No matter the market, treasuries marched higher unabated. Year-to-date, the TLT is up over 15%. Last week they closed up over 20% on the year.
We've got a clear trendline on the weekly chart that supported price for over a year.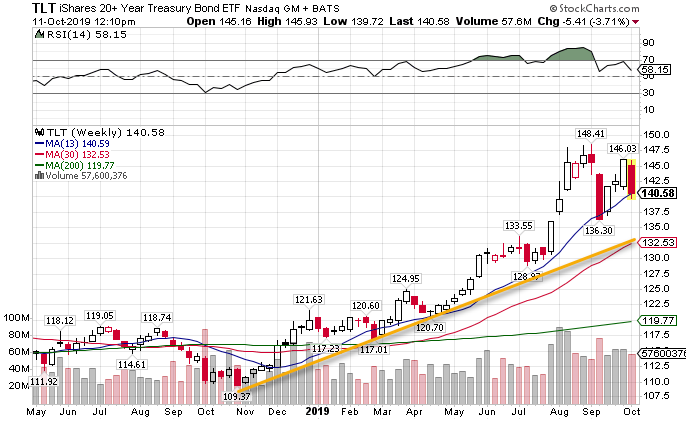 TLT weekly chart

Price extended itself on the back of global market declines. We're due for a retracement that could easily take us down to the trendline at $132-$133. That area looks like good support with the 30-period moving average as backup.
The XLRE real estate ETF looks quite similar.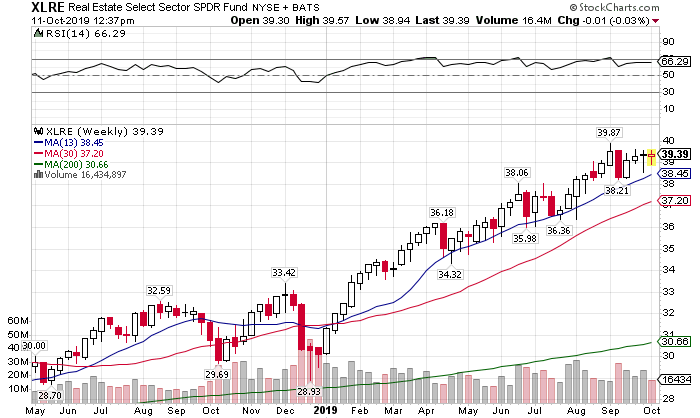 XLRE weekly chart

Price failed to make new highs. Yet, the selloff here hasn't been much. The ETF continues to ride above the 13-period moving average. While we might see a sell-off in the XLRE, it shouldn't be as steep as the TLT.
Consumer staples will continue to outperform
Investors love consumer staples because they give them exposure to some growth and safety. It's a happy medium that lets you sleep soundly at night.
The XLP ETF looks at a lot of companies that tend to have stable revenues and incomes. These include your food and beverage like Proctor & Gamble (PG) and Wal-Mart (WMT).
Whether the market takes a new leg or retrenches, these stocks will continue to be favored by investors. They're worth looking at on any pullback until we see a change in the economic outlook.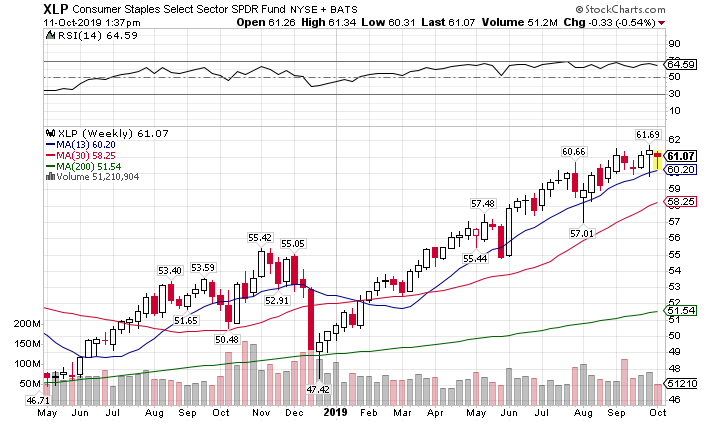 XLP weekly chart

Tech and consumer discretionary could break to new highs, but be warned
The S&P tech sector ETF XLK looks poised to take a rip higher. Price found support at both the 30-period moving average and the trendline that's held for months.
Should they close above the most recent swing high, they'll quickly run up and bust through the old high. However, this may just be a quick pop that takes out the shorts.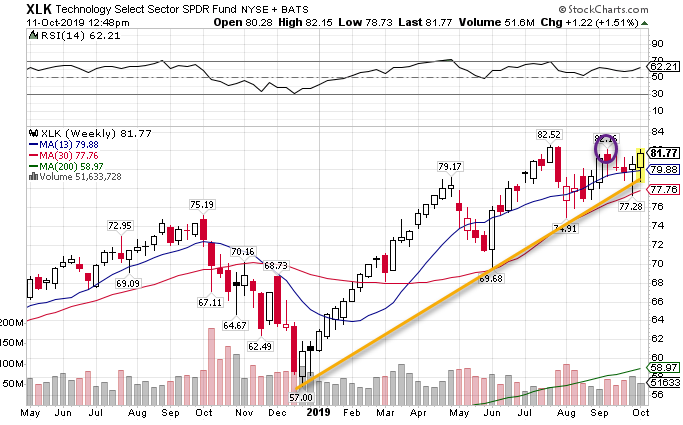 XLK daily chart

I don't think the move would be sustainable. But people are too bearish. The put/call ratio on the ETF is still 1.6 on open interest. The short float sits at 5.8M shares, with a coverage of 10.43 days. Compare that to just a week ago at 7.57-9.27.
We've also got a similar setup with the consumer discretionary stocks. While the XLY ETF looks at consumer discretionary, it contains a lot of traditional retailers like Nike (NKE) and Target (TGT).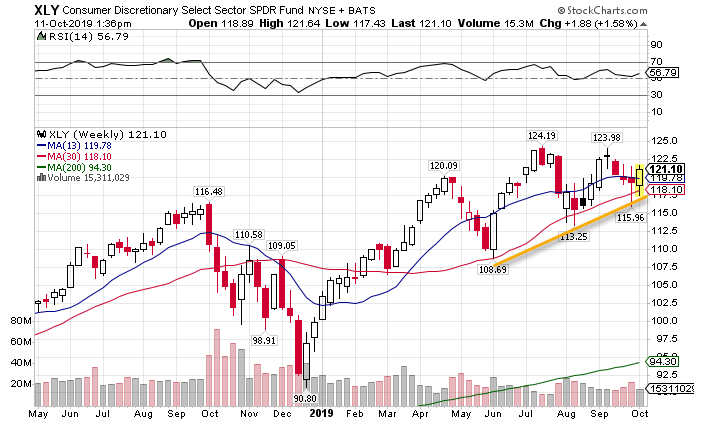 XLY weekly chart


Manage your risk with retail trades
We play package roulette every day at my house. We open the door around 5 p.m. to find stacks of packages. Every so often, we get a mystery package no one remembers ordering. It's like Christmas morning getting to see what's inside.
Retail is one of the two stories in the last decade, where innovation changed the industry forever. Online delivery completely changed the way people shop. Brick and mortar stores work for niche brands like Five Below (FIVE) and Lululemon (LULU), while Best Buy (BBY) remains a standing testament to the change or die marketplace.
Short-term, we could see retail rally violently. The XRT retail ETF just broke above a trendline that's held for several months. With so many people betting against the sector, any spark sends it skyrocketing. You can play it with call options to limit your risk…but be warned, with elevated implied volatility, it's going to cost you.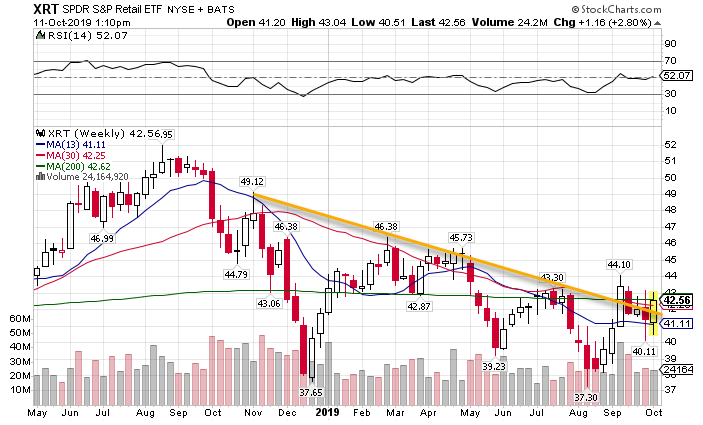 XRT weekly chart


Avoid energy
Oil topped $140 a barrel during the height of the Great Recession. Today it can trade at 1/3rd that price.
Energy is the second place where technology in drilling, fuel efficiency, and consumer tastes created a dynamic shift in the market. Rallies in crude oil are met with high put buying. Geopolitical tensions only seem to create problems for a short time.
The XLE ETF looks at a broad spectrum of the energy sector. This chart looks horrendous. You can't find anything nice to say here. The market doesn't look like it's found a bottom. I wouldn't bet against it unless you want to play against the upper trendline.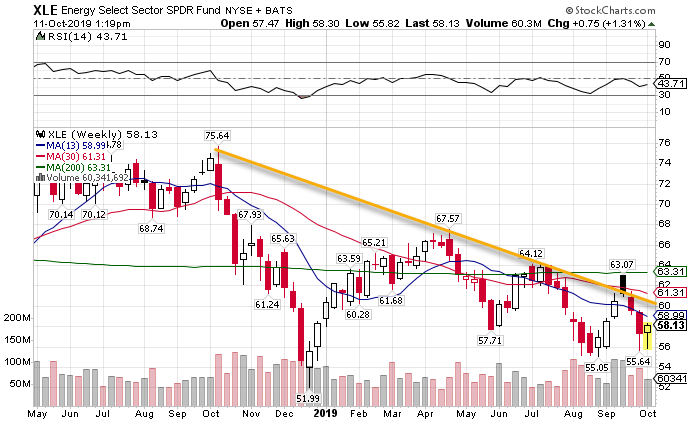 XLE weekly chart


Financials & healthcare continue to go nowhere
You're not going to get another leg in the bull market without the financials. Right now, they're getting slammed with low-interest rates and dropping trading commissions. I'm actually surprised how well many of them have held up.
With the Fed signaling lower rates, any rally in the financials will be short-lived.
Healthcare will likely be a dog through the election. There's too much uncertainty around the political outcomes to take a stance. Recent lawsuits have plagued companies like Johnson & Johnson (JNJ), who are normally pretty reliable.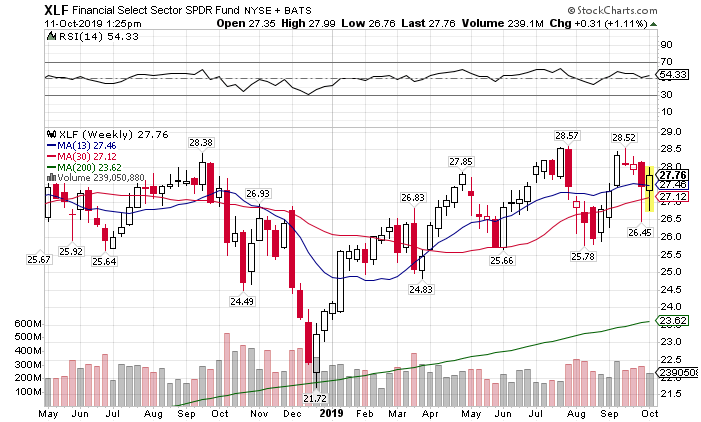 XLF weekly chart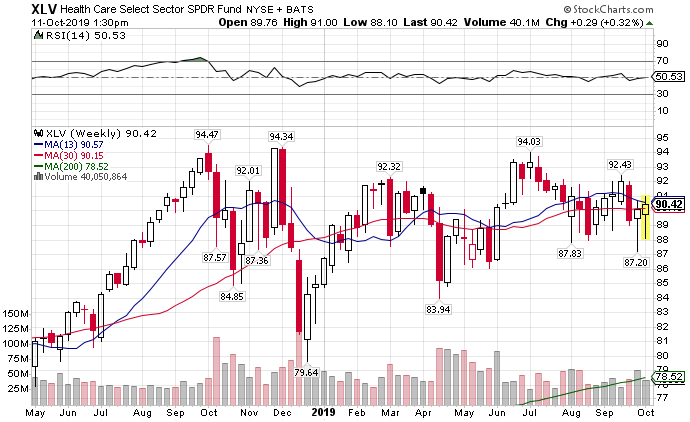 XLV weekly chart



My short-term take
I think we'll probably see the SPY, QQQ, and outperforming sectors slip in new highs barring any major news. Unless we've had a major revision in the economic outlook, I'd probably take the chance to sell some call spreads.

P.S. Wow! That's all I can say after yesterday… 30 minutes before the market opened, Davis Martin invited me along with a few thousand skeptical traders in attendance… to see what his Trade of the Day is all about. Per usual, Davis alerted the trade and then traded it, and like many times before, the trade was closed out for a winner in less than 30 minutes. Watch it here, you have to see it to believe it!
Related Articles: