There's two stocks I'm keeping an especially close eye on these days. I expect the market to top when these two companies unravel.
They are my canaries in the coal mine. And right now, the birds are on life support.
The stocks are in trouble… and it's a big, red waving flag that we shouldn't ignore. It signals more to me than just two individual stocks struggling.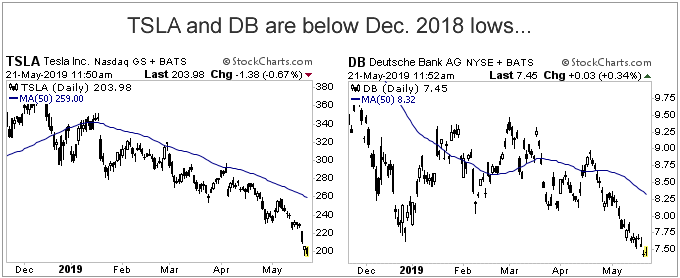 The importance of DB is pretty straight forward. It's the most important bank — and one of the biggest — in the EU. It's a good proxy for how Europe is doing, and to some extent, the world, since DB does business worldwide.
And TSLA… well, it's the ultimate poster child of emotional traders.  No fundamentals and huge armies of followers both long and short the stock. It is a battleground for emotional debate and a way to track market sentiment. 
Between the two stocks, you get a pretty clear picture of the economic and market mood. And both stocks have struggled in the past few months while the rest of the market has rebounded. Both are trading below their 50-day MA and are below their Dec. 2018 lows. Not a great sign.
And despite today's market rally, it's still a good time to be defensive. This continues to be an event-driven market, and we can't predict what is going to get thrown our way tomorrow. The trade war with China, for example, seems far from over. In fact, I think this war is escalating, not coming to a close soon. So expect sloppy markets with rallies fading quickly and a lot of movement on down days.
What I told you last week still stands.
If you're a new trader or can't stomach volatility, sit things out. 2) Be sure to "hedge your bets" when options trading: Go long strong stocks and short weak ones. 3)  Trade more cautiously, stay nimble and reduce position sizes.
Regardless, I'm on the hunt for trades tonight. Members, keep an eye out for alerts and changes to my portfolio tomorrow. Oh, and starting today, you also have access to Nathan Bear's live portfolio! Enjoy, like I've said before, he's one of the best options traders I've ever met.
And if you're not a Weekly Money Multiplier member yet, you can join me and Nathan here. We're ready to help you navigate this crazy market and make you $.   
By the way, I was on Yahoo! Finance yesterday to talk about bitcoin, new IPOs, tech stocks' sky-high valuation and current market opportunities. If you missed it, you can watch the replay here.
On Deck: Rare Jason Bond Live Event
Jason Bond doesn't do this often anymore, but he's going live to introduce a new momentum system designed to work in up and down markets.
It's happening this Thursday at 8 p.m. ET. But you'll need to register now to attend.
It's an easy-to-follow system that's perfect for today's market. Don't miss out.
Jeff Williams' Small-Cap Watchlist
I've been sharing Jeff's small-cap watchlist in Insider for the past couple of months. I hope you've been able to take advantage of some of the big winners he's uncovered for you.
But that's just the tip of the iceberg when it comes to what Jeff can do for you. As you know, Jeff is famous for his ability to turn tiny accounts into life-changing wealth. But he won't be able to do that for you with a watchlist every other week.  
For that, you need to learn how to trade like him. Look over his shoulder as he finds trades, live. And get access to his daily watchlists. You need to be a part of his Supernova program.
If you're ready to take action now and become  a better trader with Jeff Williams, now is the time to join him. For the next 7 hours, his service is being discounted to the lowest price ever offered. You won't regret joining: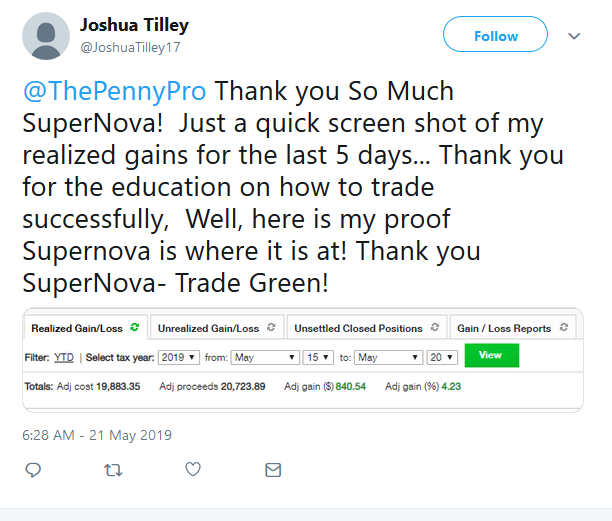 In the meantime, here are three momentum stocks Jeff is keeping an eye on today:
YRIV is coming off a nice sideways move (consolidation) with support in the low- to mid-$.80s. Look for a breakout above $.99 for a possible run at $1.13.
VERI is in a long uptrend here coming off a recent bounce of the 200-day SMA. The next chart highs are at $9.16, $9.30 and then a potential move into the mid $10s.
VATE is coming up to a previous high of $.05. If broken, I'll be watching a possible move to $.055 and then the $.073 high from December 2018.
You can start following Jeff's 10-minutes-a-day strategy that's proven to grow accounts at the lowest price ever right now, but you only have 7 hours left to snag this deal.
Davis Martin's Market Outlook
The beauty of Davis' SPY strategy is that it doesn't matter if markets go up or down. In fact, the added volatility usually help him make even more money.
Yes, the market has been news-driven lately, but support and resistance levels have been extremely easy to identify and have held relatively well. On Monday, for example, you could have made 80%-plus following Davis' Trade of The Day. And many of his followers took advantage of his call: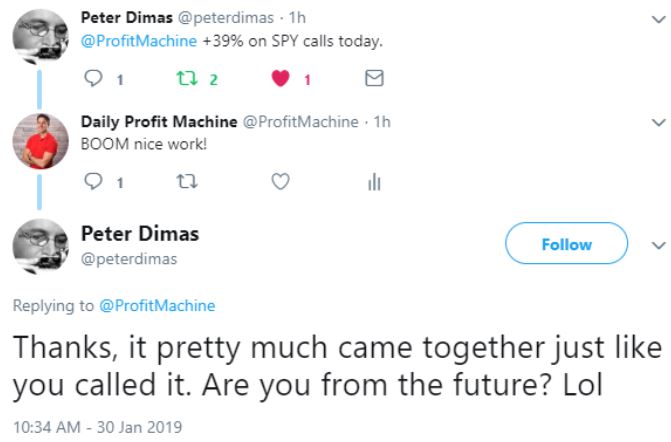 Right now, I'm watching SPY $283 as support. When markets turned south on Monday, I expected $283 to be support and it's a consolidation levels from eight weeks ago. But if $283 break, then SPY could retreat to the 200 day simple moving average line.
On the long side, a pop above the 20-day SMA line (green) could lead to a revisit of recent highs and resistance at $288. Be careful initiating new long positions right below that level.  
If you're concerned about the recent volatility we've seen in the market, then you might want to check out Trade of the Day. He takes advantage of bullish and bearish moves with a daily, high-probability options trade alert sent before the market opens. As far as Davis is concerned, the more news the better.
Jeff Bishop & Jason Bond

Related Articles: