Dear Insider,
I (Jeff Bishop) told you on Monday that there were plenty of opportunities to the downside setting up and a few rare stocks worth buying. A couple of hours later, I pulled the trigger on ROKU calls.
If you're a Weekly Money Multiplier member, you know ROKU is one of my favorite stocks. It's a really great play on video streaming, and the company is well-managed.
But that's not really why it's one of my favorites. The truth is I have a long and profitable history trading it.
On January 4, I closed my first triple-digit trade of 2019 — a 102% winner off ROKU calls that made me $17,000 overnight. Then again in March I sold ROKU calls for a 100% profit. That time I held them a week.
Yesterday, I closed my most recent 100% winner… ROKU calls… another overnight trade.
Did I know shares were going to jump 7% yesterday? No. Did I wait for the Money Pattern to signal buy? Yes.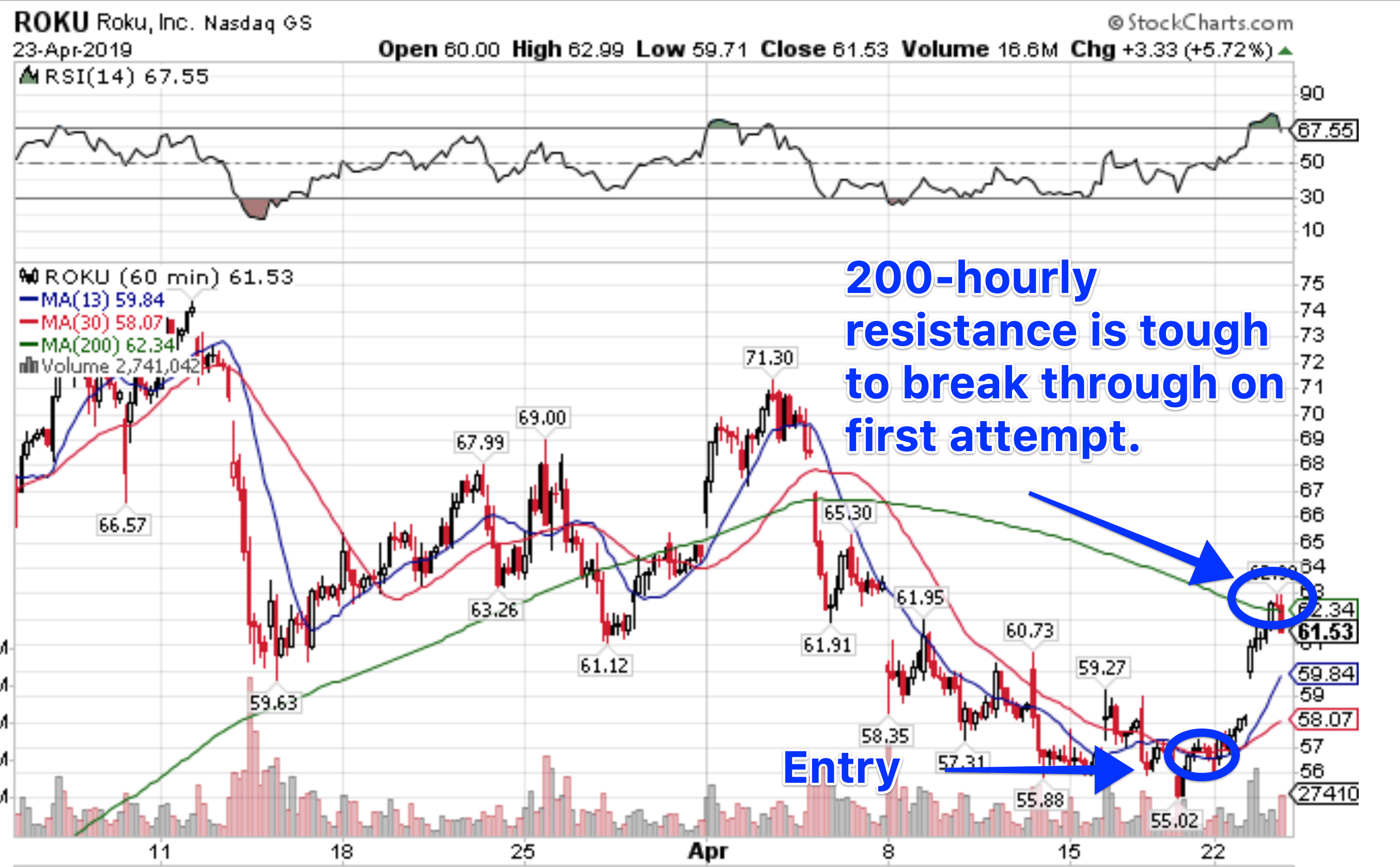 When the hourly 13 MA crossed the 30 MA (the Money Pattern) I got my buy signal. It's proven to be one of the simplest yet effective ways I've found to time trades. I also know it works particularly well with ROKU.
And I followed my trade plan: I took half of my profit at 100%, and I'm currently holding the other half.
This trade didn't happen by accident. And my entry and exit for the trade aren't arbitrary. For a long time I've kept a trading journal (spreadsheet, really) where I record every trade I make… why I make it… and my game plan.
I didn't start my trading career as an expert, as you can imagine. I studied the journal… my successes and my failures. And little by little, I became more consistent. My wins got bigger and my losers got smaller. I became more confident and the trader I am today.
If you're making the same mistakes over and over again… if you're new to trading… or you simply want to become a better trader: Keep a journal of your trading, and you will become a more profitable trader.
It won't happen overnight, but take the time to analyze your trades and find areas to improve. If you have the discipline to do that, you have the discipline to succeed as a trader. And if you need a little help from me, you can find it here.
On Deck: LIVE Training and Q&A With Kyle Dennis
This is a FREE training tomorrow from a man that has made over $6 million in the past four years trading.
Kyle Dennis is going to walk you through his Mortal Lock strategy PLUS the trade it's signaling. The past two trades he gave away in a live event like this jumped 500% and 1,551%!
The craziest part? He says he'll guarantee the trade will be a money maker.
Today's Top Trade: Nathan Bear Edition
Here's a setup Nathan Bear found while trading live in the Millionaire Roadmap room. He made this trade in his new $35k account, which he plans to focus on instead of his larger, personal account.
Today's trade was meant to be actionable… one you could execute now. But the price has moved a little outside of Nathan's "buy zone" between the 8 and 21 EMAs.
So instead, this is now a teachable moment. Learning how to trade Nathan's system is more valuable than any one trade I can give you, anyway. Plus, it serves as a perfect example of his TPS setup, which stands for Trend, Pattern and Squeeze.
The setup was on AMD, and he entered the trade yesterday based on the 195-minute chart. But the setup works on any time frame, from 5-minute to weekly charts.
As you can see below, this setup is nearly the same as all the Nathan trades we've shared in Insider. That's a feature, not a bug. You want a winning formula that's easy to replicate.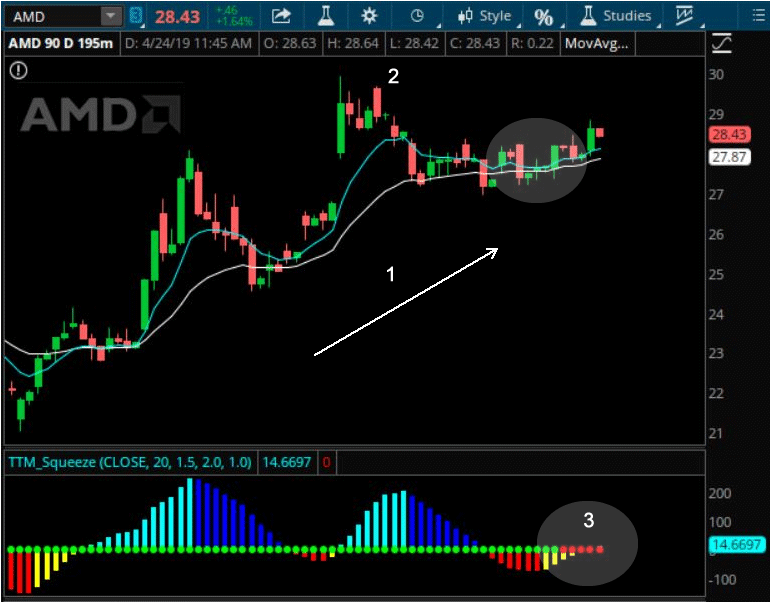 Nathan chose the AMD 3 May 2019 $27 Calls to play the setup.
These calls expire after AMD reports earnings, although Nathan rarely holds options through earnings. He chose these options to take advantage of implied volatility, which tends to increase as the earnings date approaches. As implied volatility increases, so does the value of the option, all else equal.  
Let's breakdown what Nathan saw before he took this AMD trade.
Trend:

Nathan looks for breakouts in the direction of the trend. AMD is clearly in an uptrend (price and moving averages are moving from the bottom left to the top right), so he's playing the bullish trend with call options.

Pattern:

AMD is in a consolidation pattern. After a big move up, shares are consolidating below recent highs. Nathan also entered the trade while AMD was trading near its moving averages, his "buy zone".

Squeeze

: The red dots at the bottom of the chart means prices are in a "squeeze." The indicator makes squeezes easy to spot, but all it really means is that prices are trading in a tight range… like a coiled spring ready to explode. Once the dots turn green, it means that the squeeze has "fired off."
As I write this, Nathan is up about 20% on his trade. Shares may drift to Nathan's "buy zone" again, so AMD is worth keeping an eye on.

Nathan teaches this setup live every day in the Millionaire Roadmap room. On top of that, he's also recorded several lessons on how to trade his TPS setup.
As Jason Bond mentioned in the Roadmap chat today, there's probably no easier strategy to follow and make money from. It works whether you have a $5k or $1 million account and doesn't require you to be a super active trader.
If you don't want to miss Nathan's next trade, you can get direct and live access to him and Jason here.
Education Corner: Channel Lesson With Davis Martin
As many of you know, Davis Martin is best known for his Trade of the Day — a daily, high-probability SPY (an ETF that tracks the S&P 500) options trade alert sent 30 minutes before the market open.
But once the market opens, he's on the mic managing his trade in The Traders Council room. This morning, Davis made a killer trade on SPY and used channels to manage his trade.
Fortunately, he hit record so you can watch his lesson here.
Related Articles: