Dear Insider,
Before we get to Nathan Bear's Trade of the Day, Jeff Williams' Watchlist or Davis Martin's Market Outlook, I want to pass along something inspirational I sent to my Weekly Money Multiplier clients.  
It's a metaphor for how we can all rise from adversity, overcome odds and climb our way to the top of whatever we choose to put our minds to, just like Tiger Woods did yesterday. That is so cliche. But let me just say that was an incredible tournament, and I will never forget the performance Tiger put on. I am not a golfer, but I really loved watching the Masters this year. Well done, Tiger.
The markets today as just tired. I don't know how else to put it. We're not about to make a huge move higher. The VIX index is telling us the market has no fear of a drop from here. Stocks are barely moving right now.
My guess is that we see things slowly grind higher for a while. This is a terrible time to buy options if that is the case. Option traders need volatility to make profits. If you are buying options, then you need things to get moving because options themselves are losing money each day to decay. We only make money when they are moving in the direction we want, faster than the decay is happening.
It is a stressful thing to think about when you put it like that, but that is how options work.
It is probably a good time to start selling out of the money calls on stocks that have hit resistance levels. Use this breather in the market to capture a little volatility premium even though it isn't much right now.
You can do that by selling spreads. As a refresher, that is when you SELL an option with a strike price closer to stock price today and then SELL another option with a strike price farther out. This combination of trades limits your downside, and provides a profit if the stock stays under the strike price you sold.
It is a good way to play a market that is flat or when you don't expect a lot of movement in prices.
It is also a good time to start buying longer-dated options. Since volatility is so low right now, and it is a main driver of option prices, you can take advantage of this and buy options that expire a long time from now much cheaper than you normally could. This can really pay off if you are correct on the direction of a stock many months from now… the only question is if they are going higher or lower?
There's only a few stocks I like right now, but none of these are quite ready for me. I plan to start taking small positions starting today and then adding to them or closing out for small losses if they don't cooperate.
Have a great week and remember that the market is closed on Friday, April 19 in observance of Good Friday.
Trade of the Week
Here's a setup Nathan Bear found while trading live in the Millionaire Roadmap room. He made this trade in his new $35k account, which he plans to focus on instead of his larger, personal account.
He plans to trade small and often in this account, with smaller position compared to his overall account (less than 10% of the account per trade).
This trade was closed last week, but it serves as a perfect example of his strategy and shows you a timeframe that you might want to consider for swing trades.
The vast majority of Nathan's trades are what he calls "TPS setups," which stands for Trend, Pattern and Squeeze. The TPS trade setup last week was on EDU, which also happened to be in the IBD 50 List, on the 78-minute chart.
If you are not familiar with that time frame, it's exactly one fifth (1/5) of one trading day. Nathan trades a lot of different time frames, but the 78min chart is about as small as he'll go for a swing trade.  
As you can see below, this setup is exactly the same as nearly all his other trades we've featured, it just happens to be on the 78min chart.  He was looking to take profit on the trade within a few days.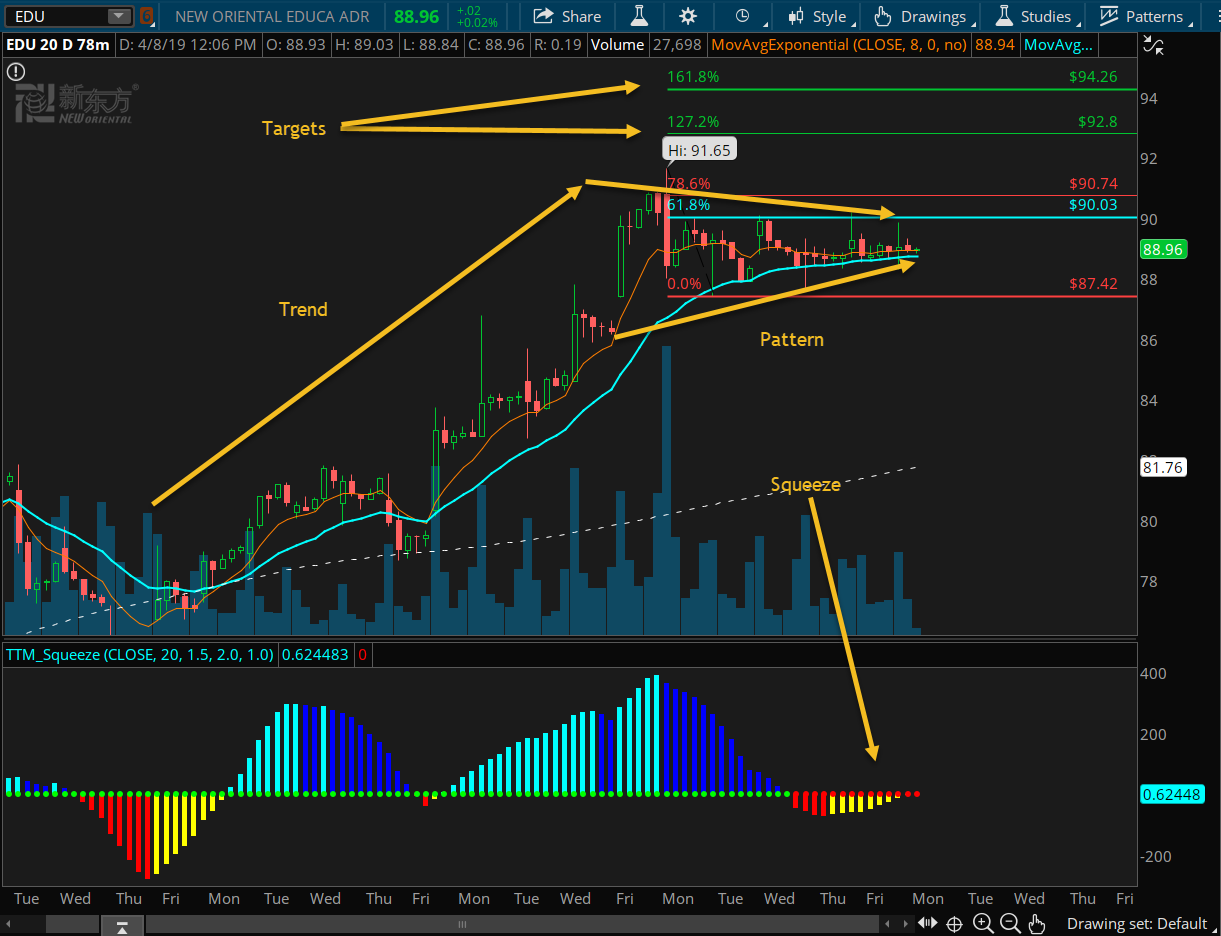 His target for the trade was around $92.80 and his stop was pretty tight at $88.  He only bought five contracts, so his risk was only a few hundred dollars to the downside. If the target was met, Nahtan would make $1,000-plus to the upside.
And BOOM, it didn't take very long for Nathan to take profit. He made over 40% overnight!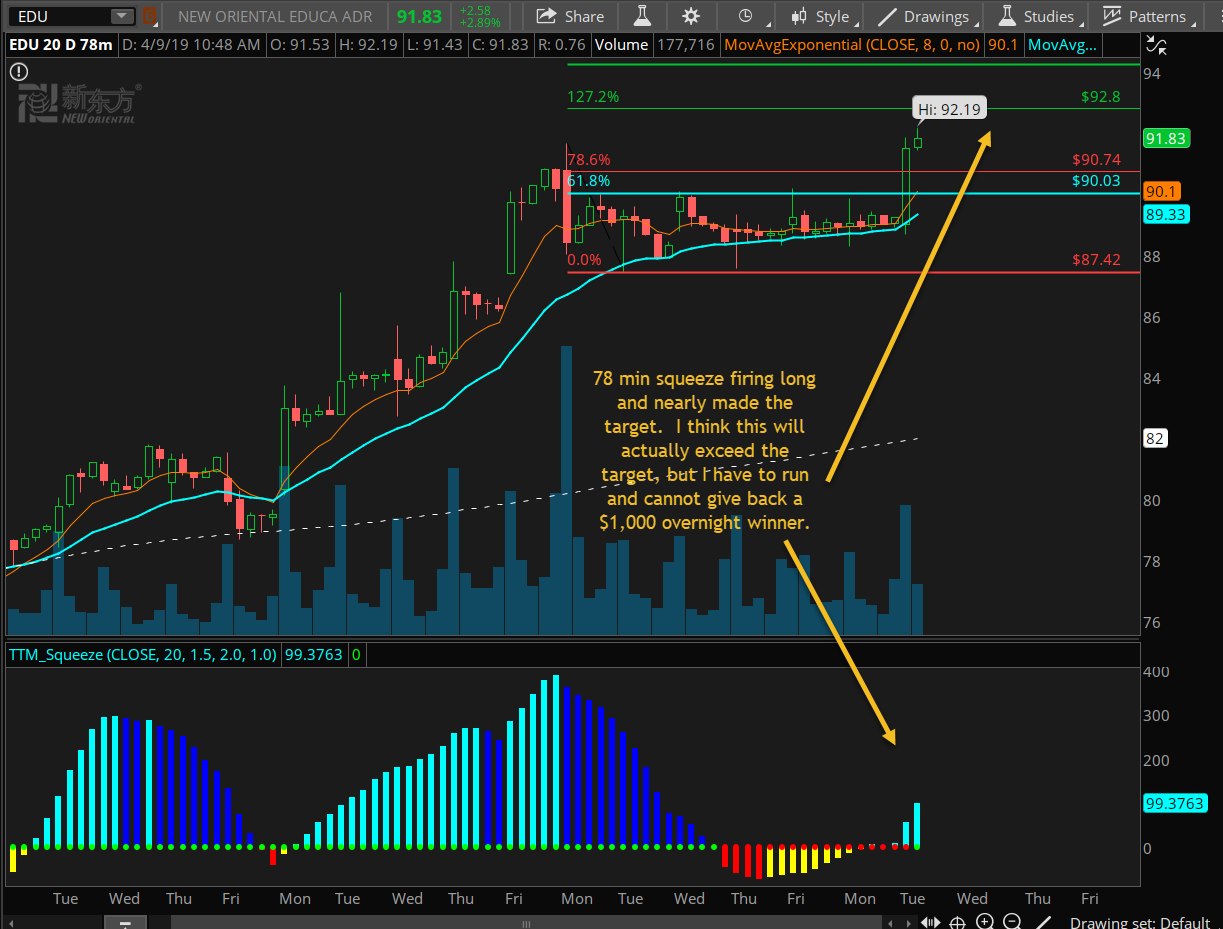 If you want access to live coaching from Nathan, I recommend you check out Millionaire Roadmap. Nathan streams his TD Ameritrade thinkorswim account live during market hours. He's often on the mic teaching folks exactly how he finds the trades that made him a millionaire. And of course, you'll also get access to Jason Bond's live training and trade alerts in the room.
Davis Martin's Market Watch
Davis Martin, founder of Daily Profit Machine and co-founder of The Traders Council. Within the RagingBull community, he is best known for his Trade of the Day — a daily, high-probability SPY (an ETF that tracks the S&P 500) options trade alert sent 30 minutes before the market open.
Last week, Davis went five for five again with his daily SPY trade and grew his account by 30%! He took advantage of the mostly green week by buying calls. The trades were quick, too, lasting an average of less than 10 minutes.

(You can learn more about his SPY strategy here.)
On of Davis' brand-new members, Bertha, made $2,610 with a few minutes work:

This week Davis is keeping an eye on SPY 293.22, 290 and 288 levels.

Davis says that a resistance break (with consistent volume) above 293.22 could lead to a market breakout to new all-time highs. On the other hand, Davis believes that if SPY breaks below 288, we may get a short term pullback. For now, 290 remains short-term mental support.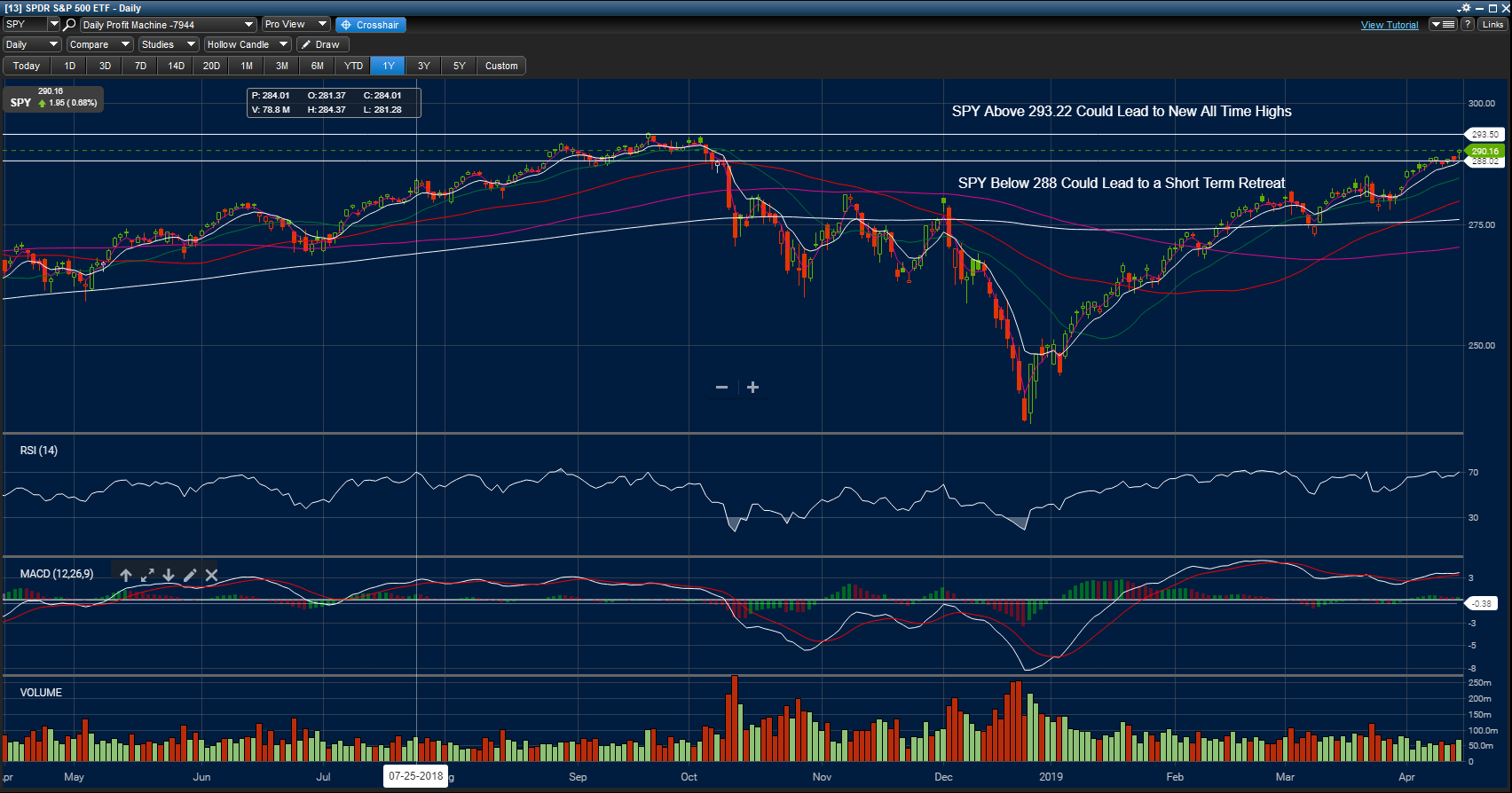 Davis is keeping a close eye on 1) Earnings reports from large companies and 2) Market-moving news related to ongoing trade talks between the U.S. and China this week.
Davis will continue to analyze these levels on a daily basis before releasing his SPY Trade of The Day on Monday. You can learn more about Davis' techniques by getting his free Path to Profits ebook here. He'll show you how to identify support and resistance… create an easy-to-execute trade plan and how you too can profit on a daily basis.
If you prefer more personalized, live training and trading — plus access to everything Davis and Jeff publish — check out The Traders Council here.
Jeff Williams' Small-Cap Watchlist
Jeff is famous in the RagingBull community for his "$2k challenge." The goal? To turn a tiny, $2k account into a small fortune trading penny stocks. He does it with real money, too, something no one on Wall St. would even dare to try.
He runs his scans and picks the stocks he's buying live, an ideal way to learn from Jeff. Then he sends a detailed alert to his members with the stocks he's adding to his account. This at the same time every day before the closing bell and holds the stocks overnight. It's a very easy, and historically lucrative, program to follow.
Here's a sneak peak of the stocks Jeff is keeping an eye on today.
ATAI is a Fibonacci retracement play off the 62% level around $2.30. A second level to watch is the gap closure from Tuesday into Wednesday at around $2.15. If the bounce occurs off one of these levels, then I'll be watching a possible retrace back toward the 50% line in the $2.75 area or the 38% level at $3.15.
FSNN is starting to curl up off a recent low of $.25 per share and saw an increase in volume Friday as well. The key for me here is the previous high $.31. If we break this level then the next previous high is $.39 which is a strong 25% potential breakout.  
FLKS I am currently long this trade at $.53 and am looking for a potential run toward the previous high of $.70 from January. I really like the higher low, higher high set up since FLKS came out of consolidation in early February. Holding $.45 level will be key for me going forward. (I am currently long 5,500 shares of FLKS at $.53 cents per share.) UPDATE: Jeff Williams sold his shares of FLKS this morning for a 23.5% gain.
You can learn more about Jeff's proven, 10-minutes-a-day strategy that's designed to generate big gains from small accounts here.
Related Articles: