Dear Insider,
Before we get to Petra's Top Trade, Jeff Williams' Watchlist and Davis Martin's Market Outlook, I want to pass along a note I sent to my Weekly Money Multiplier clients this morning.
Last week, I mentioned markets looked tired and were not likely to make big moves. That turned out to be accurate, but I believe that's about to change.
After a relatively calm couple of weeks recently, I think we are about to see some big moves again this week. Many stocks, like SHOP, GOOGL, AMZN and indexes like the SPY and QQQ, have been charging higher, seemingly non-stop. They look stretched to the upside right now, but I have learned that just because something is overbought, doesn't mean it won't get MORE overbought.
So the thing that makes me think the market is about to pause is the fact that "risk-off" assets like TLT, GDX, GLD and VXXB are all starting to scream buy signals. Yes, the market can always go higher and make a fool out of anyone trying to bet against it, but you just can't ignore the setups happening with stocks that people flood to for safety.
I'm putting TLT and GDX calls at the top of my watchlist going into this week. I would like to start to build a position in both of them soon, and will alert members if and when I do. If you're not a Weekly Money Multiplier member and want to be alerted to any moves I make, you can join me here.
I think there are a lot of opportunities out in the market again finally. Most look to be to the downside, but there are a few rare stocks I think are worth buying calls on too.
Trade wisely, and always have a plan of attack when getting into a trade… BEFORE you make it.
On Deck
Kyle Dennis, who turned $15,000 into $6.5 million, is going to stun you on Thursday, April 25th at 8 p.m. ET.
He's going to reveal the ONE simple indicator that allows you to find the market's top trades, effortlessly. Plus, he's going to share a blockbuster trade it's signaling right now.
In recent live events, he has alerted trades that have gone up 500% and 1,551%. And Kyle is saying this trade is the LOCK of the century.
Reserve your seat now for the LIVE on Thursday, April 25th at 8 p.m. ET.
Today's Trade: Petra Picks Edition
Today's trade comes courtesy of Petra Hess and serves as an excellent example of her rules-based approach to trading. Petra knows better than anyone that it's impossible to grow your wealth trading if you don't manage risk properly.
Petra became a trader a little over a decade ago after a financial adviser lost half of her portfolio during the 2007-2009 bear market. But instead of giving up on the market, she learned to trade. A decade and $2.6 million in profits later, she's become one of the most respected and successful traders in the U.S. and Canada.
Here's a setup in Bloom Energy (BE) Petra is watching…
BE is a recent IPO that has pushed above the 50-day moving average with strong volume. She's looking for a break out of the wedge with an entry trigger at $13.03.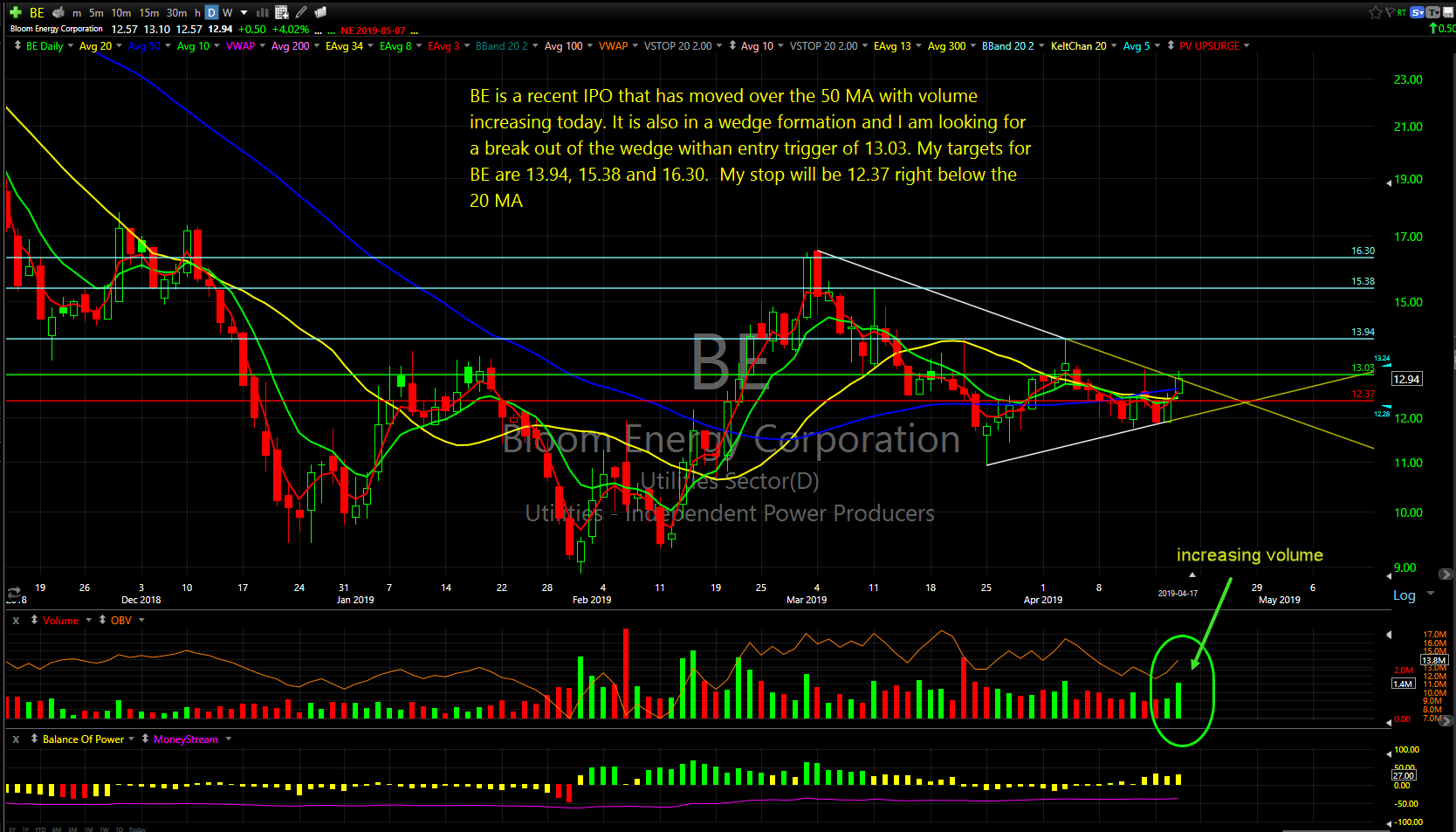 Her targets on the trade are $13.94, $15.38 and $16.30 — so this trade has big upside potential. She's limiting risk with a stop below the 20-day moving average at around $12.37.
If you want to learn more about Petra's rules-based approach to trading, check out her 10 Must-Have Trading Tips here.
Jeff Williams' Small-Cap Watchlist
Jeff is famous in the RagingBull community for turning tiny accounts into small fortunes. He does it with real money, too, something no one on Wall St. would even dare to try.
He runs his scans and picks the stocks he's buying live, an ideal way to learn from Jeff. Then he sends a detailed alert to his members with the stocks he's adding to his account. This at the same time every day before the closing bell and holds the stocks overnight. It's a very easy, and historically lucrative, program to follow.
Here's a sneak peak of the stocks Jeff is keeping an eye on today.
QD is approaching a potential double top breakout from late 2018 and early 2019. There's about 8% to go before we hit these levels. This makes it a nice short-term set up, but it also has room to run to August 2018 highs at $7.75 if the double top breaks. Look for support at the 20, 50 and 200 moving average lines near $5.50.
AMRS is now within 10% of its 200-day simple moving average line with volume picking up. This is an area to keep on short-term watch. Just last week we crossed over the 50-day simple moving average line, so let's radar the 200-day SMA as the next big milestone.
I bought shares of EDXC last week as it hit a new 52-week high. My personal target here is in the $.80s. This stock has been on a higher high and higher low pattern since early December of 2018; one of the strongest penny stocks I've seen in a very long time.
You can learn more about Jeff's proven, 10-minutes-a-day strategy that's designed to generate big gains from small accounts here.
Jeff is also co-founder of The Traders Council. This is an elite service that gives you access to Jeff's live trading and exclusive training material (you can learn more about it here).
Davis Martin's Market Outlook
Davis Martin, head trader at Daily Profit Machine and head options trader and co-founder of The Traders Council, went four for four last week trading SPY, an ETF that tracks the S&P 500.
He did it by using an exponential moving average crossover to capture downside moves last week early in trading sessions. (Exponential moving averages are similar to simple MAs, but they're weighted toward recent price action and are more responsive). When trading near the market open, Davis recommends having pre-market data on and using a 5-minute chart.
Check out the chart below. On all four trading days this past week, markets popped early and dropped almost immediately.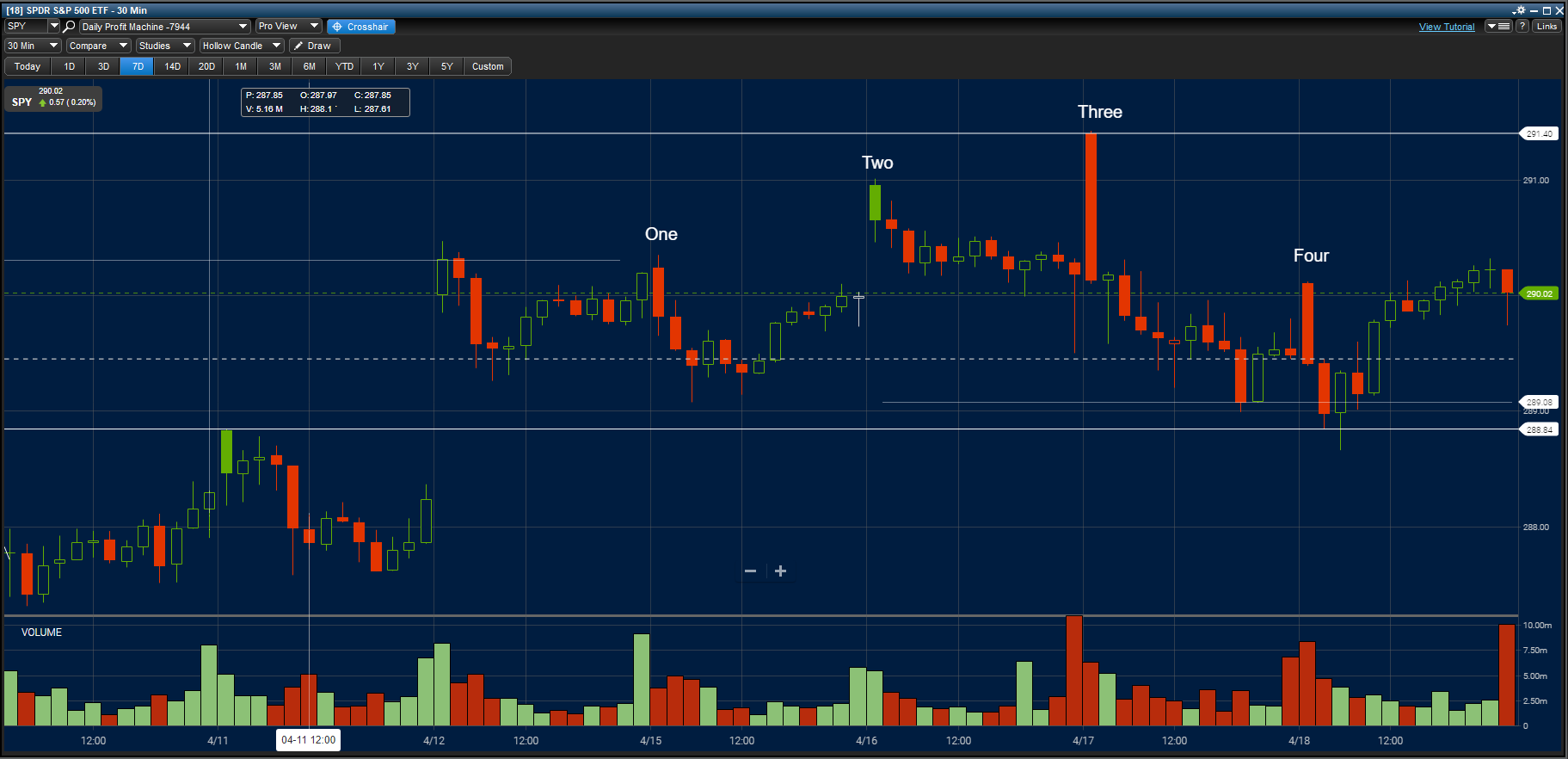 As you can see above, Davis was able to take advantage of bearish moves soon after the market opened last week by using the exponential MA crossover, which is one of three tactics Davis uses to trade SPY. (You can learn about Davis' other strategies here.)
This week, Davis is keeping an eye on earnings and the $291.40 and $288.84 levels. Davis says that a break above 293.22 could lead to a market breakout to new all-time highs, and a move below $288.84 could lead to SPY retreating to key support at $287.
If you're interested in receiving Davis' Trade of the Day — a daily, high-probability SPY options trade alert sent 30 minutes before the market opens, go here. His goal is to deliver double- or even triple digit gains soon after the market opens. If you prefer more personalized, live training and trading — plus access to everything Davis and Jeff Williams publish — check out The Traders Council here.
Education Corner: How To Find Biotech Breakout Stocks
Want to learn how to scan for biotech stocks ready to breakout?
Then check out this video by Kyle Dennis.
He'll show you what sites you can use to scan… what criteria he uses to weed out 99% of the stocks he's not interested in… and even what chart patterns he looks for.
Plus, he'll review stocks currently on his watchlist and what upcoming catalyst they have. And you'll want to listen to Kyle, He took a $5k portfolio and turned it into $25k in three months THIS YEAR.
Watch the video here. He'll show you which stocks he likes right now and how he found them.
And if you want even more free education from Kyle, or are interested in getting his trade alerts, check out this training session. This video might be coming down soon, however, so make sure you watch it soon.
Related Articles: