Yesterday I made what was probably the easiest money of my life… 
It all started on Tuesday, when I received an email from Ben Sturgill. It was regarding two of the hottest companies on the street.
In terms of the first company, Ben labeled it a "yellow light." But the second company in his email received a "green light."
Just like a traffic signal, a "yellow light" means slow down.  Ben is waiting for the setup to develop before he jumps into the trade. 
A "green light," however, means go! 
He's got the symbol queued up and ready to trade… He shares his trading plan with subscribers which includes two targets— one for profits and the second acting as a stop loss. 
But once I got the green light alert from Ben, I knew I had to move on this play… 
And boy I'm glad I did… 
Because the next day I made a cool $8,435 in trading profits!

The company Ben green-lit was 10x Genomics (TXG). If you've never heard of it or traded it before, well, I get it. It's a brand-new IPO.
The company started trading publicly for the first time just last week. 
But Ben had been researching it for months… it's what he does… and why he's garnered a reputation as the "IPO Whisperer ". 
I don't know exactly how he does it, but his ability to successfully trade them blows my mind. 
Here's the thing…
TXG isn't even the first IPO Ben has alerted me on. 
A few weeks ago he told me about a great chart setup in Inmode (INMD). It is a recent IPO. And according to Ben, there are three life cycles in an IPO that offer immense profit potential. 
If you think trading IPOs is just about its opening day… you're not trading them right. 
You see, in the case of INMD, I was able to lock-in a quick $7,730 gain.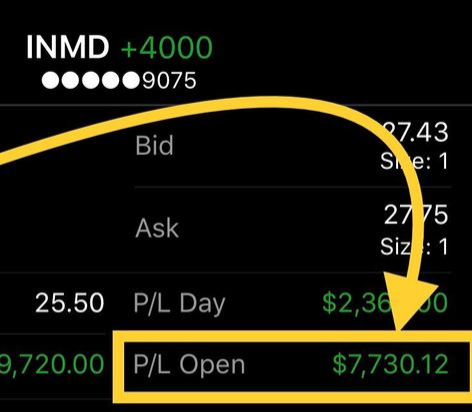 I'm new to his service, and still trying to wrap my brain around it all… but I can tell you what I've learned thus far…
…it requires an incredible amount of time to properly research and weed out the top IPOs let alone have a trading strategy that awards you multiple opportunities to profit from the same IPO. 
When it comes to IPOs, I have one guru I lean on, and his name is Ben Sturgill. 
Check out his portfolio and see for yourself:

To be fair to his members, I had to remove the ticker symbols from the portfolio. But I'm sure you get the picture.
And you know what else?
He's trading relatively small positions. 
The reason?
Ben wants to show folks that you don't need a massive portfolio to trade his system and profit off it.
But one thing you should know about his service is that we're limiting the number that can join. 
Ben specifically asked for this… he wants to be able to give each member the attention they deserve. 
If that isn't enough to get you on board, maybe this will… 
Ben is about to issue his next alert… a company going public TODAY.
A fast-growing tech company called Datadog (DDOG). 
Here's what Ben likes about this IPO:
High growth rate in a high demand industry

Big backers who won't stand for a lousy IPO performance

Demand is setting up to outpace supply
Does that mean you should go out and buy shares as soon as they hit the market? 
No!
However, I do recommend you get Ben's insight, he's already done the homework and delivered the goods. 
It's not too late for you to get his Datadog "Day 1" trading plan if you join now. 
Similar IPOs have jumped 30%-80% on its FIRST DAY. 
And there's new IPOs hitting the market each and every week. 
The opportunities are literally endless. 
Related Articles: