Dear Insider, Jeff Bishop here.
If you're burnt out by all the market volatility and head-spinning news, I have just what you need.
What if starting tomorrow, you could completely ignore the China-trade war story, tweets, and rumors. Moreover, be in a position to profit off tomorrow's finest stocks—a day in advance.
Sounds ideal, doesn't it?
Well, that's exactly what Jeff Williams' Boost strategy will allow you to do.
I'm talking about a strategy that could exponentially increase the value of your trading account – no matter what catalyst is driving the overall market.
So I've asked him to teach YOU the strategy…
I think it's critical that everyone has access to this strategy—now more than ever.
Let me explain…
Jeff Williams' Win-Win Boost Strategy
It's no secret that the market is facing several headwinds right now.
Sure, we have the U.S. and China trade war and the inverted yield curve to wrap our heads around… but there are even more troubling signs ahead…
This week, for example, the U.S. manufacturing PMI (purchasing managers index) fell to its lowest reading in more than three years—a sign that manufacturing is shrinking in the United States.
I expect more and more indicators to point to a slowing U.S. economy in the months ahead.
This means we could see a slew of fear-mongering headlines, which will increase volatility and push traders out of stocks and into safe havens.
A cycle that's already started…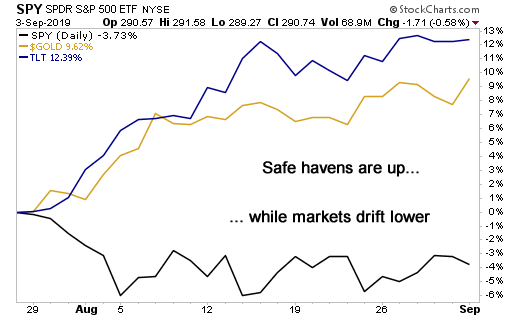 Gold is up 9.6%… bonds have jumped 12.4%… all while stocks are down about 4% over the past month or so.
The VIX, "the market's fear index" is up a whopping 50% during the same period.
However, now is not the time to panic.
Nor is it time to get defensive…
Jeff Williams' Boost Strategy Turns Defense Into Offense
Jeff's latest strategy is the solution for any trader who wants to make a killing in any market environment.
The stocks he trades DON'T move with the overall market.
Jeff trades penny stocks… and while they might not be "safe havens" in the traditional sense like gold and bonds, they might as well be… because of their non-correlation to the market.
When markets are running higher, traders pump money into large caps, small caps, AND penny stocks.
But when markets are volatile and sensitive to news (like they are now)… traders trim off positions… engage in fewer swing trades and focus on non-correlated trades… like penny stocks.
Just look at the top gainers on a day when the S&P 500 is down, and you'll quickly see that the majority of them are penny stocks.
But the ultimate proof of how well Jeff's penny stock Boost strategy works is his performance during this turbulent stretch in the market.

He's taken a $3k account and turned it into $15,468 in less than 3 months!
Imagine if you followed along with him…
A $10k account would now be worth $51,560…
A $30k account would have ballooned to $154,680.
What would you do with those types of profits?
Well, you don't have to wonder… in fact, it could even turn into a reality for you.
Because Jeff is spilled all the details of the strategy here. You're going to be blown away by how simple the strategy is and how little time it takes to execute.

Related Articles: