Markets may have been closed yesterday, but RagingBull gurus were hard at working reviewing major indices and their top setups going into today.
Petra Hess, for example, told her Petra Picks members she's seeing mixed signals in the market and expects trading to be choppy.
For one, she's spotted a divergence between the VIX's price and RSI. The VIX is known as the "fear index" and is one way to measure expected market volatility.
And as you can see, the VIX has mostly moved lower since it peaked in late December. The VIX's RSI (plotted below the price), on the other hand, bottomed out in mid-January and has been trending higher.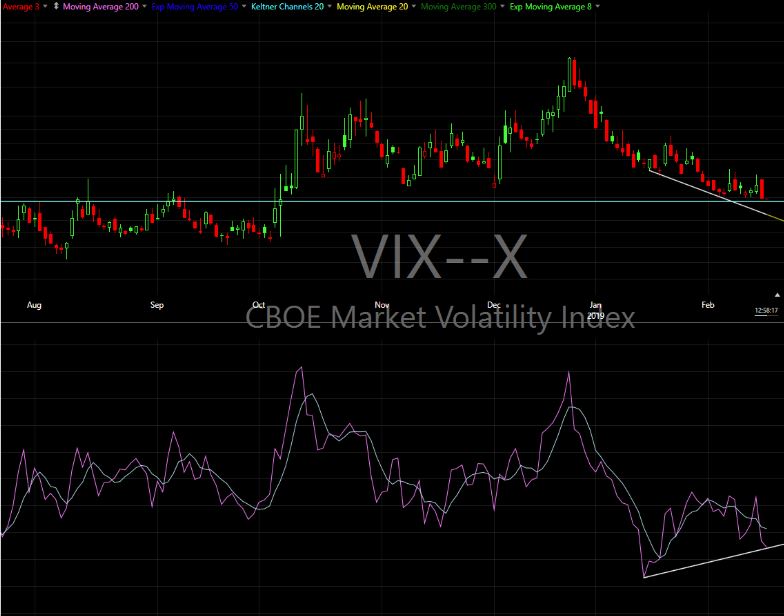 Another potential red flag Petra pointed out is the ratio of insider sales to buys. The idea behind this indicator is intuitive. If company insiders, the people who know their business best, are dumping shares at an above-average rate, it's a bearish signal. And if insiders are buying at an above-average rate, that's bullish.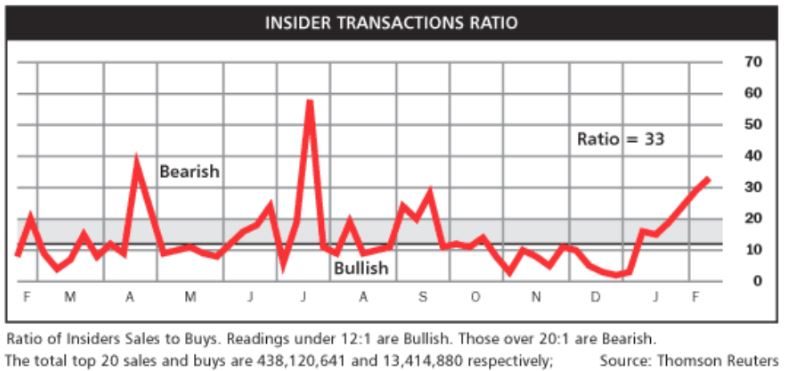 The ratio has been moving higher since the market bottomed in December. Any reading above 20 is considered bearish, and right now it stands at 33.
Markets may also be a bit overextended in the short-term. The percent of stocks trading above their 50-day moving average is at 92% — a historically high reading.
This doesn't mean you should sell all your stocks on Tuesday or expect VIX to skyrocket. Petra also pointed out that plenty of sectors broke above their 200-day moving last week, a bullish sign.
One sector she's keeping an especially close eye on is energy. She's finding plenty chart setups she likes, and oil companies in particular might have some wind behind their back.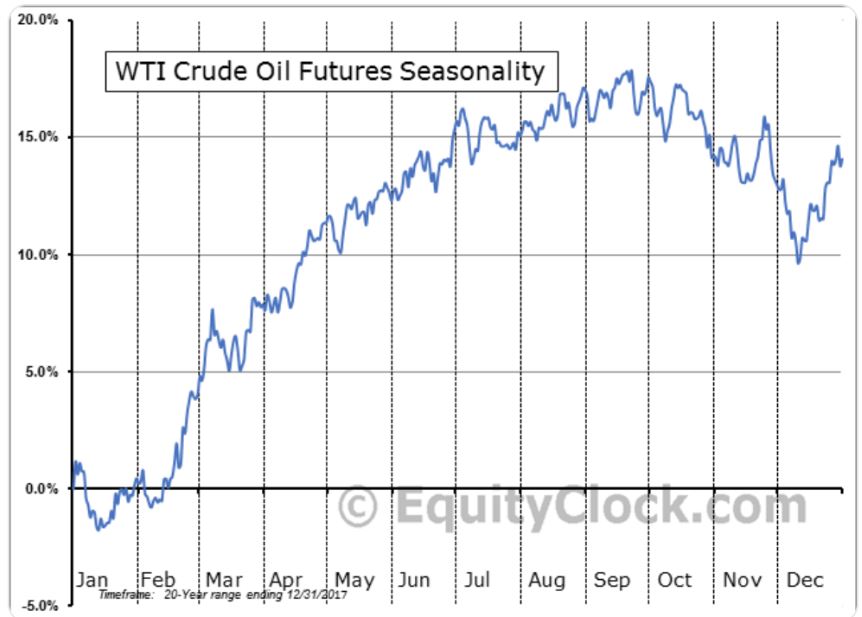 The chart above shows the typical price change in crude oil over a year. It uses 20 years of data and shows that oil prices usually move higher from Feb. through Sep. There's no guarantees that trend will continue this year, but it's certainly better to trade with a historical trend than against it.
Petra combines her powerful market research with rules-based trading systems to generate consistent profits while reducing risk. You can learn more about Petra's "sleep-well-at-night" money-making strategies here.
Davis Martin also updated his Traders Council members yesterday.
He broke down what he's seeing in the market and shared a few of his top setups. Like Petra, he's likes energy stocks right now.
One opportunity he told his members about is Phillips 66 (PSX).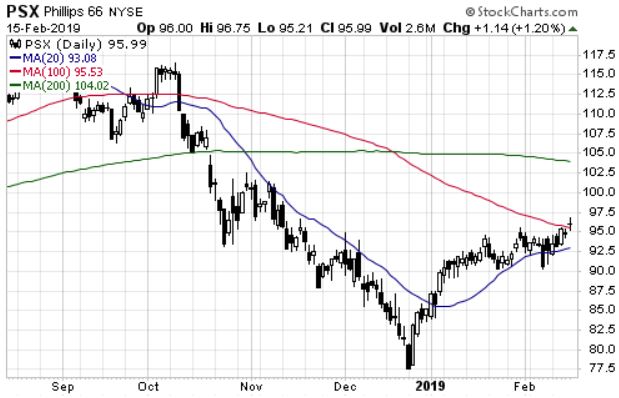 Shares have been consolidating near the 20-day moving average (blue) and are right at their 100-day MA (red). If shares can hold above the 100-day MA, he'd look for an upside move to the 200-day MA (green).
Davis would likely use call options to amplify his returns on the PSX setup. So that $3 to $5 move could potentially deliver a double- or triple-digit return.
If you're a Traders Council member, be on the lookout for alerts from Davis this week.
Traders Council members also heard for Jeff Williams.
As most of you know, Jeff is a penny stock expert. He can ignore the broader market for the most part since penny stock prices don't really ebb and flow alongside most indices.
There's always a bull market in penny stocks, if you know where to look. And Jeff definitely does. For proof, just look at his $2k challenge.
The challenge is simple, but would be impossible for most to pull off. He's trying to grow a $2,000 account into $100,000. He started in January, and the account is already up 150%! He has more than doubled his entire trading account in less than two months, crazy.
Jeff runs his scans and picks the stocks he's buying live, an ideal way to learn from Jeff. He then sends an alert to all his members with the stocks he's adding to his account. He does this toward the end of the trading day and holds the stocks overnight. It's a very easy, and historically lucrative, program to follow.
I want to give Kyle Dennis a shout out. He's coming off a killer week in his FDA Insider Alerts service– up $31,000 and he started today with about $5,000 in unrealized profits.
Like Jason Bond, Kyle is donating all his profits to charity. Incredible!
His FDA Insider Alerts service uses a proven 3-step process to identify biotech stocks with upside potential weeks before they skyrocket. He holds stocks for one to four weeks, so it's perfect for traders with full time jobs.
On Deck
The VIP Concierge team is one of the most secret and valuable parts of the RagingBull family, and for the first time ever, we're extending the opportunity for you to schedule a call with them.
You CANNOT buy this opportunity, you must APPLY. And the reason is… we don't want to waste your time or ours.
Related Articles: