Dear Insider,
After six weeks of virtually non-stop buying, we finally got a little volatility and a pause.
I (Jeff Bishop) have been warning my Weekly Money Multiplier members that markets are extended and to expect things to get bumpier.
It didn't take a crystal ball to make that call, you just needed to face the facts.
Worldwide growth is slowing — which the The Bank of England reiterated this week — and earnings have been dismal. I can't think of a single company that truly beat earnings that hadn't already lowered guidance. But how many said things are cloudy and lowered guidance? I can think of at least a dozen.
Gold has been rallying… bonds have been rallying… the signs are there.
But one thing I have learned over the years is that it never pays to be early with ideas. You need to follow the price action and play along if you're going to make money.
You also need to have a feel for where things should be, not simply go along with the herd. Sometimes the herd is right, but if you're always just blindly following the herd… you'll be lucky to get the herd's returns (and it isn't good).
I am looking for some call options over the weekend to trade on Monday. I have a feeling the market will find some support around here for a few days at least.
If you're a Weekly Money Multiplier member, I'll be in touch soon. If you're not, and would like access my newsletter and live, real-money portfolio, you can join us here.
Either way, don't get chopped up in this market and make sure you have a plan.
*I'm not the only one making moves.
I received dozens of money-making alerts from RagingBull gurus last week.
On most days, the first alert I open is Davis Martin's "Trade of the Day."
It is sent daily before the market opens and it covers critical S&P 500 support and resistance levels, plus what he's seeing premarket.
Traders Council member know how valuable of a daily roadmap that email is. On Wednesday, for example, his Trade of the Day was SPY 2/13 271 Puts.
If you're familiar with options, you know how money that trade was. If you're not, then just know that Davis was betting against the S&P 500.
Had you taken that trade you could have made a 120% gain… before lunch.
There's a reason why I always read his email first thing in the morning. He consistently delivers winners for his readers in just a few hours or trading in the a.m. If you want to receive Monday's email, check out The Traders Council. You'll get Davis' email and a whole lot more. You can get more info here.
*Jason did what he does best this week and traded penny stocks.
Even though the market was extremely choppy, that did not slow him down. He was as active as I've ever seen him.
Here's what he sent Jason Bond Picks members on Thursday:
"It's Fibonacci Friday time and my favorite trading day of the week because this is where the odds start to climb in my favor of making 20%+ wins inside the day or overnight. Then Friday midday I begin the process of loading swings for Monday, since Monday is more likely for a company to release good news. "
This is Jason's bread-and-butter. When the market was tanking, some of his positions were up 30%-plus. You don't have to take my word for it either, Jason live streams all his trades and also has a live, real-money portfolio that members can access.
On Deck
Over 2000 traders watched Kyle launch the Fortune Forecaster on Thursday. It was an incredible event and Kyle even gave away a free service.
Did you miss it? If so, we're putting up a replay of the event for a limited time, so watch it now if you were one of the few that missed out.
From the Community
Like I said, it was a killer week for the folks in The Traders Council.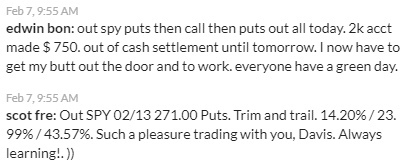 "Edwin bon" says he made $750 in his $2k account before even leaving for work, and "scot fre" used a trim-and-trail strategy to book 14.20%, 23.99% and 43.57% from Davis' Trade of the Day.
When The Traders Council room was asked if they made $$$ from Davis' and Jeff's recommendation that morning they said… well, I'll show you: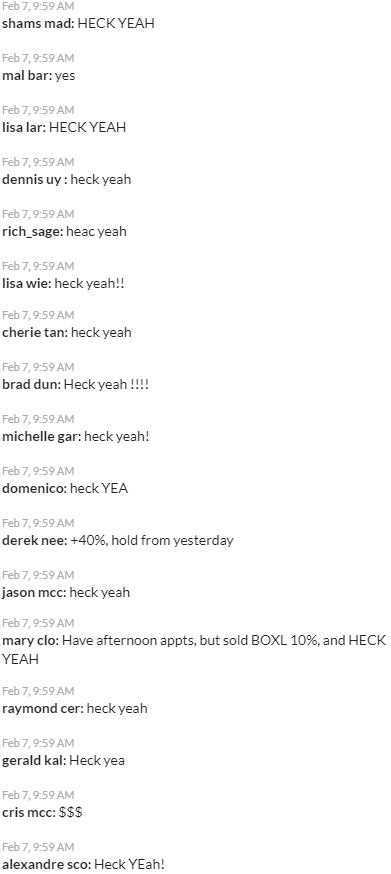 Heck Yea! Don't miss out this Monday, learn more about The Traders Council here.
Related Articles: